Best pillows 2021 – 9 cushioning options for a comfortable night's sleep
We've rounded up eight of the best pillows so you can sleep more comfortably at night and nap time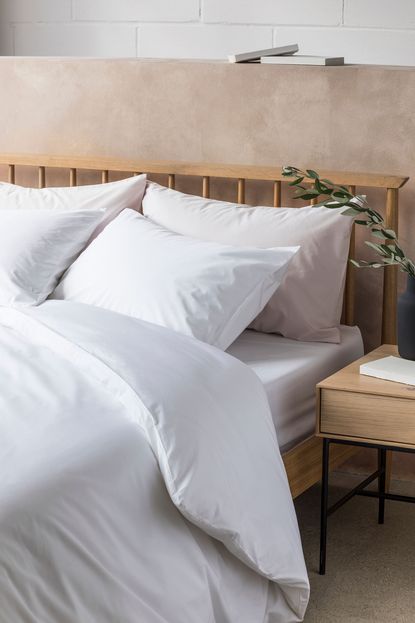 (Image credit: Bedfolk )
If you're looking for a new pillow (or pillows) then only the best will do. Why? Because resting your head on the best pillows to suit your sleep style will make a big difference to how comfortable you are during the night and how you wake up feeling in the morning.
Essentially, your head and neck will need to align when you're lying down. All types of sleepers – side sleepers, back and stomach sleepers – will need different levels of support to ensure that they're in the correct position for the entire eight hours of bedtime. It's also worth considering your allergies (if you have any) which will determine which pillow fillings to avoid, and the overall shape.
With many of the mattress brands and retailers now offering their own take on what they deem a 'good' pillow, it can be tricky to choose the best option for you. Luckily, our top buys (below) have all been carefully selected based on trusted user reviews and expert knowledge, so you have support in more ways than one.
Keep scrolling to see what our top seven pillow choices are for the year ahead then, see our best mattress guide for the complete sleep upgrade.
Best pillows 2021
1. Simba Hybrid Pillow
Best pillow: it's a great option for side sleepers, and it's one which has some science behind it
Specifications
Best for: Temperature regulation, side sleepers
Filling: Open-cell foam tubes and & Aerelle® cool nights fibres
Firmness: Soft medium
Cover: Jacquard cotton
Reasons to buy
+
Temperature regulation
+
Adjustable height
+
No need to plump
+
Removable cover
Reasons to avoid
-
May be too firm for some
There's some science behind this pillow which promises to give you – particularly if you're a side sleeper – the best night's sleep. The outer cover feature Stratos phase change material (often used by NASA, no less) for temperature regulation as it absorbs heat. Even the hottest sleepers wake up with a nice cool head.
You can adjust the height of the Simba pillow by removing or adding back in the foam Nanocubes. The more foam is inside the pillow, the higher and firmer it feels. What to do with the cubes? Pop them in the little bag supplied and store until needed. And you can buy spares online, so we love the longevity of this pillow.
The price is a little high for synthetic fillings, yes, but if you think a pillow doesn't need to be replaced for three years (if you have a good one like this) then it's well worth the money. It also holds its shape and barely needs re-plumping, unlike down or feather pillows.
If you remove the fillings, the pillow case can be put in the washing machine for an easy clean.
Livingetc rating: 5 out of 5 stars
2. Brook + Wilde Cavendish Duck Down Pillow
Best luxury pillow: with natural fillings and a naturally breathable cover
Specifications
Best for: Luxury neck support
Filling: 80% new white down, 20% feathers
Firmness: Medium
Cover: 100% cotton twill
Reasons to buy
+
Good for neck support
+
Even distribution of fillings
+
Made in UK
Reasons to avoid
-
If you suffer from allergies
-
Perhaps a little firm for some
-
Cotton cover is not removable for washing
Next up is this luxury duck down and feather-filled pillow from UK-brand Brook + Wilde. It feels LOVELY and is filled well to offer relief from neck pain.

It feels really luxurious. From the cotton twill casing to the well-filled three chambers of filling, this Brook + Wilde pillow gave us a great night's sleep. In fact, it provided some relief to neck aches and pains which are an all-to common occurrence with working from home. With all that filling, the pillow is pretty plush (firm) though advertised as being a 'medium' feel, so may not suit everyone as much as it did I.
The cover is also not removable for washing so it's best to use a pillow protector, and to carefully follow the care label to keep your luxury pillow feeling fresh.

If you like the pillow then you can also coordinate with The Cavendish Duck Down Duvet which is ideal for year-round use.
Livingetc rating: 5 out of 5 stars
3. OTTY Adjustable Pillow
Best adjustable pillow: for all types of sleepers, you can adjust the comfort of this pillow to your needs
Specifications
Best for: Adjustability
Filling: Visco elastic polyurethane foam
Firmness: Adjustable
Cover: 100% cotton
Reasons to buy
+
Hypoallergenic cover
+
Washable (cover only)
+
You get 14 days to test
+
Great for a spare bed
+
Breathable
Reasons to avoid
-
Arrives very full at 25cm thick
-
Comes with a bag for excess filling, but this bag is quite small
If you are lost in the world of pillows, then we can recommend the OTTY Adjustable Pillow as a great all-rounder. This is a one-size-fits-all kind of pillow, and it aims to reduce pressure on your neck and spine. So, whether you sleep on your front, side or back, it should offer a comfortable night's sleep. Plus, it's breathable for both hot and cold sleepers.
You can adjust the height and thickness of this pillow from its maximum, 25cm, to any height you'd like. This can be done by adding or removing the specially designed memory foam pieces (visco elastic polyurethane foam) to suit your comfort needs. These pieces live within not one, but two covers, so rest assured that you won't feel each individual memory foam piece as you sleep. We tested this pillow on a front sleeper and a side sleeper. Our front sleeper tester found that they had to remove several of the memory foam pieces before they found it comfortable; our side sleeper reported the same, but it took them longer to find an ideal height. We recommend this pillow for almost anyone, but we do think it's great for a spare bedroom so that guests can get a comfortable night's sleep no matter which sleeping position they favour.
This pillow's 100% cotton – and hypoallergenic – cover can also be washed in your machine at 40°. Just make sure you remove the filling before washing.
Livingetc rating: 4.5 out of 5 stars
4. Rem-Fit Snow Pillow
Best cooling pillow: it feels cool and stays cool throughout the night
Specifications
Best for: Keeping a cool head
Filling: Visco elastic memory foam crumb
Firmness: medium firm
Cover: 45% Ice yarn, 55% Polyester
Reasons to buy
+
Cool to the touch
+
Nice detailing
+
Arrives rolled and vacuum packed
+
5 year guarantee
+
Made in UK
Reasons to avoid
-
May not be filled enough for some, so use two
-
Slight plastically feel
-
Will take up to 30 minutes to regain shape after unwrapping
Tired of waking up with a hot head? This pillow from Rem-Fit could be the pillow (or pair of pillows) you've been looking for. Much like the Simba, it feels cool to the touch AND stays cool during the night. We were very impressed with how well it worked and would rate it as highly as the Simba for cooling abilities – it just lacks the height adjustment that gives Simba so much edge. Also, although the Nordic Chill fabric on this pillow feels cool it also does feel a little plastically and a slippery. This is only when there is not a pillowcase on the pillow, however.
It feels surprisingly lightweight since the cover is so thick. And there's some lovely detailing such as piping around the edges and an embroidered 'SNOW' on one side. The pillow also arrives rolled and vacuum packed – in a similar way to how mattresses now arrive at our doorstep – and the outer cover is removable for machine washing.
The pillow is part of the Therm.A.Sleep collection so you can also get the Rem-Fit Cooling Pillow Protector and / or the Rem-Fit Cooling Mattress Protector for a really cool night's sleep.
Livingetc rating: 5 out of 5 stars
5. The White Company Pyrenean Goose Down Pillow
Best pillow for big beds: generously filled and super king sizes available
Specifications
Best for: Big beds
Filling: Goose and duck feather down
Firmness: Medium-soft or medium-firm
Cover: 280-thread-count cotton
Reasons to buy
+
A lovely plump pillow
+
Has a duck down and feather core surround by goose down and feather outer filling
+
Larger super king sizes available for big big beds
Reasons to avoid
-
Even medium-soft could be a bit high for some front sleepers
-
Not for vegans
The White Company have created something rather special with this luxury (yet affordable) pillow. With super king (90cm-wide) options available, those who have struggled to find a big pillow for a big bed – minus the big price tag – will be pleasantly surprised at this offering.
It combines goose and less costly duck feathers and down, in a dual core combination that provides support with that marshmallowy yield we love. A core of 85% duck feather and 15% duck down is encased in an outer of 90% Pyrenean goose down and 10% small feathers, for the best of both worlds in the firmness department. This is then wrapped in a 280-thread-count cotton cover for supreme softness.
What does this all mean in comfort terms? The perfect prop for sitting up with your morning coffee that doesn't lose height, yet won't leave you feeling too elevated when you lie down – unless you sleep on your front. It is best suited to side and back sleepers.
Livingetc rating: 4.5 out of 5 stars
6. Panda Memory Foam Bamboo Pillow
Best memory foam pillow: with an eco-friendly cover
Specifications
Best for: Memory foam fans
Filling: Visco memory foam
Firmness: Firm
Cover: Bamboo fibre
Reasons to buy
+
Environmentally friendly cover
+
Hypoallergenic
+
10 years manufacturer guarantee
Reasons to avoid
-
If you sleep on your front
This pillow is filled with three layers of memory foam and covered in a soft, breathable bamboo cover which is antibacterial and mould-resistant, too. It offers amazing support and comfort whilst also being temperature regulating, highly breathable and eco-friendly.
It's also a great option for side and back sleepers because it will fill the space between your head and shoulder to prevent a stiff neck. You may find that you can be rid of a second pillow (side sleepers) because this pillow is a firm one. Front sleepers might find it a bit high and minus the give they need to get comfy, but this will be more noticeable for those of a smaller frame.
There's an impressive 10 years manufacturer guarantee with this pillow which surpasses the recommended three-year replacement. It's already an affordable option, so you really can get excellent value for money with this one.
The pillow itself can not be washed. However, the cover is removable which can be. This bamboo cover is naturally antibacterial and mould-resistant, too.
7. Mediflow Waterbase Pillow
Best pillow to reduce neck pain: it's been clinically proven, for all sleeping positions
Specifications
Best for: Reducing neck pain|
Filling: Water and hollow fiber
Firmness: Soft-firm
Cover: 100% cotton
Reasons to buy
+
Adjustable firmness
+
Clinically proven to reduce neck pain
Reasons to avoid
-
The filling won't be for everyone
Filled with water, and some other sumptuous fillings, this pillow is fully customisable and is one which has come out as the top option for reducing neck pain and improving the quality of sleep. It ranked best for reducing neck pain and quality of rest in a sleep study at Johns Hopkins Hospital. and is why so many reviewers like it, too.
The biggest tick in the box for us is how much you can adapt it to your body and sleep style. The firmness can be adjusted using the water level to meet your preferences. When adjusting the pillow, just make sure you get all the air out otherwise it will make a 'sloshing sound' as you turn. As you sleep, the water will move with your head so there will be no need to fluff it that often at all – a good thing as all that water does make this a weighty pillow.
The cotton cover is breathable, but it may not breath enough for hot sleepers. This cover can be removed, also, for machine washing though.
8. Snuggledown Feather and Down Pillow
Best pillow with feather fillings (UK): a snuggly pair of pillows which can be used in all seasons
Specifications
Best for: Front sleepers
Filling: Duck feathers (85%), duck down (15%)
Firmness: Soft
Cover: Cotton
Reasons to buy
+
Lightweight and flexible
+
Good value for money
Reasons to avoid
-
If you sufferer from dust allergies
This soft and snuggly pair of pillows are filled with duck feathers (85%) and duck down (15%), and covered in a cotton cover for comfort in all seasons. They are light and flexible enough to take on the road for comfortable car journeys or for those who prefer to take their own pillow when going away. So, you can buy these and do away with your hunt for the best travel pillow.
To sleep on, they are soft and cushioning (we'd rate them soft to medium), but supportive, too. The pair are also not only good for front sleeps, but those who find they get chilly in the night because of the air-trapping down-and-feather filling which retains heat.
The cotton cover is washable, but always follow the instructions. This makes them a good, low maintenance pair of pillows at a very pleasant price point – as long as you don't suffer allergies to down.
9. The Ultimate Side Sleeper Pillow by Kally Sleep
Best pillow for side sleepers: designed to give extra support for side sleep
Specifications
Best for: side sleepers
Filling: Hollowfibre
Firmness: soft / medium
Cover: 100% cotton
Reasons to buy
+
Good value for money
+
Specifically designed for side sleepers
+
Anti-allergy to protect against bacteria
Reasons to avoid
-
Boxy design may be off-putting
Last but by no means least is this pillow from Kally Sleep. It's designed to give side sleepers the best sleep possible, it even says it in the product name. It can be bought as a single, twin pack or four pack.
It offers a balanced support by filling the space between your shoulder and ear, which is crucial in helping to prevent neck, shoulder and back pain. It is filled with premium bouncy hollowfibre, which maintains its shape well thus reducing the need of regular plumping.
The side-walled, box-shape of this pillow can take a bit of getting used to, but it allows for great loft and balanced support for side sleepers.
How to choose the best pillow
Choosing the right pillow for you is not as simple as knowing which is best for your sleep position – though that does help. There are a few more factors to consider before you can pick something suited to you.
Pillow fillings
This can be one of the most divisive things for those choosing bedding. Some people think nothing beats down, but with many shunning animal products, there has been necessity for a rise in good alternatives and we are happy to say there are plenty to choose from. Hollowfibre wadding is a common choice – it is affordable and holds shape fairly well. But it does not wash as well as down, so if that is an important factor, it might be best avoided.
We really like some of the foam fillings on offer. Our top pick – the Simba Hybrid Pillow – is filled with foam cubes for example. These are encased in a padded cover that can be removed and washed and the cubes themselves can be removed and added to so you can adjust the height. The result is a plump pillow that never loses shape and doesn't involve down.
However if you are a down lover, there are some really luxurious offerings for you that give the feel that is the very definition of 'pillowy' soft. Just look for companies like Brook + Wilde and The White Company who follow a strong code of ethics to obtain their down.
Sleep position and pillow height
Side and back sleepers tend to have the most choice in the pillow world, with many pillows coming in at the three to six inch height that is suited to those who sleep in these positions. As a rule, look for the following to match your sleep position:
Front sleepers: choose soft to medium pillow, no more than four inches high to avoid neck strain
Back sleepers: you will need something slight firmer so choose medium (medium-soft to medium-firm might be advertised) and three to five inches is a good height
Side sleepers: your frame will dictate how deep you go but three to six inches will be needed, depending on how firm you want your pillow to be. Choose deeper and softer, or firmer but on the lower side
What pillows do 5-star hotels use?
Down is a common choice in luxury hotels. Despite the cost, down pillows are easier to clean (they wash and dry well) and are synonymous with luxury. However, some hotels use a combo of down and hollowfibre and others forgo down altogether to accommodate those with allergies or people avoiding animal products.
The Livingetc newsletter is your shortcut to the now and the next in home design. Subscribe today to receive a stunning free 200-page book of the best homes from around the world.
Jennifer is our Appliances Editor here at Livingetc. During the working days you'll find her scouting out the best deals on applainces (big & small) and mattresses, and reviewing them to ensure that you are getting the best in-class. When she is not doing this, Jennifer can be found shopping for herself (and husband) as she tends to the kitting out of her Victorian home or sitting in the garden with a mug of decaf, loose leaf tea.