What are the options for an Apple HomeKit home hub? An expert's verdict on which is best
If you want to set up an Apple HomeKit home hub, you have three options — but one has a big drawback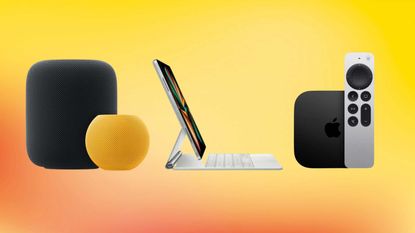 (Image credit: Apple)
The Livingetc Newsletter
For style leaders and design lovers.
Thank you for signing up to LivingEtc. You will receive a verification email shortly.
There was a problem. Please refresh the page and try again.
Apple's HomeKit has fast become a favorite for smart home devotees, especially those who are more comfortable using Apple devices, but when it comes to choosing a hub for yours, there's multiple ways you can go. So which is best?
If you want to set up an Apple HomeKit home hub, you've essentially got three options: HomePod, Apple TV and iPad.
These aren't all equally good solutions, and in the case of the iPad, Apple seems to be losing enthusiasm. Nonetheless, we've outlined all the options for an Apple HomeKit home hub to set up your smart home, but first a little explainer on what one is and why you'd want it.
What is a HomeKit home hub, and why do you need one?
First things first - what is Apple HomeKit's hub? If you've set up smart home devices to work with Apple HomeKit via the Home app, you'll already be able to run tech at the touch of a button or via a Siri phrase on your iPhone.
The trouble is that this requires you to be in proximity to the smart technology you want to operate — either on the same WiFi network or within Bluetooth range. And some of the neatest smart home tricks are done remotely (like locking your smart lock from afar, or setting your thermostat to preheat before you get home.)
A HomeKit home hub is the answer. It acts as a bridge to your smart devices within your house, letting you control things even when you're not home.
On top of that, it also lets you share access to your smart home controls with others, and lets you automate smart home functions. It's pretty much essential if you're serious about getting the most out of your smart home.
What are the options for an Apple HomeKit home hub?
Apple doesn't let just anything be used as a HomeKit home hub, and there's currently no third-party options.
In all, you have three choices, but one of them has a pretty serious drawback. The good news is you can have more than one, to get the pros of all of them, as well as having a backup connection should one go down.
Here's what you can use.
1. Apple HomePod
Pros:
The cheapest solution
Hands-free Siri controls for smart home voice commands
A good speaker in its own right
Cons:
You might already have other branded smart speakers
A HomePod is probably the best Apple HomeKit home hub option. It's low power, always on, and has Siri built in for hands-free voice controls.
Best of all, it's the cheapest option here if you're happy with the audio quality of the $99 HomePod mini. Alternatively, you could buy the $299 HomePod 2 if you're seriously into your audio fidelity.
There aren't really any drawbacks, unless you happen to have invested in a bunch of Nest Audio or Amazon Echo speakers in your home. If that's the case, you may want to turn your attention to the Apple TV instead…
2. Apple TV
Pros:
Usually a central location
Optional ethernet port for reliability
HomeKit camera feeds can appear on screen
Cons:
You'll need the remote for Siri
Not all versions are supported and some are limited
If, for whatever reason, the HomePod doesn't appeal to you, then Apple TV is the next best solution. Not only does it offer such good streaming performance that it outperforms most smart TVs' built-in interfaces, but every version since 2012 has had some kind of HomeKit home hub functionality.
It's usually in a nice central location next to your TV for maximum reach, and it has two key advantages over the HomePod. Firstly, it's connected to a screen, letting you see feeds of compatible connected cameras. And secondly some models come with an ethernet port for a more reliable wired internet connection.
The only real drawback is the need to wake up Siri with a button on the remote for voice controls, but if that's not an issue for you then it's a sensible option. Just be aware of compatibility: while all 4K models are fully compatible, the 2012 third-generation Apple TV won't let you share outside access to other users and doesn't support camera streams.
3. Apple iPad
Pros:
The most flexible device
Portable
Cons:
Can run out of battery
It's unsupported on the newer Home architecture
Last and very much least is the iPad. While in theory it's the most flexible of the options given its portability, multiple uses and the fact you might already have one, it has one serious drawback: it doesn't get the same performance as the other options.
"iPad is not supported as a home hub on the new, more reliable, and more efficient Home architecture, which is available as a separate upgrade in the Home app," Apple explains on its official support page.
Initially it looked like it would be abandoned completely, but this isn't true. "iOS 16 and iPadOS 16 will continue to support iPad as a home hub with no loss in functionality," Apple's Catherine Franklin told The Verge in June 2022.
Nonetheless, it doesn't feel like the best way of integrating a HomeKit home hub to your setup, unless you already have one knocking around. Just remember that if it runs out of battery, its home hub functionality will stop working until you can get it to a charger.
Which is best?
They all have their pros and cons. HomePod is the most cost-effective option and makes voice controls simple, while Apple TV offers the reliability of ethernet and lets you view compatible cameras. Even the iPad, with its very obvious drawback, might be best for you if you already have one in use.
The good news is that you don't have to pick just one. If you're serious about having your smart home run smoothly, combining two or three of these is certainly the way to go, giving you the best of all worlds.
For style leaders and design lovers.
Freelance contributor Alan has been writing about tech for over a decade, covering phones, drones and everything in between. Previously Deputy Editor of tech site Alphr, his words are found all over the web and in the occasional magazine too. He often writes for T3 and Tom's Guide. When not weighing up the pros and cons of the latest smartwatch, you'll probably find him tackling his ever-growing games backlog. Or, more likely, playing Spelunky for the millionth time.