You've probably positioned your TV wrong - design experts explain where to put your screen in a living room with lots of light
Away from the windows but also in a prime viewing spot - positioning your TV in a living room with lots of light is hard to get right. Design experts on how to do it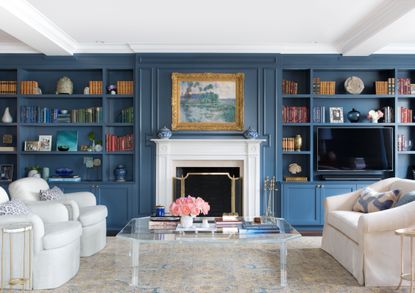 (Image credit: ABH Interiors)
The Livingetc Newsletter
For style leaders and design lovers.
Thank you for signing up to LivingEtc. You will receive a verification email shortly.
There was a problem. Please refresh the page and try again.
If you're styling a TV in a living room with lots of windows and light, there are various ways to design the scheme to suit you both day and night. And it's all about balance. A TV that has light flooding the screen from the opposite window can jeopardize your viewing experience after all, while unsuitable window treatments and dull paint colours can make the overall scheme feel uninviting.
But choosing the right position for your living room TV in relation to the light coming in, and picking out well-considered furnishings can make all the difference to watching your favorite shows and movies in comfort. Using colors and finishes that help tame the light can add warmth to the scheme too.
Rooms that are saturated with too much light can be a challenge to style at the best of times - let alone when you're trying to find the optimum position for your TV. But we're here to help with the best ways to mitigate light and position your TV so that the room remains bright and stylish, yet adapts perfectly for entertainment. After all, if you've invested in one of the best TV brands you'll want to position it to its full advantage.
8 things to consider when styling a TV in a living room with lots of windows and light
Read on for advice from top designers on how to style your TV for optimum viewing…
1. Get to know your space
It's important to find a position for your TV that limits glare from natural light coming in from the windows. Even if you have an 85 inch TV, with brilliant daylight flooding the screen you'll get the impression of a smaller set and the contrast will be washed out.
Before you start decorating, consider multiple living room layout options for the room. Sketch the options on paper so that you can visualise and experience the room before you make firm decisions. Remember to think about the position of your TV not only in relation to the light coming in from the windows, but also in relation to where you'll be sitting to view it. Your TV should be mounted at eye level for the most comfortable viewing experience. Choose a spot and sit there to see whether you have to crane your neck or sit awkwardly to watch TV.
'Take time to actually sit in the room both early morning, afternoon and early evening to see how the light filters in and what effect it has on the TV screen,' says interior designer Jon Call of Mr Call Designs. 'From there you can make necessary adjustments including moving the TV to a different location if possible. You can also consider where to position furniture and accessories to dampen light where needed and choose flexible window treatments that allows for watching your TV in comfort both day and night.'
2. Consider the light behind the TV
As we talked about when wondering where to place a TV in an open-concept room, best practice is to avoid positioning the TV in front of the windows. 'A window behind a TV is not ideal as the light from behind the TV needs to be of a much lower level than the light coming directly from the TV itself,' explains Claus Rasmussen, sales director for Philips TV.
'Around 10% of the peak output of the TV is optimal. At that level, the background is neither dominant or distracting and it will give the perception of a larger screen and better contrast.'
3. Choose black-out blinds
Black-out blinds can be an excellent solution in a room where the natural light is very bright – particularly if you have no choice but to position your TV in front of the window. Black-out blinds can be an easy way to add cinematic style to your living room without disturbing your design scheme and can be tailor-made to fit your windows.
Having the option to black out the room entirely means you won't have to worry too much where you position your TV. For the most convenient and stylish solution look for designs that can be subtly fitted and are motorised, with whisper-quiet control via an app on your smartphone or tablet. Alternatively, roman shades and wooden slats can work well too.
4. Layer window treatments
If using curtains, choose the fabric with care to add practicality and style to the scheme. In a room where you'll be watching a lot of TV, opaque finishes can be a particularly good solution as they do not allow natural light to penetrate them. 'Opt for two layers of window treatments to alternate between daytime glow and cinematic blackout,' says Alexis Humiston of ABH Interiors.
Paulo Kos, VP Design & Development at New York-based design store The Citizenry agrees. 'Layering sheers with black-out curtains can also be a great way to create visual interest and diffuse light in rooms that tend to be overly bright. Sheers in pale, gauzy linens or cottons will help soften the light, while blackout curtains will allow you to control the amount based on the time of day and weather. This way, you can still create that airy look without sacrificing on design or function.'
5. Style your accessories with confidence
Surround your TV with strategically placed accessories that complement the scheme. Home accessories such as a vase, candle or books positioned in such a way can help to dampen the bright light where needed or shade any natural light. When styling the TV in this dark living room, interior designer Jon Call of Mr Call Designs was inspired by the artwork of sculptor Louise Nevelson. Here, he used all-black accessories to complement the TV, resulting in an area of the room that makes a confident design statement.
'I used all-monochrome pieces around the TV so that it looked like modern art,' explains Jon. 'I added sheer curtains on the other side to reduce glare and it worked well with the dramatic black finish. Surrounding the TV with items like this also reduces the visual importance of the TV itself.'
6. Hide your TV behind cabinetry
Placing your TV behind cabinetry on a motorised bracket works well to disguise a TV when it's not needed. When you're ready to settle down for your favorite show, you can then make use of the black-out blinds or layered window treatments and open up to reveal your TV.
The living room in this home located in the Meatpacking District of Manhattan, NYC, features a fireplace surround that folds into itself to reveal a television - a neat way to hide the TV. 'It's a great trick,' says designer Jon Call. 'To honor the industrial roots of the building, we kept to a cooler grey color, and warmed the room up with hints of antique brass and waxed leathers to lead the eye to the center.'
7. Place your TV within an alcove
Setting your TV back a little on the wall within an alcove will provide a little shade and reduce any natural light from the windows bouncing directly off the TV screen. If you use a full-motion TV wall mount, you can then pull the TV out and angle it to find the ideal viewing position as and when you like.
'Think about building cabinetry that lets you recess your TV into a darker area and bring more attractive pieces, such as art, into the light,' says Alexis Humiston. 'Team this with your layered window treatment so you can tailor the light when you go to watch TV. If you choose a dark paint or wallpaper, it will also help absorb the light while adding dimension to your walls.'
8. Consider a projector screen instead
If you're finding it challenging to position your TV in a bright room, consider installing a disappearing ceiling-mounted projector screen instead. 'This lets you orient your furniture plan around the window, so you can enjoy the beauty of the outdoors during the day and your favorite movies at night,' says Alexis Humiston.
'For a truly seamless look, hide the screen behind a custom valence that coordinates with your layered black-out window treatments.'
Where do I put my TV in an awkward living room?
You can hide your TV in cabinetry or set it back in an alcove. Black out blinds work well too to make the room more TV-friendly as and when you need. Alternatively, if all else fails and you can't do anything about the room, you may want to consider buying a new TV screen.
Look for those with a high-peak light output for the best experience in a bright room, giving you better blacks level and more vibrant colors on the screen. Read more on Mini LED vs OLED: Which technology is better in 2023?
For style leaders and design lovers.
One of the UK's most respected tech and smart homes writers, Emily Peck also covers everything from interiors style to decorating trends. She is a contributor to Wired UK, and has also had a column in House Beautiful. She has written for publications such as Grand Designs, Stylist, Shortlist, Woman&Home, BBC, Ideal Home and House & Garden. She was once the Features Editor of Ideal Home.