What is the most durable type of flooring? These 5 types will stay looking good for longer, say experts
Finding the most durable flooring can be a task, but these five are your best bet, that'll last decades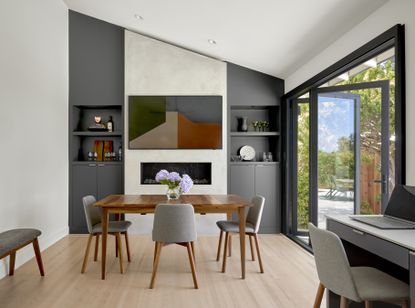 (Image credit: Cesar Rubio. Studio credit Knock Architecture & Design )
The Livingetc Newsletter
For style leaders and design lovers.
Thank you for signing up to LivingEtc. You will receive a verification email shortly.
There was a problem. Please refresh the page and try again.
What is the most durable flooring for your home can be a difficult question, as there are so many options available. Whether you're redoing your home or are building one from scratch, you want flooring that will last decades and won't chip or break. In high-traffic areas such as hallways, kitchens, bathrooms, and living rooms, it is especially necessary to select a flooring material that is durable, scratch-resistant, and easy to maintain.
To help you make this difficult decision, we reached out to experts on what type of flooring material is best. Aesthetics and comfort aside, these floor types are the most sturdy and long-lasting.
1. Solid hardwood
Amongst wood floor types, solid hardwood flooring reigns supreme. Due to its strong surface and make, it cannot be scratched or dented easily. Many old properties, resorts, and homes, in fact, have solid wood flooring, and that's indicative of how long this material can last.
This is a durable type of flooring that is incredibly easy to keep clean. These can be swept, steam-cleaned, or vacuumed to remove any dirt or debris. Solid hardwood is also more stain-resistant than carpets. If you spill something, all you need to do is wipe it up.
'Solid wooden flooring looks stunning, feels warm on your feet, and definitely adds charm to your spaces,' says Prashant Chauhan, founder of Zero9. 'This type of flooring is strong, and durable however it needs maintenance due to expansion and contraction caused by weather change. Also, they need to be cared for regularly as you would care for your leather shoes.'
Odie's Dark finish and stabilizer for wood
Form: Liquid
Price: $44
Consider this sealer for doors, floors, fine furniture, bowls, toys, etc., and ensure your wooden surfaces look fresh and appealing.
2. Engineered wood
Engineered wood flooring is a budget-friendly option when compared to other natural wood flooring like oak or maple. As it comprises composite core layers, this flooring is not as sensitive to changes in temperature or to moisture and thus does not warp, crack or break easily. As this flooring is dimensionally stable, it can be installed in several different ways, including, nailed or screwed down, glued down using flexible flooring adhesive, or floated over an underlay.
This flooring can also be used for underfloor heating systems because it copes well with changes in floor temperature.
'I love wood flooring, but I prefer ones with an engineered base with a solid wood top layer,' says Christie Tyreus, founder of Tyreus Architecture & Design. 'An engineered base provides stability, especially in local areas with humidity or lots of temperature fluctuations. You can also use wide planks with a solid wood top and you can refinish the floors over time. There are lots of sustainable options here too.'
3. Porcelain tiles
Porcelain tiles are characterized by their strength, hardness, purity, and water-resistant nature. This is why they are especially great as bathroom floor tiles. Depending on the rating and quality, you can get a good 15 to 20 years out of your porcelain tile. If it has a higher rating, it can last up to 50 years. The tile has a rigid glass surface that's also anti-skid and can add to the allure of the space.
'Porcelain tiles are generally hard-wearing and much easier to maintain compared to natural stone,' says Kashi Shikunova, director at Yam Studios. 'It is also worth thinking about the grout lines which tend to be the weak element, as they can get dirty or damaged quickly. You can minimize the number of grout lines by using larger scale tiles. Porcelain tiles come in a large array of designs and can make any space look stunning for a long time while allowing the fairly easy day-to-day maintenance.'
Grout-eez Tile & Grout Cleaner
Quantity: 32oz
Price: $21
Choose this grout cleaner to keep your porcelain tiles always looking fresh and dirt-free.
4. SPC
SPC or Stone Plastic Composite, is the latest innovative material flooring. This is 100% waterproof and a much more stable material than traditional vinyl tile, a stone floor, or a polished concrete floor. This flooring type is heating-compatible, environmentally friendly, and is stain-resistant, waterproof, and fade-proof.
'SPC usually lasts the longest,' says Prashant. 'It can withstand a lot of harsh usage and high traffic.'
5. Laminate
This type of flooring is a multi-layered floor covering with a top layer that reproduces the look of wood or stone. It is installed on the subfloor, with an underlayment that is either applied separately or attached to the bottom of the floorboards. It is easy to clean with a vacuum or a mop. The flooring does not stain easily and does not need to be sealed.
Since it is made up of several layers, it is resistant to scratches and dents. Some manufacturers even issue long warranties on the wear layer itself. For this reason, consider laminate kitchen flooring or living room flooring.
'Laminate flooring is a non-natural floating floor,' says Jane Lockhart, founder of Jane Lockhart Design. 'It is a hard substrate with a photograph of wood on it. It is durable and easy to install, and it often costs less than other flooring types, with new versions of this even showing the texture of hardwood on the surface. The negative is that it doesn't stand up to moisture at all, so it's not recommended in bathrooms or lower-level spaces that may get water leaks.'
For style leaders and design lovers.
Aditi Sharma Maheshwari is an architecture and design journalist with over 10 years of experience. She's worked at some of the leading media houses in India such as Elle Decor, Houzz and Architectural Digest (Condé Nast). Till recently, she was a freelance writer for publications such as Architectural Digest US, House Beautiful, Stir World, Beautiful Homes India among others. In her spare time, she volunteers at animal shelters and other rescue organizations.