Engineered wood flooring – everything you need to know about choosing the right floor
Engineered wood flooring looks good, is sustainable and cheaper than solid wood so here's the expert guide on using it in your home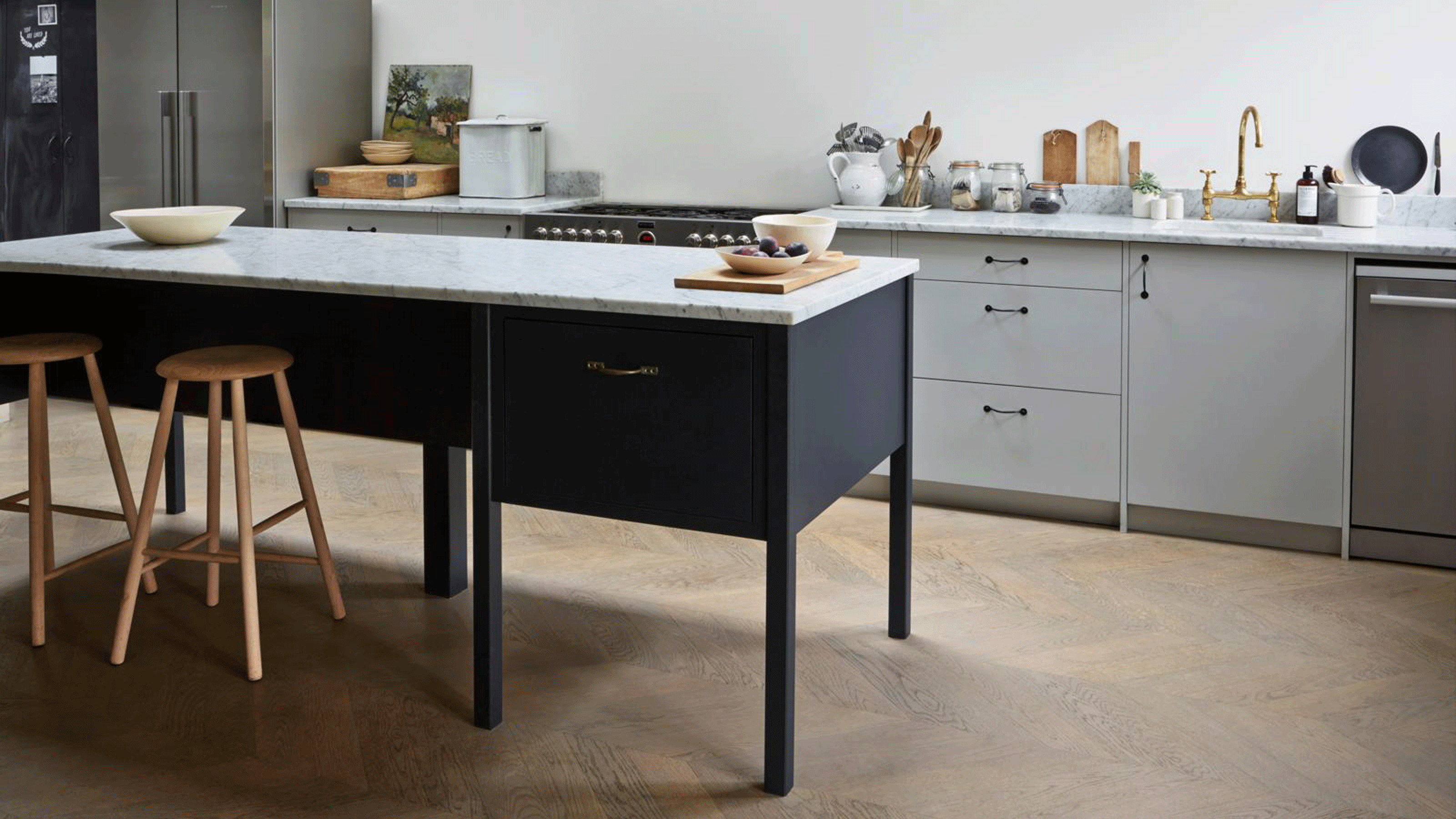 (Image credit: The Natural Wood Floor Company)
The Livingetc Newsletter
For style leaders and design lovers.
Thank you for signing up to LivingEtc. You will receive a verification email shortly.
There was a problem. Please refresh the page and try again.
Engineered wood flooring is a very popular choice for a number of reasons. Not only does it add warmth and character to a space, it is also extremely durable and has timeless appeal. It's no surprise then that in recent years engineered wood flooring has been the obvious go-to when it comes to floor types, especially compared with natural wood flooring which can come with a host of drawbacks, like being damaged by water and humidity.
An engineered wood floor is a real hardwood floor — unlike laminate, vinyl, LVT, and other floor trends. It has many benefits over solid wood floors which is why they have become so popular in recent years. Solid wood floors can't usually be installed over underfloor heating and aren't recommended for use in areas that may get damp. Engineered wood floors should also not be confused with a "real wood veneer" floor, which is where the wear layer of the floor is only 1mm or less.
Here, Robert Walsh, founder, and owner, luxury flooring brand Ted Todd explains everything you need to know about engineered wood flooring.
1. Think about technical practicalities as well as how the floor looks
There are important questions to ask yourself before installing engineered wood flooring. These questions include: where will the floor be fitted, will it be installed over underfloor heating, will it be installed next to other floor coverings such as tile, and how will this impact the thickness that is needed?
'A 20mm floor with a 6mm wear layer is the absolute best you can buy,' says Robert. 'It means that it can be sanded several times over the years, meaning the floor will last for decades. Our 20mm floors come with a 25-year guarantee, as we're so confident in the quality and construction of them.'
2. Be aware of the different types of engineered wood available
There are a few different constructions available when it comes to engineered wood flooring, such as 2-ply (two layers of wood), or 3-ply (three layers of wood). The most important factor when looking into the construction of an engineered wood floor is what the layers are made from.
'The top layer of flooring (the wear layer) will be what you see when the floor is installed,' explains Robert. 'The wear layer may be European oak, pine, or walnut, for example. The layer underneath this is where you want to check which materials have been used. Furniture grade birch plywood is a good choice and has a lot of weight to it – if the floor is 20mm thick then the floor will weigh around 14kg/m2. A 3-ply 15mm floor is cross bonded to 2 layers of oak, and this is still fairly weighty at 11kg/m2.'
3. Engineered wood flooring is ideal for underfloor heating.
Engineered wood flooring is the best type of wood flooring to use with an underfloor heating system because it copes well with changes in floor temperature, unlike natural wood flooring which can warp or be damaged.
'Our engineered floors are made from layered sections of solid wood,' explains Robert. 'Each layer runs in a different direction to ensure durability and stability, reducing the wood's natural tendency to expand and contract. This makes it the perfect choice for underfloor heating, older homes and rooms below ground level.'
The top layer of an engineered board is known as the wear layer and ranges from 3mm to 6mm. Wood floors can be sanded and resealed and so the thicker the wear layer, the more often you can do this over the years. This is certainly worth considering if you are thinking of new hallway ideas.
4. Choose engineered wood floors that have good quality thickness to ensure they last
Within the industry, 10mm/12mm-20mm thicknesses are pretty standard for engineered floors, but it's the construction of the floor that you want to look into to make sure that every layer is made from good quality material. Some wood floor companies may use low-grade cores to save costs, or they may use a very thin wear layer. If you are after practical kitchen flooring ideas, this may not fare too well in a busy kitchen.
'It is also common for 10mm or 12mm wood floors to have a wear layer of only 1 or 2mm, which don't give you the longevity you'd expect when buying a wood floor,' says Robert.
'We actually make a 12mm floor that has a 4mm wear layer which is unusual for the industry, as it still gives the option to sand down over the years as needed.
'Sometimes you may need a floor that is less than 15mm in depth, for example, if you are running a wood floor into another room that has tiles and you want them to sit flush. You'll still find these products to be widely available, but keep in mind that as the wear layer will be quite thin you won't really be able to sand them down which will make the life of the floor shorter.'
5. You can install engineered wood in the bathroom
Engineered wood is a good bathroom flooring idea because, unlike solid wood flooring, it is not prone to water damage and expanding or contracting in different temperatures.
'We've had so many customers over the years who have fitted engineered wood floors in their bathrooms with no problem whatsoever,' says Robert. 'The main things you need to do are make sure that the room is well ventilated and that you use a thick, good quality bathmat when getting out of the bath or shower to catch any spills and splashes.'
6. There are a range of finishes and styles available
The top layer of engineered wood is solid wood which gives you the same variety of styles and finishes as if you are opting for solid wood flooring ideas. You can choose from planks, herringbone, or chevron, all of which are extremely popular designs for wood flooring, or you can choose something that makes more of a statement like a geometric panel.
'There are also many different finishes available for engineered flooring,' says Robert. 'Most finishes fall into the categories of being an oil or a lacquer, but within this there are many options that give a different look. Some have a matt finish, others can give more of a satin finish, and some can look completely invisible.'
Lacquer is very hardwearing and sits on top of the surface of the wood, making it easy to clean and maintain. 'An oiled finish soaks into the pores of the wood to give a more natural look and feel, and aside from the beautiful aesthetic it gives, has the benefit of being easy to refinish if you get any small scratches on it,' says Robert.
7. Engineered wood flooring is a sustainable choice
Engineered wood flooring is just as sustainable as a solid wood floor, as wood is a renewable material making it an eco-friendly flooring choice.
When you're looking to choose a wood floor, make sure you check the environmental credentials of the product as well as the credentials of the company selling it.
'Make sure that the floor is FSC or PEFC certified — these are both independent bodies who certify that wood comes from sustainably managed forests and that the chain of custody of the supply chain is sustainable all the way through,' says Robert.
'The reason wood is so good for the environment is because over time, trees lock away carbon. As trees mature, they get to a point where they lock in less carbon away, and it is at this point that it is better to fell the trees and replant new ones, so that the new trees can begin the cycle of locking away carbon again. If we were to leave the same mature trees standing, then less carbon would get locked away over time.'
When purchasing a wood floor, ask for the chain of custody number of the product, ask whether it is FSC or PEFC certified, and ask whether you are being charged any extra for the environmental accreditation. Companies who really care about the environment should offer this as standard without charging extra.
'Renovating and re-sanding a wood floor is a key sustainable attribute, as it extends the life of your floor, and means that you won't need to replace it every 5 years like you may need to with other floor coverings like carpet. A wood floor will last for decades, and with the right care could even last for 100 years,' Robert adds.
What are the disadvantages of engineered wood flooring?
There are few disadvantages to engineered wood flooring. Like any hardwood flooring, it will need maintenance to keep it looking good. The quality of engineered wood flooring can vary wildly so it is important to buy it from a high-quality manufacturer to ensure it is made from high-grade materials and the top layer is a good enough thickness. Some engineered wood can be prone to fading from the sun but you can minimize this by using blinds in hot weather or rugs to cover areas that could be vulnerable.
What is the price of engineered wood compared to real wood flooring?
Engineered wood flooring has a huge variety of price points, but the thicker the floor (which will cost more than a floor with a lower thickness), the longer it will last.
When comparing the cost of an engineered wood floor to a solid wood floor, solid uses a lot more hardwood and so is generally more expensive than engineered.
Can I install engineered wood flooring?
Installing any wood floor – whether solid or engineered – is a specialist project and so we would never recommend that any one DIY it. A wood floor should always be installed by a qualified installer as it is a technical job to undertake.
For style leaders and design lovers.
As the Deputy Editor of Livingetc, Busola Evans works across both print and digital and specialises in kitchens, bathrooms and projects. She is an expert at explaining how to improve, extend and convert your home. Prior to her current role, she was Associate Editor on both Livingetc and Homes & Gardens. A journalist for more than 20 years, she has written for a number of newspapers and magazines including The Guardian, The Sunday Times Magazine and Grazia, and was an interiors columnist for the London Evening Standard's ES Magazine.