What's the best material for split-level kitchen islands? Designers on getting this luxe decor trend exactly right
Marble, wood, quartz? Designers share their expert insight on the best material for split-level islands that offer the perfect blend of pretty and practical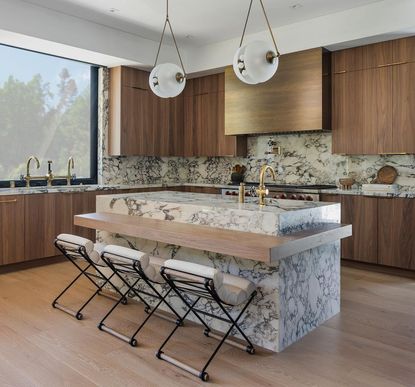 (Image credit: Ryan Saghian/Anthony Barcelo)
The split-level kitchen island is an option for anyone that can't fit a separate dining table in the space but but enjoys socializing and hosting in the kitchen.
The modern kitchen has become a multifunctional space where we cook, eat, hang out, host, relax and even work, and kitchen design is adapting to accommodate this shift.
Split-level kitchen islands often come in two styles: one that offers a two-tier countertop, which, depending on which side you choose to have higher, often handily hides the prep space behind it, and one that is extended horizontally with a dining surface at a lower level to the side of the island.
'A split-level or two-tiered kitchen island is an island that has counter or table surfaces at two different heights but is connected or adjacent,' explains Mindy O'Connor - Principal of Melinda Kelson O'Connor Architecture & Interiors. 'This can be useful when available space for a separate kitchen table is limited. This arrangement also can work well when a less formal kitchen table or bar (and one right in the action) is desired but sitting at counter stools is not deemed optimal for comfort.
'The adjacent table or bar space can also be nice for assigning kitchen helpers a spot to work apart from the main counter space, but close enough to feel included.'
Amy Sklar of Amy Sklar Design, highlights that it's a clever layout choice for anyone looking for small kitchen ideas.
'A split-level island is a great space-saving tip for smaller kitchens without the space requirements for a full eat-in kitchen,' says Amy Sklar of Amy Sklar Design. 'And it also allows you to offer table-height seating and workspace options in addition to a typical counter-height island that only offers one level of workspace and seating.'
Split-level islands can also be a nifty layout for large kitchens too. Alice Arterberry, principal of Arterberry Cooke Architecture, says: 'Split-level islands are great when you have a large space in which a single tier island is cumbersome to navigate. Splitting the island into two levels identifies what the spaces should be used for (ie. here is where you sit, here is where you prep food) and gives hierarchy.'
What's the best material for split-level kitchen islands?
So what's the best material for split-level kitchen islands that will maximize functionality as well as create a visually appealing feature? We tapped some top designers to let us in on their go-to choices.
1. Marble and wood
The materials you choose for your split-level kitchen island often depends on your needs as a family, as well as the style of your kitchen and decor.
It's very common to mix materials on a two-tier island to delineate each section and its function.
'I am a huge fan of mixing materials in a split-level island situation,' says Amy Sklar, of Amy Sklar Design.
'In this kitchen (above and below), the homeowner is an avid baker, and the table-height portion of the island is also the ideal height for many standard baking tasks from kneading to rolling.
'We used walnut butcher block for the standard counter-height portion of the island, and then we used marble for the table-height section because it stays cooler than other types of materials (such as wood), which is ideal for a baker.
'Marble (or other natural stone or composite materials) countertops are a standard for many bakers. We chose butcher block for the other section of the island since it's a perfect workhorse for so many other types of food prep. Both materials age and patina beautifully, which is something you should always consider when selecting countertop materials.'
When it comes to maintaining a wood or marble surface, Amy adds: 'If you do choose wood, it's recommended that you oil it periodically to maintain look and performance. Similarly, natural stone, like marble, is porous and should be sealed annually to maintain its appearance in the long term with regular use.'
2. Quartzite
The material you choose for your split-level island depends on your lifestyle and how you want your kitchen countertops to patina and age.
'Tiered islands tend to be used in kitchens that see a lot of use so you will want to use something very durable, that's non porous and won't scorch easily,' says Alice Arterberry. 'Natural stone like quartzite and granite are your best options for these attributes.'
But if you're looking for your kitchen island to be super-durable and maintain the same look over time, then a composite like quartz is a great option, fitting neatly into current kitchen trends for low-maintenance approaches.
Amy adds: 'If you want your split-level kitchen island to stay pristine, it's hard to go wrong with quartz or a composite material, since they stay true to their original appearance through day to day use.'
Should you use different materials on a split-level kitchen island?
Whether you use the same or different materials for your split-level kitchen island is down to the aesthetics you want to achieve.
Using the same materials for both tiers of a split-level kitchen island will create a cohesive scheme and allow the island to sit seamlessly and elegantly within the space (seen in the all-marble example above).
While one material on a two-tier island will create a seamless aesthetic, differing materials can make a design feature of the island.
'Material choices always depend on the design of the kitchen,' says Mindy O'Connor. 'Sometimes the differing elevations are meant to work as one cohesive island, utilizing the same materials and just offering different heights for practicality.
'Other times, you may want a deep contrast between the various island elevations, and to use the difference as a strong design move both functionally and aesthetically.' This design decision is seen below in the stunning space by Ryan Saghian.
Which materials should you avoid for split-level kitchen islands?
Regardless of whether the counter space is meant for working or socializing, it's always best to look for durable and beautiful materials.
'The only choice I might avoid is contrasting natural stone with engineered stone in two counter spaces that are so close to one another,' says designer Mindy O'Connor.
'If natural stone or marble feels too precious for one of the elevations, switch materials all together for the other one to something that has an altogether different character, like wood, concrete or metal.'
The Livingetc newsletter is your shortcut to the now and the next in home design. Subscribe today to receive a stunning free 200-page book of the best homes from around the world.
Ruth Doherty is a lifestyle journalist based in London. An experienced freelance digital writer and editor, she is known for covering everything from travel and interiors to fashion and beauty. She regularly contributes to Livingetc, Ideal Home and Homes & Gardens, as well as titles like Prima and Red. Outside of work, her biggest loves are endless cups of tea, almond croissants, shopping for clothes she doesn't need, and booking holidays she does.