What type of countertop lasts the longest? Every designer we asked mentioned the same material
Gone off granite but don't trust yourself (or the kids) with notoriously high-maintenance marble? Designers agree on what could be the answer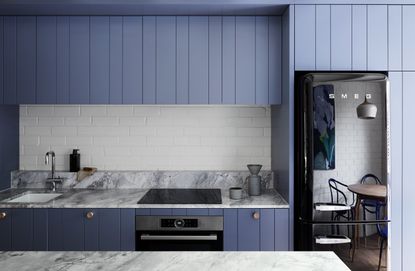 (Image credit: Lisa Breeze. Caitlin Mills Photography)
What would be the ten commandments of the kitchen worktop? It must resist wear from acid, heat, hard water. It shouldn't need to be oiled or resealed every month. It must never chip, and certainly (just the thought) never crack.
At the same time, it might be one of the most expensive decisions you make for your home – and one that won't be revisited for ten years or more. In other words, it's a recipe for decision paralysis. So how to land on something that will serve you well in the long term, yet still look good in a modern kitchen?
'This question arises every time I design a kitchen,' says Todd Prince, who runs a design studio in California. 'Durability and longevity should be the driving forces behind your countertop choice.'
When we asked a slew of designers what they would choose with exactly that in mind, there was one clear winner: quartzite. 'It's the best balance of durability and aesthetics,' says architect Lisa Breeze, who chose quartzite counters for her own Melbourne home (above). 'I've ended up with most clients wanting to use it based on my positive experience.'
What is quartzite?
Quartzite is a natural stone, extracted from the earth through quarrying – much like marble or granite. To get a little more technical, it's a metamorphic rock that forms when sandstone rich in mineral quartz is subjected to consistent heat and pressure. 'It's one of the hardest and most dense materials on earth. Its durability is extraordinary,' says Todd Prince.
It tends to be white or pale in color, but higher concentrations of an oxide mineral called hematite can produce a pink or red tinge. Green, blue and yellow quartzites do exist, but you'll likely pay more for their relative rarity.
Types popular with designers include pearly Taj Mahal quartzite, which is a particular favourite of NAINOA founder Noa Santos ('it still looks beautiful after plenty of wear, and means you don't have to always be policing the use of coasters' he told editor Pip Rich last year). The 'Taj Mahal' name is something close to a misnomer, as it's quarried in Brazil rather than India.
Is quartzite the same as quartz?
In a word: no. Quartzite isn't the same as quartz.
Often used interchangeably, quartz and quartzite are really two distinct materials. Quartz is man-made, formed by combining ground mineral quartz with resin and pigments. That does mean it comes in a much wider range of colors and will have a consistent finish, though it's not quite as hard as quartzite.
It's little wonder that the two materials have become muddled, but the designers we spoke to stressed it was important to retain the distinction. 'We never use quartz,' says Trish Lynn, principal designer at Colette Interiors. 'It can bring a home down with its builder-grade look. If you're truly looking to create an elevated kitchen countertop, we would recommend quartzite over quartz.'
How does quartzite compare to marble?
'Marble countertops can be as delicate as they are beautiful, but they're prone to stains and chipping,' says Amy Kreutz, partner at Conceptual Kitchens. 'Found in similar creamy white shades, quartzite has become one of our favorite materials to use. Natural variations in veining provide that one-of-a-kind pattern you're looking for in a stone slab, and it's resistant to scratching and etching.' Quartzite also tends to be slightly cheaper than marble – though neither are budget options.
It's an enduring kitchen trend, so you'd be forgiven if your heart was still set on marble? You might need to be more mindful, but don't let that dissuade you entirely – it's more than up to the job, says Prince. 'Marble may be softer than quartzite but it is still a rock. It has far more density than is required for any kitchen counter.'
Kreutz agrees: 'Although marble requires the most maintenance, when sealed and treated properly it should withstand time in your kitchen.' If you do go down this route, make sure you understand how your chosen slab will patina down the line.
Any other options worth considering?
Natural isn't a byword for better when it comes to kitchen island surfaces and countertops. Several engineered surfaces, which combine quartz particles with resins, glass or porcelain, are well-utilised in design and architecture circles. They are similarly chip- and scratch-resistant and will come in at a lower cost than quartzite or marble.
'Caesarstone and Dekton by Cosentino are two materials that can withstand the wear and tear of a kitchen,' says San Francisco-based designer Kimberly Larzelere. She recommends quartzite if you're set on a natural stone, but notes that 'a few can react to acidity, so ask your slab yard before purchasing'.
Monique Tollgård, co-founder of Tollgard Studio, says she often advises clients to forgo delicate or porous materials like marble or softer woods in favour of 'equally impressive but durable options' like composite stones or steel.
'The kitchen is an ever-evolving space, so people might work at a countertop during the day and then entertain friends for dinner around their island in the evening. As designers, we strive to create a foundation that doesn't strike fear into the hearts of our clients each time they put a glass down or spill something.' Cheers to that.
The Livingetc newsletter is your shortcut to the now and the next in home design. Subscribe today to receive a stunning free 200-page book of the best homes from around the world.
Cat Olley is a British design and lifestyle journalist, editor and copywriter. Formerly on the features team at ELLE Decoration, she has written for The Guardian, The Modern House, Evening Standard Homes & Property, Inigo and John Lewis at Home. She specializes in the latest trends and ideas happening in the design world, and is our go-to for aesthetically-led pieces.