7 front door plants that immediately make your home look more welcoming
A simple update for your front door, plants can soften the space, adding texture and shape – here are the best ones to make your home feel more welcoming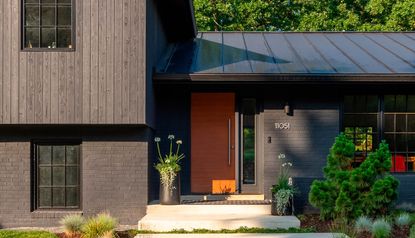 (Image credit: Richardson & Associates Landscape Architecture)
The Livingetc Newsletter
For style leaders and design lovers.
Thank you for signing up to LivingEtc. You will receive a verification email shortly.
There was a problem. Please refresh the page and try again.
Your front door is something you encounter daily, more than daily. You walk in and out of that space constantly. It's the first thing any guests see, your neighbors can see it, it's the most public part of your home. So we think it deserves some attention.
Now, that needn't mean a total overhaul of your porch decor, there are plenty of really simple, quick updates that can transform the exterior of your home (and give your curb appeal a boost). Plants are one of them. Flanking your door with a couple of bay trees, or training a rose to go around your porch can soften the look of your home's entrance, make it look more welcoming, and add some much-needed texture and greenery to this high-traffic area.
We asked the experts, what are the best plants for a front door if you want your home to look more welcoming? What plants will thrive in this potentially small and shady spot and will look aesthetically pleasing all year round?
6 best plants to make your front door look welcoming
Plants are perfect for making your front door more welcoming. They soften the straight lines and hard surfaces and can add color and scents that both you and your guests can enjoy.
'When selecting potted plants for a front entry or porch setting, it's crucial to exercise restraint,' suggests Amy Hovis, principal and designer at Eden. 'For a serene and welcoming atmosphere, opt for larger pottery and choose a sculptural statement plant that is native or well-adapted to your region, ensuring it thrives with minimal care. Avoid using pots that are too small, having too many pots, or incorporating an excessive mix of colors and plant types, which can result in a cluttered and chaotic appearance.'
So with that in mind, here are the best plants to choose for your front door to make the space feel more welcoming.
1. Olive trees
Olive trees are a classic option for your front door. Their slight wildness and gnarly trunk means they are never going to be as structured as a bay tree or box plants, but we like that laid-back element to them – it's very in keeping with the on-trend Med vibe they add to a space, especially if you pot them up in a terracotta planter.Plus, if you want a slightly more formal look, you can flank your front door to add some symmetry and tame them into that classic lollipop shape.
Olives are some of the best trees to grow in pots and despite being associated with warm and dry climes, they cope well in cooler temperatures too. They are fine outside until it goes below 15˚F, then you should consider bringing them inside if the plant is small enough to so do. They make for stunning indoor trees too – just pop them in the kitchen or bathroom to soften the space. And if the tree is too large to bring indoors, you can protect it with horticultural fleece for a few weeks if it looks like it's struggling.
Mediterranean
Price: $99.95
Size: 2 - 3 feet
2. Evergeen shrubs
If you do like that symmetrical, formal feel to your front door an evergreen shrub on either side is the perfect option. They are hardy, and relatively low maintenance. They like a semi-shady spot and moist but well-drained soil – so again, perfect for growing in a pot. You also have the benefit that these plants will add greenery to your doorstep all your round, so no need to switch them out with the seasons.
'To achieve an elegant and sophisticated front entry, consider using only a few very large-sized pots, each featuring a single type of plant. Excellent choices for front-entry plants include evergreen shrubs, topiaries, and flowering perennials,' suggests Amy Hovis.
Jordan Clough agrees. 'There are a few different strategies to take with front door plants, but personally, I prefer one or two large planters over several small ones,' he says. 'This allows for planting a dwarf evergreen shrub like a Boxwood (Justin Brouwers or Morris dwarf are both good cultivar options) which require a certain soil volume to be successful for several seasons. Around the base of your evergreen is where you can infill with seasonal annuals like Pansies, Verbena, or Dichondra.'
Evergreen
Price: $27.29
Quantity: 2
3. Ferns and hostas
Ferns create a fabulous tropical vibe, that is sure to make your front door look vibrant and welcoming. And there are so many options to choose from depending on the look you are after. They can also make a real statement when you bring different types together. Caring for ferns is relatively simple, they like a shady spot (so ideal if you are looking for porch plants) and need to be well watered.
'One of my personal favorites for porch planting, especially in areas with indirect light and partial shade, is the foxtail fern (Asparagus densiflorus 'Meyeri'). 'This eye-catching, sculptural plant boasts vibrant to dark green foliage, belonging to the Asparagus family, though not a true fern,' suggests Amy. '
'Foxtail ferns (used in this front yard) are exceptionally easy to care for, thriving in the summer heat and even enduring cold spells. Should they face drastic temperature changes, such as those caused by climate fluctuations, you can trim them to the ground, and they'll rebound, returning as vibrant as ever.'
Jemma Charman, co-founder of Green Rooms adds, 'If it's a jungle vibe you're after then Ferns, Fatsia and Hostas make a great combination for a shadier front door. Create interest by grouping plant pots together, or plant together in a larger container. The different leaf shapes will add a variety of texture and be sure to have a variety of plant heights for added interest. As with all plants in pots, ensure there are drainage holes at the bottom of the pot and water frequently especially during drier months.'
3. Lavender
Lavender can make a front door so much more inviting. Not only do you get some lovely blousy blooms, in the pale purple shades but the smell is beautiful. It's perfect if you like a country, rustic aesthetic and want to soften the lines of your front door. They are very happy in pots if you want to keep the plants slightly under control, or you can opt for a wilder look and plant them directly into the ground if that's an option.
'Lavender is a great choice for a sunny doorway, with its tactile stems, purple flowers and unmistakable scent it will brighten the front of a house, with an important bonus, it's one of the best flowers for bees and pollinators,' says Jemma.
Lavender care is relatively easy. They like the sun, so if your front door gets a lot of warmth they will thrive. Avoid overwatering, just feel the soil every few days to check it's not super dry, and water as needed. You will have to deadhead a lavender plant too – not a huge job, just pinch or snip off the flowers as they start to dry and fade. Since they are on your front step this should be easy to maintain, and then you can use the deadheads to scent your home.
Soft color
Price: $24.99
Dimensions: 22 x 22 x 26 inches
4. Bird of paradise
Super structural and ideal if you like more architectural plants, tropical greenery like birds of paradise make a statement of your front door. Despite the name, they can live outside in temperatures above 50°F, so if the temperatures get below that where you are, just bring it indoors over the fall and winter. They do like direct sun, so a south-facing porch would be the best option.
'Interesting, low-maintenance species such as Strelitzia parvifolia (Bird of Paradise) add instant scale and proportion to an entryway or porch. Its attractive, paddle-shaped leaves have a deep green color and a graceful appearance, and when in bloom, the species adds a burst of color and a touch of exoticism to the exterior,' says Anthony Wyer, founder, and creative director, Wyer & Co.
You can soften the look, as seen here, by surrounding the plant with spilling plants – if you have not heard of the spiller, thriller, and filler planting approach, learn up.
Tropical
Price: $53.99
Size: 5 foot
5. Hardy succulents
Another option, if you like a modern contemporary vibe with your planting, is to create a display of succulents. They work well as part of a container garden if you have the room to go for a larger container over a pot next to your door or on your porch to make more of a statement.
'Aeonium and Echeveria displays make a strikingly architectural addition to the front of a house, and they come in a brilliant array of shapes and colors,' says Jemma. 'With lots of light Aeonium grow tall with a beautifully architectural shape, complimented by smaller echeveria at the base of a pot, this makes for an eye-catching contemporary front door container. Depending on how cold it gets and how sheltered a position they are in, during Autumn and Winter it's likely you'll have to bring them inside or under cover to avoid the frosts.'
'You can explore succulent arrangements that, while requiring some maintenance, can be stunning additions. Or for a more contemporary touch, add in some ornamental grasses which work well, especially in areas with full sun,' adds Amy.
6. Wisteria
'A great option for making a front door look more welcoming is wisteria, which can elevate the look of your home with its long, flowing vines and lush foliage,' says designer Irene Gunter. 'Despite its impressive appearance, wisteria is quite low maintenance and requires very little watering or fertilization once established. It is a hardy plant that can withstand a variety of weather conditions, making it perfect for most climates.'
As with any climbing plant you want to make sure it has something secure to grow up and around. Wisteria doesn't actually have sticky pads to help them climb up walls or around door frames, so assist the plant in finding its way using wires or a trellis that you can fix to the wall.
Romantic
Amethyst Falls wisteria vines
Price: $39.95
Size: 2 quart
7. English ivy
'The front doorstep or porch is the first impression a visitor gets of a home, so selecting the right plants is crucial. Now, while there is a multitude of plants that could enhance the aesthetics of a front porch, there's one I have a particular fondness for the English Ivy (Hedera helix),' says Ash Read, founder of Indoor Plants.
'This evergreen perennial is an incredible plant with a bit of a dual personality. It can blanket the ground in a lush, verdant carpet, but give it a surface to climb and it'll ascend up to 80 feet. This versatility made it a fascinating plant for the front porch.'
'It's true that English Ivy has a bit of a reputation in some areas for being invasive and causing damage to brickwork and trees. It's like the proverbial wild horse – breathtaking to behold but needs careful handling. In the right setting, and with the right care, it becomes a stunning feature rather than a menace.'
Cottage-like
Price: $21.64
Size: 6 inch pot
For style leaders and design lovers.
Hebe is the Digital Editor of Livingetc; she has a background in lifestyle and interior journalism and a passion for renovating small spaces. You'll usually find her attempting DIY, whether it's spray painting her whole kitchen, don't try that at home, or ever changing the wallpaper in her hallway. Livingetc has been such a huge inspiration and has influenced Hebe's style since she moved into her first rental and finally had a small amount of control over the decor and now loves being able to help others make decisions when decorating their own homes. Last year she moved from renting to owning her first teeny tiny Edwardian flat in London with her whippet Willow (who yes she chose to match her interiors...) and is already on the lookout for her next project.