6 ways to have a low-maintenance kitchen that looks good for years to come
From the right materials, stones, tiles to lighting, these are the best elements that are timeless, looking good for a generation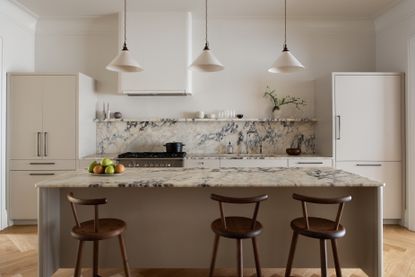 (Image credit: Sarah E. Elliott. Studio credit Branca and Co)
A durable kitchen that is also low maintenance is every homeowner's dream. And to have that kind of space, it all boils down to your material choices that affect the look, longevity and upkeep of this space. You want to choose materials that last for years, looking good for - perhaps - a lifetime.
From the right countertops, flooring, and lighting, to backsplashes and more, top experts have helped us zero in on six essential kitchen ideas that can produce a timeless space. Take a look.
Aditi is an experienced homes writer and editor. She has written hundreds of articles for various international titles helping readers make the best home design choices, and spends her days interviewing interiors industry experts to bring the latest ideas to her readers. For this piece she spoke to the world's best designers to learn about how to design a low-maintenance and durable kitchen.
6 ways to have a durable kitchen looks good for years
1. Consider large-format porcelain tiles for the floor
'With a wide variety of durable, long-lasting options in the market, nothing beats large format porcelain tiles – my personal favorite is Porcelanosa,' says Julia Mack, founder of Julia Mack Design. 'Porcelain tiles feature tonal hues that offer a subtle design for a contemporary kitchen, working beautifully into a streamlined and seamless pattern. They are very well priced compared to natural stone and slate and, are stain and fade-resistant, easy to clean, and create an impactful and contemporary look for the kitchen.'
This kitchen floor tile is also highly resistant to wear and tends to last decades, fairing better than a standard ceramic or stone tile. This is because it has fewer air pockets, and is a denser material. These tiles hold up to pets as well and look good for years. Being hard and resistant, they are less prone to breaking.
In terms of maintenance, large format tiles mean lesser grout lines to clean. If you want your kitchen floor to look neat and clean at all times, choose dark grout lines that hide the dirt.
2. Go for easy-to-clean laminates for kitchen cabinets
Laminate is a synthetic material that is made of compressed wood, and fairs well as a kitchen cabinet material. The aesthetic possibilities and durability make it rank high for a long-lasting kitchen addition. It is cost-effective, hard-wearing, and offers fantastic scratch resistance.
It is also considerably more affordable than natural timber. Laminates are easy to clean, and spills and marks can simply be wiped away with a soft microfibre cloth. 'The best part about laminates is that they can emulate wood, metals, or even fabric textures with the diverse options available,' says Sabrina MacLean, founder of Hino Studio.
Laminates do not require polishing, painting, or sealing, and can be installed on any type of cabinet.
3. Use natural wood cabinets
'Solid wood can give a warm feeling to the space,' says Sabrina. 'It's one of the first options every time we are working on kitchen space. A versatile and durable material, wood is hard-wearing and long-lasting. And, it looks good.'
Wood cabinets are available in varied colors, shades, and wood grain (based on the tree it is sourced from), adding an interesting character to the room. Wooden cabinets are sturdy and beautiful, and because are of higher density, can last generations.
Any type of wood cabinet will last decades, as long as they're well-built and the wood quality is good. Plus, a great modern kitchen addition, wood - unlike laminates - can be refinished and painted to suit new trends.
If you're big on sustainability then wood, a naturally renewable resource, is the perfect addition to your kitchen. When chosen wisely it can have very little impact on the environment, unlike cabinets composed of petroleum products.
4. Nothing is more long-lasting than stone for countertops
'Marbles and granites are a secure and timeless choice when deciding on the correct material for your kitchen countertop,' says Sabrina. 'But, even though the look of a real stone is unique and hard to compare to, keep in mind these require regular maintenance.'
'One of the most durable materials for countertops is usually quartz, but it is very limited in its finish varieties,' says Bea Pernia, founder of Bea Interiors Design. 'I like solid and matte materials like Dekton [a type of man-made quartz, considered one of the most durable and low-maintenance materials in the market] that do not need to be sealed, unlike the other materials. It's resistant to heat and has many different finishes to choose from.' Also, natural stones stay as icy as central air, which means these are heat-resistant.
One of the biggest reasons why homeowners choose natural stone is that nothing can rival the look of marble or quartz. There's a richness to them and a character to the stone. Plus, marble with its natural veining can give depth to a kitchen that might feel too one-dimensional or flat.
Marble can last more than 100 years but it needs to be maintained well. Since it is a porous material, it can trap water, oils and other liquids, leaving a stain that is immediately visible. By using a marble sealer (impregnable sealers that penetrate the surface and absorb into the stone), you can make your countertop resistant to all types of liquids and stains, making them long-lasting.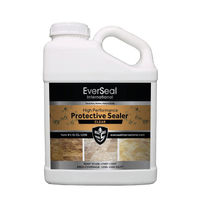 5. Choose recessed lights that define the space
When it comes to kitchen lighting design, ordinarily homeowners think of pendants, chandeliers, and sconces. And while these lighting fixtures are essential, the one type of light that subtly but significantly affects the look and even highlights the space is architectural lights.
These lights, more specifically recessed lights not only throw a nice illumination over a greater area in a room but also define a space. Plus, these lights increase visibility and safety, when all other ambient lighting is turned off.
'You need to be able to create the right ambiance throughout seasons, and during the day; in the morning, day, evening and night,' explains Jonas Bjerre-Poulsen, founder of Norm Architects. 'I always recommend building architectural lighting into the space to light up all walls and corners and define the space. On top of that, you can choose a few decorative lights that supplement the general kitchen ceiling lighting and also act as sculptures.'
The other advantage of recessed strips or spots is that they are usually concealed, so far away from the regular bustle, accidents or dangers of the kitchen, making them last longer. As opposed to pendants and chandeliers that can go out of fad over time and may need to be changed, recessed lights can go on and on, for decades.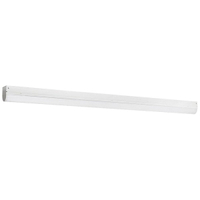 Install this long LED tube along the ceiling, under the cabinets or along walls to add a soft glow to the kitchen.
6. Ceramic and metal tiles are ideal for a backsplash
Ceramic tiles are a winning kitchen backsplash idea as they are easy to install, lightweight, and relatively inexpensive as compared to stone or porcelain. These are available in varied sizes and can be easily customized to the exact dimensions, color, and pattern you wish for.
These tiles are also highly resistant to water, spills, and humidity, making them last longer in the kitchen. They are also powerfully durable. Since they are slip-resistant, you can easily hang hooks and rails onto them, to store pots and pans.
Metal tiles too can be used as easily as stone or ceramic. Although not as heat resistant as ceramic, these tiles, usually seen in restaurants, can take plenty of abuse, and wear and tear, and are also easy to clean.
'Metal is a resilient material; it gives a soft and different appearance to the surface,' says Sabrina. 'It's a great option to achieve an atemporal look and give character to the space.'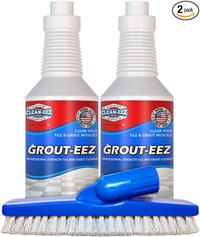 The Livingetc newsletter is your shortcut to the now and the next in home design. Subscribe today to receive a stunning free 200-page book of the best homes from around the world.
Aditi Sharma Maheshwari is an architecture and design journalist with over 10 years of experience. She's worked at some of the leading media houses in India such as Elle Decor, Houzz and Architectural Digest (Condé Nast). Till recently, she was a freelance writer for publications such as Architectural Digest US, House Beautiful, Stir World, Beautiful Homes India among others. In her spare time, she volunteers at animal shelters and other rescue organizations.