10 ways landscapers make front yards more private - and add curb appeal, too
Use walls and fences combined with natural landscaping ideas with trees, hedges and layered planting to create all the seclusion you want while also enhancing curb appeal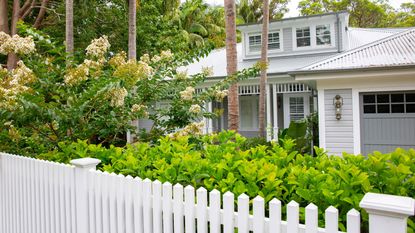 (Image credit: front yard Martin Berry/Alamy Stock Photo)
The Livingetc Newsletter
For style leaders and design lovers.
Thank you for signing up to LivingEtc. You will receive a verification email shortly.
There was a problem. Please refresh the page and try again.
One of the most important considerations when choosing front yard privacy landscaping is to select hardscaping and plants that will accentuate your home's facade rather than hide it. Resist the temptation to build high walls that will make your front yard feel too enclosed as well as cancel out curb appeal. Instead look at planting and hardscaping as a combination rather than opting for a prevalence of simply one or the other.
A classic white picket fence, masses of softly contoured shrubs, and clipped hedging complements an older style home, while a sleek modern fence or bold wall and lush tropical planting offer a more contemporary look for urban apartments. For a full-looking modern front yard, think year-round and try to include evergreens, as well as multi-seasonal plants with interesting bark, berries or fall color.
Now take your pick from our expert suggestions for 10 stylish ways to screen your home from the street.
10 ways to enhance the privacy of your front yard
Creating privacy in your front yard is important as it's never good if you feel the outside world is encroaching on your space. The good news is there are plenty of creative solutions to enhance front yard privacy landscaping. Now take your pick from our expert selection.
1. Install light and airy decorative screens
The use of strategically placed screens to make your front yard feel more private is a common design trick, particularly for overlooked spaces in the city. The best privacy screens often come in a lattice style that will allow light to pass through so it doesn't entirely close off a space and make it feel boxed in. Featuring ornamental laser-cut patterns and made of materials such as metal and wood, they add a design element to the front yard too.
'Decorative screens are a gem, especially for city folks with limited space,' says Brian Clayton, CEO of landscaping experts Green Pal. 'When positioned right, screens can give you much-needed seclusion. The trick isn't just about hiding away. Instead it's about creating privacy stylishly without losing the essence of your space.'
Laser-cut metal privacy screen
Price: $178.65
Was: $224.27 (20% off)
Dimensions: 76'' H X 47.2'' W X 15.7'' D
2. Combine lush planting with an ornamental gate
Intricately carved wrought iron gates look great for a Spanish-inspired entrance, adding an opulent touch to your front yard aesthetic. Opt for pre-made wrought iron gates as custom-made metal work tends to be expensive.
Tropical plants with lush foliage are a great way to create more privacy in your front yard without needing to put up a man-made structure you might then change your mind about afterwards. Go for a layered look to keep things natural.
'Plant fast growing shrubs [like hydrangeas or weigela] either in the ground or in pots that you can move around,' says Miguel Camperos, VP of operations at SunVara. 'This can help block prying eyes while maintaining the natural appeal of your yard, plus it means you can place them strategically.'
3. Choose evergreen hedging for year-round screening
Looking to hedges for your front yard privacy will help to create a more secluded home, and will soon solve the problem of being overlooked. They can be grown to the height you desire as they are rarely prohibited by local ordinances. Choose fast-growing columnar evergreens like Italian cypress, arborvitae, or clipped privet.
The experts are in favor of evergreen hedges too. 'Shrubs like boxwood, yew, or arborvitae [thuja] can create a natural barrier that doesn't block too much light,' says Brock Ingham, owner of Bigger Garden. 'You can also opt for a layered hedge that allows light to filter through.'
'Evergreens are my personal favorites too,' says Brian Clayton. 'They've got your back throughout the year. If you're leaning towards hedges, boxwood or privet can be your green guardians, and they're super moldable as well.'
4. Put up a wire fence and grow a pretty vine over it
If you're overlooked by neighbors or would like to block out an ugly view but still want to keep your front yard secure, try a tall link fence as part of your front yard privacy landscaping. It's an easy solution, but it's important to make it feel like an integral part of your landscaping too. The way to do this is by using the fence as a canvas for vines and other climbing plants.
'Vines are one of the best plants to cover a fence as they provide a lot of coverage, can grow quickly, and will provide blooms that attract birds and butterflies,' says Amy Hovis, principal at Eden Design and co-owner of Barton Springs Nursery, both based in Austin, Texas. 'Cross-vine is part of the trumpet creeper family, and a super star for being fast growing and giving great coverage, plus it's super hardy too.'
Cross-vine climbs by using tendrils that will latch onto a fence and gives great coverage as it grows so quickly. Cross-vine will grow well in shade to full sun, and the more sunlight it receives the brighter the flowers will be.
5. Grow an ornamental tree
A strategically placed tree can shield your home like a charm. Even better if the tree is covered with blooms too. We've previously looked at privacy trees for small backyards, and the same varieties apply in the front of your home, too.
'With its glossy, dark green leaves and large creamy-white flowers, the evergreen Southern Magnolia makes a classic specimen tree,' says Fern Berg, founder at tree specialists Tree Vitalize. 'Plant a single tree to create privacy or block unsightly views as needed, and it will be a standout in your landscape.'
If your space is small, choose a more compact cultivar such as 'Little Gem' and plant in a row along your yard line to create a dense, attractive hedge. 'Make sure you take into account the mature spread of your tree when planting so they do not intrude on your neighbor's yard' says Fern. 'Spacing the plants 6-10 feet apart will allow them room to spread out, eventually overlapping one another slightly to create a complete privacy barrier.'
Fern also suggests choosing a willow hybrid if you want to create a natural privacy screen in as little time as possible, or a red maple if you want shade and privacy from a dense canopy of leaves in spring and summer, a fantastic display of color in fall, and more sunlight filtering into your front yard in winter.
6. Pair a smart hedge with a picket fence
If a hedge is the top priority as part of your plans for front yard privacy landscaping, think about pairing it with a design classic like a white picket fence for a much more interesting look. Hedges can be transformed into a real feature when integrated into broader traditional landscaping.
It's very much a case of right plant right place when choosing privacy hedges. 'Consider how the mature sizes of plants will affect the overall hedge area, and don't plant something that will need regular pruning to maintain desired size,' says landscape architect Mike Teal, who is regional director for grounds at SSC Services for Education, based in Knoxville, Tennessee.
'Native plants are useful, if possible, and "adapted" plants offer an alternative option. Use something that has proven successful in your area and utilize local nurseries who can help with selecting plants that need minimum care and are adapted to your soil, climate and watering frequency.'
7. Layer up planting to create a green screen
'It's important to have privacy for the exterior of your home to protect it from prying eyes, or if you're located on a central road to create a quieter environment,' says interior designer Madison Popper, founder of Chill Casa Home, located in Miami Beach. 'There are various tips that can be utilized to execute this. If your budget allows, building a modern and stylish exterior wall with a gate would be the ideal.'
Adding greenery such as trees, shrubs, and plants will help mitigate the sound of the street while creating a more private aesthetic. 'Layering tall trees and bushes of different heights with smaller plants will create a front yard oasis, providing shade from sunlight, and creating a "natural" layer of privacy,' says Madison. 'The most important thing to consider is how to make it all blend together smoothly.'
When layering your front yard landscaping, choose plants that build form and add color and texture. Use tall trees (designers love palm trees) or high hedges to create the framework, then add shrubs to give depth and create visual interest. Finish with flowers to fill any gaps.
8. Choose a decorative bamboo screen
Front yard fences are usually one of the most visible elements on your property, and will have a big impact on curb appeal. When choosing a fence make sure it suits the context of the neighborhood, and works harmoniously with your overall landscape and exterior look.
If you do decide that height is a prerequisite as part of your front yard privacy landscaping, opt for a fence material that filters light such as robust and eco-friendly bamboo for a more inviting feel.
We love the look of carbonised bamboo fencing, which has a dark caramel color achieved by smoking golden-coloured bamboo in a kiln to give each cane a deep, rich color. It looks great paired with tall and airy ornamental grasses.
9. Opt for a white wall and wrap it with blooms
Opting for hardscaped walls usually costs significantly more than a front-yard fence, but if you have a real desire for one nothing else will do. 'Sometimes, good old walls just do the trick,' says Brian Clayton. 'But here's the twist – how about pairing them with climbing plants? That blend of nature and structure hits different.'
Next think about how tall you want to go, and once decided you should check to see if you need a building permit. You won't want to turn your home into a fortress or diminish its curb appeal either, and this is where white stucco comes in as it offers a light, bright option that's aesthetically pleasing. This is especially true when you combine it with a climbing plant, such as the red bougainvillea in this Californian front yard.
'Bougainvillea is a bold star that can bring the ultimate super bloom to a yard,' says horticulturalist Jac Semmler, author of Super Bloom, available at Amazon. 'There is an exuberance when there is that amount of color on a plant. Vivid flowers coat the vines in brilliant jewel tones of fuchsia, magenta, scarlet and purple.' The flowers look stunning against a white wall and act as a focal point in your front yard privacy landscaping.
10. Plant a gorgeous flouncy flowering shrub
If you are looking for a flowering shrub or two to include in your front yard privacy landscaping, there are many options to choose from that will add color and structure too. Try to envisage how the combination of shrubs you choose will look throughout the year. Preferably choose varieties that will add color, blossom, flowers or bright berries during different seasons.
Crepe myrtle is a good choice for privacy planting. 'Crepe myrtle plants are spectacular, deciduous, flowering shrubs or small trees providing an impressive summer floral display in areas with hot summers, especially in southern states,' says plant expert Graham Rice. 'Drought tolerant when established, many modern varieties are neat enough in growth to make fine container plants, while others develop into dramatic specimen trees suited to city planting. They bring a burst of summer color to small yards.'
It would be remiss not to give an honorary mention to hydrangeas too, possibly our all-time favorite flowering shrub. 'Oakleaf hydrangea is a native deciduous shrub that features oak-like leaves and large clusters of white flowers from late spring to summer,' says Shubber Ali, CEO at Garden for Wildlife. 'It makes a great focal point in a wildlife habitat and can be planted in shrub borders. It grows up to 12 feet tall and features dense foliage, perfect for providing privacy.'
For style leaders and design lovers.
Lifestyle journalist Sarah Wilson has been writing about gardens since 2015. She's written for Gardeningetc.com, Livingetc, Homes & Gardens, Easy Gardens and Modern Gardens magazines. Her first job on glossy magazines was at Elle, during which time a visit to the legendary La Colombe d'Or in St-Paul-de-Vence led to an interest in all things gardening. Later as lifestyle editor at Country Homes & Interiors magazine the real pull was the run of captivating country gardens that were featured. Having studied introductory garden and landscape design as well as a course in floristry she is currently putting the skills learned to good use in her own garden where the dream is establishing a cutting garden.