'It's the vacation vibes!' Designers are all calling this low-maintenance planting choice the best backyard trend for 2023
From the tropical ambiance to that dappled light, experts explain why they so often use palm trees in their gardens - and why you should, too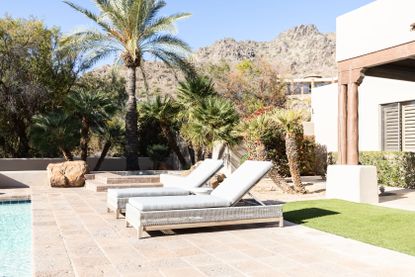 (Image credit: Living with Lolo/Life Created)
The Livingetc Newsletter
For style leaders and design lovers.
Thank you for signing up to LivingEtc. You will receive a verification email shortly.
There was a problem. Please refresh the page and try again.
Think of palm trees and you're instantly transported to paradisiacal destinations with blue-sky backdrops and a soft breeze brushing past you as you enjoy a cocktail at golden hour.
These vacation vibes are one of the reasons why landscape designers all love palm trees; they create a relaxing, tranquil ambiance for an at-home retreat in your backyard.
The fact that they also add dimension, texture, a sculptural aesthetic, and a magical dappled light glistening over your garden also adds to the allure.
What's more, you don't have to have an expansive space to plant them thanks to their shallow root balls making them ideal for urban gardens too. Grab your shades and a sundowner, it's time for some California dreamin'.
Why landscape designers all love palm trees
We tapped a top landscape designer to delve deeper into what it is about palm trees that makes them endlessly popular.
1. Palm trees offer a sculptural aesthetic
'Palms are ideal statement plants for landscape design due to their dramatic sculptural effect,' says Amy Hovis, Principal, Eden Garden Design.
They're aesthetically pleasing, add a vertical element for perspective, and also add dimension and texture to your garden.
Anthony Wyer, of Wyer & Co, says: 'Mature palm trees add instant scale and proportion to our designs. They anchor a home to the landscape and complement the built form.'
And Amy adds: 'When planning a landscape, it is essential to begin with prominent, evergreen specimens and then build the overall design by incorporating complementary tropical-looking perennials and smaller plants.
'This approach ensures a cohesive palette that harmonizes with the larger focal points.'
2. Palms create those tropical vacation vibes
Want to create an easy, breezy ambiance that evokes that on-holiday feeling? Palms are your go-to plants for tree landscaping, then.
'Palms instantly evoke a tropical ambiance, infusing any space with vacation vibes,' says Amy Hovis. 'They are versatile and can be utilized in both casual and formal settings, serving as dramatic focal points in vibrant and lush landscapes.'
Why not go for the full vacation mode and string a hammock between two palms and while away the hours underneath soft, swaying fronds?
3. Palms work well on their own or with others
Because they're a statement piece, a palm tree can work on its own or as a group to create a layered look with depth. One of the best trees for small gardens, they don't take up much space at their base, towering above the other plants in your beds.
You can keep it simple and let the palm do all the talking, or pair it with other plants.
Amy Hovis suggests that you should choose other plants with a tropical vibe to add dimension and to further enhance the resort-style feeling.
She comments: 'When planting around a palm of any kind, be sure to choose plants that also have a tropical vibe, but can survive your local climate. In Texas we would use: elephant ears, split-leaf philodendron, bear's breeches, bananas, foxtail fern, amaryllis, agapanthus, Japanese arailia and ginger, for example.'
4. Palms produce the perfect play between light and shadow
Is there anything prettier - or more relaxing - than watching dappled light dance along a garden path or over your patio?
'The play of light and shadow is a crucial aspect of great design, and palms offer unique opportunities to create captivating effects throughout a landscape,' explains Amy.
'With their ability to cast sculptural shadows and dappled light, they bring texture and heighten the ambiance of an outdoor setting. They're also one of the best trees for privacy, hiding your space from overlooking neighbors.
'With landscape uplighting they can add spectacular evening drama and enhance the overall aesthetic.'
Anthony Wyer describe them as being a 'sensory experience', saying: 'Palms are a sensory experience; textured trunks, rustling fronds and long dancing shadows help bring a garden to life.'
5. Palm trees are versatile and ideal for small or large spaces
If you thought that you couldn't enjoy palm trees in your urban garden, think again.
'Thanks to their shallow root ball, palms are well-suited for tighter spaces, making them a great option when there's not enough space for a tall tree,' says Amy.
'And, unlike larger trees, mature palms have a higher chance of survival when planted, too.' Palms can also be one of the best trees to grow in pots, making them ideal for if you only have a deck to play with.
Three of the best palm trees to buy now
What are the best palm trees to plant in full sun?
For full sun, Amy Hovis suggests the Paurotis Palm. Slow-growing to 15 ft. Hardy to 20°F. Native to southern Florida, coastal Mexico and Central America. Naturally occurs in moist and swampy areas. Ideal soil consists of one-half granite gravel and on-half light compost. Amy also recommends the Canary Island Date Palm. It tolerates heat and dry conditions. The trunk can reach 40 – 50ft, while it's large and fast-growing. Hardy to 20°F. The Fountain Palm is hardy and evergreen to 16° F, moderately growing to 30 ft. It adapts well to many soils except wet/soggy types. Native to Eastern coast of Australia.
What are the best palm trees to plant in partial shade?
For partial shade, Amy Hovis suggests the Pindo Palm. It is :slow growing to 10-20 ft, with a thick, hairy trunk and stiff, arching bluish-gray-green foliage; likes moisture, but needs well-drained soil. It is cold hardy to at least 10 degrees. Native to Brazil, Argentina, and Uruguay.
Anotehr good option is the Mediterranean Fan Palm. It can tolerate heavy, clay soil, but is more winter hardy on dry, rocky or sandy soil. It has survived temperatures as low as 6° F.; grows up to 20 ft. tall and wide and slowly develops clumps by root suckering. It requires regular watering.
For style leaders and design lovers.
Ruth Doherty is a lifestyle journalist based in London. An experienced freelance digital writer and editor, she is known for covering everything from travel and interiors to fashion and beauty. She regularly contributes to Livingetc, Ideal Home and Homes & Gardens, as well as titles like Prima and Red. Outside of work, her biggest loves are endless cups of tea, almond croissants, shopping for clothes she doesn't need, and booking holidays she does.