5 vegetables to plant in November if you want easy things to grow in a winter garden
It might feel like there's a real seasonal shift in the air but you can still get outside to grow-your-own with these reliable varieties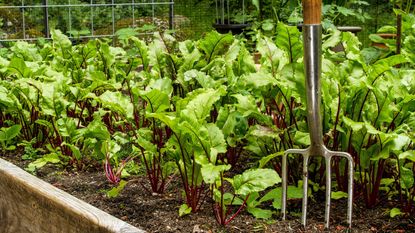 (Image credit: Danita Delimont/Alamy Stock Photo)
We tend to think of spring as the main vegetable planting season, but that rules out all the opportunities for growing fresh produce in fall. The warm soil, cooler weather, and plentiful moisture combine to form perfect growing conditions to help plants become established quickly.
Choose a selection of vegetables to plant in November and you will get a head-start on the spring garden. Leafy greens like kale and spinach, together with a huge range of salad leaves will thrive if planted now and feed you through winter. Meanwhile planting vegetables like garlic, fava beans and chili peppers means you hit the ground running come spring, as your plants will be well-established and offer an early crop.
Discover 5 of our favorites to plant in your vegetable garden in November if you feel inspired to keep the growing going this month. It's not time to pack away your garden fork quite yet.
1. Kale
The trend for kale just keeps going and it's a great choice if you're looking for vegetables to plant in November. It's a reliable source of fresh nutrients when there is little else about.
'Kale is a robust and cold-tolerant green that performs exceptionally well in my garden when sown in November,' says Zahid Adnan, founder of The Plant Bible. 'It produces lush, nutrient-rich leaves that last through the winter, making it a valuable addition to any garden.'
There are lots of varieties to choose from and the mix of colors, including cultivars with dark purple and red leaves, are also great for adding interest to the vegetable garden in winter. Try Burpee's 'Kale Storm', a medley of purple, green, and blue varieties that looks great in a container.
I like to grow kale as a winter crop, as I think cold weather improves the flavor. I start the seeds in late summer then plant them out. You can also get plants from a nursery or garden center if you want to plant them right now.
Kale is one of the best vegetable to grow in pots if you choose a generously-sized container, where it will crop for months. If you live in a cold climate move the pot to a sheltered spot for protection if bad weather threatens but generally it's a pretty hardy vegetable.
2. Garlic
You might already know planting garlic in fall is a great idea, but this can extend into winter as long as you do it before the ground freezes. Don't leave it too late or the ground may be too wet and cold and garlic bulbs don't like waterlogged soil. Once planted, the roots grow during the colder months, then your crop is ready to harvest in early summer.
You can also plant garlic in spring but we think it's best to get a headstart now. I like the variety 'Carcassonne', a vigorous pink-cloved cultivar that is better suited to being grown in colder weather. It's a 'hard-necked' variety, which are generally hardier than soft-necked varieties.
Choose a sunny site with well-draining soil. Split your garlic bulbs into individual cloves, and plant them with the pointed end facing up. Space the cloves 6 inches apart, and rows 12 inches apart. Water in dry spells and pull out any weeds.
Garlic bulbs are ready to harvest as soon as the leaves turn yellow. In the meantime remove any flower stems to keep the plant's energy focused on fattening up the bulb. You can also pick the leaves while they're still green to add to the salad bowl.
3. Chili peppers
It's possible to grow chilies from seed now too, but only gardeners who enjoy long growing seasons in the South should attempt to sow chili pepper seeds directly in the vegetable garden.
Try a popular cultivar like 'Orange Pepperoncini' (which you can also get from Burpee Gardening), one of the oldest Italian pepper varieties that has low-to-medium heat. This small, bushy plant will yield a big crop of orange beauties.
Most of us should start our chili plants under cover with plenty of natural sunlight and warmth to ensure a long period of growth and extended harvests to keep your kitchen supplied. Sow seeds in small pots of compost, then keep the pots as warm as you can.
Before planting them out in the garden, young plants need to be 'hardened off' by moving them to a sheltered place outside and bringing them indoors at night. Chilis may also find a home in container gardening using a potting mix, another great reason to choose them for vegetables to plant in November.
4. Salad bowl leaves
Look for packets of mixed leaf salad seeds that contain different varieties that will work well for growing in a shallow trough or pot, as well as in the ground if you have more space. Experiment and find your preferred combination in terms of both flavor and appearance.
A selection of chicory, mustard, baby spinach, arugula and mizuna is my go-to combination to see me through the winter months. The mix of different leaves makes a nice display too. I like to do separate plantings of peas in pots as well to get fresh pea shoots.
I also like Burpee's Mesclun Sweet Salad Mix, a tender, mild-flavored blend of heirloom varieties like 'Ruby' lettuce, 'Bulls Blood' beet, 'Bloomsdale' spinach, and 'Tendergreen' mustard.
It's a good idea to sow salad leaves at monthly intervals to make sure you get a regular supply, not just through winter. Sow directly into the soil, and avoid using too many seeds as your seedlings may rot if overcrowded. Depending on your climate, a November sowing can keep going right through winter. You can, of course, grow salad leaves on a windowsill indoors too.
The brilliant thing about salad leaves is that the more you pick, the more they grow. They are an easy-care choice too. All you need do is water them every day.
5. Fava beans
Hardy varieties of fava bean seed can be sown direct in November for an early spring crop. They will keep growing slowly over winter, then deliver a bountiful early harvest as soon as the weather warms up. You can also buy plants from the garden center for November planting.
'Broad beans thrive when planted in November,' says Zahid Adnan. 'They have a fantastic yield and are rich in flavor. These plants are also nitrogen-fixing, which benefits the soil for other crops.'
Heirloom variety 'Broad Windsor' fava bean (that you can find on Amazon) is a cool weather garden crop best sown directly in the soil in fall. It likes organically rich, well-drained garden soil in full sun to partial shade, and germinates in 7-14 days. You can also grow compact varieties of fava beans like 'The Sutton' in a big pot.
All parts of the fava plant are edible. The beans may be eaten fresh and green, or dried for future use. The leaves can be prepared and used like spinach, while the seeds are packed with nutrients.
What herbs can I plant outside in November?
The range of herbs you can plant outside in November depends on your growing zone and local climate conditions. If you plant up a herb garden in pots you can always move them indoors if cold temperatures threaten and you are unsure of their viability in these conditions.
November can be a great time to plant herbs outdoors as the soil is still warm and temperatures mild. You can buy healthy seedlings from your local garden center, which can be a better option than taking a chance by planting seeds outdoors.
Thyme plants are very adaptable and can be planted at almost any time of year in hardiness zones 5-9. If you're planting thyme outdoors, make sure you choose a spot where it will get plenty of sunshine.
Sage is hardy to zone 5. This woody shrub can be susceptible to winter damage but mulching the plant in late fall will help to insulate it over winter. Greek oregano is also hardy to zone 5 but doesn't always overwinter.
Another option for growing herbs and vegetables in winter is hydroponic gardening, a genius way of growing fresh and healthy homegrown food indoors.
The Livingetc newsletter is your shortcut to the now and the next in home design. Subscribe today to receive a stunning free 200-page book of the best homes from around the world.
Lifestyle journalist Sarah Wilson has been writing about flowers, plants, and garden design and trends since 2015. Having already studied introductory garden and landscape design as well as a course in floristry she is currently adding to her list of qualifications with an RHS Level 2 course in the Principles of Plant Growth and Development. In addition to livingetc.com, she's also written for homesandgardens.com, gardeningetc.com, Modern Gardens and Country Homes & Interiors magazines.