5 organizing tools that professional declutterers swear they'll never buy and aren't worth your money
There are plenty of tools that promise a more organized space, but are they actually worth it?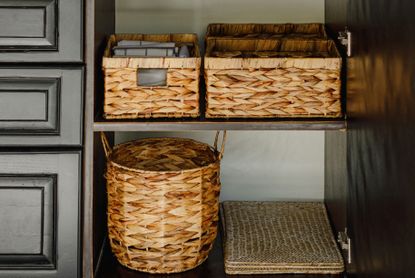 (Image credit: Alamy )
The Livingetc Newsletter
For style leaders and design lovers.
Thank you for signing up to LivingEtc. You will receive a verification email shortly.
There was a problem. Please refresh the page and try again.
How many times have you found yourself watching a random organization hack on social media that convinces you to buy something you didn't know you needed? Be it an innovative shoe storage solution or a collapsible drawer divider for your knick-knacks, these organizing gadgets all promise to make life easier, but can they cause more problems than they solve?
The world of organization has dominated our lives. Popularized by those oh-so-satisfying Instagram and TikTok videos, the idea of having a super organized and clutter-free space where everything has its own designated home has become an aspiration for many of us. When we find the ultimate gadget to help us organize a room with too much stuff, it's like the universe heard our prayers. More often than not however, we only end up disappointed.
'Most products that use the word organizing or productivity are just too complicated to be effective.' says Ben Soreff, professional organizer at H2H Organizing. 'With an organizing system we're not only creating a home for our items but we're learning new habits, and if those systems aren't easy to use, people won't stick with the habit.'
To keep you on the road to organization and prevent you from wasting your money on ineffective organizers, we spoke with some experts in the know for their insight into the overhyped tools that aren't worth your time.
Lilith is an expert at following news and trends across the world of interior design. A firm believer that a tidy home is a happy one, she's committed to helping readers organize and declutter their spaces through sharing practical tips and guides. For this piece, she spoke with professional organizers to find out how we should be storing our purses in our closets for ultimate satisfaction.
1. Large storage bins
It might be hard to imagine how a storage bin wouldn't be useful. They're hailed by organizers and declutterers as the easiest way to contain your stuff and keep it tucked away out of sight, so surely they're a worthy organizing investment, right?
Well, not necessarily. Oversized storage bins can become a catchall for all your miscellaneous stuff that doesn't have a home, and when there's too much of it in one box, you're only making matters worse. 'Huge bins may seem like the answer to organizing by putting everything in a giant bin and being done with it, but that isn't organizing - that's hiding stuff hoping it will go away,' says Ben of H2H Organizing. 'Medium to small sized bins allow us to actually find what we need while also making it easier to carry them through the home when needed.'
While smaller bins are handier, there is such a thing as having too many of them. If you rely on so many storage bins that you don't know what's stored inside them, or they're stacked so high you can't access the bottom ones, then you're only making life harder.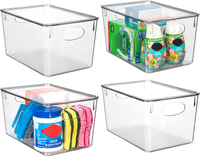 Set of 4 clear storage bins, Amazon
These small sized storage bins are perfect for keeping your stuff organized without being overkill. They're portable and stackable making it easy to keep everything together, while the clear plastic makes it easy to see exactly what you need.
2. Sets of organizers
I can practically hear the cogs turning in your head at the mention of this one. How could a set of organizers be unhelpful? Well, the reason being, it's impossible to know exactly how many or what sizes you'll need until after you start organizing your space.
What we mean by sets is a collection of any type of container in various different sizes; it could be a set of storage baskets, or kitchen organizers such as drawer dividers, or food decanters. They're the sort of thing we purchase on the first naive steps of our organizing journey in a bid to stay on top of our stuff, but by buying them we usually end up adding to the never-ending clutter in our home. That's not to say they won't ever be helpful, but organizers should only ever be bought when there's a use for them.
'It seems so much easier to buy a pre-curated set than picking out individual containers, but that set may not work for the space that you have,' says Lucy Milligan Wahl of LMW Edits. 'It's really important to measure your space and choose containers that both fit within the space and actually work to store your stuff.'
3. Drawer spice racks
In the world of pantry organization, spice racks play an important role. We all recognize that free-standing spice racks or spinners are not savvy space-saving solutions in our kitchens and they can make countertops look cluttered. This has led many to opt for drawer spice racks instead, but most professionals aren't convinced by them.
'Unless you have an abundance of kitchen drawers, drawer spice racks are a waste of good space since they require you to lay spice jars on their sides,' says Melissa. When space is at a premium, instead of using large drawer dividers or free-standing organizers, try an over-the-door spice rack for your pantry or cabinets instead. Simple wire racks like these keep all your spices contained while also hiding them out of sight.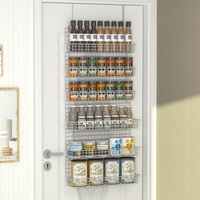 Over-the-door spice rack, Amazon
Keep your spices organized and out of sight with this over-the-door spice rack from Amazon. With six separate shelves you can comfortably fit all your herbs and spices as well as a few bottles and cans, too.
4. Collapsible hangers
Closet organization is another realm of organizing that everyone claims to have a solution for. Collapsible hangers are a storage solution for small closets that give you multiple hooks to hang your clothes all from a single hanger. They sound appealing in theory, but some organizers say they could actually make your space even more cluttered than it already was.
'Collapsible hangers often say they'll store more items in less space but I'm sorry to say, you can't make more space where there is none,' says Lucy. 'When collapsible hangers are used in closets, they just make it a little easier to cram in clothes that don't really fit. It's much better to get the right size wardrobe for your space so that you can see your clothes and enjoy wearing them!' If that has to involve decluttering clothes, then so be it.
5. Unstructured textile baskets
If you're more design-minded (and environmentally conscious) it's likely that plastic storage bins don't appeal to you whatsoever, in which case, you're probably a fan of a storage basket.
Woven seagrass or wicker baskets are brilliant and make the perfect option if you're after a more rustic look, but flimsy and unstructured fabric varieties can be more hassle than they're worth. As Melissa explains: 'Their soft, unstructured sides can quickly look sloppy on a shelf, and their curved sides don't make maximum use of space like a hard sided bin can.'
You should also avoid using baskets as a catch-all for random belongings. 'If you ever have a basket with more than one category, forget about it - it simply becomes a black hole,' explains Ben. 'In the end, baskets with handles should be decorative only. They're useless organizing structures, but if you think they're pretty, focus on that and don't treat them as a magic answer to storing items.'
With that in mind, no type of organizer - no matter how well it's sold - is a magic answer to storing your stuff. The ultimate formula for a more organized home is prioritizing functionality and focusing on what works for you and your space, not anyone else's.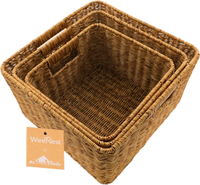 Woven wicker storage baskets, Amazon
For durable, freestanding storage containers that are as pretty as they are functional, try these resin wicker baskets from Amazon. The woven design is perfect for creating a rustic feel while also supporting your stuff, and the handles make them super easy to transport around the home, too.
For style leaders and design lovers.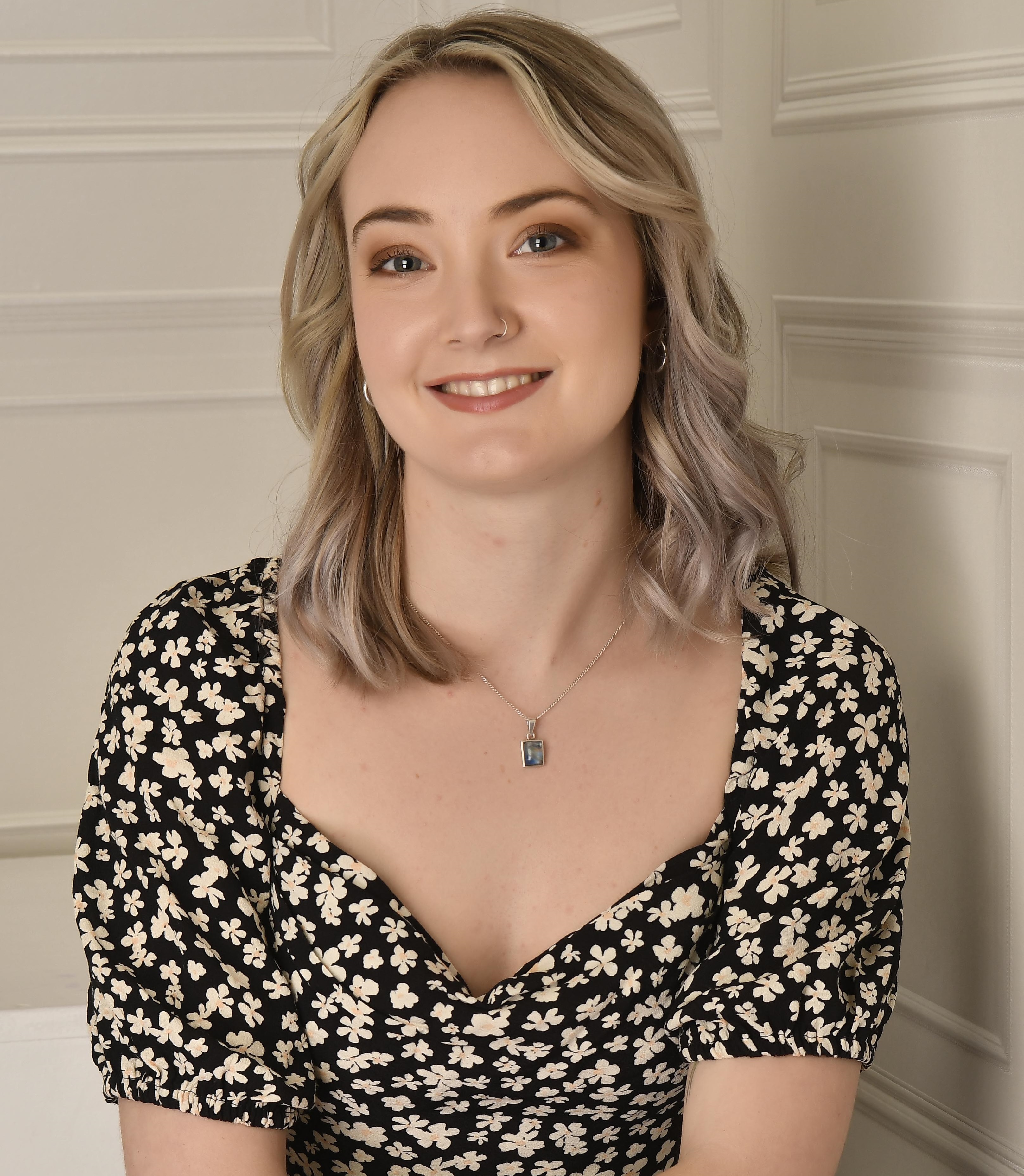 Lilith Hudson is the Staff Writer on Livingetc, and an expert at decoding trends and reporting on them as they happen. Writing news, features, and explainers for our digital platform, she's the go-to person for all the latest micro-trends, interior hacks, and color inspiration you need in your home. Lilith discovered a love for lifestyle journalism during her BA in English and Philosophy at the University of Nottingham where she spent more time writing for her student magazine than she did studying. After graduating, she decided to take things a step further and now holds an MA in Magazine Journalism from City, University of London, with previous experience at the Saturday Times Magazine, Evening Standard, DJ Mag, and The Simple Things Magazine. At weekends you'll find her renovating a tiny one-up, one-down annex next to her Dad's holiday cottage in the Derbyshire dales where she applies all the latest design ideas she's picked up through the week.