'Sow them now, for your flower beds next spring' – how to grow sweet peas indoors to get a jumpstart on your 2024 garden
By sowing sweet pea seeds indoors during the fall and you'll be able to enjoy the most fabulous fragranced flowers next summer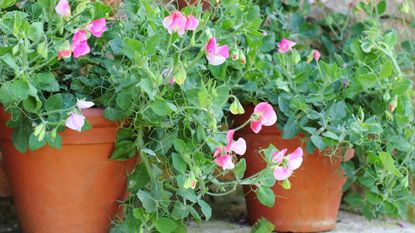 (Image credit: Deborah Vernon/Alamy Stock Photo)
Who doesn't love sweet peas. These gorgeously scented beauties are stars of the flower garden as well as being one of the best cutting flowers to bring indoors for arranging. So it's no surprise they're such a firm favorite with gardeners and florists. Every cutting garden deserves a row of fragrant, nostalgic sweet peas.
'Sweet peas are grown for their beautiful ruffled flowers in shades of pastels, blues, and bi-colors,' says nursery manager Barb Pierson of White Flower Farm in Morris, CT. 'Many varieties are fragrant making them a desirable cut flower. Sweet peas have a long history of cultivation for both the home gardener and the florist trade.'
You can get a jump on the season by starting sweet peas indoors in fall. In warmer regions where winter weather is mild, you can sow sweet peas surprisingly early in the growing season and they can even handle light frosts. If you live in a cooler climate you will have to wait till late winter or in some cases early spring. But even so, having a batch of strong and healthy seedlings to transfer outside when the time is right can only be a win.
Learning how to grow sweet peas indoors is easy, and gives you something green to nurture during the cooler months of the year. We've pulled together a quick guide on how to sow sweet peas indoors so you end up with buckets of blooms in your modern garden next year.
Why now is the time to sow sweet peas indoors
Early sowing is one of the secrets of growing success with sweet peas, especially as they can be slow to germinate outside if conditions aren't right. Whether you live in one of the coldest parts of the country or a milder climate, get a jump on the season now by finding out how to sow sweet peas indoors for your cut flower garden.
'In warmer regions where winter weather is mild, sow sweet peas in autumn,' says sweet pea enthusiast and cut flower specialist Erin Benzkein of Floret Flowers, based in Washington's Skagit Valley. 'Everywhere else, sow in late winter/early spring.'
In zones 8 and above, sweet pea seeds can be planted outdoors in autumn. They're typically sown in October or November. If you live in a cooler climate, start sowing seeds indoors now for planting out in late winter or early spring.
1. Choose good quality seeds
Buy the best sweet peas seeds from a specialist like Enchanting Sweet Peas, Floret Flowers or White Flower Farm, which all have tried and tested varieties. If you use fresh, good quality sweet pea seeds they usually have a very high germination rate. It's also worth checking your local seed exchange for varieties that thrive in your area.
Should you soak seeds before planting? Some experts say it's the best way to get them to germinate. Soak the seeds in lukewarm water for 24 hours before sowing. This softens the outer coat of the seed, which is thought to speed up the sprouting process by a few days, aiding germination. Don't leave it any longer as some of the sweet pea seeds might start to sprout. Alternatively you can leave them on some damp kitchen paper for 24 hours until they plump up before sowing.
Other experts say the soaking stage isn't necessary and the seeds will germinate within 2 weeks whether or not you soak them. So over to you to decide - maybe try it both ways!
2. Sow seeds in deep containers
It's crucial to get the next stage right for how to sow sweet peas indoors. When growing sweet peas from seed, the choice of container is important. Sweet peas develop long roots right from the start so the more room you can give them during the early stages of development, the better they will grow in the long run.
This means it's important to plant them in a deep container. You can buy special containers suitable for sowing sweet peas, known as root trainers, which you can find on Amazon. Alternatively you can use deep pots. A more eco-friendly, non-plastic alternative are cardboard toilet tissue rolls. But you will need to take care when watering and avoid soaking the cardboard otherwise it may get soggy.
Fill your indoor garden containers with a good quality seed compost, like this from Amazon, and sow the seeds about half an inch deep, poking them gently into the soil with your finger.
Be sure to water your seeds gently but thoroughly before placing them on a cold windowsill. Your seeds should take between 12-21 days to germinate. You can also cover pots with plastic to increase humidity and speed up germination.
3. Transfer to pots and keep watering
Once the sweet peas seeds are showing their first pea-like leaves, gently lift out each young seedling, taking care not to damage the roots, and transfer them to larger pots. Put them back on a bright windowsill and remember to water them regularly.
Once plants are around 4 to 6 inches tall, pinch out the central growing tip, just above a leaf joint, leaving just 2 or 3 leaf nodes. This will encourage young plants to grow more strongly as they will branch vigorously from the base and develop into stronger plants.
4. Move your sweet pea plants outside
As soon as the temperature is right and the soil can be worked, it's time to transfer your sweet peas outside to harden them off. You can gradually acclimate them by moving the plants outside in their pots and bringing them back inside overnight if it's too cold.
Despite their delicate look, sweet peas are quite hardy. In USDA Hardiness Zone 7 or colder, they can be planted out in very late winter or early spring.
They're one of the best plants for full sun, so plant out your seedlings in a sunny position in well-drained soil enriched with manure or garden compost. Make sure there is room for air to circulate round each plant. As well as feeding your hungry plantlets, it will also help the soil to hold moisture, which they will also like.
After planting make sure you water your sweet peas in generously. You will need to support the young plants too as they start to grow. Tie them to a support using twine, and monitor regularly to keep tying them in as they grow taller.
How do I choose sweet peas seeds?
With so many varieties of sweet peas to choose from where do you start when it comes to choosing sweet pea seeds?
'There are three main blooming groups,' explains Erin Benzkein. 'The winter types (Winter Elegance and Winter Sunshine) flower first. These can be brought into flower by Christmas in warmer, southern parts of the country like Texas and California.
'Midseason grandiflora varieties (Mammoths and Spring Sunshine Series) begin to flower with around 12 hours of daylight. Spring Sunshine Champagne is by far the most exquisite of the lot.
'Finally, Spencer varieties start flowering with 13-15 daylight hours. The most popular worldwide, Spencers are heat tolerant, produce abundant long stems, come in a dizzying rainbow of colors and are probably are the easiest of all the groups to grow.'
Look at garden flower trends and what you want to achieve with your planting this year, too. Erin's No 1 choice? 'Nimbus' , which has inky grey blooms deeply streaked and rimmed with dark eggplant coloring.
Why have my sweet pea seeds not germinated?
If your sweet pea seeds haven't germinated chances are too much or too little water is the most likely reason. With too little or no water, seeds remain dormant. With too much water, seeds become susceptible to rot.
Seeds need evenly moist soil to germinate and grow their strongest. Provide steady, even moisture by watering lightly and evenly on a spray setting, and make sure the soil never dries out.
If your seeds have definitely failed, consider buying some seedlings from a reputable source. 'Our plants are produced in our greenhouses in spring and are shipped to you at the proper time for planting in your area; no seed treatment or waiting for germination required,' says Barb Pierson. 'We ship our sweet peas in 4 inch pots, each containing 3 fully rooted seedlings, and they arrive ready to go into the ground.'
The Livingetc newsletter is your shortcut to the now and the next in home design. Subscribe today to receive a stunning free 200-page book of the best homes from around the world.
Lifestyle journalist Sarah Wilson has been writing about flowers, plants, and garden design and trends since 2015. Having already studied introductory garden and landscape design as well as a course in floristry she is currently adding to her list of qualifications with an RHS Level 2 course in the Principles of Plant Growth and Development. In addition to livingetc.com, she's also written for homesandgardens.com, gardeningetc.com, Modern Gardens and Country Homes & Interiors magazines.