No shade? No problem. The 10 best plants for full sun – expert picks to fill your yard with radiant blooms even in this heat
Grow the flower-packed garden of your dreams with a captivating collection of plants that love to bake in the sun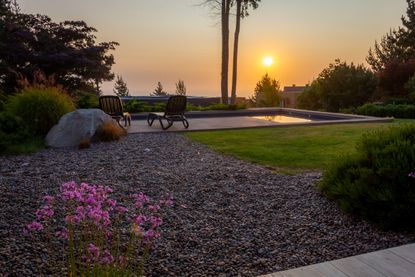 (Image credit: Alamy)
The Livingetc Newsletter
For style leaders and design lovers.
Thank you for signing up to LivingEtc. You will receive a verification email shortly.
There was a problem. Please refresh the page and try again.
If you're looking for plants that will thrive in full sun there are plenty to choose from that will stay looking good for months at a time, however hot it gets outside. Instead of wilting and fading in scorching temperatures before they've reached their full potential these beauties say bring it on, stepping up to become the real stars of the summer season.
As you might expect, if a plant has hot and fiery-colored blooms this often means they are sun lovers. But although you're predominantly looking at a bold and bright color palette you can also add pink, purple and blue varieties of flower to the mix if you prefer a cooler scheme in your backyard.
So if you have a sunny yard or balcony make a point of adding a range of plants that love full sun to your space and you will be rewarded by months of stunning flowers to enjoy right through the long, hot days of summer.
10 of the best plants that love full sun
'One of the questions I get constantly asked by clients is which flowers love full sun,' says Anna Ohler, landscape gardener and owner of boutique plant nursery Bright Lane Gardens, which is based in Lake Ann, Northern Michigan. 'As our summers continue to warm up this will become even more of a consideration.'
We asked Anna and the rest of our team of experts to come up with their shortlist of the best plants for full sun and these are the varieties they chose.
1. Strawflower 'Granvia Gold'
'I recommend the 'Granvia Gold' strawflower as one of the best plants for full sun,' says Gail Pabst, a horticulturalist who works for the National Garden Bureau. 'These are larger than average strawflowers, with bright yellow petals that can be used both fresh or dried. What's unique about strawflowers is that the petals feel like straw, even when they're still on the plant, and they make a satisfying "crunch" sound when touched.'
The flowers close at night and on cloudy days, and open brightly on sunny days, making them a fun addition to any container gardening you're planning on your balcony, terrace tub or patio pot. 'If yellow isn't your preferred color, Granvia also offers pink and orange, with plans to add red and white next year,' says Gail.
These continuous bloomers thrive in hot and sunny conditions from summer to frost, and have low water needs. They are sure to bring a vivid pop of color to your outdoor space.
2. Purple coneflower
'Purple coneflower (Echinacea purpurea) is a hardy drought-tolerant perennial that loves full sun and can survive in a variety of conditions,' says Amy Hovis, principal at Eden Garden Design and co-owner of Austin-based Barton Springs Nursery. 'It has deep roots that allow it to access water in the soil, and its thick, leathery leaves help it retain moisture.'
The beautiful purple flowers are a great addition to any landscape from prairie style and drought tolerant to cottage or balcony garden. The daisy-like blooms with their prominent central cones look great popping up through native ornamental grasses. They do best if they get at least six to eight hours of full sunlight every day. They will bloom prolifically from spring until the first frost as long as you give them the sun they crave and remove dead flowers regularly.
They're also one of the best flowers for bees, butterflies and hummingbirds. Plus they're also a great addition to your yard if you want to attract wildlife.
3. Geraniums
'I am a big fan of sun-loving geraniums, despite some people considering them old-fashioned,' says Gail Pabst. 'I love adding them to my patio pots and window boxes each year as there are now so many new varieties and colors to choose from. These are one of the best plants for full sun, and are also drought tolerant. By removing spent flowers, they will bloom throughout the season.'
There are many varieties of geranium to choose from. Gail recommends the Calliope® Large Dark Red series. 'The dark red color adds a nice deep tone to my pots and window boxes, and complements other hanging flowers like calibrachoa and petunias.'
Geraniums are easy-going plants that bloom from late spring until fall, don't require much fertilizing, and can get by on limited water, so they tick the low-maintenance box. Just give them the sun they crave and sit back to enjoy the prolific blooms that will keep coming along.
4. Red yucca
'Red yucca is a wonderful evergreen statement plant that is super hardy and thrives in full sun,' says Amy Hovis. 'It has gorgeous coral blooms in spring, lasting through fall. It's actually one of the most amazing colors I've seen, a coral/reddish/pink. Hummingbirds love these tubular, colorful blooms too.'
Also known as Hesperaloe parviflora, red yucca is native to the deserts of the southwestern US, so naturally it's one of the best plants for full sun, as well as being one of the best heat-tolerant perennials. It'll keep coming back year after year. The spiky dark green leaves are attractive too and resemble an elegant ornamental grass.
Red yucca looks best in xeriscaped, drought tolerant and desert-style landscaping designs, planted in dry gardens with rocks, gravel and other sun-loving plants. It will grow up to 5 feet high with a spread of up to 6 feet, making it a nice dense addition to your landscaping.
The blooms add an interesting vertical accent to your planting scheme too. Prune the flowering stalks right down to the base once they fade to keep your plant in good shape.
5. 'Endless Summer' hydrangea
'One of my favorite plants that thrives in full sun is the timeless 'Endless Summer' hydrangea,' says horticultural expert Alex Kantor, owner of Perfect Plants Nursery in North Florida. 'This exquisite shrub derives its name from the abundance of large mop-head flowers it proudly showcases throughout the summer season.
'Adorned with magnificent dark green leaves, this shrub creates a striking contrast against its blossoms, which can range in hues of pink, blue, or lavender, entirely influenced by the pH level of the soil in which it is nurtured.'
Our love affair with big-bloomed hydrangeas continues unabated too. The fact they are one of the best plants for full sun simply adds to their many attractions. These gorgeous plants introduce a captivating allure to any yard with their extended blooming period and resilience not only to sun but also harsh winter conditions.
Neat and compact, they flower constantly throughout summer from May to fall if planted in the sunny position they crave. And potted hydrangea care is pretty easy, too.
6. Achillea
'If you're seeking rugged sun-loving perennials that can endure both drought and poor soil, achillea, also known as yarrow, are an excellent choice,' says gardening expert Diana Cox, founder of The Gardening Talk. 'They quickly spread to form an attractive carpet of foliage. Then from early summer until frost, these plants delight with a profusion of flowers that also attract beneficial insects.'
Yarrow are one of the best plants for dry gardens or for full sun but although extremely reliable they can be crowded out if other plants put them in the shade. They come in a range of colors including various shades of yellow, red, orange, pink and white. Once the flowers are spent prune them off at the base and you may get a second flush of flowers to take you into fall before the weather starts to cool.
'In my experience, the 'Moonshine' yarrow has proven to be exceptionally vigorous and abundant, effortlessly covering large areas of my garden,' says Diana. 'Their airy blossoms create a stunning visual display alongside other low-maintenance plants.'
7. Agastache
'Agastaches have become indispensable in my full sun borders, thanks to their prolonged bloom time, which spans from early summer well into fall,' says Diana Cox. 'Not only do they provide a rich source of nectar for hummingbirds, but they also add a striking aesthetic to the garden.'
Diana is particularly fond of the 'Black Adder' agastache, which has beautiful purple blooms that contrast beautifully against its medium-green leaves. This variety copes well with hot summers and high humidity. 'What's more, agastaches vigorously regrow after being trimmed, allowing me to enjoy a bountiful supply of fresh stems for bouquets throughout the season.'
There are two main varieties of agastache. The first is the 'hummingbird mint' type, which comes in a range of sunset colors and includes cultivars like 'Rosie Posie'. The second is the easy to grow anise hyssop variety, which includes 'Black Adder'. If you're wondering how to start a butterfly garden, this is an easy first step.
8. Black-eyed Susans
'Black-eyed Susans are immensely popular for their hardiness and ability to fill out your landscaping,' says Anna Ohler. 'These flowers have signature golden leaves with a black center and are full of blooms when mature.' They are one of the best plants for full sun, offering more and more flowers as summer progresses.
Black-eyed Susans are very hardy. They can grow in most types of soil and can withstand moderate drought conditions. Pollinators flock to the blooms and the foliage provides essential habitat to a wide variety of local insects. This simple yet striking flower is an excellent addition to many types of landscape design and makes a colorful matrix between low ground cover plants and taller shrubs.
Black-eyed Susans come in both annual and perennial varieties. 'Perennials that love full sun continue to improve their blooms year after year, since their root systems become more established with every season,' explains Anna. 'The deep root systems of native, full sun perennials allow them to dig deep to find water, making them more drought tolerant during the summer as well.'
9. Beardtongue
'Beardtongue is known for its tall plumes of colorful petals, making it a real show-stopper in landscaped areas,' says Anna Ohler. 'Often towering over many low to mid-level flowers and reaching a height of up to 24 inches tall, these flowers look great along the back edge of of a flowerbed or as a center focal point.'
One of the best flowers for hummingbirds, who flock to the bell-shaped blossoms of beardtongue (also known as penstemon), adding to the overall beauty of the plant. 'These are ones of the best plants for full sun, and are relatively tolerant to drought conditions,' says Anna. 'Beardtongue comes in a variety of colors that can be mixed to create a colorful blend of tall blooms in your landscaping.'
There's more good news. Beardtongue are long-blooming plants and if they find themselves in a happy place will self-seed freely adding plentiful flower spires to your planting scheme.
10. Gaillardia
'I was just at our local garden center yesterday scooping out the summer deals and came home with two gaillardia plants (also known as blanket flowers), one of my favorite full-sun flowers,' says Brock Ingham, owner of Bigger Garden. 'I'm a sucker for deep orange and red flowers, and these blanket flowers fit the bill perfectly.'
Gaillardia is a stunning perennial that adds a vibrant touch to any garden. Its daisy-like blooms feature fiery colors, ranging from deep reds and oranges to bright yellows. The petals often have a distinctive pattern, with contrasting shades and intricate markings creating a visually striking display.
'One of the standout qualities of gaillardia is its ability to thrive in full sun,' says Brock. 'It is well-adapted to bask in the sunlight and can withstand hot and dry conditions, making it an excellent choice for gardens in sunny regions. The plant's tolerance to heat and drought makes it a resilient and low-maintenance addition to the landscape.'
Brock points out that aside from its eye-catching appearance, gaillardia has another notable attribute in that it attracts butterflies. The nectar-rich blooms act as a magnet for these beautiful pollinators, bringing life and movement to the garden and contributing to its biodiversity.
Gaillardia is well-suited for sunny borders, where its vibrant colors add a burst of energy and create a focal point. Its compact growth habit and long flowering period make it a great choice for adding color and interest throughout the growing season.
For style leaders and design lovers.
Lifestyle journalist Sarah Wilson has been writing about gardens since 2015. She's written for Gardeningetc.com, Livingetc, Homes & Gardens, Easy Gardens and Modern Gardens magazines. Her first job on glossy magazines was at Elle, during which time a visit to the legendary La Colombe d'Or in St-Paul-de-Vence led to an interest in all things gardening. Later as lifestyle editor at Country Homes & Interiors magazine the real pull was the run of captivating country gardens that were featured. Having studied introductory garden and landscape design as well as a course in floristry she is currently putting the skills learned to good use in her own garden where the dream is establishing a cutting garden.