Should you mix and match sofas? These designers reached the same verdict – except for one time to break the rule
Mixed or matching? We asked interior designers what's the best idea for two (or more) sofas in a modern interior scheme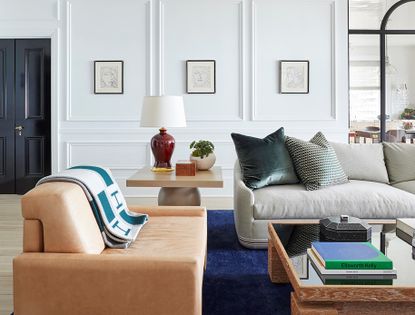 (Image credit: Josh Thornton. Studio credit Summer Thornton)
The Livingetc Newsletter
For style leaders and design lovers.
Thank you for signing up to LivingEtc. You will receive a verification email shortly.
There was a problem. Please refresh the page and try again.
Let's get straight to it - yes, you should mix and match different sofas in your living room. The rein of matchy-matchy, overly coordinated interiors is pretty much over, in our opinion.
A mismatched sofa scheme can create an eye-catching, eclectic look that people won't forget for a long time. Different colored sofas with varied styles and materials can help you create an imaginative interior, and while it's not simple to pick two couches that go well together, all you need to do is to keep a few design rules in mind.
We sought the help of top interior designers who told us how to navigate the world of mismatched sofas and design a living room that can last years.
Is it okay to have mismatched sofas in your living room?
The answer is, of course, yes! Today's modern home does not have to follow stiff design rules. Mixing and matching living room furniture can create a unique design story. Different shapes, colors, and even textures give the room depth and dimension and help conjure up a multi-layered space.
'Having mismatched sofas can often be to your advantage, as having two of the same sofa (unless the room is especially large) can be too one-dimensional and a bit dull,' says Juliette Thomas, founder & director of Juliettes Interiors. 'Having two or three different sofas adds enough interest and detail to the room, plus it gives you additional colors, textures, and styles to experiment with in the space.'
'If a room is big enough, it's very nice to have multiple groupings of furniture, each anchored by a distinct sofa,' says Peter Spalding, co-founder and chief creative officer of Daniel House Club. 'The only time I would really advocate matching sofas is if the room is huge and you'll be breaking it up with a pair of back-to-back sofas separated by a sofa back table to host some lamps and flowers.'
If your seating consists of three to four seaters, then try to coordinate at least two seaters with the third as a different, unique or contrast piece. This will still help you have an aesthetic interior.
The best spaces happen over time. For a mismatched furniture scheme, don't go all out and buy anything that catches your fancy. Start with one piece that you love, and try to build the rest of the seating around it. Take it slow.
What are the challenges with mismatched sofas?
The biggest challenge with having mismatched living room sofas is that if it isn't done right, it can affect the overall look of your interior. Brave, daring, and (when done well) extremely interesting, this scheme isn't always the easiest to pull off. Generally, it's best to try this scheme in a large living room where different elements, when spaced out, still look easy on the eyes.
A mismatched scheme can also come across as a confused, mishmash of interior design, giving off the idea that you probably put a scheme together without proper thought. If you're trying this in a larger space, it's easier to create two different seating options so one could be of all modern seaters and the other of more traditional sofas. This will maintain the mismatched theme but make the space feel more pulled together.
What colors work well together for mismatched sofas?
'Playing with color is a great way to pair mismatched sofas,' says Juliette. 'If your sofas are two different colors and textures, then tie the room together by adding accessories and soft furnishings that incorporate the sofa colors and materials in interesting ways. For example, if your sofa is made of beige linen, add some other neutral linen touches throughout the room in the form of curtains or cushions. If your other sofa is brighter, pair it with colorful flowers and bright accents like vases or accessories.'
Consider complementary colors from the color wheel for an eye-catching living room color scheme, and drench your sofas in those hues. Make sure you don't use more than three, otherwise, the space can look and feel a bit overdone. Sprinkle the colors of the sofas across the room, to give the space a vibrant yet slightly together look.
Try to pull the scheme together with throw pillows as well. It's an instant way to mix and match as you please. In a room that has several, differently-colored sofas, it's a good idea to keep the walls neutral.
'In this living room, the color palette grew from the drape fabric, which the client fell in love with,' says Fawn Galli, founder of Fawn Galli Interiors. 'From there we pulled out many different colors on the sofa to create a vibrant living space.'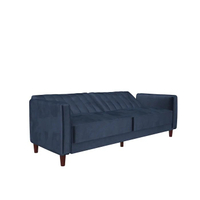 Bring in this modern, royal blue sofa and contrast it with a traditional design or a yellow or green one, to give the living room a more vibrant, mismatched look.
What types of sofas go well together?
'The style of your sofa will depend on the size and shape of your living room,' says Juliette. 'As corner sofas are on the larger side, if space allows, why not pair one with a smaller loveseat? Whilst they immediately appeal to those with smaller living rooms, they also provide an opportunity to have fun with color and create an interesting focal point in the room.'
Largely, for a fun, eclectic, and even boho living room, you could consider pairing straight lines with organic ones – perhaps a boxy, Art Deco piece with a modern curving sofa. Or a tufted, thick piece paired with a thin, long, and close-to-floor sectional.
You could also bring in a crisp, new, modern sofa and pair it with a Victorian-style one. Just make sure the rest of the room is more pared back and relaxed, or else the room can feel too odd and mismanaged. Allow a similar color scheme to flow through so visually the room looks coordinated, even though it houses pieces from different eras.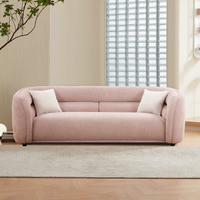 Want to add a little dimension to your living room? Consider this curving piece available in several colors and contrast the more straight-lined pieces with it.
For style leaders and design lovers.
Aditi Sharma Maheshwari is an architecture and design journalist with over 10 years of experience. She's worked at some of the leading media houses in India such as Elle Decor, Houzz and Architectural Digest (Condé Nast). Till recently, she was a freelance writer for publications such as Architectural Digest US, House Beautiful, Stir World, Beautiful Homes India among others. In her spare time, she volunteers at animal shelters and other rescue organizations.