Should throw pillow match the couch? This underrated trick might just make your living room feel more modern
To mix-and-match or go for a seamless sofa look? We ask the designers whether you should match your throw pillow to your couch
(Image credit: O&A London)
I've long been of the firm opinion that when it comes to color, your pillows should not be the same as your couch, favoring instead a pillow color that complements and contrasts against the shade of your sofa. Orange against a blue background for example, or a light shade of pink against a sage green.
But others would contest that the mix-and-match look can easily become outdated, and for a more elegant, sophisticated look, matching your pillow color to your couch is the way to go.
It's not just about color either, and pillows that match your couch also throw up questions of fabric and even shape. I've spoken to the designers to find out all the different combinations you can explore with your living room sofa and pillows.
Match your sofa color with your throw pillows
One reason why you might want to go for pillows that match the color of your sofa is that it brings seamlessness and formal elegance to your living room. Think about the type of interior design style of your home. Is it a formal front room or a calming, minimalist scheme? If so, consider keeping the color the same as the sofa to really unify the space.
'All matching can be quite soothing and create a dynamic monochromatic feel,' say David Puckering and Patricia Davila of interior design firm, The Stylesmiths.
For a calming color palette, pick a shade for your couch that is tonally darker than the wall. 'We are seeing a strong return to natural shades this season; greens, rusts and browns, earthy colors - look to nature for inspiration. People need their homes to calm them,' says Abi Boura, creative director at furniture makers, Love Your Home. 'Always have two large pillows in the same color and fabric as your sofa,' advises Abi.
Pair throw pillows texture with sofa material
For a uniform look, pillow fabric that matches the material of your sofa can bring cohesion to your room. Going for the same material pillow and couch works well if you are embracing the clashing color combination. For example, something like dark purple on muted tone of yellow will work best when they are both the same material, velvet for example. Another material might be too overwhelming and visually jarring.
But in general, don't be afraid to introduce different materials for your pillows. Bouclé is having its moment in the spotlight, loved for its fluffy softness, while velvet on a leather sofa for example can help to soften the look. Bringing extra texture and layers of material and fabric can help you achieve a cozy living room.
Introduce a pillow shape that reflects the sofa
A sofa is a sculptural piece, and going for pillows that mimic and reflect the shape and lines of the sofa will help tie the look together. 'Pillows should emphasize the geometry of the sofa in texture and shape,' says Karolina Rochman, architect and interior designer.
Take inspiration from the curves of your sofa. If it is something more rigid with a low back, a long, bolster pillow will mirror the lines. If you've gone for the curved sofa trend, round pillows or anything spherical will help continue the shapely look.
I like this circular pillow combination with this curved sofa from Link Studio, beautifully marrying the pillow with the sofa in perfect harmony.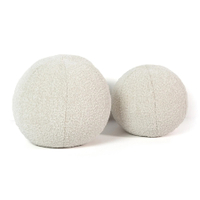 Play around with different tones from the same family
In a neutral scheme where you're accessorizing a couch for a minimalist living room, it's not about going for colors at the total opposite end of the color spectrum. Instead, it's about softening the look by picking tones from the same family of colors or similar families. A mix-and-match sofa and pillow color combination doesn't always mean bold clashing primary colors.
Think about brown in all its shades for example. On a beige sofa, you might want to go a tone or two up or down from this specific shade of brown. Because the hues are all from the same family, the colors will work together beautifully.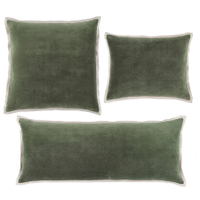 Gehry velvet green pillows, Annie Selke
I like the mismatch of shapes of these green velvet pillows in a muted hue. Simple and with a nod to nature, these have been designed for Annie Selke by Marie Flanigan.
Embrace the color pop with contrasting couch color
However, going for a contrasting look brings a real color pop to your room. 'I always say, don't be afraid to be bold,' says interior designer Natalia Miyar. 'A statement piece of furniture can create a focal point and liven up a low-key living room space.
Choose a vibrant combination that really speaks to you. Think rust pillows on a dark teal velvet, bright blue pillows on a creamy bouclé sofa. Dare to be different and you will accentuate the sofa as the centerpiece of the room. 'When you find something you really love, it creates a showstopper within your space and the rest of the design follows,' says Natalia.
Embracing colors that don't match your couch color also encourages you to keep things rotating. By going for the mix-and-match look, you can update your couch according to the latest sofa color trends.
'A sofa is an investment item in the home,' says Richard Smith, founder of the fabric and upholstery house, Madeaux. 'And as such it is one that you will keep for years and can therefore become rather forgotten in a room as it blurs into the background.
'A wonderful way to bring it back to life with little expense is to add a mix of different pillows, which will give your sofa a renewed sense of place and allow you to see it with fresh eyes again.'
Easily changed and relocated to refresh another space in the home when you feel the need, throw pillows are a great investment that injects personality and character.
'As a general rule of thumb though, add a bit of visual interest by then adding smaller scatter pillows that feature the couch color in the fabric design,' says the team at The Stylesmiths. 'Contrasting but complimentary colors are good to use to break thing up a bit.'
Go bold with pattern on pattern
Lastly, pattern on pattern is a bold look and is being embraced more and more in the world of interiors. Designers are picking bold patterned sofas and mixing them with pillows that would once be considered clashing. I like a pattern with stripe look, with wide stripes, in particular, proving popular as sofa upholstery, but florals and geometrics can be just as fun. Just be confident with your approach and it will look playful and personal.
'I would say have fun and experiment with a mix of different pillows to see the various effects they can create within the overall room,' says Richard. 'For example, blowsy florals will bring the beauty of the garden indoors, whilst smart geometrics or stripes will give a mark that most rooms need.'
'While back pillows will often match, throw pillows should be mixed and matched as a way of introducing additional layers in a space—through color, pattern, and texture,' agrees Lauren Sullivan of Well x Design.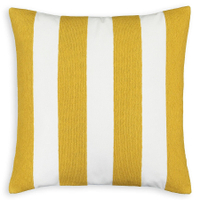 Hendaye striped pillow, La Redoute
If you want to make a statement, embrace pattern and pick a wide stripe. I like these sunshine yellow stripes on this cotton pillow cover from La Redoute (and it's super cheap too!)
The Livingetc newsletter is your shortcut to the now and the next in home design. Subscribe today to receive a stunning free 200-page book of the best homes from around the world.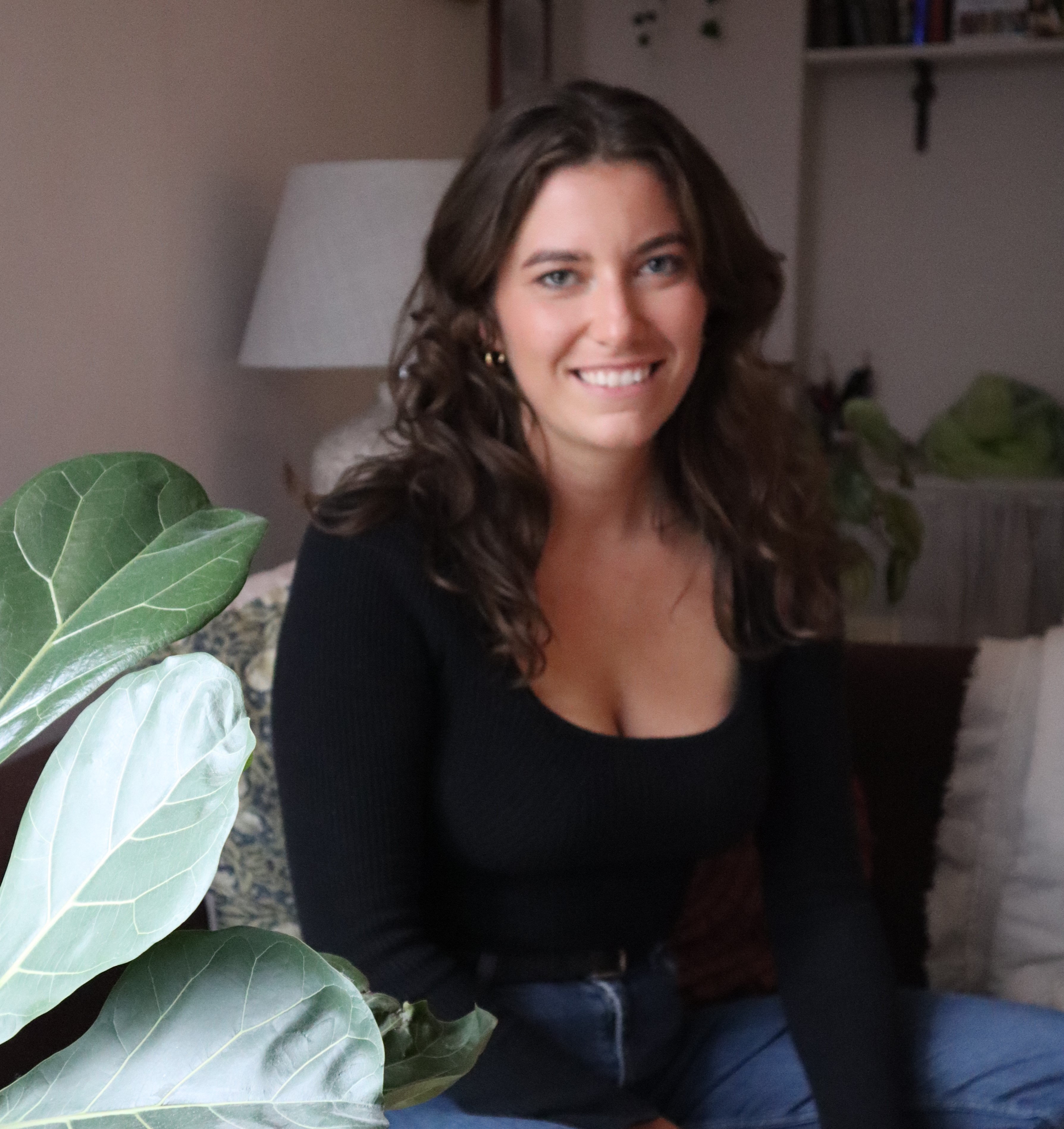 Livingetc content editor and design expert
Oonagh is a content editor at Livingetc.com and an expert at spotting the interior trends that are making waves in the design world. Writing a mix of everything and everything from home tours to news, long-form features to design idea pieces on the website, as well as frequently featured in the monthly print magazine, she's the go-to for design advice in the home. Previously, she worked on a London property title, producing long-read interiors features, style pages and conducting interviews with a range of famous faces from the UK interiors scene, from Kit Kemp to Robert Kime. In doing so, she has developed a keen interest in London's historical architecture and the city's distinct tastemakers paving the way in the world of interiors.