Should I use handles or knobs on kitchen cupboards? Designers agree unanimously
A kitchen isn't complete until the handles are on. Or should that be the knobs? We asked the experts to pick a horse in the hardware stakes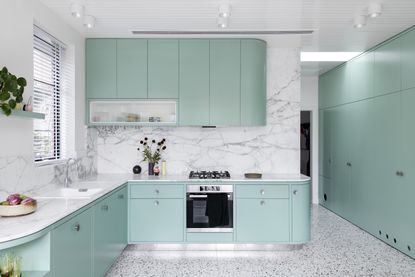 (Image credit: Lisa Breeze. Photo credit: Cathy Schusler)
Perhaps it won't go down as a battle for the ages, but the question of handles versus knobs is a hot debate in the kitchen design world.
For a modern kitchen, do you go for the reliable cabinet knob, perhaps in pewter or brass, always satisfying in the hand and even faintly retro if done right? Or will it be a sleek linear handle to follow the line of the joinery, somehow available in every possible size and finish?
Rarely will a designer land firmly in one camp and stay there, we find – the seasoned creative knows this doesn't tend to be a one-size-fits-all situation, and selects the right tools for the job at hand. But insight into what guides those decisions might be enough to get you off the fence.
For the purpose of this discussion, we are assuming you do want something to grab onto – try our minimalist kitchens inspiration guide if you're heading towards a handleless design.
When should you use pulls and handles?
'Practically, a handle is better for use in a kitchen and particularly for cabinet doors as generally you are not pulling weight,' explains Jo leGleud, co-founder of Maddux Creative.
Amy Kreutz of Indiana-based specialists Conceptual Kitchens agrees, but suggests it might come down to the drawer. 'Sometimes the weight of the contents will make the final decision whether to use a pull or a knob.'
A lateral handle - key in current kitchen hardware trends - might give you more leverage across a large drawer bank, handy if you're buying hardware for an older kitchen where the cabinets are flush to the frame (and perhaps a little sticky from time to time). While a mishap here won't leave you locked in a room, consider whether heavy use of a heavy drawer could loosen or even remove a knob eventually – particularly if it's a bespoke design that could be tricky to fix or replace.
It's not just a point of practicality. 'There is a linear quality to a handle and a sense of harmony in form which can unite a scheme in the same way a recessed handle can add a point of interest when you have a bank of cabinets,' suggests leGleud.
And when are knobs better?
As well as being the cheaper option, 'knobs are an excellent choice for small spaces,' says San Francisco-based interior designer Kimberly Larzelere. General wisdom suggests placing a knob 2.5 to 3 inches from the corner of the door, whatever the cabinet dimensions.
'We use milled handles for the most part in our kitchen designs, but the door of an integrated refrigerator is often an exception,' explains Sina Gwosdzik of Berlin design studio Jäll & Tofta. 'On the one hand, you have to apply more force to open the door and, on the other hand, you cannot mill in these doors. That's why we often combine plain mills on most of the kitchen cabinets with an eye-catching element like this on the refrigerator.'
In this project finished last year (above) a contrast red knob functions like a graphic punctuation point. Perhaps a little more playful than a handle would be here, it feels just right for this modish kitchen cabinet.
What suits the wider style of the kitchen?
Within the old cliché that handles and pulls are the ''jewelry' of the kitchen lies an important message: like accessories, they must complement the wider look and feel.
'We used knobs in our Flemington kitchen project (above and top) as they were part of the overall retro-inspired design and detailing,' says architect Lisa Breeze. Sleek contemporary handles would have felt almost anachronistic to the Fifties-tinged design, so it's a good lesson in looking at the bigger picture. 'These were actually the knobs from the original kitchen – salvaged from the demolition and given a good clean up for re-use.'
See what's available on the second-hand market and consider how those knobs or handles might have been used the first time round. While there are no hard and fast rules, chances are it'll give you a good insight into what will work now. Ripping everything out as part of a big kitchen renovation? Hold onto the handles for now – they might feel utterly fresh against different cabinetry.
When is it worth going bespoke?
If you're working with an architect, they're likely to have a strong network of fabricators to whip up bespoke handles in wood or metal, say – but that's not to stop you calling in a carpenter to create a set. It usually comes at a higher cost, but will allow you to be exacting about dimensions and guarantee a highly personal end result. Options that feel particularly of the moment include chunky, oversized handles that blend in with cabinetry, rounded T-bar shapes and minimalist wooden pulls.
Beware the beautiful bespoke handle that has little going for it other than looks, as it's also got feel good in the hand, says California-based designer Todd Prince. And that, he adds, 'comes down to comfort. Is there a good grip? Does it feel right? That'll be different for everyone.'
Can you mix and match handles and knobs?
We love to mix and match our handles and knobs – as long as it's done properly,' says Trish Lynn, principal designer at Colette Interiors. 'A lot of handles come with matching knobs and vice versa. It's a safe way to make sure you're keeping your look consistent.'
The classic approach is to combine handles on lower drawers with knobs on upper cabinets, but there are other ways to pick and choose, adds Kreutz. 'One of our favorite ways to mix the two is to place pulls throughout the kitchen, varying lengths and sometimes even finishes, and select a corresponding knob in an adjacent butler's pantry, bar or coffee station. This brings the two areas together while adding a touch of visual interest.'
The best handles to buy right now
The bevilled center is really, really satisfying to hold, and the price is astonishingly cheap.
The best knobs to buy right now
The Livingetc newsletter is your shortcut to the now and the next in home design. Subscribe today to receive a stunning free 200-page book of the best homes from around the world.
Cat Olley is a British design and lifestyle journalist, editor and copywriter. Formerly on the features team at ELLE Decoration, she has written for The Guardian, The Modern House, Evening Standard Homes & Property, Inigo and John Lewis at Home. She specializes in the latest trends and ideas happening in the design world, and is our go-to for aesthetically-led pieces.