Should a sofa face the door? Experts decide the perfect couch placement for a room you'll want to relax in
Where should your couch go? Should a sofa face the door? Design experts explain the secrets to rooms that are perfect for relaxing in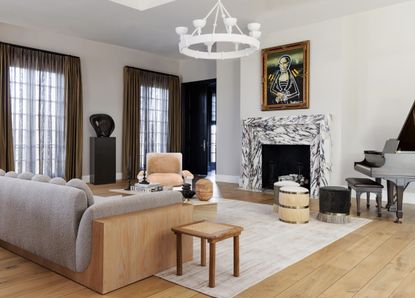 (Image credit: Ryan Saghian/Anthony Barcelo)
Should a sofa face the door? In short: Yes, it can, but not usually directly. However, of course, it's not always that simple.
The layout of a room can often dictate sofa placement, with many sofas being positioned in front of the longest wall, particularly in small living room layouts. While this means a door is likely to be in your sightline, it's not often that a sofa sits directly facing a door with nothing in between them.
Most commonly, a couch will be positioned so that it faces the focal point in the room, whether that's a fireplace, TV or a beautiful view.
Should a sofa face the door? The experts decide...
There are many factors that affect where to place a sofa in a room,' says Rita Naffas, Principal at Rita Naffas Design. 'First, we look at the room's functionality and use. The second variable is the focal point of the room. And the third factor is the flow and balance of the room.'
We explore these three themes below so you can decide the best place in the room to position your sofa, practically and aesthetically.
1. Decide on the functionality of the room
The arrangement of your living room will depend on the desired purpose of the space, with different formations working best for socializing, promoting relaxation, and open-plan designs.
'Most homes opt to face the main sofa directly at the living room TV, and any additional seating, be it a smaller settee or accent chairs, in an L shape,' says Patricia Gibbons from the design team at Sofa.com.
'This works well for families who enjoy a night in together in front of their favorite shows, allowing all to see the action but bridges the gap to allow for any back-and-forth plot analysis.'
She continues: 'Ideally, if the living room plays host to gatherings of friends, seating options that face one another are the best choice to promote conversation. This format could consist of two sofas, or a suite of sofas and armchairs.'
If the functionality of the space dictates, it's perfectly fine for the sofa to be inadvertently 'facing' the door, as seen above in a room that's set up for socializing and conversation.
2. Identify the focal point in the room
'In a lot of rooms, where a sofa should be placed can be somewhat evident,' says Marie Flanigan, Principal of Marie Flanigan Interiors. 'Often, in small living rooms a sofa will be placed along a room's long wall. In larger spaces, the sofa is typically placed proximal to the gathering area or main focal point.'
Speaking about the living room layout above, Ryan Saghian, principal at Ryan Saghian Interior Design, says: 'In this space, the goal was to maximize seating, but to still allow for the fireplace to really showcase as the centerpiece of the room. With that in mind, we chose an L-shaped sofa with a low profile, so that it would not clash with the fireplace.'
Prior to install, always decide what the function of the room will be, suggests Marie Flanigan. She says: 'Is the space a sitting room, where the main purpose will be conversation and relaxation? If so, you'll likely situate your room with the sofa facing a coffee table, potentially flanked by armchairs or additional seating.
'Do you intend to watch TV or perhaps make a fireplace the focal point? If so, you'll orient your seating in front of the focal point.'
She continues: 'Sofas can most certainly face a door or opening, especially when you're using the room's longest wall to accommodate seating.
'This method leaves the opposite wall and door for smaller décor pieces to serve the space and add function.'
Marie adds: 'Ultimately, your sofa should be situated in a way that best serves the room and its function. I tend to keep sofas proximal to the focal point of the space or positioned for conversation and entertaining.'
As with the functionality, if the focal point the sofa is positioned to face inadvertently means it's also facing the door, that's fine (see main image, top, by Ryan Saghian).
3. Think about flow and balance
Living room feng shui experts believe that it's important to consider the flow of air around the room, and ensure no area is cramped or crowded.
'Ensure plenty of space between furniture pieces, and keep clutter at bay to allow for ease of movement,' suggests Patricia Gibbons.
Feng Shui consultant Suzanne Roynon, meanwhile, says having the door in your sightline is actually preferable, but that it's a good idea to have something else in between.
She explains: 'In Feng Shui, and also psychologically speaking, it's preferable to have something between the sofa and the door (as seen with the armchair in the room by M.Naeve above), otherwise you may be left vulnerable to inauspicious energy whizzing through whilst you're relaxed on the sofa.
'A coffee table, credenza, screen, even a large plant, sculpture or shelf unit would work. It doesn't need to be high, just a barrier between sofa and door. If that's totally impossible, a rug in a different shade to the floor would be a better option than nothing.'
Can sofas sit in front of a window?
'Sofas can sit in front of a window when necessary or if there's a lack of space elsewhere in the room,' says Marie Flanigan. 'This isn't always ideal as you'll end up bleaching the sofa fabric over time.'
However, it can also be a wonderfully relaxing thing to enjoy the sun's rays warming your skin while you laze on the sofa.
The Livingetc newsletter is your shortcut to the now and the next in home design. Subscribe today to receive a stunning free 200-page book of the best homes from around the world.
Ruth Doherty is a lifestyle journalist based in London. An experienced freelance digital writer and editor, she is known for covering everything from travel and interiors to fashion and beauty. She regularly contributes to Livingetc, Ideal Home and Homes & Gardens, as well as titles like Prima and Red. Outside of work, her biggest loves are endless cups of tea, almond croissants, shopping for clothes she doesn't need, and booking holidays she does.