These incredible pink-flowering lawns are going viral, and they're far more low maintenance than grass
The flowering groundcover alternative is so beautiful and really easy to maintain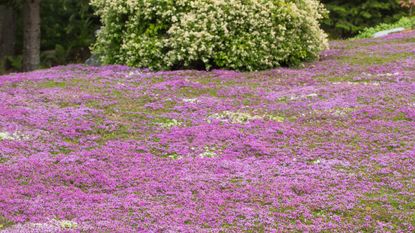 (Image credit: Getty Images)
A luscious green lawn is the archetypal backyard. While we love the look of pristine, well-kept grass, it does require a lot of upkeep, and some of us would prefer something a little more low-maintenance to cover the majority of our outdoor space. If that sounds familiar, you'll want to know about red creeping thyme lawns, the pretty, pink, and low-maintenance alternative to lawn grass.
At the moment you're probably juggling fall lawn care with bulb planting, as well as all the preparation that comes with Christmas. Red creeping thyme lawns aren't only a great modern garden idea, but they'll save you from lawn maintenance woes every season. The unique pink flowing plant makes for a gorgeous lawn alternative, and it's seriously easy to look after once it's grown.
We spoke to gardening experts to discover how to recreate this effect in our backyards and just how easy they are to care for. Here's what they had to say.
What is a red creeping thyme lawn?
This might be the first you've heard of red creeping thyme, especially within the context of lawns, but the pink-flowering plant has caused quite the stir in the lawn community, and for all the right reasons.
'Red creeping thyme lawns are a fragrant, low-growing alternative to traditional grass lawns,' says Tony O'Neill gardening expert at Simplify Gardening. 'Known for their resilience and easy care, red creeping thyme offers a lush, verdant carpet that blooms with vibrant red-purple flowers through the spring and early summer.'
Red creeping thyme is a versatile plant that's been adored by gardening enthusiasts for years. However, it's only recently that the potential for magenta-hued blossoms is being realized by non-gardening experts as a grass alternative.
What makes red creeping thyme lawns so popular?
One of the biggest appeals of red creeping thyme is its low maintenance needs and the beautiful pink statement it makes in a backyard. 'Maintaining a red creeping thyme lawn is relatively simple once established,' says Lindsey Hyland founder of Urban Organic Yield. 'It's a hardy plant, so it doesn't require any special care to keep it healthy, and regular trimming also isn't necessary since it grows only up to three inches in height.'
In addition to being a great low-maintenance garden idea, it's a beautiful plant. 'Red creeping thyme lawns are a stunning addition to any garden, offering vibrant color, fragrance, and a unique ground cover alternative,' says plant expert Zahid Adnan from The Plant Bible. Its striking color creates an extraordinary pink carpet in place of your lawn that will be the envy of all your neighbors.
Lastly, red creeping thyme has a unique ability to grow in challenging environments. It's drought-resistant meaning you will have no need to worry about a strict watering schedule come summer, and the flowers will attract plenty of pollinators to your outdoor space, making it perfect for wildlife gardening.
Are red creeping thyme lawns suitable for all climates?
Due to its hardy nature, red creeping thyme is suitable for almost all conditions, however, Tony advises considering a few things before you plant one in place of your lawn.
'Before you start a red creeping thyme lawn, consider the climate and
sunlight in your area,' he says. 'Thyme thrives in full sun and well-draining soil, so
if you have heavy clay soil or a shady garden, a thyme lawn might
struggle.'
'Additionally, you should also consider foot traffic,' he continues. 'While thyme can handle light foot traffic, it's not ideal for areas used for vigorous activities.' If you're looking for a lawn alternative to cover your shady garden or for your kids to play on, this might not be for you. However, if you have a smaller sun-trap lawn, you're in luck. If you don't think a red creeping thyme lawn is suitable for you're backyard, it might make the perfect low-maintenance front yard idea instead, if these conditions are met.
How do I grow a red creeping thyme lawn?
Now that you've learned the benefits of a creeping thyme lawn, I'm sure you're itching to start one of your own to compliment your borders and flower beds. Fortunately, we have got all the tips from the professionals to get you started.
Once you've determined your sunny location with good drainage, it only takes a couple of steps to begin. It's likely you'll need to wait until temperatures are warmer, though. Seeds should be sown directly into the ground when temperatures are at least 65F, so late spring is usually best.
'First, prepare the ground by removing weeds and other debris,' says Lindsey. 'Spread a two-inch layer of compost and till the soil to a depth of about six inches. This enriches the soil and ensures the thyme has a healthy start. Finally, buy young thyme plants and plant them about nine inches apart, watering them regularly until they're established.'
Remember, patience is the key to any gardening task, and it may take some time for the thyme to knit together into a lush carpet. Once this happens, though, it will be well worth it, especially come summer when the small buds bloom!
You will need
The Livingetc newsletter is your shortcut to the now and the next in home design. Subscribe today to receive a stunning free 200-page book of the best homes from around the world.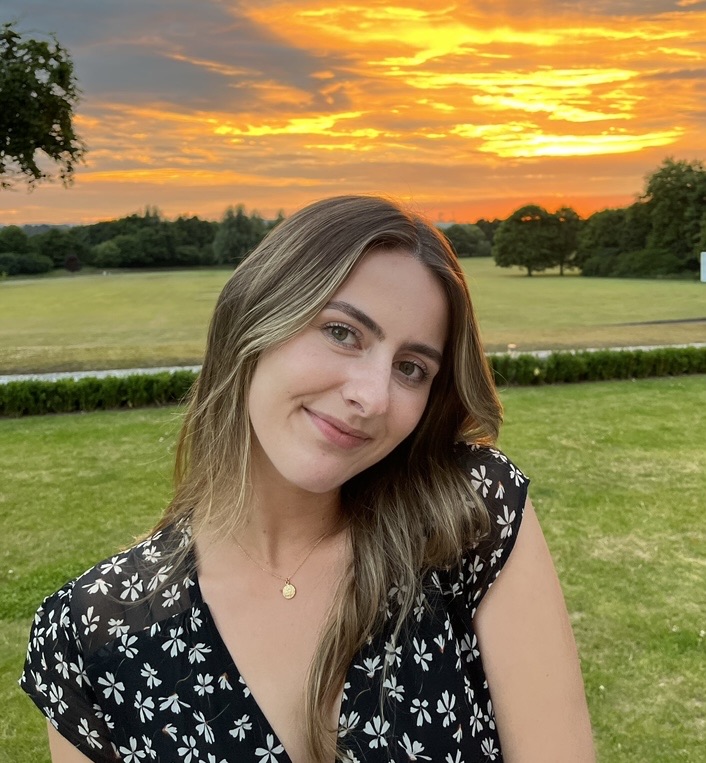 Amy recently completed an MA in Magazine Journalism at City, University of London, with experience writing for Women's lifestyle publications across arts, culture, and beauty. She has a particular love for the minimalist aesthetic mixed with mid-century furniture, especially combining unique vintage finds with more modern pieces. Her previous work in luxury jewellery has given her a keen eye for beautiful things and clever design, that plays into her love of interiors. As a result, Amy will often be heard justifying homeware purchases as 'an investment', wise words to live by.