'They make you produce endorphins' - 10 plants that magically make your backyard more relaxing
Beneficial plants can help you create a relaxing oasis to max up the calming benefits of time spent in your backyard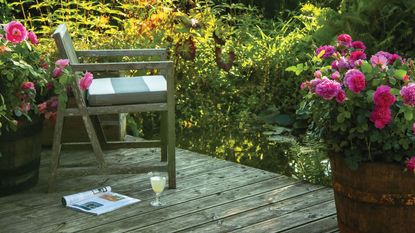 (Image credit: David Austin Roses)
The Livingetc Newsletter
For style leaders and design lovers.
Thank you for signing up to LivingEtc. You will receive a verification email shortly.
There was a problem. Please refresh the page and try again.
Creating a tranquil retreat in your yard is the dream, particularly if you live in the city. Ideally you will open the door, and step into a restful place that enhances your mood. One of the key things to help create this is choosing a combination of plants that will make your backyard feel more relaxing.
Watching your plants grow will help you to feel closer to the seasons. As you relax into the space and learn to appreciate the plants it will create a mood that works in contrast to the city around you, helping you to kick back and feel more grounded.
Start enhancing your backyard downtime by finding your new go-to plants to soothe and calm. We've chosen a mix of some individual hero plants as well as groups of plants with therapeutic qualities that work every time. Now take you pick from our list to make time spent outdoors so much more relaxing.
10 planting ideas to create a more relaxing backyard
'I often find myself staring at flowers in my garden. I meditate on their blooms and settle into their beauty. Pleasure abounds and time passes in these simple and precious moments in the garden,' says horticulturalist Jac Semmler, author of Super Bloom, available here from Amazon.
Immersing yourself in nature by getting up close to blooms to study their color, get a hit of fragrance, and touch their petals or leaves is an instant way to decompress. You will also become more aware of visiting birds, bees, and butterflies as you engage with the plants. Now find out our recommendations for plants that make your backyard feel more relaxing.
1. Chamomile
Known for their herbal and aromatherapeutic benefits, chamomile plants are covered in prolific daisies that flower from spring into summer. They tend to self-seed, so sow some this year and the flowers will reappear next year. There are several different types of chamomile but all have a relaxing apple-like fragrance.
'Chamomile is a tremendous annual flower,' says Jac Semmler. 'It looks so pretty in dense posies picked for your loved ones. They may not have a very long stem to arrange but they are still super cute. What is it about chamomile and its small, cheery faces that makes me so happy? They are little rays of sunshine in a bunch.'
Chamomile is a wonderful herb to grow to help promote relaxation, improve sleep, and reduce stress and anxiety. These soothing and calming qualities mean it's one of the best feel-good plants to add to your herb or flower garden too. It also works well in a container if you're tight on space. Pick the flowers and dry them, and soon you will be sipping a relaxing cup of homegrown chamomile tea in the garden too.
2. Chrysanthemum
Chrysanthemums bring a sense of joy and calm to our flower beds, and have long been known for helping us to relax too. Planting these beautiful flowers in your backyard can help to lessen symptoms of worry and stress. Just standing in among them (they grow to around 3 feet) to appreciate their blooms is an instant mood enhancer.
There are many varieties to choose from including single, double and large show blooms, as well as annual and perennial types, and they come into their own as one of the best late-season flowers around, adding a welcome splash of color when most other flowers are starting to fade.
For pure elegance, nothing beats the shaggy pompom or spiky 'spider' varieties. On their tall slender stems they look great in the garden as well as the vase to share some of that feel-good factor indoors too.
3. Green flowers
Green is the most soothing color - inside and out - so it should be top of the list when you're looking for plants that make your backyard feel more relaxing. 'It's a perfect foil for any of the other colors in your yard, a calming presence that provides a wonderful backdrop,' says plant expert Jenny Rose Carey, former senior director at the Pennsylvania Horticultural Society's Meadowbrook Farm in Jenkintown and author of The Ultimate Flower Gardener's Guide, available here from Amazon.
As well as including plenty of green-colored foliage in your yard, seek out green flowers too, that will add an unusual touch to the flower garden palette. 'In spring, look for viridiflora tulips such as Tulip 'Spring Green' that combine pastel colors or cream with brushstrokes of green,' suggests Jenny.
'Follow this with easy summer flowers like the chartreuse blooms of zinnias such as 'Green Envy', and 'Lime Green' flowering tobacco plants (nicotiana).' Meanwhile in fall look out for the distinctive green blooms of Chrysanthemum 'Key Lime'.'
4. Purple flowers
Purple is known for its calming aura, as well as being a popular choice for visiting pollinators - many purple plants are the best flowers for bees. Include some in your planting scheme so you can enjoy the benefits of relaxing in your backyard while watching bees and butterflies hover over your blooms too.
Purple flowers add richness and depth, helping to weave together other colors and from a distance they merge into an easy-on-the-eye soft haze. 'Purple flowers are readily available at any time of the year,' says Jenny Rose Carey. 'In spring choose hyacinths and Viola odorata 'Queen Charlotte'. For later in the year try perennials like blazing star and irises. Continuing into the fall, the garden year comes to a close with purple autumn asters and dahlias.'
5. Roses
Is there a more feel-good flower than the rose? The relaxing effects of fresh flowers and particularly roses are well-known. This is because they produce wonderful mood-boosting endorphins.
This is backed up by science, with a study in the Journal of Physiological Anthropology showing that when a group of participants were exposed to pink roses it resulted in significant physiological and psychological relaxation effects.
Add roses to your own backyard to appreciate fully the calming properties of nature's bounty up close. Find a rose that suits a container and place a chair next to it so you can fully experience the mood-boosting and stress relieving properties as you enjoy the beautiful color and exquisite fragrance of your chosen blooms.
6. Lemon balm
Known for its ability to relieve symptoms of mental stress and to aid rest and relaxation, super calming lemon balm (Melissa officinalis) is a member of the mint family. It was used as far back as the Middle Ages to reduce stress and anxiety. Today, lemon balm is often used in a herb garden, combined in a planting scheme with other calming, soothing herbs, such as valerian, chamomile, and hops to promote relaxation.
This easy to grow foliage plant is ideal for the front of a sunny border or a herb garden. You can also grow it in a pot. Once established, lemon balm will produce large amounts of sweet scented leaves that can be used for a variety of things including to make a soothing tea. They are lovely to pick too, with soft velvety textured leaves.
In midsummer there are spikes of tiny, pale-yellow flowers, which fade to white or lilac. The flowers are attractive to bees (the plant is commonly known as bee balm), and it's definitely soothing to watch them hovering over this fragrant plant.
7. Jasmine
It is widely considered that jasmine can lift your mood, bringing on feelings of calmness and relaxation. The floral energy created by the rich, sweet scent is said to reduce feelings of stress and anxiety.
Jasmine will perfume your garden for weeks during the summer months, so be sure to plant it somewhere you will most appreciate it, such as next to a gate or the kitchen door. Anywhere, in fact, where a waft of it will greet you as you go past. Star jasmine (Trachelospermum jasminoides) is favorite choice for a low maintenance garden, and dense evergreen foliage, plus of course the flowers and fragrance.
'Star jasmine produces an abundance of small, star-shaped, white flowers that emit a sweet, intoxicating fragrance,' says Robin Phelps, plant expert and gardening coach at sowmanyplants.com. 'The scent adds a delightful sensory experience to your outdoor space.'
8. Rosemary
Aromatic herbs appeal to many of our senses, and can have a real impact on our emotional wellbeing too. So setting up a herb garden with plants that make your backyard feel more relaxing is always a good idea.
Rosemary has a lovely woody fragrance. The scented foliage and flowers release aromatic oils into the air on a sunny day for a delightful treat when you sit nearby. Rosemary is a calming herb, with research showing that it decreases levels of the stress hormone cortisol.
Happily other Mediterranean, sun-loving herbs with therapeutic benefits like sage, thyme, and oregano can be grown together with rosemary as they all like the same conditions. Choose a sunny, sheltered spot and make sure the soil is gritty and free draining so the roots of the plants don't become waterlogged.
Try raising your herbs up to eye level to better appreciate their scent and beauty by growing them in a hanging planter, raised bed or vertical growing system.
9. Scented plants
Catching a waft of scent on a summer breeze evokes a feelgood mood guaranteed to relax you. It's easy to enhance the enjoyment of sitting in the garden by planting a range of aromatic plants featuring different types of scent. Choose plants with fragrance that drenches the air such as mock orange (Philadelphus), roses, jasmine, sweet peas and honeysuckle.
Make it a tactile experience, too, by including plants with scents that need to be experienced up close by brushing your fingers through them like lavender and scented geraniums, as well as herbs like rosemary, mint, sage and thyme. Some plants have scented foliage, too, such as Salvia 'Dear Anja' and Salvia 'Amethyst'.
For the most calming experience grow scented plants either side of a winding gravel garden path, around a pergola or next to outdoor seats, and you will get the most out of being in such close proximity to plants that make your backyard feel more relaxing.
10. Lavender
Lavender rightly deserves to be at the top of the list of easy plants that make your backyard feel more relaxing. Well-known for its fragrant flowers and aromatic foliage, the scent of this hero plant is proven to be effective at reducing stress and providing a calm atmosphere to aid relaxation.
Every garden needs a comfortable place to sit, somewhere you can enjoy being immersed in all it has to offer. Including therapeutic lavender in the planting mix is definitely a win, especially as it will attract the bees and butterflies too.
The best variety to choose is English lavender (Lavandula angustifolia), which is strongly scented, and covered in masses of purple-blue flowers with silvery-grey leaves. Favorite varieties include 'Hidcote' and 'Munstead'. To introduce softness around your lavender plants, fill out with ornamental grasses like Stipa gigantea and Stipa tenuissima for a naturalistic look.
Planting lavender adds a lovely sensory experience to your enjoyment of the yard, offering a restful interlude from city life.
For style leaders and design lovers.
Lifestyle journalist Sarah Wilson has been writing about gardens since 2015. She's written for Gardeningetc.com, Livingetc, Homes & Gardens, Easy Gardens and Modern Gardens magazines. Her first job on glossy magazines was at Elle, during which time a visit to the legendary La Colombe d'Or in St-Paul-de-Vence led to an interest in all things gardening. Later as lifestyle editor at Country Homes & Interiors magazine the real pull was the run of captivating country gardens that were featured. Having studied introductory garden and landscape design as well as a course in floristry she is currently putting the skills learned to good use in her own garden where the dream is establishing a cutting garden.