6 mistakes that make your kitchen seem more cluttered than it actually is, and how to avoid them
These simple adjustments are the way to a streamlined and well organized kitchen, according to interior insiders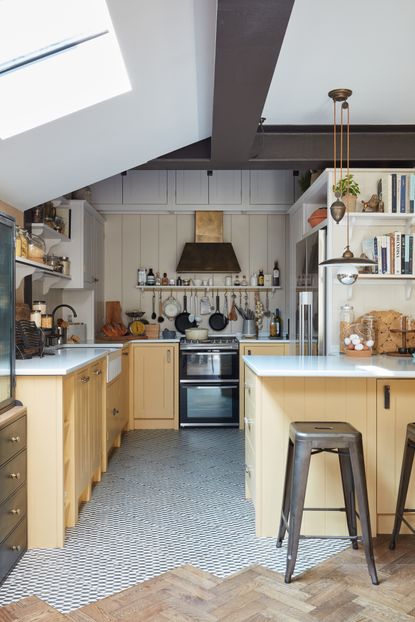 (Image credit: Philip Durrant)
The kitchen is one of the busiest rooms in the home and it's all too easy for clutter to accumulate. Suddenly your streamlined surfaces have disappeared beneath the latest 'must have' gadgets or piles of paperwork.
This not only looks messy but it can also make us feel stressed - an ever present reminder, or impression, of tasks still to do.
If this sounds familiar, it's easy enough to remedy. Interior insiders reveal how to avoid the six organising mistakes that can make your modern kitchen seem more cluttered than it is.
6 kitchen organising mistakes and how to avoid them
1. Too many items on display
While design-led appliances on kitchen countertops and stylish storage jars on shelves will add charm to your kitchen, it's a fine balance. Too little and your kitchen could resemble a soulless show house. Yet too much on display and it can look crowded and cluttered.
To keep your kitchen characterful, yet calm, have only the items you use most frequently out and tuck everything else away.
'The number one factor in a cluttered kitchen is too many small appliances on show,' says interior stylist, Lucy Gough. 'Think about your routine and what you use every week and have only those things on display in your kitchen. The rest can be stored away. In my view a kitchen only needs a few key pieces on the counter to run smoothly; a toaster, kettle and coffee machine. A kitchen mixer is not essential unless you bake every day, so I would put it away in a cupboard.'
Ditch mug trees and knife blocks in favour of in-drawer units and cupboard shelf storage. If you like to have pans and utensils hanging near your cook zone, edit them to the everyday items and stash the rest in a drawer or cabinet. Our guide to how to organize kitchen drawers will help you here.
'Fixing strong magnets inside cupboard doors is a good way to store knives so they're out of view but easy to reach,' adds Lucy.
For color and character, display pots of fresh herbs, favourite cook books, wooden chopping boards and bowls of fruit.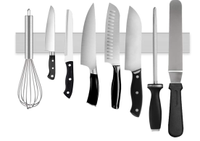 Magnetic utensil strip, $18.49, Amazon
Easy to fix to the inside of a cabinet, this magnetic knife strip will keep all your favorite utensils in reach, but out of sight. Plus, it uses that dead space on the back of the door.
2. Not utilizing internal storage systems
Bespoke kitchens designed by professionals are wonderful for utilising spare nooks and crannies for storage, such as skinny pull-out spice racks or chopping board slots. Yet mass market manufacturers like IKEA offer a plethora of internal storage systems that can ensure a tidy space too.
Shelf inserts, drawer partitions, pot lid organisers and door racks can maximize space and utilize height, providing a handy place for smaller items. Storing things where you can find them - instead of in a pile - will not only look less cluttered, it will save time too.
'Lay out your kitchen equipment and and work out what you need to store where in terms of how often it's used,' says Rebecca Nokes, Head of Design at kitchen company John Lewis of Hungerford. 'That way you'll work out where you need things. Plate and saucepan stackers are a good idea as they allow you to neatly store everything and make the most of your space.'
'Think about how you use your fridge too,' says Lucy. 'We're creatures of habit and often buy the same food every week. So consider changing the heights of fridge shelves to maximise your space so you can store more things, like fruit, for example, then you can have what you need on the counter, instead of a crammed bowl.'
3. Forgetting to include a drawer power outlet
This may sound like a luxury but if you have the space, it's well worth including a dedicated drawer in your kitchen where phones and tablets can charge. This is especially useful if your kids are old enough to have their own devices too. Instead of a sprawl of tech on the work surfaces, it's all hidden away in a shallow drawer.
If you're not planning a new kitchen, this can be done retrospectively. Drawer power outlets that can charge up to eight devices and can be bought on Amazon - this particular drawer outlet is easy to use. Ask your electrician to install a socket into the back of the cabinet beneath the drawer you want to use, then the docking outlet can be fitted to the back of the drawer.
4. Not using trays
This can make a huge difference in keeping clutter contained. Storing items together on a tray, or even a chopping board or cake stand, keeps it looking tidier, whether it's tea and coffee canisters or cooking condiments. it's also easier to clean up any spills.
'A stylish tray with handles on your kitchen countertop is also handy to keep your bits and pieces like the post, spare coins and water jug in one spot,' says interior stylist, Lucy Gough. 'This way, you can move it away when you need to make more space on your countertop.'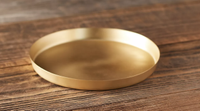 This chic round tray is ideal for a kitchen. It's actually being marketed as a plant tray which means it's water resistant and wipeable. Perfect.
5. An excess of children's art on the fridge or walls
It's charming having pictures your kids or nieces and nephews have painted for you pinned up on the fridge or walls. And to bin them feels heartless. Yet it's easy for this creative display to build up and become tatty.
'If you have a surplus of children's artworks cluttering up the wall, consider using frames that open up at the front,' says Lucy. 'Arrange a gallery wall of 6-8 front-opening frames on your kitchen wall to help give some visual order to the space. This way you can replace new art in them quickly and easily.'
6. Over-cramming utensils jars
A bit like wearing something that's too small, cramming too many utensils in a jar, will make everything in it look bigger. So make sure you just have what you use every day to hand and avoid duplication.
Store utensils that you don't use every day in drawers or split them into two different sized jars rather than crammed into one.
The Livingetc newsletter is your shortcut to the now and the next in home design. Subscribe today to receive a stunning free 200-page book of the best homes from around the world.
Jacky Parker is a London-based freelance journalist and content creator, specialising in interiors, travel and food. From buying guides and real home case studies to shopping and news pages, she produces a wide range of features for national magazines and SEO content for websites
A long-time contributor to Livingetc, as a member of the team, she regularly reports on the latest trends, speaking to experts and discovering the latest tips. Jacky has also written for other publications such as Homes and Gardens, Ideal Home, Red, Grand Designs, Sunday Times Style and AD, Country Homes and Interiors and ELLE Decoration.