Fill your home with constant beauty - 10 indoor plants that flower all year round, chosen by experts for their elegance
With blooms lasting for months, these flowering indoor plants come in shapes, sizes and colors to suit every interior look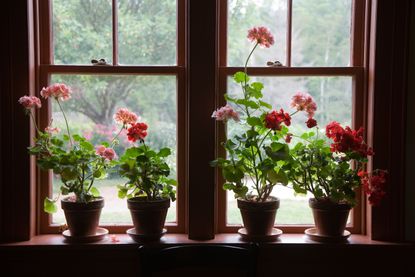 (Image credit: Alamy)
The Livingetc Newsletter
For style leaders and design lovers.
Thank you for signing up to LivingEtc. You will receive a verification email shortly.
There was a problem. Please refresh the page and try again.
If your indoor plant collection is looking a little too uniformly green perhaps it's time to introduce some color with a flowering house plant or two that will give you blooms for months. From bold and tropical trumpet flowers to delicately etched petals, flowering indoor plants are the attention grabbers you need in your life.
The ideal indoor garden variety is one that flower profusely for months rather than ones that are simply up and over in a flash before you've had the chance to properly enjoy them. Fortunately there is quite a choice when it comes to long-flowering indoor plants and they are generally easy to care for too.
10 indoor plants that flower all year round
Experts pick their round-up of the best indoor plants that flower all year round, a simple guide as to how to pep up your plant collection.
1. African violet
When it comes to how to turn your windowsill into an indoor garden, African violets (also known as Saintpaulia) are quintessential. Their clusters of dainty, velvety flowers bloom no matter what the month is. In addition, they are one of the most low maintenance plants for indoor gardening, come in a stunning variety of flower and leaf patterns, and can be squeezed onto the smallest of windowsills if space is tight in your apartment.
'Most plants require good light and direct sun in order to flower, however that is not the case with African violets, which thrive and flower readily indoors,' says Alina Smith, who runs Plantflix, a shop for indoor gardening that specializes in rare and exotic houseplant seed varieties. 'My grandmother had these all over her windowsills, and despite regular missed waterings, these plants were always flowering and growing consistently year round.'
The latest cultivars flower more profusely and for a longer period, and are resistant to their flowers dropping too. All you have to do for these easy houseplants to thrive is keep the compost moist, remove any dead flowers or damaged leaves as soon as you see them, and protect them from strong sunlight and cold draughts.
2. Peace Lily (Spathiphyllum)
The waxy white arum lily-like blooms of the peace lily are free flowering and profuse if you choose the Spathiphyllum wallisii variety. This means they flower for several months of the year, especially as they're long-lasting too. Another spath variety worth looking out for is 'Starlight', which has as many as 20 to 25 flowers at a time from February through August. They're so beautiful - peaceful as the name suggests, one of the best plants for an indoor zen garden.
'This plant is known for its beautiful, elegant white flowers and glossy green leaves,' says Ben McInerney, director at homegardenguides. 'In terms of lighting, peace lilies require low to medium light conditions, so avoid putting them in direct sunlight.
Since they're more sensitive to overwatering, it's best to underwater if you're unsure and keep a close eye on their leaves. 'If their leaves are still drooping after you've watered them this is a good indicator that they need more,' says Ben. 'It's also recommended to use a fertilizer with this plant every 6-8 weeks to encourage healthy growth and lots of flowers.'
3. Geraniums
Geraniums are very versatile plants that grow well both indoors and outdoors, regardless of lighting, space or quality of soil. They have a long flowering period and large clusters of colorful blooms, which makes them one of the best indoor plants that flower all year.
'They're very easy to propagate,' says Alina Smith. 'My mother and I used to collect geranium cuttings to grow out in our shaded patio garden. They grow quickly, produce a large variety of flower colors, and can grow very tall, even in small pots.
'As an apartment gardener, these plants are perfect. I don't have much light or space, and my geranium plants fill our home with bright greenery and flowers. An added bonus is these are also very easy to grow from seed, and are absolutely adorable to watch as they grow up.'
A geranium will bloom almost all year round if kept on a warm, sunny windowsill. Just remember not to overwater it. You can leave the compost to dry out in between waterings, and it should be barely moist when the plant isn't in bloom.
4. Oxalis
There are several varieties of this plant, which is a great asset for any interior windowsill, making it one of the best indoor plants to add color. The most popular type is oxalis deppei, also known as lucky clover. 'AKA the shamrock plant,' says home decor and plant expert Emily Auffrey, who is based in New York. 'It has four leaves of colorful foliage and the plant is a tuned to circadian rhythm. The leaves open during the day and shut at night. When the petals are open they look like beautiful butterflies.'
You can commonly find oxalis at grocery stores in purple and green, explains Emily. If you go to a plant shop or nursery you can most likely score this cutie in the color 'Sunset', a gorgeous orangey amber.
This plant is forgiving too. If you miss a watering it will wilt but bounces back quickly. 'It prefers bright indirect light to medium indirect light,' says Emily. 'Water about once a week and usually twice a week in the spring and summer. Cut off blossoms once they have died, close to the bottom of the stem. Room air is good for this plant, just make sure to keep it away from AC and heat vents.'
5. Beloperone (Mexican Shrimp Plant)
The blooms of this attractive, easy to grow plant appear nearly all year round. The arching flower sprays are salmon-pink colored (why it's also known as the 'shrimp plant'), and come from the plants plentiful bracts (modified leaves), which helps explain why the 'flowers' are so prolific. There is also a true flower, which is white.
This plant is easy to please and if it likes what you're offering can grow up to 3 feet indoors - clearly one of the best plants for a lush indoor garden. All it requires are warm days, cool nights and a sunny windowsill to call home. If the plants get straggly prune back by around one half to encourage new growth and your plant will quickly bush up again.
In summer you can move these plants outside and after exposure to sunlight they will turn a more intense color and turn into quite the tropical thriller. Hummingbirds find the flowers irresistible.
Beloperone guttata is the full name (and it's also called Justicia brandegeeana). This plant is native to Mexico, and has been naturalized in Florida.
6. Crossandra (Firecracker Flower)
If you're looking for a long lasting burst of indoor color, crossandra fits the bill with its brilliant blooms. The long-lasting bright orange-red flowers of this pretty indoor plant appear in early spring and last right until late fall.
In other good news, crossandra starts flowering when the plant is still very young, and the glossy green leaves are a feature in themselves making this an attractive plant all year round, especially as the flower spikes are as much as 4 inches long.
Crossandra can also be grown outdoors, depending on where you live. There's also a yellow variety (Crossandra infundibuliformis 'Lutea') with rich, golden flowers.
Caring for this beauty is easy. All it requires is a light, warm and humid atmosphere, so it will respond well to regular misting (our article on how to get the right humidity level right for your houseplants will help you here) . If your plant doesn't get enough light it will stop blooming, and regular deadheading means more flowers, so tidy your plant throughout the growing season for best results.
7. Impatiens (Busy Lizzie)
A round up of the best indoor plants that flower all year round wouldn't be complete without mention of this little beauty. Although known mainly as an outdoor plant, impatiens thrive as a houseplant too, even over the winter months. With the right care routine these plants will bear flowers nearly all year round if you grow them indoors. The flowers come in a range of colors including white, orange, pink, purple and red. Some varieties have attractive multi-colored leaves too.
Easy to care for, they like bright light. In fact, the flowers will fall off if they're not given the right light conditions. A sunny, south-facing spot is ideal. They also like moist compost, and warm temperatures. It's a good idea to place your plants on saucers of moist pebbles and mist their foliage on a daily basis. Follow this guidance and you will be rewarded with steady color for months on end.
8. Anthurium (Flamingo Flower)
'Rarely without their showy blooms, Anthuriums are known as the world's longest blooming houseplant,' says Eliza Blank, founder of houseplant specialists The Sill. 'Each bloom can last up to eight weeks, and new ones will pop up often. These aren't actual flowers, but modified waxy leaves.'
Exotic anthuriums flourish and bloom best in bright indirect light, should be watered every few days to keep the compost moist, and likes to have its leaves misted regularly. The flowering season will extend over several months if you follow this care routine.
9. Bromeliad
We love the showy blooms of these tropical-looking houseplants. Once formed the spectacular flowers of bromeliads last for several months. But they only flower once during their life and it has to be under the right conditions. The flowers are not really flowers but colorful bracts.
If cultivated as indoor plants most bromeliads are planted in a mix of potting compost and sand. They need bright, indirect sunlight to thrive. Wait until the top two inches of soil feel dry to the touch before watering them. In many climates, bromeliads can be moved outdoors during the summer.
The easiest variety to grow is Billbergia nutans, which produces arching flower heads under ordinary room conditions.
10. Streptocarpus (Cape Primrose)
These excellent indoor flowering plants generally bloom from May until October, and if the conditions are right you can expect months of blooms. Flowering is initiated by intensity of light and Cape Primroses can flower as much as 10 months out of the year in natural light on a north or east-facing window.
A close relative of the African violet, they are ideally suited to windowsills except south-facing ones that get too much direct sun in the warmer months.
The large trumpet-shaped flowers in white, blue, purple, pink or red often feature attractive veining in contrasting colors. These plants can be diva-ish though, so give them the moist air, bright light and cold air in winter they require if you want them to thrive.
Be sure to deadhead them regularly too and you will be rewarded as these are definitely one of the best indoor plants that flower all year.
For style leaders and design lovers.
Lifestyle journalist Sarah Wilson has been writing about gardens since 2015. She's written for Gardeningetc.com, Livingetc, Homes & Gardens, Easy Gardens and Modern Gardens magazines. Her first job on glossy magazines was at Elle, during which time a visit to the legendary La Colombe d'Or in St-Paul-de-Vence led to an interest in all things gardening. Later as lifestyle editor at Country Homes & Interiors magazine the real pull was the run of captivating country gardens that were featured. Having studied introductory garden and landscape design as well as a course in floristry she is currently putting the skills learned to good use in her own garden where the dream is establishing a cutting garden.