Do NOT decorate anything without reading this first - 9 designer secrets for coming in on (or under) budget
We asked top designers about their experiences with setting budgets and what tips they have for sticking to them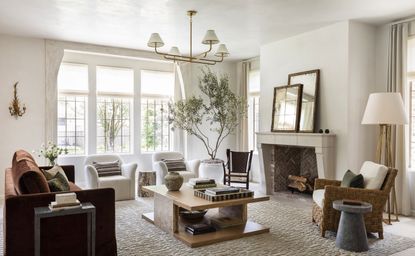 (Image credit: Julie Soefer)
The Livingetc Newsletter
For style leaders and design lovers.
Thank you for signing up to LivingEtc. You will receive a verification email shortly.
There was a problem. Please refresh the page and try again.
Budgeting is the dullest part of decorating, but of course, it's the most important thing to consider when you start a new project. Our advice is to get your budget planning out of the way before you get started, that way you can just (hopefully) enjoy the fun parts of the project, like picking paint colors, choosing furniture, deciding on how bold to go with your rug choices, and so on. And you can do all this safe in the knowledge you know your budget and you know what money can be spent where.
But we know all this is easier said than done. How do you even go about setting a budget for your interior design? And even more so how do you go about keeping to it?
How to set a decorating budget – and stick to it
We have asked the experts for their top tips so on where to spend and where to save, what to base your budget on and how to reign in costs when you need to.
1. Define your project and create a spreadsheet
Sounds thrilling, but the first and easiest step when it comes to budgeting is to decide what you actually want to achieve with the space. What is the size and scope of the project? Make a list (we'd recommend a spreadsheet) of every job, no matter how small, that the project will entail so you can put costs next to each and end up with a realistic budget before you get started. For example, if you are painting a room, there are so many smaller tasks and expenses potentially within that job that you need to budget for, so breaking everything down will make you consider each.
'To honor a budget, one needs to be established in the first place,' suggests designer Lisa Sherry. 'Spreadsheets are absolutely part of the design process! I run an interior design practice and am always very upfront and candid about money matters. I respect the fact that clients are investing in their home. We always establish budgets early on, room by room, task by task.'
Designer Kathy Kuo agrees, 'I think it really helps to put your budget down on paper and share it with your partner or with whomever you're collaborating with in your decor project, even if it's a loved one you don't actually live with but whom you discuss home ideas with often. Having someone to keep you accountable is going to be a big help! I would also categorize every potential purchase you make—is it a must-have item or a wish-list item? Attend to your musts first and then assess which wish-list items you can still purchase within the budget.'
'On a larger project, I would suggest breaking your budget down into an itemized list on an Excel schedule,' suggests Tiffany Duggan, founder of Studio Duggan. 'This should be thorough and grouped room by room. Then add a provisional cost to each item. Review your budget – are the allocations realistic? Once you are happy you have a clear list of required items then get sourcing – remembering to note down the amount you actually paid for the item. You can spend more (or less) than you estimated… but you'll need to adapt your provisional costs to keep sourcing to budget.'
2. Do your research
This is something you should be doing alongside creating your lists and spreadsheets. No guestimating! Do your research so all the initial numbers you get down actually have some grounding in reality.
'Budgets must be realistic. Otherwise, they'll quickly dissolve!' says Lisa. 'If you're starting a decorating project, it's important to understand different levels of quality and costs for furniture and accessories, and even contractors and builders, if that's part of the project. The pricing range for a sofa, for example, is vast – but all sofas are not created equally! Quality and style features vary – and prices too. For someone undertaking a project on their own, educate yourself – shop and research – to understand pricing and quality, and develop a budget you can stick to.'
Emma Deterding, founder of Kelling Designs agrees, 'Research, research, research! Always research the costs associated with the materials, furnishings, and services you require as this will help you set a realistic budget, and also help you to better understand what's possible within your budget. Look at various suppliers, compare prices, and gather quotes to get the most accurate and realistic figures for what your project could cost. This will then help you establish a budget range that aligns with what you want to achieve.'
3. Consider your priorities
Again be doing this in the earliest stages of planning your project. Decide on what aspects of the project are most important to you and what you will need to put more budget aside for.
'When you're setting a decorating budget, the first step is to determine which decor aspects are the most meaningful to you and which you may have some flexibility on, that way you know where you're willing to splurge a little and where you know you can save,' says Kathy. 'For example: Are you planning to invest more in wall art or in decorative objects for your shelves? Once you set some personal priorities, I would recommend breaking the budget down room by room, and by determining which items are going to be must-haves.'
'Determine the essential pieces you need for the space and what you already have that can be incorporated. For example, if you're looking at your living room, I always suggest that clients splurge on items that are used daily, like sofas and chairs. You want soft goods to be comfortable and durable,' suggests designer Marie Flanigan. 'The labor, materials, and furniture quotes are essential for determining a starting budget to plan around or adjust accordingly. Prioritize the project budget starting with any specialized work, then lighting fixtures, then soft goods like seating and rugs, followed by artwork, smaller furniture pieces, and styling accents.'
4. Budget accordingly and allocate funds
And finally, set an overall budget, or budget range, that you can keep in mind throughout the project. The number you always have in your head should be your maximum budget. If you set your budget lower than what you know you can afford you get in the mindset that there's money left over, and that in fact makes it easier to start splurging and going over budget.
'Setting a decorating budget with about 10-20% overage is best to do before starting. We often get pushback when asking about max budget because people don't want to be at that top number,' says Jennifer Walter, founder of Folding Chair Design. 'However, whether working with a designer or not, it's best to know where your comfort level sits.'
'We have specified all the dream wish list items for clients only to find out that those items are costly, and have to be cut from the budget. Knowing expectations is best. Maybe the custom banquette or wallpaper can be added later. Putting overages in for unforeseen construction is a must because inevitably, things come up. Also, we have noticed that there are always splurge items on any project. You decide to save on appliances but fall in love with the commercial brand. Always better to plan for a bit of an increase.'
5. Remember to factor in hidden costs
A decorating project doesn't just consist of things you buy, you need to also add labor costs, survey costs, shipping costs, things going wrong costs. Allocate a section of your budget to these, and again be realistic about it, you can always add it back in towards the end of the project if you find you haven't need to dip into as much as expected.
'Always factor in hidden costs and include a contingency,' advises Emma. 'It's so important to account for hidden costs that may arise during the project, as these can include unforeseen repairs, shipping fees, or additional design consultations. By setting aside a contingency fund of around 10-15% of your total budget, you'll be able to accommodate any unexpected expenses that could come your way.'
6. Keep track of budget throughout the project
So you made a detailed spreadsheet breaking down costs right at the start of your project, don't stick that in a draw and hope that everything will go to plan. Keep that spreadsheet to hand – things will likely change and you should be updating costs as you go. It will prevent you from going over budget but it can also be helpful to see where you may have been under budget so you can use money elsewhere.
'Always track your spending from start to finish,' adds Emma. 'Throughout the design process, keep a diligent track of your finances and maintain a detailed record of all purchases, invoices, and payments made. Regularly review this against your budget allocation to keep a clear understanding of where you stand as this will help you make informed decisions and ensure you don't blow your budget.'
7. Budget for those unexpected dream purchases
The term 'budget' often has negative connotations, it's set to limit you. But try not to look at it that way. A budget is there to keep things in check, yes, but it's up to you how you adapt that budget to suit your style and space. If you want to splurge on certain items you have lost your heart to, allocate that splurge within the initial budget. Set aside a percentage for these room-changing pieces.
'I allocate funds to each item to make sure we can stay within budget. I remember the first time I presented a budget to a client and the husband's response was, "You mean to tell me that 20% of the overall budget is on custom throw pillows." We both laughed and I said yes! I told them we're thinking about the throw pillows as works of art; they are custom fabrication, custom sizes, and glorious textiles selected from amazing fabric houses. A clear outline allows you to understand the approach and get everyone on the same page regarding how the budget will be utilized to best inject personality into the space,' says Joshua Smith.
Stephanie Dale, founder of Studio Webster Dale, agrees there should be room in a budget for... unexpected purchases. 'When trying to stick to a budget when decorating, choose the one thing you love and have to have and build your scheme around it. It might be a tile, wallpaper, or maybe a piece of furniture – the rest of the project can always be paired back to accommodate it.'
8. Don't scope creep
This is so easily done. You have work going on in one room and you start to notice 'small' jobs that could be done in other rooms too. So you add it to the list and the budget goes up. Consider any extra jobs you might want doing while you have decorators or contractors in and add that to the initial budget to avoid any surprises or having to pull back on the initial project.
'Be careful of scope creep. Budgets that go over are often due to additional work that a client wants to have done while a subcontractor is in the home. A living room often extends to an entry. A modern kitchen will extend to a dining room… and the list goes on,' says Ashley Macuga of Collected Interiors.
9. Consider working with a designer
If you are working on a larger project and feeling slightly overwhelmed by the idea of having to navigate all the costs, working with a designer can really help you set and stick to a budget. Of course, their work will have to be considered in your overall budget but they will listen to what you want to achieve, what you want to spend and help you come to a realistic budget to create your vision.
'Collaborate with professionals. The best way to set a budget and stick to it is by working with an experienced interior designer,' suggests Emma. 'This can be invaluable when it comes to setting and sticking to a budget as they can help you make informed decisions, provide cost-saving alternatives and use their industry connections to secure you better prices. The expertise an interior designer brings will help ensure your budget is maximized to achieve the best possible result.'
For style leaders and design lovers.
Hebe is the Digital Editor of Livingetc; she has a background in lifestyle and interior journalism and a passion for renovating small spaces. You'll usually find her attempting DIY, whether it's spray painting her whole kitchen, don't try that at home, or ever changing the wallpaper in her hallway. Livingetc has been such a huge inspiration and has influenced Hebe's style since she moved into her first rental and finally had a small amount of control over the decor and now loves being able to help others make decisions when decorating their own homes. Last year she moved from renting to owning her first teeny tiny Edwardian flat in London with her whippet Willow (who yes she chose to match her interiors...) and is already on the lookout for her next project.