How many dishes do you really need? We've found the secret to a well-curated, clutter-free kitchen
If you are a minimalist (or just dream of being one), then take heed of this advice for when it's time to cull your dish collection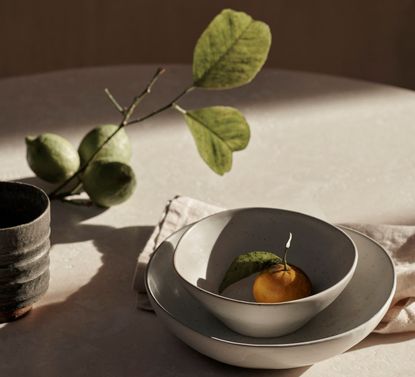 (Image credit: FermLIVING)
The Livingetc Newsletter
For style leaders and design lovers.
Thank you for signing up to LivingEtc. You will receive a verification email shortly.
There was a problem. Please refresh the page and try again.
Minimalism isn't just a design movement – it's a way of life. It trickles down to how you live, what you possess, and even how you entertain. When it comes to the kitchen and kitchenware, ever wondered how this space would look and feel for a minimalist? How many pots and pans, cutlery, and accessories are just enough? Don't get us wrong, a minimalist doesn't live on just bare essentials, but with things that are carefully thought of, curated, and paired. It's a culmination of use, need, and love.
When it comes to how to organize a kitchen, we're probably all guilty of holding onto more dishes than we really need, but the desire to have that extra serving platter for a very specific dinner party you're dreaming of is all too real. So how many dishes is enough? And how do you cull your extras? Here's what experts had to say.
How many dishes does a minimalist need?
If you are a minimalist who prefers to host a small group of people, then it's best to invest in a set of 4 to 6 matching plates and bowls. Find designs that are clean, sleek, and timeless. Soft, solid-toned plates and tiny botanical prints look dainty and always fresh. Small kitchens usually are tight for space so ensure you have a proper cabinet or shelf for all your well collected and curated ware.
'You need a small appetizer/salad plate, and a few large dinner plates; maybe four is ideal if you don't host a lot otherwise the standard is six,' says Julia. 'Plus consider modern round placemats; no runners required. Invest in a few, smart glasses by selecting a dishwasher-safe option – you need a few for water and a few for wine. Ideally, chunky, stemless modern-style ones are best, as these reduce breakage. A few linen napkins and one large serving bowl...and you're done.'
'Besides a beautiful set of plates, glasses, and cutlery, a minimalist should invest in serving platters and bowls in a few different sizes that can serve multiple purposes,' says Trine Andersen, founder, and creative director of Ferm LIVING. 'A nice wooden cutting board can just as easily be used for serving as for cutting vegetables, and a pretty linen napkin can be used to serve bread when you are having friends over for wine and nibbles. It also does wonders for decluttering your kitchen when you get creative in how you use your different pieces.'
Cull out your dishes, cutlery, and, pots and pans. Keep a check on how many items you already have, and how many can serve multiple purposes. Having ample kitchen storage and a pantry doesn't mean you need to stock them up to the fullest. Invest in functional items that are also smart looking.
What are the secrets to a well-curated kitchen?
When planning or remodeling a kitchen as a minimalist, do not overcrowd your space with lots of stuff; think of how you can make it pared back, neat, and orderly.
'We are all different, so a well-curated kitchen needs considerable planning and is down to how the main cook of the household wishes to use it,' says Juliette Thomas, founder & director of Juliettes Interiors. 'Everything has a preferred place that needs to work with the daily functions of a kitchen, such as the working triangle, so instead of just choosing where to store things at random, think about how you use the space and what flows best. For dishes, as these are heavier items, I'd advise storing them in larger, deep drawers, rather than high cupboards, as it means they can be easily supported and stacked.'
'Although many of us have additional serve ware for special occasions, don't store them in your kitchen with your everyday pieces as this will only add clutter and you won't have room for what you need,' says Juliette. 'Instead, store them in a utility room or alternative area where they won't get damaged, and keep your everyday plates and bowls in an easy-to-reach location.'
'Consider keeping collections of kitchenware away along with other items like seasonal decor and occasional-use appliances and gadgets,' says Julia Mack, founder of Julia Mack Design. 'Focus on displaying a few sculptural cutting boards, maybe a well-organized coffee station or pretty seasonal flowers in a glass or white vase. By keeping your displayed items to a minimum, you will create 'breathing space' allowing for a more relaxed, organized, and calm area to cook and entertain friends in.'
'As for how to design storage in a minimalist kitchen, consider open shelving instead of upper cabinets with a selection of streamlined functional ceramic vessels, bowls casseroles, and even coffee mugs ideally in the same color...lean towards white,' says Julia. 'They will make a subtle yet eye-catching statement that is highly stylized and creative. Select modern light fixtures, simple ceramic floor, and backsplash tiles that all coordinate, allowing for a nice balance of form and function. Another effective tool in creating a minimalist and curated kitchen is a dark color paint that will recede into the background if the kitchen gets natural light during the day. The actual amount of wall space is oftentimes at a minimum in a kitchen because it is usually obstructed by shelving or cabinets so little peeks of color are a nice respite from a standard white or cream color paint.'
Choose these beautiful and functional bowls with a ridged texture, ideal for salads, pasta, potatoes, vegetables, and sides as well as bread, fruit, and desserts.
What is the minimalist way to host a dinner party?
'Dinner parties are often the occasion to dress up your table, however, if you're a fan of a more pared-back and simplistic style, don't overcrowd the table with lots of plates,' says Juliette. 'It's popular to stack plates on top of each other with a main plate, bowl, and side plate if you're having a three-course dinner so instead of doing this, only provide the plates that are needed at the time of each course and decorate the table with interesting napkins, napkin rings, glassware, and cutlery. This will also save on space.'
'For a streamlined and minimalist dinner party, keep it simple with a set of solid color-matching plates, maybe in matte black,' says Julia.
While it may be true that a pure minimalist would love to host small and intimate dinners, those who do decide to go the extra mile for large parties may realize that they don't have all the dishes needed to serve a lot of guests. So how do you make sure you have enough dishes in your minimalist kitchen without storing them all year for the one or two times when you host? The answer is, you improvise. It may be prudent to invest in similar-toned dishware so everything you own can be brought out and used when guests visit. If not, you could consider renting some dishware.
You can even use your pots and pans as serving bowls, as long as you've chosen smart, sophisticated-looking designs. Also, plan the menu around the dishes you have. If you only have four serving bowls, perhaps don't plan a fifth main course!
Choose light-toned linen if you wish to add it to your table at all. Otherwise, white or cream-toned dishes placed atop a wooden table work well for a crisp aesthetic. For table decor, consider just one or two tall candles for the center or add a dried flower arrangement for an organic look.
For style leaders and design lovers.
Aditi Sharma Maheshwari is an architecture and design journalist with over 10 years of experience. She's worked at some of the leading media houses in India such as Elle Decor, Houzz and Architectural Digest (Condé Nast). Till recently, she was a freelance writer for publications such as Architectural Digest US, House Beautiful, Stir World, Beautiful Homes India among others. In her spare time, she volunteers at animal shelters and other rescue organizations.