How do you make sitting at a kitchen island more comfortable? 5 ways to make this space the heart of the home
How do you make sitting at a kitchen island more comfortable? Designers answer one of the most important style questions there is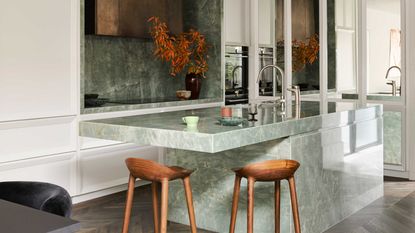 (Image credit: Anson Smart. Design: Smac Studio)
The Livingetc Newsletter
For style leaders and design lovers.
Thank you for signing up to LivingEtc. You will receive a verification email shortly.
There was a problem. Please refresh the page and try again.
So your planning a kitchen island, you've decided on the perfect design, color, layout etc. and now it's time to pick the seating. It's often an overlooked part of the whole adding an island process, the last element that while completing the space, isn't given a whole lot of thought. But what you pick to perch on is key not only to the aesthetics but the functionality – if the seating isn't actually comfortable and useable that eradicates a huge part of what an island is used for.
But how can you ensure sitting at a kitchen island is actually comfortable? We asked the experts what to look for in terms of the design of your seating but also the whole arrangement of the island, including what heights work best for both seat and surface and how much leg room should be considered. Plus, some lovely kitchen island ideas (and their seating) to get you inspired.
How do you make sitting at a kitchen island more comfortable?
1. Consider how you use your kitchen island
When it comes to comfortable kitchen island seating, it's personal. You need to consider how you use your island and who uses it. For example, 'comfortable' seating is very different for a couple who occasionally perch to send an email to a family who uses their island as a dining table for every meal.
'When I'm designing for clients there are typically a few categories of furnishings they just leave up to me to pick out,' says designer Max Humphrey. 'Kitchen island seating is NOT one of them. It's a personal preference and everyone has opinions. I usually ask clients upfront about their counter stool preferences; do they want them to swivel, backs or no backs, soft upholstery or wood/metal, footrest, etc.'
'Most of my clients have young children so often there will be a little sacrifice in comfort in favor of durability. This means all wood or metal stools rather than anything with fabric. I can usually talk people into leather seats and sometimes performance fabric. When possible I like to do wood stools with removable cushions (the kind you can tie around the back of the stool) – this is the best of both worlds since it's way easier to have a loose seat cushion professionally cleaned or even replaced – than it is an entirely upholstered stool.'
'Some of the most comfortable counter stools I've bought for clients have had the simplest sculpted or molded wood seats, that don't look like much in a photo but are comfier than a fully upholstered fabric seat,' adds Max.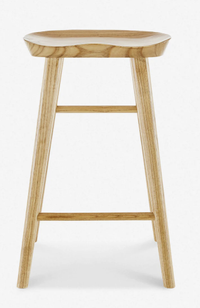 Jonah counter stool, Lulu and Georgia
The simple lines of this slightly rustic stool fit perfectly into a minimalist interior. Pleasingly - and crucially - the groove in the seat is comfortable to nestle in.
2. Get mathematical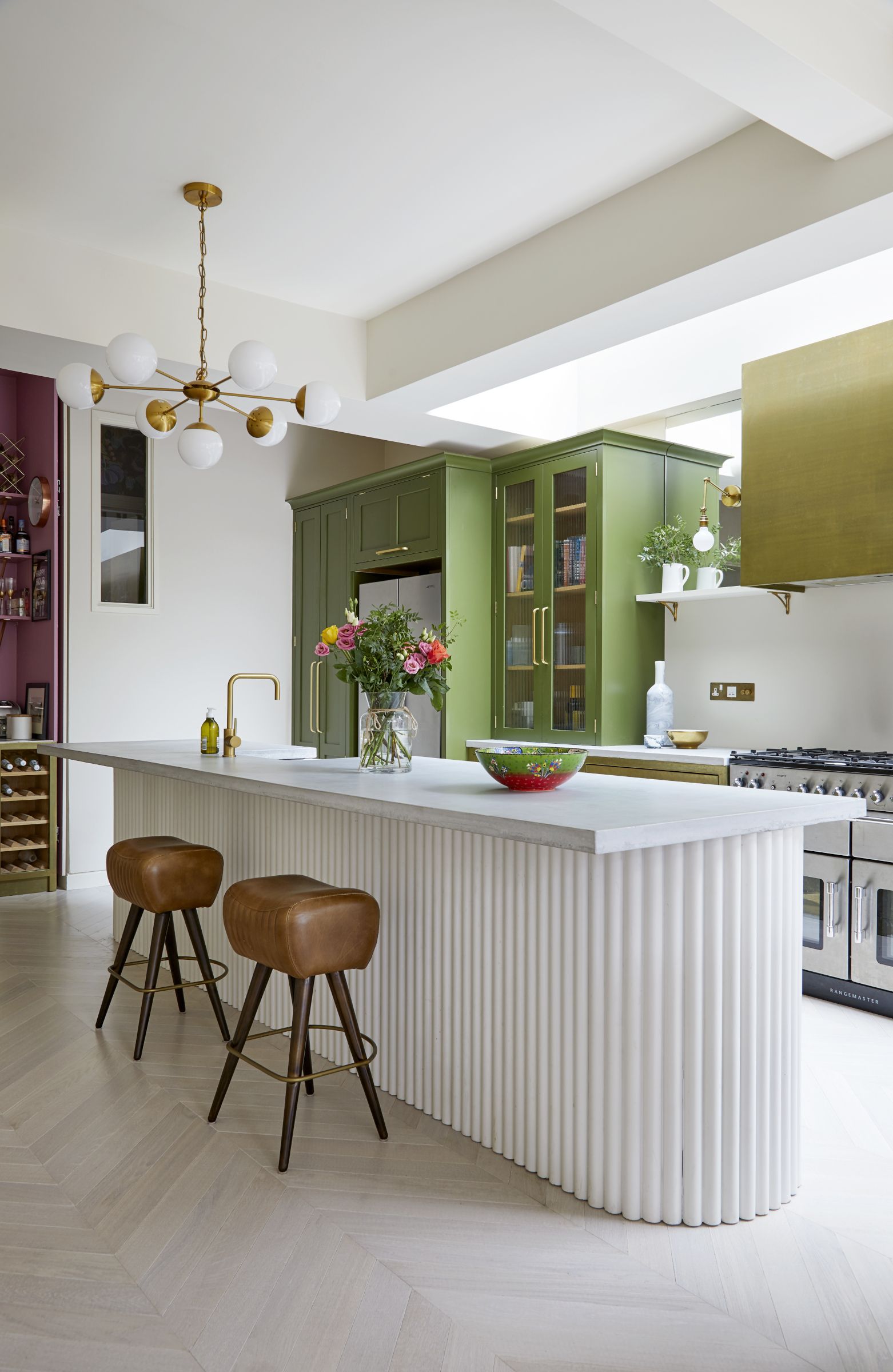 'The biggest factor in ensuring that your kitchen island seating is comfortable is to measure, measure, and measure again – getting the right height for counter stools is essential.' says designer Kathy Kuo. 'And from there, you can then approach choosing island seating the same way you would any piece of furniture. Pick design motifs you really love and items crafted from high-quality materials.'
Bianca Betancourt Kitchen Design Lead at Form agrees that comfortable kitchen island seating is all about the maths. 'First, the functionality of the kitchen island seating needs to be determined ie: will this space be used as primary dining or casual dining, a place to work from home, or somewhere to gather while hosting and entertaining? And at what height will the island worktop sit? At the same level as the island worktop, dining height or bar height? All of these questions will influence the overall design, space planning and chair/barstool selection.'
'As a rule of thumb, a 20" - 24" space should be planned for each seat for casual dining and 28 - 32" for formal dining. The knee space/overhang will vary depending on the material that is specified as well as the structural and construction method used. In most cases, 12" of knee space is comfortable for countertop or bar height seating although dining height may need a bit more knee space.'
So really seating is something you should be considering as you design an island, as to ensure optimum comfort it's not just about style and shape but the amount of room you have for each seat and the height of the countertop.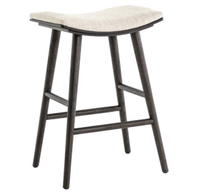 3. If space allows choose a design with a back
Stools around an island look lovely, yes, and they can work if you just use your island for the occasional casual meal or to host drinks parties where people tend to mull rather than sit. However, if you are using your island to work at or eat regularly, a stool just isn't going to cut it. You need a chair with a back.
'To keep kitchen island seating comfortable, make sure the chairs are backed,' explains designer Marie Flanigan. 'Saddle seats can be extremely uncomfortable when used for long periods of time. Also, make sure the chairs are well made. Counter and bar seating can be expensive, but when they're well made, they'll be more comfortable and stable.'
'For this kitchen, our clients wanted us to source collector's pieces, whilst being sustainably conscious, for their duplex apartment,' explains Amelia Brooks of K&H Design. 'For their industrial-styled kitchen, designed by us and made by Halstock, we sourced these playful 'Chubby' chairs from Kooij. They are sustainably made from recycled fridge interiors. As well as striking pieces they are deeply comfortable due to the seat height, back, and smoothness of the material.'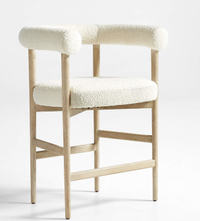 4. Embrace the adjustable swivel seat
'I always suggest a swivel seat for a kitchen island so you can easily sit down and get up without having to pull and push the seating in and out,' suggests Sharon Sherman founder of Thyme & Place Design. 'I prefer something with a back. There is nothing worse than a lack of back support if sitting for longer than a quick cup of coffee. Good quality construction and seat cushions and hardware if the height is adjustable – avoid inexpensive seating that lowers while you are sitting on it.'
'I tend to personally like swivel stools with a back – there's something about swivelling around that's soothing, and being able to lean against a curved seat back can feel like a hug,' agrees Max Humphrey. 'Bonus comfort points for any counter seat that also has some adjustability in height –perfect for families with little ones that might need a boost.'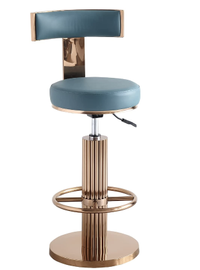 FUNROLUX swivel counter stool, Amazon
Doesn't this have a bit of a retro ice cream parlor vibe? On top of that, it has a high back, padded seat and it swivels. The triple threat of counter stools.
5. Go for upholstered for the ultimate comfort
An upholstered seat does take up more room, physically and visually but if you have the space to play with, choosing plush island seating is going to provide the ultimate comfort – plus it adds a touch of luxury to a kitchen. See how in this marble kitchen the delicious orange velvet seating adds a softness and warmth to the space – and they tick all the boxes, right height, supportive, upholstered seat and back.
'We prefer an upholstered seat with a low back for optimum comfort. Look for seating that provides enough support to enjoy a lingering meal with a friend or family member. A stool with a swivel doesn't hurt either,' suggests designer Sarah Rosenhaus.
How can you choose the best island seating?
'When selecting kitchen island seating, it is important to take several factors into consideration. Firstly, it is essential to consider comfort, especially if you plan to use the seating for extended periods of time. Secondly, take into account the overall style of the kitchen, and make sure that the seating complements the existing décor,' explains designer Nina Magon.
'Additionally, make sure to consider the necessary maintenance and cleaning requirements, and choose materials that are easy to maintain. Finally, think about the number of people you plan to accommodate and ensure that the seating provides adequate space for everyone. By considering these factors, you can be sure to choose the best kitchen island seating for your unique needs.'
For style leaders and design lovers.
Hebe is the Digital Editor of Livingetc; she has a background in lifestyle and interior journalism and a passion for renovating small spaces. You'll usually find her attempting DIY, whether it's spray painting her whole kitchen, don't try that at home, or ever changing the wallpaper in her hallway. Livingetc has been such a huge inspiration and has influenced Hebe's style since she moved into her first rental and finally had a small amount of control over the decor and now loves being able to help others make decisions when decorating their own homes. Last year she moved from renting to owning her first teeny tiny Edwardian flat in London with her whippet Willow (who yes she chose to match her interiors...) and is already on the lookout for her next project.