How can I make my backyard feel cooler in summer? Experts say these 8 tricks will 'dial down the hot feels'
From water features to color choices, these expert tips will ensure your backyard feels cooler this summer...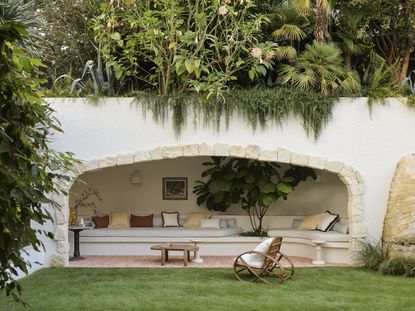 (Image credit: Wyer & Co)
The Livingetc Newsletter
For style leaders and design lovers.
Thank you for signing up to LivingEtc. You will receive a verification email shortly.
There was a problem. Please refresh the page and try again.
How can I make my backyard feel cooler in summer? When the temperature's soaring and you're trying to relax or dine al fresco, it's likely to be the first question you ask yourself.
And, whilst installing a shade structure is always an effective idea, it may surprise you to know that you don't need to spend a fortune on building a pergola to help create a fresher feeling in your backyard.
There's a number of ways you can help a backyard feel cool and calming for a summer that's comfortable as well as chic.
How can I make my backyard feel cooler in summer?
Keep scrolling to discover a host of expert tips on how to make your backyard feel cooler in summer.
1. Put in a (plunge) pool
If you have the space and the budget, a small backyard pool is one of the best ways to make a backyard feel cooler.
Even just the promise of a quick dip and the refreshing sight of the water can feel instantly cooling. However, a plunge pool will certainly do the trick if space or funds are an issue.
'We love the focal point that a plunge pool provides,' says Karen Larson, Co-Founder of Soake Pools.
'They become a destination, a gathering place, as well as an oasis for cooling off (or heating up) depending on the season.
'To top it off, they leave space for other beautiful outdoor features for gardens, since they don't take up much space.'
For something a little different, you could also try a Japanese soaking tub, suggests NY-based landscape designer, Amber Freda.
She says: 'The Japanese soaking tubs made for outdoors are popular because they can be used either as a hot tub in winter or as a plunge pool to cool off in the summer. They can also be assembled and installed on-site and are less bulky than a traditional spa.'
2. Install a water feature
When a plunge pool is not an option, a pretty water feature will also help to dial down the hot feels.
'Not everyone has the budget or space to install a swimming pool or build a pergola to cool off during the dog days of summer,' says Marci Bonner, an associate at Richardson & Associates Landscape Architecture.
'A more affordable and space-saving way to create the sense of cooler temps is to install a water feature.'
Whether it's a built-in feature for a sleek aesthetic (as above), or a simple water fountain, the cooling effect will be present.
Marci explains: 'The sound of running water from a fountain, which vary in price and can easily be purchased at your local hardware store, mimics a shady creek or breezy beach and tricks your mind into thinking it's cooler than it really is.'
And Amy Hovis, principal, Eden Garden Design, says a water feature is not only cooling but is also good for attracting wildlife. She comments: 'Water features are a true oasis in any outdoor setting, imbuing a sense of coolness and serenity.
'The soothing sound of flowing water not only has a calming effect but also serves as a vital source of hydration for birds, butterflies, and beneficial insects.'
BUY NOW - AquaGarden Pond and Waterfall feature
Price: $159.98
Size: 23. 5-inch L x 23. 5-inch W x 10-inch H
3. Incorporate cool-toned and swaying plants
'Another way to mentally drop the temperature on the thermostat a few degrees is by planting cool-toned plant material,' suggests Marci Bonner.
'Plants with silver foliage, such as Lambs Ear or Silver Sceptre Sedge provide an icy look that can make your mind think it's not as hot out.'
She continues: 'Catmint (seen above) is the third option and is a plant that can withstand heat and cold for year-round beauty; it has a cooler look with the added benefit of purple blooms all summer long.'
Swaying trees also have the ability to make things feel light and breezy. 'Invite the refreshing allure of movement into your outdoor oasis by incorporating plants that gracefully sway with the gentle touch of a breeze,' suggests Eden Garden Design's Amy Hovis. 'Witnessing the rhythmic dance of grasses in the wind not only adds visual interest but also creates a cooling effect, even on the hottest of days.'
She adds: 'Another technique we often use is to curate a monochromatic color scheme using an array of lush green hues. The deep shades of green give the illusion of a cooler and more shaded landscape, creating a serene and tranquil ambiance.'
4. Choose light hues and natural materials
Dark colors like black and grey absorb heat and will only serve to make your outdoor space feel warmer.
To cool your backyard down, choose limewash or light hues to on exterior walls, and carry that through to your outdoor furniture.
Another way to make the space feel cooler is to choose natural materials, like wood and terracotta for your furniture and flooring. This will serve to give you a relaxing connection to nature that's tranquil, calming and cooling.
Finally, take inspiration from the image above, by Wyer & Co, and surround the area with cool-toned plants. Speaking about the project, Anthony Wyer, Founder and Creative Director, Wyer & Co, says: 'In design, it is important to first understand the climatic conditions of the garden. Consider each aspect, strengths and weaknesses, and plan accordingly.
'When designing Boulder House, I began by creating destinations, with each area taking advantage of changing climatic conditions evident throughout the year.
'The grotto, or cabana, provides shelter from the summer heat and northerly winds that blow along the pacific ocean. Stretching 20 feet long and 5 feet deep it can accommodate up to 10 people and a bounty of plants on its rooftop, which help keep temperatures down.'
5. Throw some shade
One of the easiest and most instant ways to make your backyard feel cooler is to put up some overhead shade.
Shade ideas for a patio or backyard can come in a number of different forms, including everything from a bespoke pergola to parasols and sail shades.
'A lot of our clients are installing pergolas on their rooftops, terraces, or backyards that come with retractable awnings such as an Infinity Canopy,' says Amber Freda.
She continues: 'Shade sails are a lower cost option for shade than a pergola. Since they are triangular in shape, it's best to install two of them running in opposite directions to help maximize the amount of shade you will have under them.'
Austin-based landscape designer Amy Hovis is also a fan of pergolas. She says: 'In the scorching Texas heat, the key to crafting an inviting garden or backyard lies in creating a space that remains pleasantly cool and comfortable.
'Undoubtedly, shade plays a pivotal role in bringing the temperature down significantly. When towering trees are not a viable option, pergolas can prove to be invaluable.
'By incorporating simple, steel cable pergolas adorned with fast-growing vines, we can create ample shade while also fashioning an enchanting outdoor room. We often install steel perforated screen walls with climbing vines, serving the dual purpose of providing both screening and shade.'
6. Add in an outdoor shower
'For ultimate relaxation and relief, consider installing a simple outdoor shower,' suggests Amy Hovis.
'It provides a refreshing respite after exercising or a long day, and it's an excellent solution for keeping children clean.
'By creating steel screen walls adorned with climbing vines, you can fashion a private yet verdant enclosure for your outdoor shower. This allows adults to unwind outdoors with a glass of wine while the kids enjoy their refreshing shower outdoors before bedtime.
Amy adds: 'We encourage families to get outside as the sun is going down to help them get in touch with their circadian rhythms, which help them sleep better.'
7. Invest in outdoor fans and misters
'To combat the heat and keep your outdoor space comfortable, consider strategically placing outdoor fans to generate a refreshing breeze while also deterring bothersome bugs,' says Amy Hovis.
She also suggests using outdoor misting fans, which actually work to lower the air temperature around you.
Amy adds: 'Misters are a fantastic addition for cooling down an outdoor area, also providing a gentle mist that rejuvenates both body and spirit.'
8. If in doubt, go white
The color white reflects heat, so is the perfect choice when it comes to decorating and furnishing your outdoor living room or space.
Instead of absorbing wavelengths of light, white reflects them so is ideal for creating a cooler feel in your backyard.
Take inspiration from the beautiful backyard above and go for a white-out for an ultra-cool space - physically and aesthetically.
Joshua Smith, Principal Designer and Founder of Joshua Smith Inc., who designed the space, says: 'We chose to paint the bricks white for a clean, airy look and feel while reflecting the style of the home, making the outdoor and indoor areas cohesive.
'The selection of white accents creates a clean, calming, luxurious atmosphere in which the gorgeous scenery can take center stage. White lounge chairs and parasols keep this space, shaded cool and comfortable to enjoy this sanctuary in style.'
How do you cool down a hot backyard?
There are a number of ways to cool down a hot backyard, including installing a shade structure like a pergola, parasol or shade sail.
If budget and space allows, a swimming pool or plunge pool are both instant ways to cool down a hot backyard. But a water feature or water fountain will also work to cool down the space if you're on a smaller budget.
Choosing heat-reflecting colors, like cream or white, for your outdoor furniture will bring a fresh feel to the space, while using cool-toned plants in your garden border or deck planting ideas will also create a an airier feel.
For style leaders and design lovers.
Ruth Doherty is a lifestyle journalist based in London. An experienced freelance digital writer and editor, she is known for covering everything from travel and interiors to fashion and beauty. She regularly contributes to Livingetc, Ideal Home and Homes & Gardens, as well as titles like Prima and Red. Outside of work, her biggest loves are endless cups of tea, almond croissants, shopping for clothes she doesn't need, and booking holidays she does.