5 flowers to plant in August so your backyard keeps on blooming
A little bit of clever planting means that flowers will keep on coming in your backyard. Here's what to put into the ground in August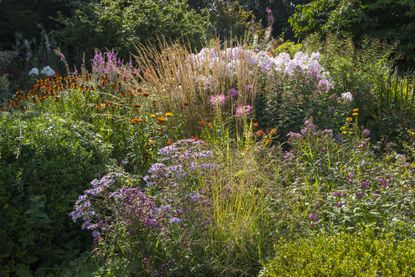 (Image credit: Getty)
The Livingetc Newsletter
For style leaders and design lovers.
Thank you for signing up to LivingEtc. You will receive a verification email shortly.
There was a problem. Please refresh the page and try again.
August is of course a month for enjoying your garden. For soaking up those last summery days and longer evenings before the whispers of fall start to appear. But it's also a month for jobs, and plenty of them. The warmer temperatures make it the ideal time to start sowing seeds, planting out, and planning how your garden is going to look going into fall and winter and ensuring there's still a bit going on out there.
There's plenty you can get planting now, especially when it comes to veggies. Now is the time to get in some quick-growing plants, with short harvest times, that will see you through the end of summer. And those winter vegetables can go in now too so you can start harvesting over the colder months.
Plants and flowers can still be planted out in your backyard in August too. Hardier annuals will bloom into fall and give your garden some color and you could also get planting bulbs seeds for the spring too. And we are so not ready to see the word Christmas anywhere, but if you like flowers over the holidays, now is also the time to start planting up and chilling your bulbs for forcing later in the year.
What flowers and plants to plant in August
August is a month when things start to wind down flower-wise, you'll still have some wonderful blooms that last into early fall, but in terms of what you can plant now to give you flowers in the next few months is slightly limited if you live somewhere with seasons.
However, there are still fast-growing, fall flowers to plant that will come up in September and October if you get them in the ground now. Plus, there are other jobs you can do to give your current plants a bit of a refresh and help them thrive over the upcoming cooler months.
'August is an excellent month for lifting, moving, and/or dividing earlier flowering perennials such as geums and early flowering geraniums, especially if we have a wet August,' suggest Annelise Brilli horticultural expert at Thompson & Morgan 'The benefit of doing it this month is that with warm soil and adequate rainfall or irrigation, plants will rapidly re-root and be well established before the winter cold. It's also easy to see how much space plants take up and visualize exactly where you want to put them, whereas in spring this can be difficult to judge.'
Lots of plants that have grown unruly in the warmer weather will benefit from a prune too – lavender, roses, wisteria, anything climbing. And get deadheading too. Now is also the time to start thinking about getting your spring bulbs in, you want them all planted up by the end of September ideally.
1. Poppies
Poppies may not look like the hardiest of flowers, with their lovely delicate blooms and dainty stems, but technically they are a hardy annual and can cope with the potentially chillier weather to come in the fall.
'Many hardy annuals can be sown in August and some will perform much better from an autumn sowing. Poppies in particular benefit from this treatment as they require exposure to cold temperatures to germinate, forming deep tap roots over winter to flower early the following year,' explains Annelise Brilli horticultural expert at Thompson & Morgan. 'There are hundreds of fabulous varieties, but my favorites are the exquisitely colored Papaver rhoeas 'Mother of Pearl' and the frilly pompoms of Poppy 'Tallulah Belle Blush'.
2. Cornflowers
Another hardy annual, and one of the best flowers for bees or for creating a wild garden, cornflower can be sown directly into the ground in August. They are really quick growing, so if you plant up now and the weather is mild over the fall, you could see some color coming out as late as October. However, if you don't see too much over the first few months, don't worry they will still come up in early spring.
'Quick and easy, these are colorful backyard favorites that look superb as part of a wildflower meadow. Ideal for naturalizing too, they will attract the bees and the butterflies in abundance. Sow in August-October either undercover or direct into the garden. For best results, thin to 12in,' recommends Sarah Raven.
3. Calendula Cantaloupe
Like a lot of late summer, early fall flowers, Calendula (also known as Pot Marigold) give a fantastic flash of orange to your backyard. If you live in warmer climes you'll likely find they flower well into the winter.
'I adored this growing this as a cut flower, with vegetables as companion plants. It flowered almost twice as long as other calendulas, which is very impressive. Calendula flowers are edible with a delicious, peppery taste. I like to add these to salads and soups for serious flavor and color,' explains Sarah Raven.
'Sow direct in August, sowing thinly in rows 12in apart, or in a noughts and crosses grid. Keep picking or deadhead for flowers until the first frosts. It also reliably self-sows.'
4. Autumn crocus
Often thought of as very early spring plants, you can grow certain types of crocus in the Fall. Autumn crocus thrives in low temperatures and moist soil, so get them planted up this month for some color in the backyard over winter.
'August is also your very last chance to plant Colchicums or Autumn Crocus,' says Annelise. 'These large, goblet-shaped flowers appear before the leaves, hence their nickname 'Naked Ladies'. They are best planted in grass which will support their naked stems.'
5. Daffodils
So you aren't going to get daffodils blooming in August and September, but if you want them for early spring, now is the time to get planting your bulbs.
'You can start planting spring bulbs such as daffodils and narcissi now and have until the end October to get them in,' explains Annelise. 'If you are planting large drifts in lawns don't be too perfectionist about your planting method. Professional gardeners lift the turf to a depth of 2 to 3 times the bulb and just chuck several bulbs in the hole! Don't worry about them toppling over – the bulbs will happily right themselves.'
If you like narcissi over Christmas you can plant them indoors in pots in August and September and 'force' them in time for the holidays.
For style leaders and design lovers.
Hebe is the Digital Editor of Livingetc; she has a background in lifestyle and interior journalism and a passion for renovating small spaces. You'll usually find her attempting DIY, whether it's spray painting her whole kitchen, don't try that at home, or ever changing the wallpaper in her hallway. Livingetc has been such a huge inspiration and has influenced Hebe's style since she moved into her first rental and finally had a small amount of control over the decor and now loves being able to help others make decisions when decorating their own homes. Last year she moved from renting to owning her first teeny tiny Edwardian flat in London with her whippet Willow (who yes she chose to match her interiors...) and is already on the lookout for her next project.