Interior designer Clare Gaskin on the 5 affordable updates that will add heart and soul to a kitchen
Designer Clare Gaskin knows just how to add personality and flair to a kitchen, without spending a lot of money or time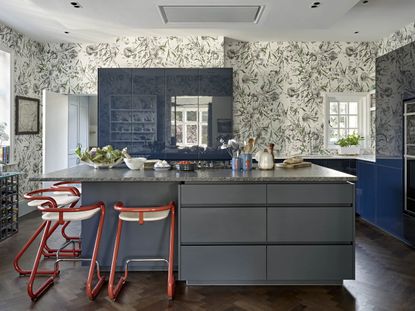 (Image credit: Clare Gaskin )
We talk a lot about kitchen refurbs here on Livingetc - it's somewhat of an obssesion. But there are plenty of smaller decorative updates you can make if you're not planning an all-out remodel or big project.
Interior designer Clare Gaskin is a regular on our pages - she knows how to use color and pattern to create modern kitchens and visually stunning homes. What she understands is that it's the finishing touches that are what truly makes a kitchen the heart of your home. And so, here she explains how to add flair once the main elements have been installed.
Clare Gaskin on adding heart and soul to a kitchen
1. Re-outfit existing kitchen units
Re-outfit existing kitchen cabinets if you're looking for a quick and simple solution when budgets are tight, or if you have moved into a new home and want to upgrade the space before you decide on structural work. There are many ways to do this, with painting the units one of the most cost-effective routes to achieving a totally new look. However, for that unique flair, painted kitchen cabinets can be done in different shades. Or add a pop of color to the joinery inside and even consider replacing some of the panels with glass, on which you can display a lovely fabric behind. When adding your own personal touch to the kitchen in this way, it might even convince you to put off longer-term alterations!
2. Display art and objets
Art is a must-have in the kitchen and is also a great option for adding personality to a rental space. Kitchen wall decor can have as much of an effect as the tiles and countertop. Go big and small to play with perspective and display artworks on the walls and shelves – mixing it up will help to bring the space to life. Through objects, paintings, prints and photos the space becomes personal to you and, with the kitchen being the heart of the home, it is a room you need to feel connected to.
Also, investing in sculptural design-led appliances, such as the Alessi stove-top kettle, is a way to merge both art and function together, elevating the space even further.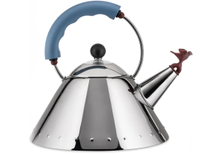 Alessi stove top kettle, Amazon
It's no surprise Clare highlights this kettle - it has become a modern classic. It's functional, but fun too - the whistle sings out through the bird-shaped nozzle.
3. Layer textiles to soften the space.
For example, adding a sheer treatment, or fixed panels and café curtains, creates a gorgeous statement and doesn't have to cost the earth. Leftover fabrics are great ways to reduce costs and a local seamstress can help with the creation of them. Table runners and napkins help to add character into a kitchen-diner and consider adding pillows or an upholstered banquette seating area.
I am also a fan of area rugs and runners to add comfort into the kitchen but, if you're worried about the practicality of it, opt for recycled PET alternatives which can be more durable and easier to wipe clean.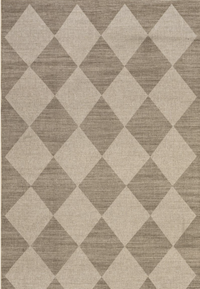 Jute goes with everything - it's friendly and informal and welcoming. In other words, ideal for a kitchen. This machine-washable version is something you won't have to worry about spilling on.
4. Be playful with utensils
Playful utensils can be a simple way to liven up the kitchen such as a tea towel with a funky print, a colourful fruit bowl or salt pig and even an eye-catching apron. If you have an open plan kitchen layout, consider adding in books (not only just cookbooks!) to bring interest into the space and create that sense of multifunctional purpose, making it a much-loved place for family and friends to enjoy.
5. Add in some houseplants
Plants break up the blocks of color and material within in a kitchen when used on different levels and displayed in a variety of ways. Whether they are standing in a lovely pot, trailing from a shelf, or hanging from the ceiling, they will help to soften the angular outlines of a kitchen making it more homely and an inviting space to relax in.
Added to this, they add color and interest with so many pot designs available. A necessity for urban spaces to ensure we remain connected to nature.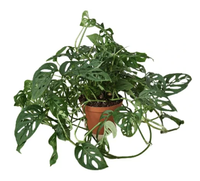 Trailing monstera plant, Amazon
A monstera is ideal for a kitchen - it'll happily live on top of a pantry or cupboard and grow down the side. Just trim it when it gets too long and remember to water once a week.
The Livingetc newsletter is your shortcut to the now and the next in home design. Subscribe today to receive a stunning free 200-page book of the best homes from around the world.
Design Writer, presenter, panel host, consultant and journalist Roddy Clarke is a regular in the pages of Livingetc. He also writes frequently for FT Weekend and Forbes. Based in London, and with a breadth of skills and hands on industry experience, Roddy now offers an exclusive interior styling and design service.