The 5 best plants to attract butterflies - beautiful blooms to boost your backyard and the way it works with nature
A nectar-rich backyard or balcony is a magnet for butterflies according to experts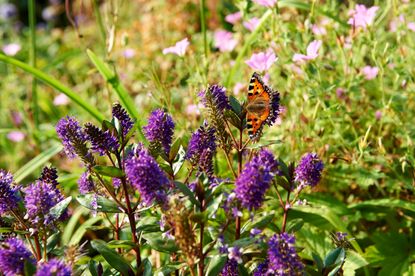 (Image credit: Alamy)
The Livingetc Newsletter
For style leaders and design lovers.
Thank you for signing up to LivingEtc. You will receive a verification email shortly.
There was a problem. Please refresh the page and try again.
Planting for pollinators is not only good for them – and natural habitats in general – it's great for us too. Apart from the pure joy of witnessing butterflies fluttering from flower to flower, these pretty pollinators encourage biodiversity in our backyards – and even balconies. Which means better blooms and bumper crops.
However, butterflies don't feed on every colorful flower in the backyard. They require specific nectar-rich species they can access.
'For nectar and pollen eating beneficial insects, not just any flower will do,' says Jessica Walliser, horticulturalist and author of Attracting Beneficial Bugs. 'Insects have evolved mouthpieces to perfectly suit their consumptive habits. Butterflies use a straw-like proboscis to drink nectar from flowers.'
So what are the best plants to attract butterflies? Pleasingly, the list is long. Although what to grow depends on where you live and what does well in your region. Certain butterfly species prefer particular flowers and are more prevalent in some areas over others. Just as important, caterpillars need vital food sources too.
The good news is there are some flowers, herbs (and even weeds) that grow well in multiple habitats and will attract different and diverse butterfly species, both native and migratory, for feeding, breeding and laying eggs.
5 of the best plants to attract butterflies
Do remember, if you're buying potted plants, to avoid any treated with pesticide. Along with habitat loss, pesticides are a major cause of pollinator population decline. If in doubt, check with your local nursery before you buy.
1. Milkweed
It's not just about attracting beautiful butterflies into our backyards. Caterpillars need to eat too and milkweed is a pretty perennial that plays a large part in their life cycle.
According to the North American Butterfly Association (NABA), a huge factor in the dramatic decline of the Monarch butterfly (now on the IUCN Endangered Red List of Threatened Species) is the loss of milkweed from the landscape. This is because milkweed is the Monarch caterpillar's only food source.
Both NABA and Environment America recommend planting milkweeds that are native to your region, if possible. A parasite, (ophryocystis elektroscirrha), that can harm the Monarch tends to die off with the plant in native milkweeds during the winter, but not so with tropical milkweeds, which often survive.
The best time to plant milkweed seeds is in the fall. However, it can also be planted in the spring, if you place the seeds (in soil) in the fridge first, to mimic the effects of winter. 'Remember, local vendors do not always equal local seeds,' says a spokesperson at Environment America. 'Ask about the origin of milkweed seeds and plants before you purchase them.
'Alternatively, if you have milkweeds in your area, harvest them yourself. To harvest seeds at the right time, make sure the pods pop open under light pressure.'
The only area planting milkweed is not recommended is some coastal parts of California above Santa Barbara, where Monarchs over-winter. The topic can be controversial, however it's best to err on the side of caution.
Sarina Jepsen, the endangered species program director for the Xerces Society for Invertebrate Conservation says, 'Insects can be resilient if we give them a chance. We all have to do our part by protecting existing habitat, adding native milkweed and nectar flowers to the landscape, and reducing our pesticide use at home (and in agriculture).'
2. Wall flower (Erysimum species)
Part of the Brassica (cabbage) family, wallflower blooms from spring to summer, and are also one of the best flowers for bees. Both they and butterflies enjoy it while emerging from winter dormancy or hatching earlier in the season. Wallflower colors range from yellow, orange and red through to pink, purple and lavender.
'Wallflowers fill an important void in nectar availability for beneficial bugs,' says Jessica Walliser. 'This plant begins to flower early in the season when other choices are limited, and many species continue to flower over summer. Wallflowers prefer full sun and well-drained soil.
'In some areas, wallflowers are treated as annuals, though many species are short-lived perennials, surviving for just a few years. They are worth the effort though and often self-seed.
'Many native species of wallflowers exist including Erysimum asperum, the western wallflower, which bears bright yellow to orange flowers; E. inconspicuum, the shy wallflower, a very hardy flowering native of the northern half of North America; and E. capitatum, the sand dune wallflower, which bears sunny orange flowers and has numerous subspecies and varieties.'
3. Dill (Anethum graveolens)
This fragrant herb, with its delicate yellow flowers, is a common sight in herb gardens across North America, blooming from summer to mid-fall. Growing up to one-two feet tall in a short space of time, and with generous umbels, dill is a worthwhile addition to an insectary or butterfly garden. It provides color, height and most importantly, nectar.
'Along with other members of its family, dill plays host to the larvae of black Swallowtail butterflies,' says Jessica Walliser. 'The flower clusters are highly attractive to many insects, as they can readily access the nectar.
'Because it has naturalized across much of North America, dill has created some apprehension about it becoming invasive. If this concerns you, consider planting North American native perennial Perideridia americana, commonly known as wild dill instead.'
'A native of the mid-west over to Oklahoma, down to Alabama and up to Michigan, wild dill is another member of the carrot family and bears umbels of small white flowers.'
4. Oregano (Origanum vulgare)
Perfect in pasta sauces and pizza, oregano also has clusters of pretty white, pink or purple nectar-rich flowers that attract pollinators. It's a perennial in USDA zones 5-9 and blooms from mid to late summer. As well as Italian and Greek oregano, species also include wild marjoram.
Whether you grow oregano (or wild marjoram) as part of an herb garden or in an insectary doesn't matter, but do include it in your backyard planting, if you want to lure butterflies. It will most likely attract Cabbage Whites and Skippers.
'On a summer afternoon, I love to sit near oregano and just watch it buzz with life,' says Jessica Walliser. 'If I get close enough I can spot some pretty interesting critters. There are always plenty of bees and butterflies too.'
5. Verbena
With stems up to four feet tall, supporting heads of nectar-packed lilac, pink or purple flowers, verbena is a short-lived perennial that's popular with pollinators. There are multiple types of verbena, from boriensis (an attractive purple-top garden variety) to stricta (hoary vervain), which as well as feeding adult butterflies, hosts their caterpillars too.
This is another plant that blooms from mid to later summer. Butterfly species you can expect to see fluttering around verbena flowers are numerous and include fritillaries, common buckeyes, American painted ladies and even the monarch. So this plant is well worth a patch in your butterfly garden.
In fact, planting verbena near milkweed will encourage multiple butterfly species to flit between the flowers to feed, lay eggs and hatch from their chrysalis'.
'A native of most of the United States and eastern Canada, hoary vervain blooms for six weeks, performs just fine in poor soils, and is easy to start from seed,' says Jessica Walliser.
'Hoary vervain's pink to purple flowers are produced on tall spikes atop narrow unbranched stems. Its gray foliage and purple flowers look very striking against a green backdrop. It is a plant that provides the greatest visual impact from a whole bunch of them growing en masse.'
What plants do butterflies like?
As mentioned, milkweed, oregano, verbena, wallflowers and dill are all guranteed to attract butterflies to your backyard. But other plants that butterflies are known to enjoy include lavender, cornflower, honeysuckle, cosmos, chrysanthemum, snap dragon and black-eyed susan to name just a few flowers.
They also like to feed on weeds and wild flowers such as stinging nettles, daisies and clover. So avoid using herbicides on lawns or borders, or spraying pesticides near flower beds (or anywhere else).
For style leaders and design lovers.
Jacky Parker is a London-based freelance journalist and content creator, specialising in interiors, travel and food. From buying guides and real home case studies to shopping and news pages, she produces a wide range of features for national magazines and SEO content for websites
A long-time contributor to Livingetc, as a member of the team, she regularly reports on the latest trends, speaking to experts and discovering the latest tips. Jacky has also written for other publications such as Homes and Gardens, Ideal Home, Red, Grand Designs, Sunday Times Style and AD, Country Homes and Interiors and ELLE Decoration.