'Instant ambience boosters!' The 6 best plants for an outdoor dining area which all create a relaxing atmosphere
The best plants for an outdoor dining area include scented flowers, aromatic herbs and sweet baby fruit bushes to elevate your alfresco experience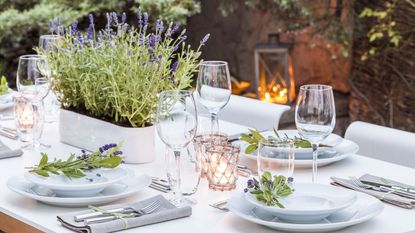 (Image credit: Westend61/Getty Images)
The Livingetc Newsletter
For style leaders and design lovers.
Thank you for signing up to LivingEtc. You will receive a verification email shortly.
There was a problem. Please refresh the page and try again.
When thinking about the best plants for an outdoor dining area it's a good idea to bring in as many plants with sensory benefits as you can. Instant ambience boosters, they will enhance your connection with the space, whether through sight, scent, taste or touch, and help you feel immersed in nature. As the scent of aromatic plants wafts over you it will add to the feel-good mood of dining alfresco.
Choose plants for your backyard that drench the air with fragrance on warm days or balmy evenings. Include a sensory layer of plants you can brush your fingers through like lavender or scented geraniums, as well as herbs like rosemary, mint, sage and thyme, where you can crush the leaves to release their aroma.
There are also practical reasons for planting around your outdoor dining area, as you can include herbs, fruit and edible flowers you can pick and add to drinks and dishes, as well as plants that work as repellents to keep bugs at bay.
Here's our expert selection of the best plants for an outdoor dining area plus all the reasons why these are our favorites.
6 ways to introduce plants to your outdoor dining space
'There is nothing better than entertaining al fresco in the warmer months,' says New York based interior designer Phillip Thomas. 'Your outdoor living space should be an extension of your indoor living space. I love to set the tone with a long table surrounded by beautiful, flowering plants. I am currently having a love affair with jasmine. It's a hardy evergreen vine that when blooming smells absolutely divine. The leaves reflect such magnificent light and remain lush all year so it's also perfect for fall nights around an outdoor fire.'
An outdoor dining space is so much more than just a spot to eat. 'It's an immersive sensory experience, an extension of your home, where Mother Nature gets an invitation,' says professional horticulturalist Amber Noyes of Gardening Chores. 'Imagine this – you're lounging in your outdoor space, a soft breeze carrying the delightful perfume of night-scented flowers, while the rustling leaves of a nearby pergola add to the orchestra of evening sounds. Sounds pretty fantastic, right?'
To make things easy we've split our favorites into 6 categories for you to pick from.
1. Jasmine
Let's start with plants known for their aromatic delights. For wonderful scent in your outdoor dining area, you can't go wrong with roses, lavender, rosemary, jasmine, or gardenia. They also attract pollinators like bees and butterflies.
'Jasmine is a definite winner here,' says Amber, echoing Phillip's sentiments. 'Not only does it exude an intoxicating scent, but it's also a hardy climber, perfect for lacing around pergolas or trellises. Similarly, honeysuckle and wisteria offer sweet fragrances, and visually stunning aspects to your dining area.'
Perhaps you want to try something a little more unusual though. 'One of my favorite plants for an outdoor dining area is pineapple sage (salvia elegans), an herb that has red flowers and a delightful pineapple fragrance,' says Mark Taylor, owner of Maricopa Landscape Co. 'This perennial shrub releases a sweet, fruity aroma when touched. The leaves can be used to infuse drinks, create herbal teas, and add a hint of pineapple flavor to dishes. This plant attracts hummingbirds and butterflies too.'
Mark also recommends the passion flower (Passiflora), a climbing vine with colorful blooms in shades of purple, blue, or white. 'The flowers also have a delightful fragrance, attract pollinators, and produce an edible fruit that has a sweet-tart flavor. The passion flower can be trained to climb a pergola or trellis.'
What about when you're entertaining in the evening? Some of the most evocative fragrances are released at dusk. 'Night blooming jasmine is the ultimate choice for those who want to infuse their dining area with fragrance,' says Amber. 'The sweet smelling flowers open each night and close during the day.' For alternative night-scented flowers, try moonflower, nicotiana, or four o'clocks. These plants open their blooms at dusk and release a sweet fragrance that drenches the night air.
2. Nasturtiums
Imagine reaching over from your chair and picking a handful of blooms from the flower bed to add to salads or using petals as a garnish for cocktails when you're hosting in the garden. There are so many reasons to grow flowers you can eat in your outdoor dining area, especially as they will mingle perfectly with the dishes you serve as an evocative part of the summer experience.
'An outdoor dining area layered in edible plants is not just useful, it's dreamy and delicious,' says Hilary Bidwell, who has a master's degree in landscape architecture from Harvard, and recently launched gardening and lifestyle blog Talk Flowers to Me. 'Edible flowers like nasturtiums, pansies and daylilies brighten up a courtyard as well as a platter of food.'
In addition to Hilary's suggestions, try easy to grow calendulas. The flowers have a slightly peppery, almost citrus-like, taste that's delicious in salads and can be used to make iced tea. Meanwhile blue borage flowers can also be added to summer drinks, and pelargonium flowers are also a great garnish for both drinks and summer desserts. Always be sure to grow your edible flowers organically without pesticides.
3. Geraniums
It's a good idea to grow a selection of plants that deter bugs too. These tend to have a strong smell, such as marigolds and geraniums, that repels pesky bugs like mosquitoes and flies that can otherwise ruin your outdoor dining experience.
Some strong smelling herbs also work well as a deterrent. 'I've found the sharp aroma of herbs like basil and rosemary to be a fantastic deterrent to little critters while doubling up as handy additions to your BBQ marinades,' says Amber Noyes. 'Planting lavender around your dining area can also help fend off mosquitoes while also adding a calming, relaxing scent.'
Amber speaks from experience. 'Once upon a time, my pergola was quite the bug magnet,' she explains. 'Mosquitoes and gnats considered it their favorite hangout spot. So, I decided to set up some basil and rosemary plants around the area. They added to the aesthetic appeal and helped keep the bugs at bay, plus brought an exciting, fresh note to my alfresco cooking.'
4. Handy herbs
Herbs are probably one of best plants for an outdoor dining area. Having a handy herb garden near your dining spot is both practical and aesthetically pleasing. Either grow herbs in their own dedicated pots or mix them in with flowers for a cottage garden vibe, albeit in a container. Many herbs are scented and have pretty flowers too, a combination that's the perfect sensory treat if you're sitting nearby.
'If you want a handy herb garden for outdoor cooking, try growing a selection of parsley, cilantro, thyme, oregano, and mint,' suggests landscaping expert Brian Clayton, co-founder of GreenPal. 'These herbs are easy to grow and harvest, and they will really enhance the taste of your dishes. They also look great in pots or hanging baskets around your outdoor dining area.'
We love this idea: Hilary Bidwell suggests guests could end their evening by picking leaves from your 'tea garden' of mint, lemon verbena, chamomile, and lemon grass.
5. Wisteria
If you have a pergola, gazebo or other covered outdoor dining space the framework offers the perfect opportunity for creating an immersive wraparound floral experience, with blooms above and all around. We love the idea of sitting under a 'ceiling' of cascading wisteria blooms while we eat or alternatively being enveloped in a 'wall' of honeysuckle flowers.
'For the best climbing plants for a dining pergola, you can choose wisteria, honeysuckle, clematis, or climbing roses,' suggests Bryan Clayton. 'These plants have stunning flowers that cascade from your pergola and create a romantic setting. They also provide shade and privacy for your space.'
Glenna Matthews lives in Tucson, Arizona, and is master gardener at SaddleBrooke Ranch Community Garden. She recommends non-deciduous vines that will green up your space all year round. 'Living in a high desert in the Southwest of the US I use tangerine cross-vines (Bignonia capreolata) in my outdoor dining space. They are non-deciduous so there is green all year round, with lovely tangerine trumpet-like flowers in the spring.'
6. Mini fruit bushes
You can pick your own dessert if you grow a few fruit bushes in containers around your outdoor dining area. As well as offering fruit they look good too. Try different types of citrus such as lemon. Hillary Bidwell's favorite is the Meyer lemon tree, which grows to a pickable size of 6-10 inches, produces plenty of fruit, and has fragrant flowers. Modern dwarfing varieties are the best fruit trees to try as they remain compact yet still offer lots of full-size delicious fruit.
Blueberry bushes are an excellent choice of fruit trees you can grow in pots, too. 'These small ornamental shrubs bring splendor and healthy, delicious fruit to any garden in the ease of containers,' says Kristen Pullen, brand manager at Bushel and Berry®. 'Gone are the days when unattractive, old-fashioned blueberry bushes were traditionally planted out of sight. The latest varieties produce flowers for spring, juicy fruit in summer and breathtaking fall foliage. With proper care, you can enjoy fresh, homegrown fruit year-after-year. Just plant, prune, protect and pick.'
If you're inspired to try one of our suggestions for the best plants for an outdoor dining area, there are one or two key things to remember when putting your ideas into action.
'When designing your outdoor dining area, consider the specific growing conditions such as sunlight, soil type, and climate in your location,' says Zahid Adnan, plant expert and found of the The Plant Bible. 'Additionally, keep in mind the size and scale of the area and choose plants that suit the space. Regular watering, pruning, and maintenance will help ensure the health and beauty of your chosen plants.'
For style leaders and design lovers.
Lifestyle journalist Sarah Wilson has been writing about gardens since 2015. She's written for Gardeningetc.com, Livingetc, Homes & Gardens, Easy Gardens and Modern Gardens magazines. Her first job on glossy magazines was at Elle, during which time a visit to the legendary La Colombe d'Or in St-Paul-de-Vence led to an interest in all things gardening. Later as lifestyle editor at Country Homes & Interiors magazine the real pull was the run of captivating country gardens that were featured. Having studied introductory garden and landscape design as well as a course in floristry she is currently putting the skills learned to good use in her own garden where the dream is establishing a cutting garden.