What's the best position for an armchair in a living room? The 4 expert tips that made me reconsider my layout
So you've decided to invest in an armchair, but where do you put it? Experts offer up some tips on where to sit your piece of furniture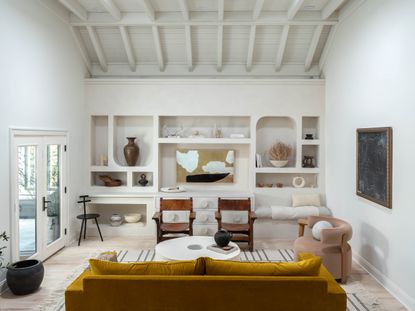 (Image credit: Urbanology Designs | Mike Davello Photography.)
Just like a couch, an armchair is one of the most timeless pieces of furniture you can buy for your living room set-up. Especially if it's an accent chair that packs a stylish punch.
But where do you place your armchair? And how do you ensure you're creating a space that flows? According to Charu Gandhi, founder and director of luxury interior design studio, Elicyon, 'The first step is identifying the focal point in the room, as this is key to determining how to layout your furniture. 'Is the room designed around socializing?' she asks. 'Is there a fireplace? Perhaps it's a room for watching TV? Is there a beautiful piece of joinery? Based on those factors, you should arrange your furniture around what you want to be the main element of the room, whilst grouped together in an inviting, sociable layout.'
To help you decide where to place your armchair and ensure it speaks to other pieces of living room furniture, we asked design experts to share their tips. From filling an empty corner to flanking a fireplace, here's what interior designers had to say…
1. Fill an empty corner
An armchair is the answer to all your empty-corner dilemmas. In fact, it's key to making a living room feel less empty. So if you've got a vacant corner, why not fill it with your armchair? That way, your living room corner can become a dedicated space for some R&R or a cozy reading nook.
'If your living room is spacious enough, you may want to position the armchair away from other furniture,' Irene Gunter, founder of London-based interior design company Gunter & Co, says. 'The intended use of the chair will impact where you place it. If you plan to use it for reading, place it in a spot with plenty of natural light. If you're looking to use it as a decorative piece, it may be better suited to an alcove.'
If space is tight, and you're worried your latest buy might not get much use, you could consider choosing an armchair that swivels. 'This allows you to easily turn towards the sofa or another armchair for a sociable chat, and then swivel the other way to face the TV,' Gunter explains.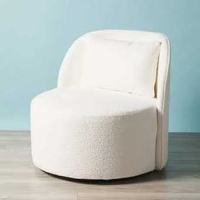 Boucle swivel chair, $399, HomeGoods
Boucle chairs are a huge interior trend, and you can find reasonably priced designs everywhere at the moment. This one from HomeGoods is a steal at just under $400.
2. Place it at an angle to your sofa
'Successful rooms are like little pieces of choreography, so where to position the armchair depends on the overall floor plan and other dancers, so to speak,' Charlotte-based interior designer, Lisa Sherry, explains.
To help create a stylish seating arrangement, consider placing your living room accent chair at an angle to your couch, either on the right or left-hand side, depending on where other factors are placed, like your TV or walkway.
Sherry adds, 'A great armchair is often the most coveted seat in the room, the star,' Sherry says. 'The chair should be easily accessible, like an invitation to sit and stay a while.'
3. Sit it next to another armchair
What's the only thing better than one armchair? Two! Arranging symmetrical armchairs next to each other is perhaps one of the most tried and tested interior design tricks in the book — and it's one that works every time.
'The armchair is not meant to stand alone,' Sherry tells us. 'It's all about creating conversations, connection and community. I love to float a great armchair in a room. Quite often, two armchairs are better than one. The symmetry in interior design can be quite pleasing. A great armchair duo is an invitation to connect and converse.'
4. Flank the fireplace
'In the midwest, we love our fireplaces and I think that there is nothing better than an armchair by a fireplace,' Julia Miller, founder and creative director of Minneapolis-based, Yond Interiors, says.
'If a fireplace is not in the equation, we always like to create opportunities for conversation,' Miller adds. Which is why, positioning an armchair in relation to a sofa or another armchair is a great place to start. 'Scale and proportion is often one of the hardest parts of creating a floorplan,' Miller explains. 'So we suggest that you start by thinking about how large your armchair is and where it best sits in the room.'
How do you choose the right armchair?
There's no doubt about it, armchairs give you a chance to inject some style into your space. But picking the right seat for a room can prove tricky. So where do you start?
'Selecting the right armchair and positioning it properly depends on the scale of your room, whether you want one or two armchairs, and the location of other pieces of furniture,' interior designer Irene Gunter tells us.
'Once you have the measurements of your armchair (or armchairs), I recommend using masking tape to mark out the shape on the floor,' she adds. 'This way, you can check that you have adequate space to move around it and that the room does not feel too crowded. It also allows you to double-check the proportions of your intended armchair since they come in many different shapes and sizes.'
While the comfort and style of the armchair are important, be sure to give some consideration to the back of it too.
'If a chair has a nice back, there is no reason not to have it on display,' Irene says. 'However, if the back is blocky and unattractive, it would make sense to position the chair so that the back is not visible when you walk in.'
Becks is a freelance lifestyle writer who works across a number of Future's titles. This includes Real Homes, Top Ten Reviews, Tom's Guide, TechRadar and more. She started her career in print journalism at a local newspaper more than 8 years ago and has since then worked across digital and social media for food, fashion and fitness titles, along with home interior magazines. Her own interior style? She's big on creating mindful spaces in every corner of her home. If it doesn't spark joy or happiness, it has no place here. When she's not writing, she's reading and when she's not reading, she's writing.