Are stair runners out of style? This is how the best designers are using them to make modern statements in 2023
Statement stair runners were dominant in interior design a decade ago, but do they still have an appeal in modern homes?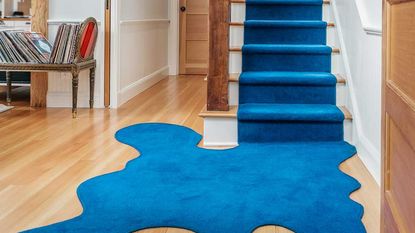 (Image credit: Christopher Stark. Design: Holly A Kopman Interior Design)
The Livingetc Newsletter
For style leaders and design lovers.
Thank you for signing up to LivingEtc. You will receive a verification email shortly.
There was a problem. Please refresh the page and try again.
If you're renovating a hallway or entryway, the finishing touches can make all the difference. But, before splashing out on a stair runner, you might be asking the question - are they still cool? Runners are a practical choice for stairs, but they're perhaps more synonymous with traditional and farmhouse-style houses. Do they have a place in the contemporary home?
To find out whether stair runners have a place on modern staircases, we asked interior designers to show us how they're using them in 2023. You might just find the right style, material, and reason to include them at home.
Aditi is an experienced homes writer and editor. She has written hundreds of articles for various international titles helping readers make the best home design choices, and spends her days interviewing interiors industry experts to bring the latest ideas to her readers. For this piece she spoke to the world's best designers to find out whether stair runners are still a trend.
Are stair runners on trend?
'Stair runners are most certainly still on trend,' says Ellie Mroz, founder of Ellie Mroz Design. 'Largely, they pair best with good quality wood staircases, and depending on the carpet selection (which is limitless), work with all different styles of interiors from traditional to modern.'
Today's modern interior design is all about decorating and paying attention to all spaces in the home, even if they are transitional ones like stairs. In cases of narrow staircases or ones that are in the middle of the home, where walls aren't an option to decorate on, stair runners are the ideal candidates. These can inject color and pattern into the space, and give the space a touch of elegance. In high-traffic areas, runners can protect the treads from wear and tear.
Plus, in homes that have children and pets who are constantly running up and down, creating a constant clanking noise, stair runners can help curb the sound. Also, these provide a better underfoot grip so accidents are less.
What is the right material for stair runners?
'In this home, the runner works well with the pale grey tiled floor running through the ground floor and entrance,' says Laurane Nudd, founder of NW Interior design. 'This runner was chosen specifically to contrast against the pale painted walls and white woodwork, which in turn highlights the beautiful original architectural features in this house. It creates a welcome on arrival and leads the eye to the lovely staircase and handrail.'
'We chose the stair runner from Hartley Tissier; it's a flat weave made from 100% wool,' says Laurane. 'We are keen advocates of natural materials and wool wears well and is easier to clean than synthetic materials.'
Organic materials aside, you could also consider carpet types like polyester; it can be good at simulating a woolly feel and is particularly durable. Wool carpets are often the most desirable staircase carpets, as they give a high-end look and come in the most rich, natural-looking colors. Plus, wool carpets last a long time.
Do remember, when it comes to choosing the right weaves, carpets with high piles may feel fluffier underfoot, but are more likely to tear on pet claws, toys and such.
'When it comes to the installation, the runner should be installed by a professional with specialist knowledge of fitting flat weaves,' says Laurane. 'In our project the runner continues up two further floors with winders and landings which requires specialist fitting.'
What styles of stair runners are trending?
Consider stripes that can have a very coastal chic vibe to them. Long, vertical stripes can make the staircase feel longer, and horizontal stripes can boost the visual width of the treads.
Chevron or houndstooth patterns can create a smart, stylish look. Plus runners in bold colors or textures look smart. Try to contrast the runners with the staircase railing for a striking effect.
Patterns and colors apart, you can also experiment with the shape of the runner.
'The inspiration for this stair runner was to make it look like a puddle of water,' says Holly A Kopman, founder of Holly A Kopman Interior Design. 'The homeowner is a bachelor and he encouraged me to be bold with the design choice.'
While purchasing or getting a custom-made runner, don't forget to use non-slip pads under your rugs. If you're going for a quirky or eclectic design, don't put any carpet or area rug on the landing, else it will dial down the effect of the runner.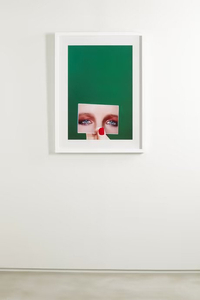 Where should a runner end and how wide should it be?
'We believe stair runners should showcase not only the carpet but also the wood stair/treads and rails; they definitely should not cover the stairs completely,' says Ellie. 'The size of the runner depends on the width of your stairs. We typically recommend leaving 3-4 inches of space on each side of the carpet to expose the wood.'
When laying out the runner, you may want to check on how to measure the stairs for the carpet. Generally, you need to measure the height and depth of each step and add them together. This will give you the length you need.
When you have treads but no risers, consider wrapping each stair with carpeting. Note that the carpeting should be continued out onto the bottom of the last riser. If you want, you can consider continuing the carpet to a little beyond the last tread but do ensure that the runner is well bolted down to the floor, else it can cause slips and accidents.
If you want to want to continue the carpeting beyond the stairs, you could also add an area rug next to the stairs, to continue the soft look and feel underfoot. Try not to choose a very clashing design as it might throw the look of the staircase off.
How can you maintain stair runners?
'Best way to maintain a stair runner is to vacuum regularly with smaller brush attachments and dust the painted treads and risers,' says Laurane. 'Shoes off at the door and treat the carpeting with respect.'
It is advisable to get the runner professionally cleaned once a year. At home, you could go in for spot-cleaning, by using a formulated carpet shampoo and scrubbing a specific area with a brush. If you have a wet/dry vacuum, dry as much of the carpet as you can, and then use an absorbent towel. Keep all these cleaning products under stairs so they are always accessible.
If you have a lot of members in the house, and the staircase is used frequently and many times in the day, you may want to choose a carpet that is deep-toned or heavily patterned so that the dirt and stains are not clearly visible.
For style leaders and design lovers.
Aditi Sharma Maheshwari is an architecture and design journalist with over 10 years of experience. She's worked at some of the leading media houses in India such as Elle Decor, Houzz and Architectural Digest (Condé Nast). Till recently, she was a freelance writer for publications such as Architectural Digest US, House Beautiful, Stir World, Beautiful Homes India among others. In her spare time, she volunteers at animal shelters and other rescue organizations.