Listen To Our Home Truths Podcast... With Abigail Ahern
In the second episode of season two of our Home Truths podcast series, we chat to Abigail Ahern...
We're very excited to share the first episode of season two of our podcast, Home Truths, with designer Abigail Ahern. Available wherever you download your podcasts, each week one of the biggest names in design reveals the secrets, stories and fascinating insights behind their most famous career moments.
Hosted by Livingetc's Executive Editor Pip McCormac, for this episode he is joined by Abigail Ahern, for a revealing chat about her career path, offering insight as to how she got to where she is today (listen here).
Having talked herself into a job at at American design agency, Abigail had to learn on her feet - faking it by day and reading up at night. She then came back to the UK, opened a shop and eventually realised it needed to make money, too.
Learning to trust her own instincts, be proud of her own tastes and put her own ideas forward has seen the shop become a success, has allowed Abigail to present TV and write books, manufacture products and even run her own design school. Her pieces and aesthetic are instantly recognisable, and this fascinating insight shows how she got to where she is today.
And if you missed episode one, then you're in for a treat, as award winning designer Lee Broom chats about a career that spans nearly 15 years. He reveals how he went from designing chairs in his tiny flat in Oval with one other colleague, to heading up an international brand sold all over the world. He talks about the thinking behind his groundbreaking Parquetry collection, his eye-catching show-stopping displays at Salone del Mobile in Milan, and the steps he took to grow his business into what it is today.
Episode two, featuring Linda Boronkay from Soho House, includes a revealing chat about how she overcame her imposter syndrome to work her way up at London's biggest studios.
While Episode three includes Tom Dixon talking about going from being a rebel of the 1980s design scene to gradually working his way up to becoming the godfather figure he is today, with insight into the story behind his famous copper ball pendant.
In Episode 4, Matthew Williamson explains what happened when Kate Moss popped over to his bedsit to pick her outfit, how his relationship grew with Sienna Miller to be mutually beneficial creative partnership, what dinner at Karl Lagerfeld's was like and why and how he made the move into interiors.
And in Episode 5, Tricia Guild shares her insight into what it's like heading up Designers Guild for 50 years, how she made the Kings Road cool back in 1970, and the struggles she faced as a woman in business.
Then in Episode 6, Sebastian Cox tells of how he has collaborated with brands such as deVOL and Burberry, how he realised he could do something pretty smart with some fungus he found in the woods, and how he can run a practice that is both ethical and profitable at the same time.
In Episode 7, Yinka Ilori explains what it was like to work part time in a high street store to supplement his income from design, how he almost gave up in 2015 and tried door to door sales for one day, and his experience of working in an industry which is predominantly white, mostly middle class, when he himself is neither.
The final episode of Season 1 saw Athena Calderone talk about how shestruggled to find her creative groove in her 20s, and that it wasn't until she started doing up her own home that her talents began to become clear. Designed so beautifully, she was able to use it a calling card to launch herself as an influencer in the truest sense of the word, someone whose sense of style, thoughts on curation and ability to push the design envelope truly influences how so many of us decorate today.
Season 2 began last week, with Ini Archibong talking about not being afraid to ask for help, or to tell people your ambitions.
Home Truths, sponsored by Harlequin, is an eight part podcast series, with a new episode ready to download each Monday. We have some huge stars lined up so stay tuned for more interiors inspiration and a glimpse into the thinking behind some of your favourite designs.
Episode Two of Season Two of Livingetc's brand new Podcast, Home Truths with Abigail Ahern, is ready to download now, or listen here.
The Livingetc newsletter is your shortcut to the now and the next in home design. Subscribe today to receive a stunning free 200-page book of the best homes from around the world.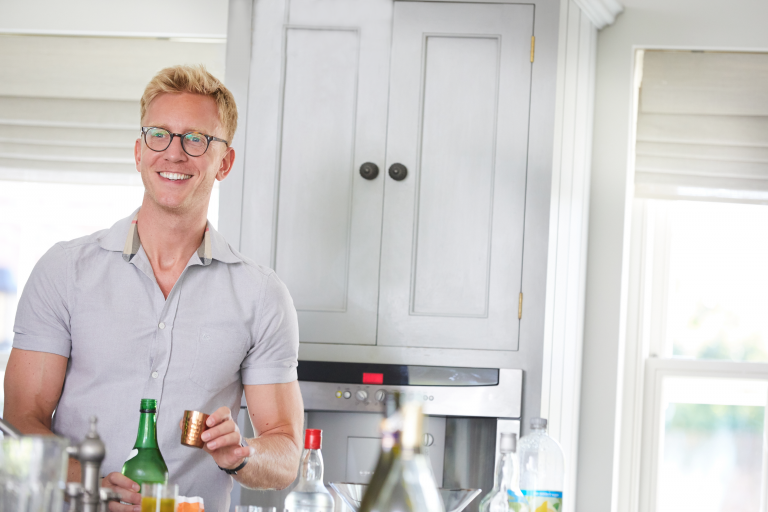 The editor of Livingetc, Pip Rich (formerly Pip McCormac) is a lifestyle journalist of almost 20 years experience working for some of the UK's biggest titles. As well as holding staff positions at Sunday Times Style, Red and Grazia he has written for the Guardian, The Telegraph, The Times and ES Magazine. The host of Livingetc's podcast Home Truths, Pip has also published three books - his most recent, A New Leaf, was released in December 2021 and is about the homes of architects who have filled their spaces with houseplants. He has recently moved out of London - and a home that ELLE Decoration called one of the ten best small spaces in the world - to start a new renovation project in Somerset.