The biggest wallpaper trends for 2022 – a glimpse into the latest looks
Wallpaper trends for 2022 are a wonderful expression of patten, color and some neutral hues. Design experts explain how to work them.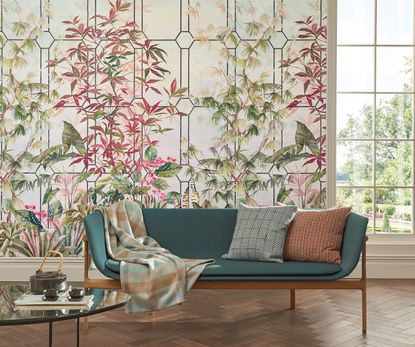 (Image credit: Osborne and Little)
The Livingetc Newsletter
For style leaders and design lovers.
Thank you for signing up to LivingEtc. You will receive a verification email shortly.
There was a problem. Please refresh the page and try again.
Walls are no longer walls. Not as we've known them. For 2022 the internal structures that surround us – and hold our houses up – become built-in art galleries, passports to remind us of far flung, excitement-filled lands, and mental balms providing a hit of nostalgia, visual soothing, and familiarity. After a tumultuous past year we're turning to our walls for both relaxing tranquility, and a reminder that there is a whole world waiting for us, even if we can't quite get there yet.
Which side will you fall on, wallpaper that evokes a sense of calm, or an escapist mindset? Here we explore the five need-to-know 2022 wallpaper moods that will dominate next year's interior design trends, and the experts' take on them.
What are the wallpaper trends for 2022?
Wallpapering within panels
Modern damask prints
Soft painterly neutrals
Tiger motifs
Garden structures
Wallpaper Trend 1: Wallpapering within panels
Introducing, for 2022, the new feature wall: say hello to the wallpapered panel. The vogue for paneling has had a steady comeback into modern living room trends as we all sought to update our homes over the locked-in period of 2021, and the wallpaper world has responded rather gloriously. Small segments of wallpaper are taking to the wall, divided by three-dimensional panels – one, five, a room's worth – of all shapes and sizes. This wallpaper trend is all about expression, vibrancy and a celebration of pattern, so feel free to frame the pieces of wallpaper in another layer of patterned paper, or paint the panels in something that harmonizes with the design. Now's the time to treat yourself to that dream wallpaper design you could never afford – you only need a few meters.
Why will panel framed wallpaper be popular for 2022?
'We've seen wall paneling rise in popularity as the pandemic caused a DIY boom,' says Abby Hesketh, Color Specialist at Graham & Brown. 'This trend merges the depth of paneling with the intricacies of wallpaper designs. Framing wallpaper transforms it from a pattern into a work of art, simply because our brains are used to seeing art pieces in frames.'
'Incorporating wallpaper into the paneling which has recently risen in popularity feels like a natural progression,' says Natascha Maksimovic, Founder of Natmaks. 'I often get very specific commissions for wallpaper set within the paneling; I feel it's a standalone trend which has opened up a freedom of how to use the wallpaper in the home. Paneling can really enhance the characteristics of pieces of wallpaper.'
Is panel framed wallpaper the feature wall of 2022?
'The definition of a feature wall is to add detail and personality to a room – wallpaper within the paneling feel like an update, it does that and so much more,' says Natascha Maksimovic of Natmaks. 'It also creates warmth, texture, dimension and drama.' Now that we've been thinking about new ways to embrace maximalism in interior design, this extra layer of pattern within texture feels bang on trend.
'Absolutely! It's about time feature walls evolve into something more. Wall panel framing takes the statement of a feature wall and turns it up a notch, creating an oversized piece of wall art,' says Graham & Brown's Abby Hesketh. 'If you lean towards paint over wallpaper, then using panels is a great way to ease into using wallpaper in your home. This look allows you to wallpaper as much or as little of the wall as you like, and is just as effective on one wall as it is on all four.'
How should the paint color for the panels be chosen?
'Ideally you should choose your wallpaper before your paint color,' says Graham & Brown's Abby Hesketh. 'It's much easier to find a matching paint color for a wallpaper design than it is to ensure you find a wallpaper design that you both like and that matches a specific paint color. Bold colors are great for creating the art frame effect as the color contrasts the wallpaper design creating the illusion of a framed piece of art and thus a more luxurious feel to the room, although if you prefer a calmer atmosphere though, subtler colors work too.'
'Absolutely choose the wallpaper first,' agrees Natascha Maksimovic of Natmaks. 'Whether you then fing a color which is also within the design is up to you, but having the wallpaper in hand will help you choose which way to coordinate your living room color ideas. It's important to know which look you are trying to create – setting the wallpaper within the wall design or making it stand out as a piece of art. A subtle color around a vibrant wallpaper will present it more as art and a standalone piece. Choosing a bolder color, especially if this is also within the design of the wallpaper, can marry the wallpaper and wall, therefore becoming one with the wall and indeed the entire room.'
Wallpaper trend 2: Modern damask prints
The past is a soothing balm, and after 2021, that's just what our homes need. It doesn't get more historical than damask, the pattern which decorated the earliest known wallpaper which dates to around 16th century Cambridge. Casting our minds, homes and living room wallpaper ideas back will become a major pastime for decorating lovers come 2022, and it'll start with the reinvention of damask. The formal repeat and motifs from nature will remain, while modern making methods will see the addition of bold colors, vivid designs and intricate detailing.
How is damask becoming more modern?
'Damask was a traditionally woven pattern featuring highly stylized floral motifs formed by the contrast between the shiny warp face of the thread and the matt weft face,' explains Tricia Guild, OBE, Founder & Creative Director of Designers Guild. 'At Designers Guild, damask has never really gone away. I love to reinvent classical styles – making them feel more contemporary and of the moment. Changing damask's scale and texture are a few of the wonderful ways of experimenting and updating this iconic style.'
'Because damask is so identifiable, it's easy to dramatically deconstruct it while it remains recognizable,' says Maxine Hall, Director of Blackpop. 'Our design process mixes technology with mediums such as photography and paint, which lends itself to reworking existing patterns and layering them together – just like a DJ re-mixing old music with the new. We kept the motif intact and enriched it with a vibrant pallet of colors to pick out and accentuate the decretive details that can be so easy missed in the original two-tone surface.'
Why is damask having a moment for 2022?
'Damask is a fabulously malleable design that stands the test of time,' says Maxine Hall, of Blackpop. 'To me it represents a familiarity and signifies nostalgic grandeur – it's a kind of historic stabilizer whilst all around us is in flux, so ideal for the upcoming year.
'Reimagined damasks bring integrity and expression but without the historic stuffiness,' sums up Tricia Guild of Designers Guild. 'These new designs should be viewed as damasks for today, rather than simply living today with yesterday's patterns.'
How would you recommend using this new damask style in a room?
'Damask wallpaper designs set the scene, adding a cinematic je ne sais quoi to any space,' says Maxine Hall, Director of Blackpop. 'It works wonderfully wrapping a whole room I love be surrounded by an infinitive pattern as it feels so inclusive, or try the a damask wallpapered ceiling, it's like entering dream land it's a showstopper! Are we getting more confident, more experimental, bolder and braver for 2022? I think so!'
Wallpaper trend 3: Soft painterly neutrals
The pattern? Large, painterly patches, each one slightly different and marked by its designer's hand, implying a sense of movement in to these freeform shapes as if they're convivially slowly moving around each other. The palette? All of the neutrals and natural shades, effortlessly harmonizing with each other and slipping seamlessly into our beige living room ideas. Pale meets slightly less pale meets a little bit darker, smoothly merging and interacting with each other. This take on neutral wallpaper shows that beige and its friends are anything but boring.
Why are we turning to painterly neutral wallpaper patterns for 2022?
'Within the latest color trends, there has been a rise in the home being a sanctuary, people want to create interiors that are calming, however they do not want to lose adding their own personality in the space, by using this style you can perfectly achieve both,' says Clare Leith, Senior Designer at Kirkby Design. 'Neutrals can act as the backdrop for a space, giving you the freedom to experiment with texture without overpowering the interior.'
'After so much time spent within the same four walls, we have a new-found enthusiasm for decorating – neutrals provide a safe and easy option for those just starting out on an interior design journey, says Philippe Desart, Managing Director at Arte. 'There is also a desire to create a warm, comforting retreat at home, a space that's elegant and sophisticated as well as providing a sanctuary in which to retreat to, boxes which this pattern ticks.'
How do painterly shapes affect a room?
'Recently a trend for more analogue shapes with a naive feel is developing,' says Clare Leith of Kirkby Design. 'Imperfect painterly marks create designs which feel soft and inviting – painterly shapes draw the eye around the room and can help to introduce color in a muted, harmonious way.'
'Gentle curves, painterly patterns, organic textures and 'imperfect' shapes in a design can work to create contrast in a space, providing a softness to the hard straight lines of furniture, door or window frames and picture frames,' explains Philippe Desart of Arte.
'Layered neutral living room ideas work beautifully in settings where you want to create a tranquil yet sophisticated interior – these patterns are about appreciating the quieter side of life, that yearning for a calming, cocooning space that celebrates texture and organic forms and surfaces.'
How does the combination of neutral and painterly shapes feel?
'I find the visibility of the maker's hand in a design always adds more depth, and a feeling of comfort and personality in a design scheme,' Philippe Desart of Arte tells us. 'Frivolous and irregular patchwork patterns form an organic, handcrafted look which relaxes the eye.'
'A combination of neutral and painterly shapes can create a feeling of warmth and calm while retaining personality, explains Clare Leith of Kirkby Design. 'By using a neutral color palette, you can use painterly shapes in a relaxing way which in can in turn transform the interior into a tranquil space with plenty of artistic character.'
How would you recommend styling a room using painterly neutral wallpaper?
'I would look at the space first – if the room is large and has a lot of wall space, don't be afraid to decorate the whole room in the same print to create a quiet yet maximalist look,' advises Kirkby Design's Clare Leith. 'If the room is smaller opt for just one wall and decorate the remaining walls in a plain wallcovering, using one of the colors featured in the painterly design as the plain.'
'The beauty of incorporating painterly neutrals into an interior is their versatility and ability to adapt to any design scheme,' says Philippe Desart of Arte. 'Such designs feature a range of warm neutral tones are easy to scheme with other patterns, colors and textures because it acts either as a base to bolder design elements, or as a design statement itself when used in a simpler paired back scheme.'
Wallpaper trend 4: tiger motifs
A symbol of strength and courage, a tiger-inspired wallpaper captures the mood of the moment; 2022 is year for daring design and this iconic jungle cat is a powerful statement in any space,' enthuses Adam Ellis, Founder of Adam Ellis Studio. 'Muscular graphic stripes and vivid colors are impossible to ignore, enlivening any room with a sense of movement and hidden depth.'
'Aside from 2022 being the Chinese Year of the Tiger, I think we are just ready to have some fun with our interiors,' says Charlotte O'Reilly, Founder and Head Designer of Charlotte Jade. 'The past few years have been so different to our normal lives, we are all ready to bring something a bit wild and wonderful into our homes, along with making a powerful statement within our interiors.'
'We're all yearning for travel and escapism and perhaps for a sense of empowerment or a feeling of protection – the tiger embodies all of those desires,' says Philippe Desart, Managing Director of Arte. 'Without the ability to travel physically, we instead let our minds wander, and the mesmerizing, awe inspiring tiger design delivers a sense of travel in another world or place, or time.'
What is it that makes a tiger wallpaper so alluring?
'As well as having a wonderful pattern and color that naturally translates into home decoration, tigers hold a sense of intrigue and power that adds drama and theatre to an interior,' says Philippe Desart, Managing Director of Arte. 'It's time to celebrate the tiger motif in a way that would have traditionally been seen on rugs and let them roam.'
'Tigers have an element of mystery around them. They are absolutely stunning creatures with beautiful natural markings and their presence is powerful – they have authority and the way they carry themselves shows this,' says Charlotte O'Reilly of Charlotte Jade. 'We're ready to celebrate the beauty these animals hold in their realistic form, capturing their posture, personality and power.'
How can tiger patterned wallpapers be used in the home?
'I would style my 'Tiger Tiger' design with gold details and luxurious velvets to pair with the deep navy blue and vibrant golds,' advises Charlotte O'Reilly of Charlotte Jade. 'Tigers are all about opulence, and this would create an incredibly rich and opulent atmosphere.'
'Our 'Tigris' pattern is backed with a soft metallic which adds a further dimension to the striking pattern, catching the light beautifully when styled with layered side and wall lighting,' says Philippe Desart of Arte. 'The wallpaper's linen texture works wonderfully alongside other natural finishes such as wood, stone and wool to create a refined and contemporary interior.'
Wallpaper trend 5: Garden structures
We can all agree that what we need in 2022 is some peace. Then where else to start than in our garden, our own little patch of nature away from the stresses and strains of daily life? As nature embeds firmly into the home, it's our own gardens that are falling into focus, as plants and features that signify safety and familiarity will come to decorate our walls. Knowing how to hang a wallpaper means you can bring the outside in with ease. Patterns and shapes that define a specifically vegetation – the recognizable diamonds of trellises, the glass patterns of traditional greenhouses and pots for plants clarify that we're in safe, close-to-home garden territory, as well as adding a geometric element to the wall. With these wallpapers, weeds will never need pulling, insects will never attack and plants will never wilt and you'll never be far from the back door. The result? Shoulders that instantly drop, green fingers or not.
Why are structures from the garden featuring on nature prints at the moment?
'Paneling and the art of introducing architectural elements such as curves and arches has been a big trend in interiors for some time and is now expanding to incorporate influences from the garden,' explains Jane Rockett, Co-founder of Rockett St George. 'Orangeries, glass greenhouses and trellises filled with climbing roses all create a sense of grandeur that adds an extra layer of magic to the idea of bringing nature inside. Patterns that take influence from these structures are gaining popularity as a way to partner geometric lattice lines and architectural angles with the delicate beauty of familiar flowers, ferns and foliage.'
'To be surrounded by nature gives us a sense of calm and wellbeing and adding a framework helps to provide structure and pattern to the wall,' says Johanna Bright, Head of Design at Osborne & Little. 'The geometric shapes often found in the garden offer contrast to the natural elements and also a playful change of scale.'
How does bringing the garden indoors affect a room?
'Natural patterns help introduce a sense of calm and quiet to our interiors and wall murals inspired by the garden not only help bring the outside in, but also help achieve harmony by creating an extension of your garden so that nature flows through your home, inside and out,' says Jane Rockett, Co-founder of Rockett St George. 'Garden-inspired wall murals and wallpaper are also wonderful for those with small gardens or no outside space, as these designs will form their own relaxing garden oasis.'
Why are wall murals becoming more popular for 2022?
'Wall murals are brilliant for creating instant impact in a room and as we've grown more comfortable with using bold color and pattern in our homes recently, wallpapers and wall murals have once again become more popular, says Jane Rockett of Rockett St George. 'As the events of the last couple of years have meant we're spending more time at home, how our interiors make us feel has become more important than ever. Wall murals have a truly transformative effect and can change the atmosphere of a room in an instant. With appreciation for nature at a deserved all-time high, wall murals of beautiful landscape scenes and architectural garden features are set to reign in 2022.'
'The evolution of digital technology has really stimulated the trend for immersive, larger-scale repeats which in the past have been exclusive to hand-crafted techniques,' says Johanna Bright of Osborne & Little, 'Now they are so much more accessible, and we can explore and recreate hand-painted artwork in large-scale printed designs.'
How would you recommend styling a room with a garden structure wallpaper?
'Designs that feature beautiful garden structures look extraordinary in a conservatory or living space that backs onto the garden, with any windows or glass doors perfect for framing the garden to add extra depth to the design,' advises Jane Rockett of Rockett St George. 'Another incredible space to embrace a wall mural of this design is a bathroom. While wallpaper in the bathroom is a great way to add interest to the walls without the costly expense of tiles. Murals have the ability to transform your space and create a magical environment that can evoke memories or whisk you away to serene oasis of calm. By adding luxury and a hint of whimsy to your walls, this clever decorative feature creates the perfect combination of style and relaxation.'
Frieda Gormley of House of Hackney explains how to work the best wallpaper trends of 2022
It's interesting to see the growing momentum of the wallpaper revival, we're seeing the evolution of the wall which is really exciting. It's anti-boredom, pro-craft and about enlivening our homes with spirit, wonder and art – it's very emotive, and so needed right now.
After being at home for so long and looking deeply at our environments, both aesthetically and in terms of meaning, we've torn up the decorating rulebook. We're much more liberated now. Home is so much more of a place than just somewhere to sleep and go to work from, and people are increasingly starting to pick up a paintbrush, get decorating, and be playful with it. Decorating is being pushed further and further.
The wallpaper styles for 2022 are about bringing joy to our homes. At House of Hackney we talk about the joy of wallpaper – wallpaper really can make us happy! And the beauty of it is that it's enjoyed by many, it's transformative to a space and home and ultimately to people's lives.
The rise of decorative wallpaper has been gaining more and more and more momentum, and the stresses of 2021 have accelerated the new wallpaper trends further. People are becoming very playful with walls, ceilings and surfaces – it's is a very creative, artistic moment for the wall.
During times of unrest in the world, we tend to return to the pull of nostalgia – with the difficult few years that everyone has had, and the evolution of the home into a place of sanctuary away from the outside world, we're seeing the revival of the decorative wall. It's about a return to the past, both from an artisanal point of view, and from a nostalgic point of view.
Damask is now rising in popularity again, an incredibly classic design associated with beautiful historic homes. When you mix its classical heritage with digital printing technology and modern design sentiment, you can bring unlimited color into it, really ramp it up and play with the scale away from the confinements that printing had. Our damask collection with Gainsborough is cinematic with its proportions and color.
It's about time we found a new feature wall – it's done – and wallpapering within wall panels feels very decorative, referencing Les Arts Décoratifs. It's clever. Wallpaper is an investment and this is a smart economical way to have a pop of print. It's a way to get into print, a step towards more pattern as the wallpaper can easily be changed. It looks really beautiful.
The tiger print wallpaper trend is a follow on from the palm trend. Exoticism has a pull at this moment in time in response to our global grounding and lack of travel. It's a playful, moody take on a nature print – a lot of decorating trends in 2022 are ultimately about people's connection to nature and bringing it indoors. The full-bodied tiger print is wild, moody and a talking point while also being an easy monochrome scheme.
The growing trend for bringing a classic British garden inside ties into the vogue for decorating with British flora and fauna, and the increasingly wildness of floral patterns. As people spent more time in nature during lockdowns, they discovered the English countryside, forging new connections with nature which they now want to reflect in their homes.
The trend for abstract neutrals I find very interesting. It's minimally decorative, soft, the lines are clean and the palette has got a low color, but there's a very strong beautiful, very refined aesthetic to it. It's easy but still interesting, making me think of craft or pottery with the earthy, natural pigments, and representing a more lo-fi, natural mood that's coming through in interiors.
For style leaders and design lovers.
Amy Moorea Wong is a freelance interior design journalist with a decade of experience in contemporary print and digital editorial, previously News Editor at Livingetc. She writes on a broad range of modern design topics from news and interior zeitgeist to houses, architecture, travel and wider culture. She has a penchant for natural materials, surprising pops of colour and pattern and design with an eco edge.