Living room lighting ideas – experts explain how to create the perfect mood
The right living room lighting ideas can truly elevate change a space, so get it spot it on with our expert guide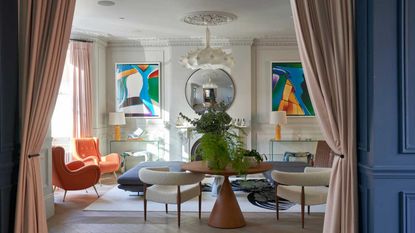 (Image credit: James Merrell)
Living room lighting ideas have moved on a lot from the days of sticking a floor lamp in the corner and hoping for the best. Lighting a room correctly –so the room exudes the right ambiance, brightness, color and style – is an art form waiting to be mastered (and a full-time job for some).
Contemporary living room lights are at once practical and beautiful, part of the area's decoration when turned off, and enriching the space once switched on - an important thing to consider at the top of your list of living room ideas. While lighting may seem like a jewelry-like interiors finishing touch, it's one of the most important factors when planning a room, and you'll reap the benefits of putting time and energy into getting it right.
From single pendant bulbs to extravagant chandeliers, each light source needs to be thoroughly considered to enhance its effect on the living room. Get it right, and you'll spend your evenings doused in a shine that will highlight the best of your living room, affect the way you feel and ultimately enabling you to get the most out of your space. Knowing how to design a modern living room is key - the wrong lighting can, at worst, clash with your interiors, negatively affect your mood, and make the room simply unpleasant to be in.
'Light has a huge influence on your well-being, the atmosphere and how it makes people feel. Just consider the power of the sun,' explains Jonas Bjerre-Poulsen, Co-Founder of Norm Architects. 'A well-designed room with poor lighting design just doesn't work.'
'The living room is where you want to spend your time after a long day; somewhere comfortable and cosy to entertain friends, have a glass of wine, or read a book on the sofa,' says Fiona Blanchot, Director at Studio Ashby. 'It's so important that the light level supports you in winding down from the day'.
'Good lighting can completely transform how a space feels, which affects how people in that space feel. The living room is a place for relaxing, and lighting is crucial for creating the right mood for this. If the lighting is very harsh and cold, it creates a space that feels unwelcoming and clinical,' says Will Earl Design Director of lighting brand J Adams. 'Lighting in the living room should be inviting and warm – done right, lighting will make a space feel very 'natural' and make people feel relaxed and happy without them even realizing it.'
Living room lighting ideas - how to approach them
So you've decided to redecorate, and living room lighting ideas planning have gone right to the top of the list. But where to start when decoding modern living room trends?
'Lighting should be planned at the beginning of the design process,' advises Emma Deterding, Founder and Creative Director of Kelling Designs. 'Start by ensuring you have switches, wiring and light fixtures in all the right places and go from there.'
Deciding upon the feel and tone you want for the living room at the beginning of the process will give you a clear direction for planning the room's lighting and overall design. 'I always start with the mood!' says Clare Turner, Owner and Creative Director of CTO Lighting. 'A showstopping chandelier can be dramatic and add glamour and a sense of opulence, or if the living room is more of a family room, I like to go for something playful. All options should be dimmable so that the ambience can be altered for day and night to support the right mood.'
'You need to be able to create the right ambiance throughout the seasons in both morning, day, evening and night,' explains Norm Architects' Jonas Bjerre-Poulsen. 'It's important to consider the activities you need to provide light for – relaxation, work, play, entertaining guests, watching tv, etc. You need to be able to create the right atmosphere with light for each moment. I always recommend building architectural lighting into the space to light up all walls and corners and define the space. On top of that you can choose a few decorative lights that supplement the general light and also act as sculptures.'
'I consider the seating arrangements first. Think about things such as where the most reading will occur, which needs bright, soothing light for the eyes,' says Interior designer Joy Moyler. 'Firstly, consider where and how decorative lighting can support the furniture layout and how the room will be used,' agrees Studio Ashby's Fiona Blanchot. 'It's about balancing pockets of light and shade to create a calm, tranquil space.'
'Start with the architecture,' advises lighting and product designer Terence Woodgate. 'The lighting should be respectful of the architecture, the space, and the natural daylight.'
There are lot of questions to ask yourself before the planning, buying and wiring starts. 'Do you want to create different moods throughout the day? Will you need task lighting for curling up and reading a book? Where will your TV be positioned in relation to your fittings, and will it create a glare?' poses Claire Anstey, Lighting Buyer at Heal's. 'Whether you add wall fixtures over the sofa, an easy-to-move a floor lamp that focuses light, or an eye-catching chandelier that illuminates the whole room, considering how to layer different sources together will ensure you have a beautifully thought out and flexible space.'
Basic living room lighting rules
While living room lighting options may be endless, there are a few general rules it's helpful to stick to and use as a base for your illumination strategy.
'Use light where it's needed. This sounds obvious, but it creates contrast and visual interest – focus light on the surfaces and features that warrant it,' advises Will Earl of J Adams. 'Always avoid the temptation to blanket the space with, for example, harsh overhead lighting or with a grid of recessed downlights. Keep it simple, and don't spend all of your budget on one fitting! Multiple light sources in different parts of a room (e.g. table and floor lights) create a much better feel than one light source in the middle.'
'Accept any constraints of your living room and select lighting that helps overcome these issues,' says Massimiliano Tosetto, Managing Director of lighting brand Lodes. 'For example, if you have a very small living room, don't overpower the space with a large statement piece. Instead, opt for subtle wall lamps that don't obstruct the room to diffuse light evenly.'
'Always install dimmer fittings where you can – they're a fantastic tool to have in every room but particularly key for your living room, to give you options for every occasion as it's such a multi-functional space' advises Rohan Blacker, Founder of lighting brand Pooky.
'Lighting should NOT shine directly in someone's eyes. Ever!' instructs interior designer Joy Moyler. 'Always use more than one light source, do not be afraid to mix and match lamp shades or materials, and use what you love!'
'Ensure you have multiple light sources to not only serve various tasks, but to allow you to change the mood and feel with the flick of a few switches,' advises Emma Deterding of Kelling Designs. 'If possible, install your lighting on more than one electrical circuit and consider hardwiring outlets for lamps into your main switch panel too. Have one circuit for your main ceiling lights to add brightness and general lighting throughout the day, and a separate one for wall lights and lamps to bring in that warming glow for those cozy evenings. Not only will this make your lighting easier to control but it'll also ensure you don't have to turn multiple lamps on individually. If you have the budget, put your table lamps on a five amp circuit so you can switch all of your lamps on from the switch at the door and save you hours of time walking round switching them on and off.'
The best expert advice for living room lighting
The experts share their illuminating ideas for lighting up the living room…
'Check the scale of any fitting you buy, multiple times, before you buy it! If it's a pendant, check the drop – does this work for your ceiling height and if not, is it flexible?' says Fiona Blanchot, Director at Studio Ashby. 'A table lamp – is it proportional to the side table and/or armchair? Lighting more than anything can catch you out when it comes to scale.'
'Always layer your lighting scheme,' says Emma Deterding, Founder and Creative Director of Kelling Designs. 'Dimmer switches are an absolute must, make sure you have plugs under sofas for table lamps in the middle of the rooms, and never put downlights in rows like a runway – they are there to light things, not to decorate the ceiling!'
'Choose several lighting types, be they pendant, wall, floor or table lamps, and check their finishes work together and complement each other from a color point of view,' says Clare Turner, Owner and Creative Director of CTO Lighting.' Buy what makes your heart sing!'
'To keep living room lighting adaptable, use dimmable floor or table lights that you can move around to create the best and most comfortable effect,' says Terence Woodgate, lighting and product designer. 'You may want more light in a room during the longer winter nights…'
'Introduce various sources of lighting into your living room to create your ideal ambience throughout the day, and stay in the region of warm and soft lighting rather than white or blue, to relax the eye,' says Claire Anstey, Lighting Buyer at Heal's.
'Use indirect and diffused light to avoid harsh glare and use the ceiling and walls to bounce soft light into the space rather than directly lighting,' says Will Earl, Design Director of lighting brand J Adams. 'Go for high quality, warm white LED bulbs which are dimmable, preferably with a high CRI value. Allocate a healthy budget to the lighting as it can really make or break a living space.'
'The more sources of light you have, the more moods you can create,' says Rohan Blacker, Founder of lighting brand Pooky. 'Cluster a few small lamps to add impact to an alcove or mantelpiece, or if you have the space use pairs of lamps to create some formality and frame pieces of furniture or art.'
'Mix floor lamps with table lamps and sconces,' says Joy Moyler, interior designer. 'Choose table lamps that are 27-30 inches high to provide a good light wash, and think about using a shade with a gold interior/liner to create a warm, flattering light. In darker spaces, use a natural or white lining to add more light.'
'Consider the light's 'temperature,' says Emma Stevenson, interior designer. 'We talk about the light temperature being "cold" or "warm" referring to how "blue" or "yellow" it is. Candlelight is described as being "warm" or " yellow" and is what most people find pleasant in a living room setting. Think of it as that Instagram filter that makes even your worst pictures look magical at the flip of a switch.'
How to layer light in the living room
It feels like the phrase 'layering light' has been around since shortly after fire was discovered. But what does it actually mean? And how to make the most of those layers in the living room?
'Layering is about combining different kinds of light to create a particular mood or feel,' explains Claire Anstey of Heal's. 'By adding depth and drawing your eye around the scheme, layering lighting is a great way to make the scheme feel bigger or cozier, and really bring your decor to life. It's also a great way to give your room versatility, changing its purpose from functional to practical to decorative.'
'Layering light helps make a space flexible for different uses and creates visual depth,' says Will Earl of J Adams. 'Think about the different heights of your light sources, and various zones and surfaces – use a mixture of light sources at multiple levels, and different types of light (direct and indirect light sources; ceiling and floor, wall and table lights) to create an ambient background light level which you can then layer on top of by highlighting features and surfaces to create drama. Finally, add a layer of low-level lighting to balance the room.'
'There are three key areas to think about,' divulges interior designer Emma Stevenson. 'Firstly, task lighting. Are there any light-sensitive tasks happening? In the living room this is usually reading, so think about where you will most likely to sit and make sure there is a good source of direct light for your reading material. Secondly, mood lighting. Low-level warm light works best to set the mood in the living room – position it at different heights to add interest. Thirdly, indirect and feature lighting. In a living room, this will often be art lighting, but if you have interesting architectural features you wish to highlight you can shine a small concealed LED light directly on it to draw the eye towards it in a gentle yet enticing way. Think of lighting a room as applying layers or filters upon it which overall will create the atmosphere you wish.
'It's important to consider the various functions of the room and layer both ambient and punctual lighting to cater to different needs – ambient light sets the mood, punctual light serves reading and working purposes,' says Massimiliano Tosetto of lighting brand Lodes. 'Ambient light can be generated through wall sconces, ceiling fixtures and spotlights, while suspension, reading and table lamps can respond to direct light needs.'
'You should ALWAYS supplement your main light source with an array of table and floor lamps for that all-important layered lighting scheme,' confirms Emma Deterding of Kelling Designs. 'Make sure you have ample light for various tasks, for instance by an armchair to create a reading nook or on a desk for work, and you'll ensure all of your lighting needs are fully covered.'
'Decide how you want to accessorize the room with lighting – identify main feature lights by wall washes or architectural spots, then any surfaces that can take a table or floor light, says CTO Lighting's Clare Turner. 'Like jewelry, each piece should complement the other without being too matchy matchy.'
Different types of living room lighting
Pendants, spot lights, table, floor and desk lights and even candles – there's a whole world of illumination out there to choose from (and that's before we start talking about color, temperature and dimmability). So what are the pros and cons of each design for the living room? Is there are certain type of light that works particularly well, or is that just wishful thinking?
'There is not a single design that will work for all living rooms, it totally depends on your own living room and any potential constraints there may be,' clarifies Massimiliano Tosetto of Lodes. 'The benefit of combining different types of lighting means that you can use a variety of styles throughout the day to cater to your needs.'
'It's best to consider how each different type of light can work together to produce the amount of brightness you need in the room, explains Pooky's Rohan Blacker. 'Wall lights in particular are a stylish and flexible option for a living room, great if space is at a premium and a perfect additional light source for layering with ceiling and mid-level lighting.'
'Deciding what should be the main source of light fixture is just as important as choosing your living room furnishings – think about how you want the room to make you feel,' says Claire Anstey of Heal's. 'The living room is one of the most used, high-traffic areas of the home, so there is no one-size-fits-all approach. To ensure you can achieve the best level of lighting at all times, layer a combination of ambient, task and accent lighting.'
Should living room lighting be practical, or ornamental?
We'd be lying if we said we select our lighting purely on how well it brightens our living rooms. A good light has to multitask, ticking both the practical, and beautiful boxes. Doesn't it?
'Living room lighting should most certainly be practical, of course. Ornamental? why not!' enthuses Joy Moyler. 'There are such beautiful fixtures out there, and lighting elements play a major role in a well-designed space. It's a great focal point.'
'There's less need for practicality in a living room but it's still important that the room is well lit for a dark or dreary day,' say Studio Ashby's Fiona Blanchot. 'By mixing ornamental and decorative lighting, you can create something that is flexible and therefore practical, with the additional of more technical reading lamps where needed.'
'Living room lighting should tick both the practical and decorative boxes,' agrees Terence Woodgate. 'Practical in that you need to be able to actually see when working or cleaning, and decorative for when you want the lighting to highlight a feature like a sculpture or a painting.'
'Practical and ornamental aspects should be considered together to ensure that lighting serves its purpose switched, on but still delights as a piece to be admired when switched off' confirms Rohan Blacker of Pooky. 'The best lighting designs will be both practical and ornamental – there shouldn't be a need to compromise on either' agrees Claire Anstey of Heal's.
How to use lighting to create a cool, sophisticated living room
The right light has the power to alter the mood of any room, be it shadowy and edgy, bright and bubbly, or somewhere in between. Elegant living room ideas ooze cool and have a vibrant, modern feel, and there are a few design tricks you can deploy.
'Lighting can really help to create a sophisticated space in many ways,' says Emma Deterding of Kelling Designs. 'Less is more in this design aesthetic, so opt for spotlights to keep the look cool and calm, and for added interest consider fitting LED strip lighting into built-in joinery, shelving or under a sideboard to add brightness and highlight ornaments and personal touches you want to display.'
'For a chic, cool living room, opt for industrial-style designs – think exposed bulbs, linear silhouettes, and a metallic finish in brass, black or silver, advises Claire Anstey of Heal's. 'LEDs are perfect for creating a sleek, streamlined look, and opaque glass shades can gently diffuse light, helping to soften any harsh lines.'
'Keep the lighting to a minimum – use a cool white light of around 3000K for the main lighting and use softer warm light at 2700K or less for the evening' tips Terence Woodgate.
How to use lighting to create a cozy, homely living room
For a comforting, cozy sanctuary, lighting is on your side. The right brightness can transform even the coldest, most unwelcoming white box room into a calming relaxation den with just a few flicks of a switch - cozy living room ideas can be made by getting the lamps right.
'Create a cozy atmosphere by breaking up a space and forming smaller, more intimate, independently lit areas,' says Pooky's Rohan Blacker. 'Color and intensity are also vital – use a soft warm yellow or white light, rather than a stark white, and use a dimmer to find the right intensity. It is no surprise that an open fire is always considered as the coziest place in a house – channel the flame's localized, soft and warm-colored lighting.'
'Creating a cozy atmosphere with lighting requires lowering the level of brightness, staying in the warm spectrum of light temperatures and using as a few touches of natural light sources such as candles or a fireplace, if possible,' explains Emma Stevenson. 'Turning down the dial on intensity minimizes what the eyes capture, calming the nervous system and creating a more intimate atmosphere.'
'Select a warm light to make the space more welcoming. Light color temperature is expressed in Kelvin degrees and corresponds to the hue emitted – I would recommend a warm 3000k option' advises Massimiliano Tosetto of Lodes.
How many wall lights does a living room need?
When you think of living room lighting, wall lights either side of the mantelpiece may be what springs to mind to a traditionalist. But how many lights do you need to allot for the whole living room, and where to put them for a contemporary feel?
'When it comes to the number of wall lights, I think that it's really dependent on the size of your room. There are no hard and fast rules, but be careful where you put them and at what height,' explains Emma Deterding of Kelling Designs. 'The objective is to light the room and not the ceilings – many people install them way too high. Consider whether the wall light points up or down, and then decide on a height. We tend to put them between 1600mm and 1800mm at the highest (consider higher if you have a massively high ceilings, but this is very rare to do).'
'We tend to use wall lights sparingly in a living room – either side of a fireplace or a large piece of artwork tends to be plenty. It's important to consider the scale of the room and where you want to make an impact; if the lights are decorative, less is more' says Studio Ashby's Fiona Blanchot. 'Limit wall lights to one or two walls and use them to bring attention to a piece of art or a special wall finish' agrees Emma Stevenson. 'Remember to consider the height of the wall lights and their position on the walls – you don't want light shining straight into people's eyes or run the risk of hitting your head into an overly protruding fixture.'
'As a general rule of thumb, multiple wall lights should be placed around 2500-3000mm apart. Use this as a general guide to work out how many fit your wall space, but also consider what looks best - after all, each space is different and can also depend on how much wall art, mirrors and other decorative hangings are clustered on the walls' finishes Pooky's Rohan Blacker.
'The number of wall lights in the living room can be determined by the furniture placement,' explains Joy Moyler. 'Take into account where people will be talking – during conversation you want to see the persons face and be able to look into their eyes. If the space is too dark, it feels intimidating.'
How to zone lighting to make a reading corner
Using lighting to form functional zones within a space transforms open plan layouts into cozy and useful smaller spaces without the need for walls or room dividers. Creating a space dedicated to reading can convert an unused living room nook into a space rich with purpose ready for daily use. All it takes to start forming some successful reading corner ideas is the right light.
'The easy way to make a reading area is to simply use an intimate table lamp, however I'd recommend experimenting with height and looking into an arching floor lamp or hanging lamp,' advises Massimiliano Tosetto of Lodes. 'A collection of pendant lamps in the corner of a room is a really interesting and modern way to style a space. Whatever you do, make sure your reading corner has its own specific light source which complements the other designs in the room, yet doesn't dominate the lighting scheme. It always helps to have a switch readily accessible as well!'
'For me, a reading area is a very comfortable chair with foot stool or chaise, plus a floor lamp – preferably one with an adjustable arm to guarantee the light will be exactly where it should be for reading or lounging,' says Joy Moyler. 'Ideally the light will have a dimmer to make it comfortable for the eyes as day becomes evening.'
'A reading corner necessitates task lighting which is a little brighter than the rest of the room and in the form of directional light, agrees Emma Stevenson. 'Adjustable height and with a lamp shade that you can rotate is great, as not everyone holds their reading material in the same way. Having some background light is also helpful, and a wall light or natural source is a bonus.'
How to light a dark living room
Naturally dark rooms can seem like a challenge, but don't underestimate the impact well planned living room lighting ideas can make.
'Focus on fittings with lightweight fabric shades or opaque glass for glow-y, diffused light to maximize light from – avoid anything that feels too heavy or has to work too hard to get light into the room,' advises Fiona Blanchot of Studio Ashby. 'Give yourself lots of options throughout the space for different times of the day and where you need a bit more brightness, look for a more technical floor lamp with a more focused, direct light.'
'For darker schemes such as north-facing living rooms, maximize the amount of daylight as much as possible, choosing window blinds or curtains in the lightest shade possible,' says Claire Anstey of Heal's. 'If the room still feels dark, opt for slightly metallic fittings (such as brass), as the bright accents will bounce light into different areas of the room. Large light fittings with multiple light sources, such as statement chandeliers, are also a good way to project light through the space.'
'Dark surfaces don't reflect light, so think about using lights with diffusion, such as opal glass to disperse the light,' says Will Earl of J Adams. 'You can get away with a low light level in a living space as long as you are providing light where you need it, for example in a reading corner or nook.'
'Diversify your light sources; a small pendant lamp, complemented by a table and a wall lamp would bring enough brightness without dominating the living room,' says Massimiliano Tosetto of Lodes. 'It's also important to consider tone – several warmer lights might give a cozier effect and illuminate a room more than a single cooler light.'
How to light a living room with a low ceiling
Low ceilinged rooms can be a lighting stumbling block, especially for the chandelier lover. But there are more options than you'd think.
'If you choose a ceiling light, make sure it's not suspended too low – not only is this likely to get in your way, but it will also bring the focus of the room downwards, making the ceiling feel even lower,' says Massimiliano Tosetto of Lodes. 'It's also key to pick the right light bulb, one that deflects the light up and into the shade rather than directly into the eye.'
'Move away from any pendant lamps with a drop, as this will draw the eye down the room even further' adds Studio Ashby's Fiona Blanchot. 'Sometimes it can be interesting to use a wall sconce on the ceiling, mounted close to the surface. Otherwise, I'd focus on low level ambience, table, floor and wall lights for lots of flexibility.'
'Opt for spotlights that are recessed into the ceiling to keep the eyeline clear, while wall lights and uplighters will throw brightness up and across the surfaces, making the room feel taller,' says Emma Deterding of Kelling Designs. 'Flush fittings to draw the eye upwards and create the illusion of a taller space,' agrees Claire Anstey of Heal's. 'Floor lamps with large shades will diffuse illumination both up and down, further creating a sense of height.'
Or, if you really want a statement pendant or chandelier, just go for it. 'There are many ceiling-mounted fixtures that are decorative and can work well over a sofa or coffee table,' encourages Clare Turner of CTO Lighting. 'Don't be afraid to add drama by having a long drop rod. If you don't walk under it, it's not an issue. Support the decorative with concealed architectural lighting that will make the room feel larger.'
How to light a small living room
Small living room ideas mostly depend on lighting to make them feel more spacious – it's all about making the most of what you've got.
'The same principles apply to a small living room as a large one, albeit with less space to create layering in the traditional way,' says Emma Stevenson. 'Opt for concealed lighting to avoid too many visible light sources which will look cluttered – in a small space less is more, and a couple of traditional light sources can cleverly be complimented by concealed options.'
'My best advice for living room lighting ideas is not to overdo it – too many light sources in a smaller space can feel unnecessary and they end up competing for attention,' agrees Massimiliano Tosetto of Lodes. 'Illuminating the corners of a room can often give the illusion of more space, however a single pendant lamp is often plenty – just make sure the design is delicate and complements other objects the room rather than eclipsing them.'
'In small living rooms, wall lights are great if space is at a premium and you don't have much table surfaces or floor space for lamps,' says Rohan Blacker of Pooky. 'They're a great alternative light source for layering with ceiling lighting, and can create beautiful mood, task and ambient light if dimmers are installed.'
'Make use of as much natural light as possible, and use reflective paints on the walls and ceiling to bounce the light around,' tips Clare Turner of CTO Lighting. 'Choose a selection of pendant, table and floor lamps, or use wall lights to create a feature on a wall and omit the pendant. This can be cool and functional at the same time. Warm and dimmable is a prerequisite whatever the size!'
'To make your lighting work harder, consider the various functions of your living room and understand what your key needs from the space are, and whether the positioning of a wall or floor light can serve dual purposes depending on where they are during the day,' advises Claire Anstey of Heal's. 'Dimmable fittings offer the greatest flexibility, taking your scheme from bright and focused to ambient and cozy in no time.'