24 modern living room ideas – easy updates, designs, trends, and color schemes that will make you want to redecorate
Let our gorgeous modern living room ideas inspire you to switch up your color scheme, try a new layout or totally redecorate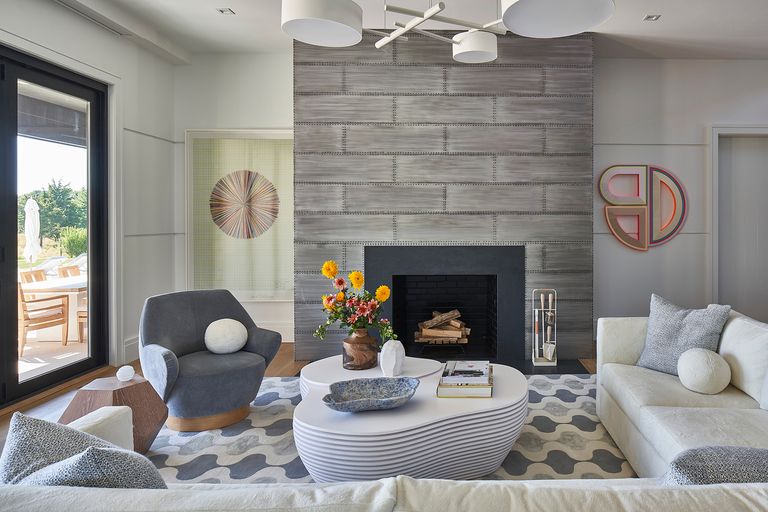 (Image credit: Marco Ricca)
By Lotte Brouwer , Hebe Hatton
On the hunt for some modern living room ideas and inspiration? A living room is one of the most used rooms in the house, so taking the time to really think about how you want the room to look and feel is really important. You want to create a space that feels inviting and cozy, but also reflects your personal style, whether that be uber-contemporary or modern rustic. 
We've pulled together lots of lovely living room ideas for all styles and all sizes of space. And you'll find plenty of easy updates you can do yourself in just a weekend too, so if you are looking just to quickly update your space rather than have a total overhaul we have you covered too with paint hacks, layout ideas and simple switch-outs that will refresh your space. 
1. Update your living room walls with tape
Starting off with a really quick DIY that can add loads of style to your living room but literally takes minutes. Give walls a very modern look by framing them with a crisp painted edge. 
Loving the neon pink border in this white living room– it adds a bold, modern edge to this room, adding just the right amount of pattern to the clean, crisp white walls. 
2. Paint the floor
Take to the floors too; paint a neat border edge, tracing around the bottom of the walls, or create a rug effect with a block of pattern. A brightly painted border injects some playful energy into this, otherwise quote traditional, living room scheme.
In this lovely pale yellow living room, gloss-painted floorboards feature a stripe effect, instantly giving the space a more modern edge.
3. Inject instant pattern with a mural
Move over living room wallpaper – murals look fabulous in living rooms. Be guided by architectural details, and bear in mind that your mural design must tie in with the rest of the scheme.
A hand-painted mural, or mural-style wallpaper, will instantly transform a wall into a canvas. In this modern living room, gold accents enhance the honey tones of the wooden floor and the richness of the leather chair.
4. Zone a living room with Crittall partitions
Instead of open plan, go broken plan. This offers all the benefits of its predecessor – a sense of light, space and sociability – but with greater emphasis on separation. 
Split levels, backless shelves and internal windows are all savvy ways to zone a large space. In this Victorian home, Crittall room dividers preserve the flow of light while providing a feeling of seclusion.
5. Invest in classic furniture to add a focal point
Invest in a classic piece of modern furniture will really add a focal point to your living room and set the tone of the space. Our personal recommendation would be pieces like the Eames lounge chair, the Togo sofa, Saarinen tulip table, Wishbone chair, Barcelona chair, or Chesterfield sofa. Design classics will lend a sophisticated, curated, and timeless look, whatever your decorating scheme.
6. Use rugs as art
We're getting bolder with our choice of rugs and choosing larger, more colorful pieces. Rugs are becoming less of a finishing touch and more of an investment or talking point within a room.
 At Livingetc we love a good rug – but ever thought of hanging them on the walls instead? Statement rug wall hangings are all the rage, as more people are opting for a more textural look for their walls. Because why limit a striking design to the floor, when walls cry out for a little texture? Wall hanging rugs is a fantastic way to give your space a modern, edgy twist, and to fill your vertical space with texture, color and warmth.
7. Paint the woodwork in a contrasting color
We're seeing a rising trend in painted woodwork, skirting, doors, door frames, and cornicing, and it's a great way of introducing smaller pops of color. Rather than trying to make the woodwork disappear, selecting a standout color for a fresh take on a painted interior.
In this whimsical living room, the cornicing was painted in a blush pink paint, adding a quirky twist to the traditional room. The back of the fireplace is painted in same pink used for the cornicing to the color still feels cohesive.
8. Bring in highlighter hues
Introduce splashes of color through painting doorways in bold colors, and leaving the rest of the room more neutral.
A dash of incandescent yellow delivers a burst of energy and links the front living room to the middle sitting room in the home of interior designer Suzy Hoodless. Meanwhile, the grey palette in the sitting room below is instantly lifted by the Tiffany blue door.
9. Decorate the ceiling
The trend for painted ceilings is still proving ever-popular. Inverting the traditional formula of painted walls and white ceilings, the ceiling is becoming the hero, often combined with paler tones or off-white walls to make the room feel larger. How fabulous is the dramatic red ceiling? Definitely a modern living room idea we are going to test out. 
10. Conceal your TV
Don't make your TV the focal point of your living room. There's lots you can do to conceal your TV, and we love this simple solution of fixing bookcases on wheels, sliding them apart to reveal a wall-mounted TV.
11. Build in clever joinery
Maximize space by building in clever storage. Many homes have awkward alcoves. This is one area where it pays to invest in bespoke cabinetry to really maximize the storage. 
The bespoke media unit in this open-plan reception room provides essential storage with decorative floating shelves above. Designed by London Contemporary to fit the wall shape without protruding into the room too much.
For a design that makes more of a statement, be inspired by this modern living room idea by Studio Ben Allen, who designed this super cool storage for a small living room, with a snazzy drop-down desk that can be folded away at the end of the working day.
12. Create whimsical features
We've all dreamed of having these at one point, haven't we? A door disguised as a bookcase, leading into a room that's private, personal and hidden? 
Designed by Elizabeth Georgantas of GEORGANTAS Design + Development, this bookcase below swings open to reveal an adults-only snug, for enjoying a tipple and Netflix after the kids have gone to bed. We also love the glow-in-the-dark constellation wallpaper by Ralph Lauren on the ceiling above.
13. Statement furniture
For a show-stopping piece of furniture to make its mark, it shouldn't be upstaged. As they say: if everything is important, then nothing is. Paint the walls plain white to allow your chosen item to become the center of attention and then anchor it with a striking rug to ramp up the wow factor.
Browse our guide to the best sofas to find some statement seating options that can add focal-point style and deliver on the comfort front. 
14. Go oversized with living room houseplants
Tired of the humble houseplant but still want to bring the outdoors in? Dial-up the drama with and copy this modern living room idea with an indoor tree, the logical and maximalist next step. When choosing your tree, check that it will live happily indoors and consider its care. How much water and natural light does it need? How large will it grow – and how high is your ceiling?
15. Create a cozy feel with a sunken living room
Eventually, everything comes back in style – now it's the turn of the sunken living room. Perhaps it's our obsession with all things mid-century or the trend for broken-plan living that's fuelling the revival. Whatever the reason, a sunken living room is a practical way to zone a large space without erecting walls, as this design proves.
16. Add detail at the doors
We've seen graphic painted walls, cool ceilings, painted floors and painted woodwork, but what about the doors? We love Charleston inspired patterns for doors, or for a historic property you could commission someone to decorate doors with something more delicate and intricate,
17. Trick the eye with mirrors
Think this small modern living room goes on and on? In fact, a mirror cut to fit the exact measurement of the wall will create the illusion of being twice the size. So be inspired by this modern living room idea and use mirrors to 'expand' your space. Large lean mirrors will make the floorspace seem bigger, or wall mount a large mirror opposite a window to bounce more light around the room.
18. Allude to more height with a dado
Using different paint colors above and below the dado is a popular decorating trick, but going just a little bit bolder with a bright color will give a living room a completely different look and energy.
19. Try out the colour blocking trend
Enveloping each room in a different paint colour will create distinctly different zones, rooms and moods.
20. Be bold with dark living room ideas
Darker, deeper blues create a bolder, more dramatic living room, and have a cocooning effect. It suits both large living rooms, making them feel smaller and cozier, and small living rooms, emphasizing bijou proportions and giving them a den-like feel.
Love this space? Find more blue living room ideas in our gallery. 
21. Go floor to ceiling with curtains
The best living room curtain ideas can make all the difference to your living room scheme, you could even make them the focus of the space.  Frame windows with a shapely, decorative pelmet, like design duo Turner Pocock achieved here. And always go floor to ceiling with your curtains even if the window doesn't, it has a more elegant effect and makes the room feel much loftier. 
22. Go for Mid-Century style
Mid-Century Modern furniture continues to soar in popularity, and these days you don't need to get your hands on vintage pieces to get the look – high street retailers have jumped on the bang wagon too, so they are really easy to source and make part of your living room design.
23. Make a statement lighting
Set a dramatic tone for your home with a decadent statement light– a central piece that you can arrange the furniture around. Head bump-saving tip: remember to factor in clearance room so people can walk beneath the pendant – allow 2.13m from the bottom of the fixture to the floor.
24. Hang a gallery wall
This clustered gallery wall configuration is a fantastic mix of ornate frames. For maximum impact, ensure the images have a unifying element – florals are the theme here – and try to keep an even gap between the frames for a balanced look.
How can you make a living room more modern?
The term 'modern' can mean so many different things, from traditionally modern, so very minimal and contemporary with  sleek lines and striking shapes, to very rustic and cozy modern farmhouse style. Really, the route of modern you take will come down to your tastes and the style of your home, so deciding on this would be the first step. Then its just about picking colors that feel modern and fresh – whites, creams, greys are always a safe choice but don't be afraid to go bold either. Bright colors like vivid reds, green and yellows can really elevate a room and make it instantly feel more modern.
Furniture choice obviously sets the tone for a modern living room too. What we always say makes a room feel more modern is when there's an effortless mix of styles, say very minimalist Mid-century furniture with opulent antique French decor will create a room that feels unexpected and interesting.