Design-forward living room ideas to give your home a refresh
Living room ideas from our favorite homes, filled with designs and trends to inspire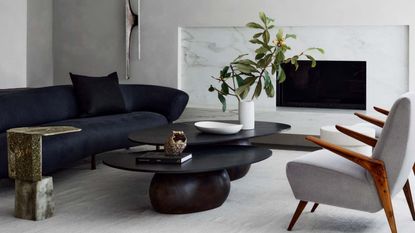 (Image credit: Douglas Friedman. Design: NICOLEHOLLIS)
Living room ideas are evolving at a rapid rate. In recent years, these rooms have had to work harder than ever before to accommodate our ever-changing lives. These spaces have become destinations for socializing, working, and lounging - our furniture choices, design layout, paint colors, choice of textures and materials all reflect what we demand from these spaces.
What's more, our living rooms are becoming spaces designed to restore us. 'A reconnection with the outside world is feeding through into the way we decorate our living rooms,' says designer Kelly Wearstler. 'Green and natural hues work very well in living spaces as they offer serenity and calmness, and plant motifs in the living room are a way to instill fresh energy into and elevate a space.'
Living room ideas are also so crucial because it's in this room where we establish and cement in place a style that other rooms follow. From Minimalist to Hollywood regency, Scandi-inspired to mid-century, or industrial to coastal glamor, there are so many looks out there, and there is no better room to establish this theme than in the living room. To give you food for thought and inspiration, we've spoken to the designers to find out their favorite ways to give this important space an interiors refresh.
Amy is an experienced homes writer and editor. She has written hundreds of articles for various international titles helping readers make the best home design choices, and spends her days interviewing interiors industry experts to bring the latest ideas to her readers. For this piece she spoke to the world's best designers, studios and brands to compile fresh looks to inspire.
Living room ideas
1. Always layer lighting in the living room
Everything comes down to lighting. It is arguably the most crucial element of interior design. The right lighting can establish a mood, create a feeling, and make your room look luxurious, elegant, and cozy, just at the flick of a switch. The living room is a prime example of this, and we believe that layering your lighting in the living room is the best way to achieve this.
Living room lighting must be planned at the beginning of the design process, and you need to really think about how you want to use the space before settling on light fixtures. Is it overwhelmingly a space for relaxing or is it a busy space for working and coming together as a family? By layering lighting, you can be flexible and the room can change throughout the day to reflect whatever activity it is being used for.
When it comes to how many lights you should have in a living room, ideally you need ceiling light, two wall lights and a floor light. This is a basic minimum and will of course depend on the size of the space, but this is a good start for a cohesive, layered scheme.
'Always layer your lighting scheme,' says Emma Deterding, Founder and Creative Director of Kelling Designs. 'Dimmer switches are an absolute must, make sure you have plugs under sofas for table lamps in the middle of the rooms, and never put downlights in rows like a runway – they are there to light things, not to decorate the ceiling!'
This design from The Stylesmiths features a floor and table lamp, wall lights and a main statement living room light.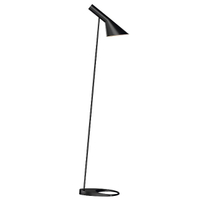 A beautiful floor lamp with light directing downwards and a flared shade. Available in a jet black, white and other pastel shades.
2. Use paint in clever ways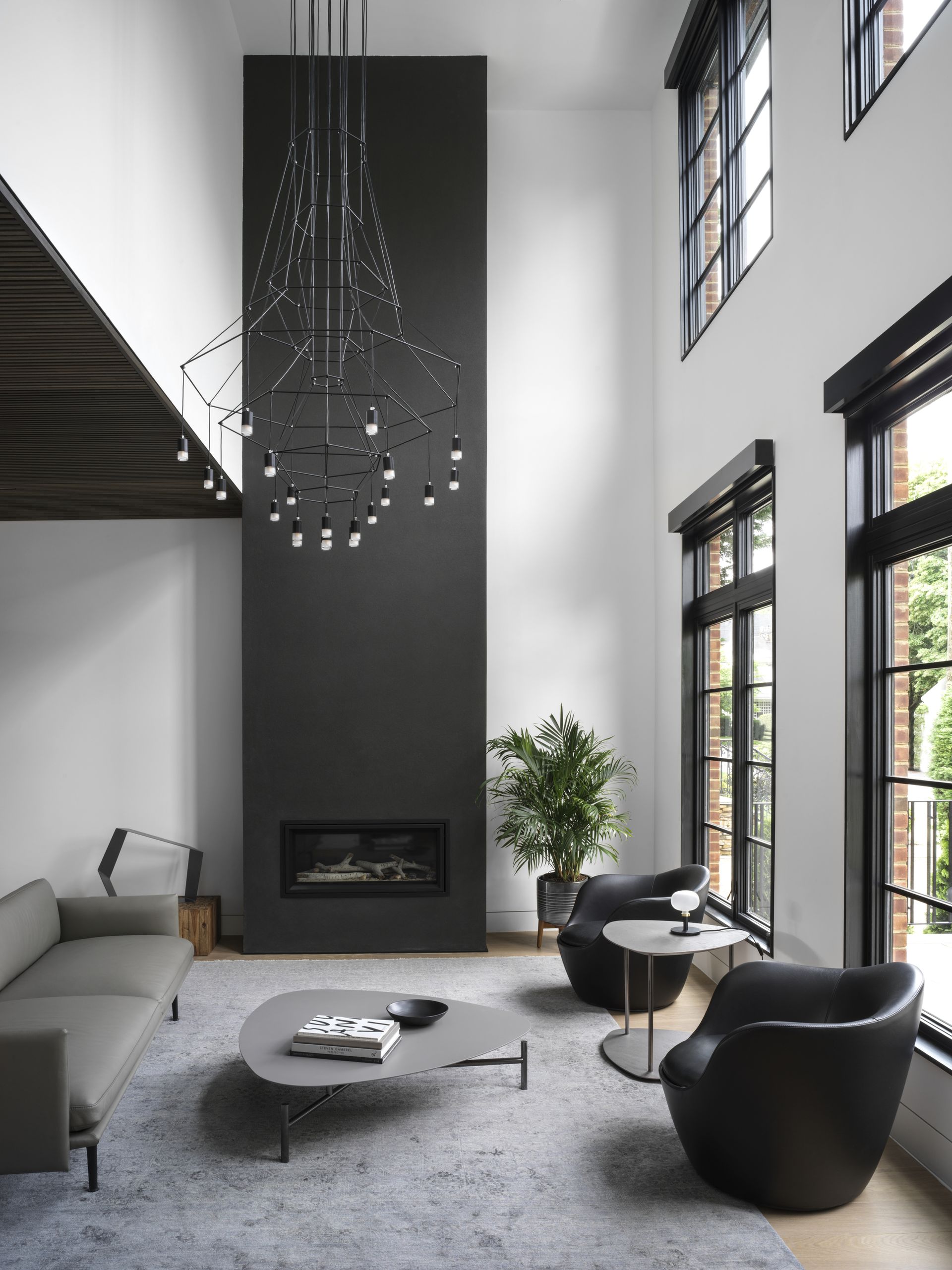 Think about the way you use paint and color in the living room. More and more, designers are moving away from white-walled living rooms and using paint in explorative ways. Dark, jewel tones are proving popular, as well as paints that remind us of nature - which have a restorative impact in the living room. The way we paint our walls is changing too. Think painted ceilings, which create a pop of color and a bit of interest in a room, try monochromatic by painting all walls, living room windows and trim the same color, or go for drama with a bold accent wall.
It's all about using paint to create an optical illusion in the space. Spaces with painted ceilings and monochromatic rooms are all about skewing the space, and dark accent walls also help spatially alter the living room. 'We often think that light walls make a space look bigger, but instead, darker colors can help make a wall recede,' says Kathryn Findlay of Studio Findlay. 'A dark accent wall can give your eye a much-needed place to land or highlight a focal point.' This living room by OAD Interiors does just that, highlighting the height of the room and making the space seem longer than it is.
3. Think about furniture placement
In the living room, you might be tempted to push your key pieces of furniture flush against the walls, creating the illusion of space and a feeling of openness, but your initial instinct might not be the best way to deal with your furniture. Think about what you want to do with the room - are you looking to zone the space or create barriers between areas in the room? Rethinking furniture placement can give your living room a modern edge.
This might encourage you to rethink furniture placement and instead float furniture, giving the impression of larger spaces by letting the walls recede from the space. Use the big ticket items to your advantage to help create areas - like an L-shape sofa to corner off a cozy living room corner, or a bookcase corner off an office nook. Furniture can be your best friend for a simple transformation of the living room.
4. Add a home bar
More and more, our homes are becoming spaces for entertaining as we tighten our purse strings and look to keep socializing a budget-friendly activity. Why not go for a home bar - perfect for the festive period and beyond? This design is by Esther Lundstrom of Lundstrom Interiors.
'The home bar is a great place for hosting or just winding down at the end of the day. It's a place to store drinks, glasses, mixers, etc. to keep more space in the kitchen for cooking-related items. At the end of the day people also just want a designated place to relax, whether that be in a bathtub or patio, having a home bar provides a great space to do this. In this particular home bar, I positioned it in the middle of the room to have the home bar be part of the fun zone of the great room next to the hosting area and the pool table.
'We made it modern in style with a custom concrete waterfall island as well as a custom back bar in solid oak to fit a mini fridge. The wall shelving also has a modern configuration making it work seamlessly into that wall without it looking too heavy.'
5. Connect the space with a large area rug
Modern living rooms tend to have the seating separated slightly, to create different areas in which to sit and relax. But to connect all the different zones, use one, large unified carpet that joins different corners and creates cohesion. 'We reshaped the apartment's plan to optimise circulation and the seamless transformation of the home from a series of private, independent spaces into an interconnected, spacious landscape where the family of five can gather together,' says Michael K Chen, principal of Michael K Chen Architecture.
The trick to having these different areas is to connect them with a large living room rug, which literally creates a space on which they all play out. Choose one that fits under every piece of furniture and you've instantly created a luxe sense of togetherness.
6. Place seating in a semi-circle
Angling furniture towards each other, instead of at the living room TV, creates a much more convivial space. You're encouraging people to look at each other and connect as they sit, instead of stare at a screen.
'As a studio that mixes hospitality design practices with the best of residential interiors, we are always thinking about how to make people feel comfortable and encourage good living,' designer Christine Gachot says of the space she created above. 'We embraced the non-rectilinear layout of the space and envisioned a semi-circular seating area in the living space to encourage conversation and fun.'
7. Use colors that make your heart sing
With the changing of seasons, you may want to update this space with living room fall decor ideas, that point towards more oranges, reds, greens and browns.
'I'm drawn to a lot of green, yellow and orange,' says the interior and product designer Yinka Ilori. 'I've got a corner in my own living room where I have used those colors to create a space where I can sit and read, surrounded by shades that remind me of nature and the sun. They relax me, and allow me to dream.'
This advice is key for creating a living room in which you feel nourished. You could go as big as the above the sofa decor element of the yellow panels in this room, or you could do as Yinka has done and cover a chair in a colorful throw, placed next to a vivid green Monstera plant. Playing with these hues will give you an interior design backdrop that uplifts you.
'It's hard to disagree with this color palette,' Yinka says, throwing light on the trend for yellow living rooms. 'It just feels safe.'
8. Go big on the sofa
This basement living room isn't as big as the size of the sofa suggests. In fact, the designers Turner Pocock have squeezed as much sofa as they physically could into this space. And instead of seeming cramped, it actually reads as luxe.
'Installing a wall to wall sofa gives the comfort and luxury of a home theater without having to include tiered seating and reclinable chairs,' says one of the studio's co-founders Emma Pocock. 'It fits lots of 'bums on seats' and often works well in small snugs giving the greatest distance between the sofa and the living room TV, allowing for the largest possible television for the space.' A big piece in a small living room? Consider the rules rewritten.
9. Increase the decorative elements
It pays to be decorative in a small room, but be sure to bring in elements of surprise to retain a modern edge. In this sitting room by Elizabeth Hay, a wraparound bookcase in a bright blue paint ensures a cosy yet upbeat atmosphere.
Create a cohesive scheme by linking paint color to upholstery, as done here with the bright blue sofa trim. What stops this from seeming too traditional - despite the extra layers of fabric - is the use of color. 'The blue is the exact shade of a tropical sky, which feels so wonderfully fresh,' says Livingetc's editor Pip Rich. 'And when it comes to colors that go with blue, the bright red curtain is an unexpected - but delicious - twist.'
10. Add a textured wallpaper
When it comes to living room wallpaper, subtle textures and colors are a big look in small spaces. Here, a subtle fleck in the fabric of this grey wallpaper brings a sense of light to this otherwise dark basement living room space.
Interior designer Sarah Peake of Studio Peake was the visual brain behind this wonderful area. 'We wanted to create a really lively, colorful space in contrast to how dark and neglected a lot of basements can be,' she says. 'We therefore went all out with ambitious, large scale patterns and bold colors." The living room rug is by British duo A Rum Fellow.
11. Choose just the right shade for the walls
"When you have natural light in a room primarily used in the day, it makes sense to keep walls fresh," says Tiffany Duggan of Studio Duggan, who created this comfy yet stylish space using just the right living room color ideas. "Opting for light walls doesn't have to mean white - some nude plastery colors work just as well."
Here, the design looks to the Seventies, the terrazzo flooring and starburst light creating a haven for hunkering down in, and the ultimate in invitingly comfortable living rooms. While the ubiquitous conversation pits have yet to make a resurgence, the era's cocooning living room sectional sofas certainly have. Clever styling is key to keep the look refreshingly contemporary rather than turning into a full homage to the past. Think contrasting structural tables, graphic, oversized artworks and minimal accessories. Stick to a restrained neutral color palette, both to allow the sofa to take centre stage and to keep the space light, bright and modern. For more subtle additional nods to history, look to modern interpretations of vintage lighting, keeping to clean lines and materials.
12. Create an unexpected palette
A living room has many functions - to relax, to entertain, to read or watch TV - but how about to make you happy? Pairing joyful colors, even if they're not the ones you might ordinarily put together, will do just that.
Take this stellar living room, designed by Noa Santos of the New York-based design studio NAINOA. Yellow and green are not an obvious fit, but here the restful tones of the sage walls are enlivened by the sofa's burst of sunshine, proof that primrose really is a color that goes with green.
'When pairing colors, we strive for a similar base - so there's a relationship between shades,' Noa says. 'In this case the colors, though different, feel like they are a part of the same family.'
13. Go for a comforting color
Interior design trends are moving on yet again, and suddenly brown living rooms are in style. 'The last couple of years we have been jazz-handing our way through the tough times,' says color expert Cassandra Ellis, founder of the paint brand Atelier Ellis. 'Now, we want a living room that we can lie down in, drink a bottle of wine, and feel comforted. Brown walls do just that. They feel like a hug.'
We've been praising brown as a wall color for a while, and Cassandra is right about its comforting quality. If using it in a living room, don't paint the ceiling white, but a softer brown instead, a caramel-like shade. White is just a little too stark.
14. Focus on what's on the floor
Living rooms are often full of lots of pieces of furniture - chairs, a sofa or two, a table or three. When you're wondering how to design a modern living room, make sure yours can bring all those pieces together by focussing on what covers the floor.
'Sourcing the right size rug for a living room is a great way to zone a room. Here we used a very large and sumptuously soft rug to unite the seating area in our client's living room,' say Katie Glaister and Henry Miller-Robinson, co-founders of K&H Design. 'Aim to create seating in groups or have one central point where all the seating faces into. When positioning seating in a living room always remember no one wants to be isolated from the conversation. Create seating in groups or have one central point where all the seating faces in to.'
15. Paint the ceiling, too
'Using darker hues in a room helps to make it cosy and intimate, especially when used on the ceiling,' says Lucy Barlow, Founder of Barlow & Barlow, who designed this room, knowing exactly what colors go with blue. 'A rich velvet always adds an extra element of warmth and softness to a room - particularly in a snug or tv room, the perfect place for cozying up to watch a film or relax with friends. You don't always have to compromise style over comfort or vice versa, they can easily go hand in hand. Adding patterned cushions helps to break up the block color and boldness of a room whilst adding a bit of fun.'
16. Make a personalized gallery wall
Clean and simple living rooms are the perfect backdrop for creating a head-turning striking space. Utilise white backdrops for your gallery wall ideas by layering up your favourite graphic artworks, rotating the pieces every so often to keep the room fresh and the energy levels high.
Ignore any of the go-to gallery wall layouts for a unique scheme, placing frames at all heights for impact wherever you are in the room. Have a play on the floor, or by using washi tape to stick up prints on the wall before you commit to drilling holes. Bold, primary coloured furniture will bring out the brightest tones in your artworks, so choose these in tandem.
17. Add in some texture
'Consider texture to be as important as colour and pattern,' says Camilla Clarke, Creative Director at Albion Nord and the designer behind these beige living room ideas. 'There is nothing worse than a flat design. Interior design is all about evoking the senses and therefore texture is a vital ingredient to every design to get our sight and touch senses going. Try mixing different textures such as natural linens with soft velvets or robust leathers with thick wools.'
Add in a further extra dimension by also ensuring to integrate a splash of colour in even a thoroughly neutral space. In this tonal space, the green sofa and yellow painting help bring the room to life, adding both character and warmth.
18. Pick seating according to how you actually live
When choosing seating for your living room, the go-to for most will be the ubiquitous sofa - and sofa trends are big news right now. While we love a perfect, cozy sofa to curl up on, there are other options.
'I always like a room to make you feel like you've been invited to a party,' says the designer Brigette Romanek, who created this space. And that is the vibe she's gone for here. If your living room is more geared towards entertaining than Married At First Sight binges, consider using a handful of armchairs instead. Not only will each guest have their own space, but the layout is quick and easy to change up to create more intimate arrangements when required. Look for swivel armchairs for extra flexibility, allowing you to dip in and out of conversations.
19. Place seating to aid conversation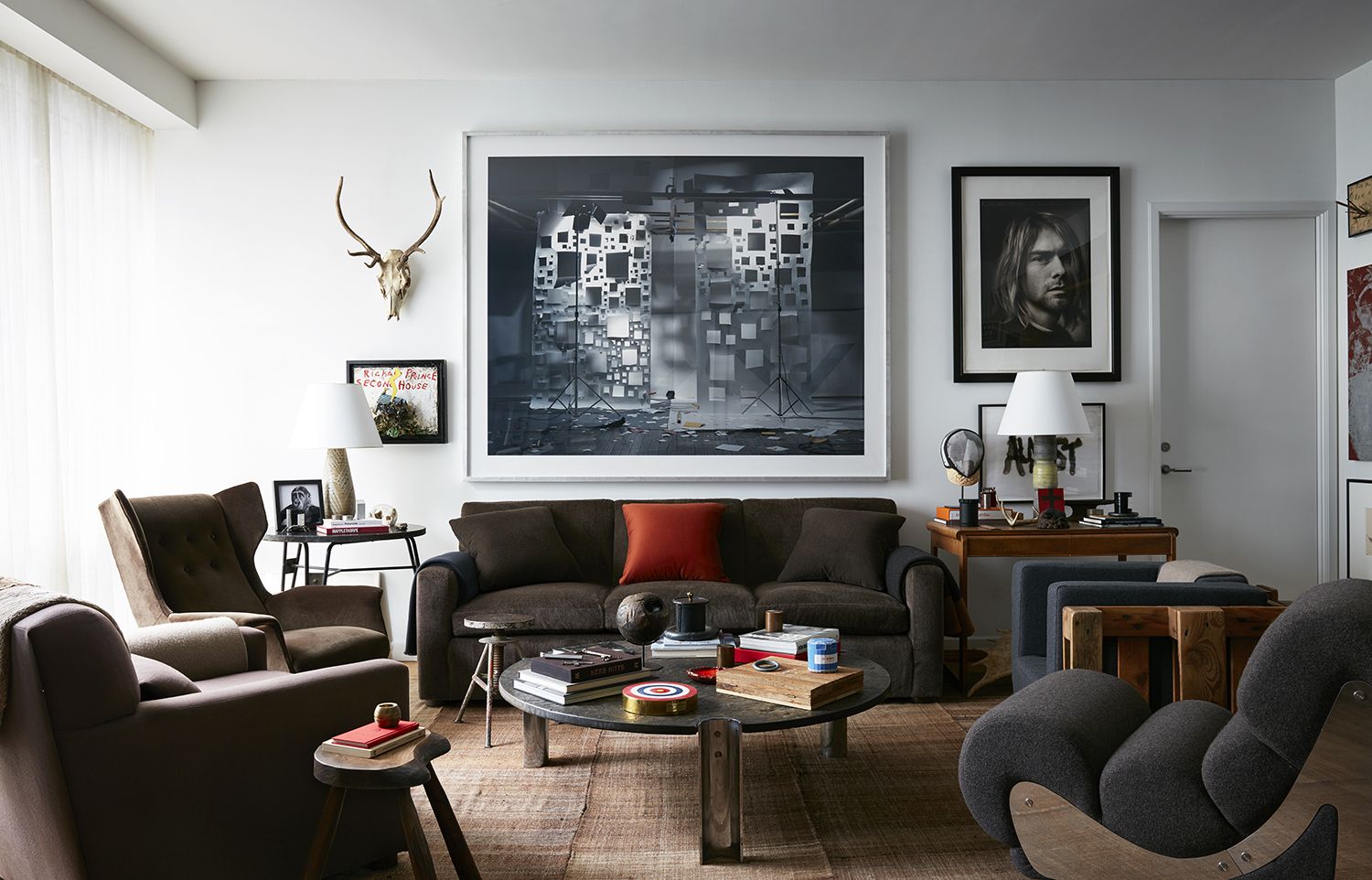 Even if your accent chairs don't swivel, as outlined in the previous point, you can still create a living room steered toward conversation. New York-based designer Robert Stilin placed the seating in a circular formation, angled inwards, so anyone sitting down it would feel compelled to converse.
'I like to think of chairs as placed in conversation pools,' he says. 'By positioning them in this way, it becomes very social.'
20. Add drama with some clever material choices
Careful consideration of materials and their placement has the ability to transform your living room into something truly spectacular. 'The living room of this Victorian home is anchored by the dramatic veining of the calacatta viola framed portal to the kitchen,' says interior designer Tamsin Johnson, who designed this space.
'These materials add a sense of drama and glamour yet they don't compete nor do they overpower the room of this size. The pared back soft furnishings help to create an overall feeling of luxurious simplicity, allowing the architectural details and materials to sing.' The equally big statement behind the ornate living room lighting ideas on display here only add to the sense of occasion.
21. Use low furniture for a welcoming vibe
Take things low for an indulgent and warm feel in a living room. A sectional wall-to-wall sofa can help fill a space horizontally, but remains practical when paired with floor cushions and a low coffee table. Enhance the theme by painting the ceiling in a tonal shade, for extra indulgent warmth, while also drawing the eye up and stopping all the focus from being at the base of the room. Large, statement artworks will also help lift the space.
'Scandinavian ski lodges were an inspiration for the earthy tones and textures,' notes Kevin Dumais, Founder of Dumais Interior Design, who designed this home. 'Leather panelled walls ground the room giving it a welcoming, cozy feel.' Short of using leather, the same effect can be created with living room wallpaper ideas, too.
22. Mix in some curated vintage pieces
Combining old and new pieces in a space can seem daunting and tricky to balance, but by adding in vintage furniture and accessories a room becomes so much more warm, inviting and real. In fact, antiques often form the basis of the best cozy living room ideas.
'We love to incorporate different design styles into our spaces, including mixing new with antique pieces. It helps to make the space feel layered and like it has been around for a long time,' says interior designer Heidi Caillier who created this space. 'We find that living rooms are more for conversation and relaxing with a book or glass of wine so we like to create different seating areas and tend to bring in a mix of sofas and varying sizes of chairs. It also helps to make the room feel more visually interesting.'
23. Harness the power of art
When designing your living room, it can be all too easy to overly focus on making it look perfect - but learn to enjoy the beauty and energy that comes from mixing and matching unexpected pieces because you love them, rather than to create an Instagram-ready room. Affordable art can be just as perfect for this as collectable pieces - it's really about what you love.
'Art is always part of the picture for me,' says interior designer Rebekah Caduwell who owns this home.' Our collection is simply about who and what we have connected with at times in our life, whether a color, a mood or an idea. So we have paintings, drawings and photographs and sculptures that make up the story of our lives. For me these final elements are what gives a house soul and a touch of magic.'
24. Use softer tones for a stronger look
More often than not the prettiest spaces in a home are the bedrooms or perhaps an indulgent master bath. Mix things up by embracing this image in a natural living room, while retaining a definite grown-up feel. Achieve the perfect blend of the two by looking to softer or slightly 'dirty' pinks, and layering these using furniture, soft accessories and artwork - retaining clean, neutral walls and flooring stop any princess-y notes from creeping in.
Remember, that the best colors that go with pink often work to make it feel like a more sophisticated shade. Structure, too, is key. Reflect shapes from your art in the furniture, adding graphic lines to sofas and coffee tables, or unexpected rounded edges to side tables and spherical elements to pouffes.
25. Use decor to zone an open plan space
Open-plan living spaces will benefit from considered zoning of areas to make the most of the space and create more cozy moments for rest and relaxation among the everyday melee. 'In this area, wall panelling was employed in the TV nook and ground floor study to create more intimate spaces,' says Guy Stansfeld, director of design studio 23+GS/318, who created this home. Zoning a room with wallpaper can also be helpful to demarcate the space.
'Extensive built-in joinery throughout helped make efficient use of the space available as well as adding accent colours to various rooms.' Highlight these areas not only through colours, but the use of artwork and bookcases to divide in style.
26. Inject pattern with a mural
Instead of hanging art - or perhaps as well as - why not stencil a mural directly onto the wall? 'We are searching to surround ourselves with more spectacular things in our homes,' explains founder of Ophelia Blake Interior Design, Scarlett Blakey.
'Murals allow us to showcase our individuality, as they stand as one-off pieces that are oozing with exclusivity – which is perfect if you want a space to have a high impact and feel entirely memorable.' Could this be your next living room DIY project?
27. Zone a living room with Crittall-style partitions
Instead of open plan, go broken plan. This offers all the benefits of its predecessor – a sense of light, space and sociability – but with greater emphasis on separation.
Split levels, backless shelves and internal windows are all savvy ways to zone a large space. In this Victorian home, Crittall room dividers preserve the flow of light while providing a feeling of seclusion.
28. Invest in classic furniture to add a focal point
Investing in a classic piece of modern furniture will really add a focal point to your living room and set the tone of the space. 'Design classics are design classics for a reason,' says Livingetc's editor Pip Rich. 'Perhaps it's the elegant shape that never goes out of style, or the fact that it's so comfortable it could never be improved upon. While they may be costly, they will last forever and be pieces you treasure no matter which other ways you update your decor.'
Our personal recommendation would be pieces like the Eames lounge chair, the Togo sofa, Saarinen tulip table, Wishbone chair, Barcelona chair, or Chesterfield sofa. Design classics will lend a sophisticated, curated, and timeless look, whatever your decorating scheme.
29. Use rugs as art
We're getting bolder with our choice of rugs and choosing larger, more colorful pieces. Rugs are becoming less of a finishing touch and more of an investment or talking point within a room.
At Livingetc we love a good rug – but ever thought of hanging them on the walls instead? Statement rug wall hangings are all the rage, as more people are opting for a more textural look for their walls. 'I would absolutely hang a rug on wall,' says the designer Minnie Kemp. 'A riot of color and pattern? It's perfect.'
Wall hanging rugs is a fantastic way to give your space a modern, edgy twist, and to fill your vertical space with texture, color and warmth.
30. Super-size the furniture
A squashy sofa is the height of luxury - something to sink into becomes the heart of the room. Thankfully even a small living room can host one.
'An oversized piece of furniture can dramatically change the feel of a room,' says the designer Jo Berryman, who decorated this space using a sofa by Edra. 'In fact, it makes the room feel more generous than it really is. We opted for an off-the-peg chaise sofa to literally fill the space; with the addition of a slouchy bean bag, there is ample seating for a gathering of friends. The upholstery in Seville orange velvet is a nice contrast to the blues of the wallpaper and joinery and we added more jewel tones with colored glass bottles on the windowsill.'
31. Inject joy with bright hues just for the fun of it
'I looked at a color chart with my then four-year old and she pointed to that yellow – there was no technical way of doing 
it,' says designer Suzy Hoodless of the almost 
neon yellow architrave that makes up the boldest part of the living room ideas in her house. Painted in Trumpet by Little Greene, it adds a jolt of unexpected joy, a reminder that a living room is truly meant for living in.
Suzy's use of color 'doesn't necessarily have to be bright; it can be muted, too', she says. So here, a powerful shock of incandescent yellow around the architrave, linking the 
front living room to the middle sitting room, instantly saves the two spaces from becoming 'too polite'. Cabinets painted a saturated blue bring an otherwise pared-back space to life, and the combination creates a cocooning space. 'Colour is an easy way to create a dramatic effect,' says Suzy.
32. Decorate the ceiling
The trend for painted ceilings is still proving ever-popular. But have you thoguth about adding texture, too?
'I like brands such as Lincrusta, which create textured wallpaper,' says Livingetc's editor Pip Rich. 'It's a way to add character in a really non-threatening way that you can't see all the time and don't notice immediately. A textured ceiling is a prime example of amazing attention to detail that really makes a huge difference.'
33. Conceal your TV