I tried KitchenAid's Espresso Machine and it was unexpectedly excellent
KitchenAid aren't known for their coffee content, but don't let that stop you from loving the KitchenAid espresso machine. I'm a barista and I'm smitten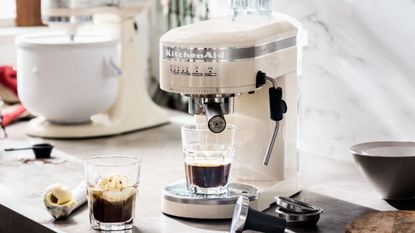 (Image credit: KitchenAid)
I'm impressed with the KitchenAid espresso machine's brew-tiful balance of flavor and style. This has the price tag of a budget espresso machine, but the flavor of the best. You'll have to buy a separate grinder, but it's worth it.
Reasons to buy
+

Stylish

+

Makes good coffee

+

Easy to use

+

Mug warming top
Reasons to avoid
-

No integrated grinder

-

Difficult to store

-

Limited steam wand rotation
The Livingetc Newsletter
For style leaders and design lovers.
Thank you for signing up to LivingEtc. You will receive a verification email shortly.
There was a problem. Please refresh the page and try again.
KitchenAid is revered for their dedication to both form and function and they have made no exceptions with their espresso machine. The sleek design and powerful performance promises to endlessly elevate your home coffee station.
As a barista, I'm used to seeing Italian names in the lists for best coffee makers, so I was surprised when KitchenAid snuck in. Keen to find out what the fuss was about, I took the KitchenAid to our test kitchen. Sip by sip and cup by cup, the KitchenAid won me over.
With integrated sensors, which will optimize extraction and flavors in your coffee, this machine has lots of clever features. These might seem like gimmicks on paper, but I can assure you that they're far from it.
You won't need barista-worthy skills to make an incredible espresso or mind-blowing macchiato. You just need this KitchenAid.
KitchenAid espresso machine: Key Info
Colors: black, brushed stainless steel, empire red, almond cream, matte white
Heat up time: 45 seconds
Dimensions: 6.38 x 13.15 x 11.26 inches
Weight: 15 lbs
Water tank capacity: 45.8 fl oz
Pump pressure: 15 bars
Portafilter size: 2.3 inches
KitchenAid espresso machine: First impressions
You could be mistaken for thinking that KitchenAid has put form over function: this is a beautiful machine, which is much slimmer than standard models. The body is a combination of BPA-free plastic and stainless steel. Sometimes, plastic coffee makers can feel cheap, but this feels durable. Just like all KitchenAid appliances, you'll only need to buy this once.
On the countertop, this is slim, but quite long. When I placed it against the wall, it came out quite far from the back of the countertop. You could store it in your cupboards, but it's aesthetically pleasing enough to have on display.
It has a slight sheen, which is hard to see in the almond cream hue, but I can imagine in red, this would really pop. That's why I would recommend this is you're thinking of designing a coffee bar in your kitchen. The classic colors, cream and black, are subtle, simple, and classy. If you want to stand out from the crowd, KitchenAid offers the espresso machine in empire red for a splash of color on your countertops.
KitchenAid don't skimp on the extras. They'll provide a stainless steel milk jug, four premium filter baskets (single and double walled for single and double shots), a portafilter, tamper, coffee scoop, and cleaning brush. These are all your coffee bar essentials and they all feel like good quality gadgets. The only disappointment is the coffee scoop, which is plastic and it feels a little cheap.
Making coffee in the KitchenAid espresso machine
To start using the coffee machine, you'll need to put the steam wand and drip tray in place. You'll also need to fill the water reservoir. This is removable and has a large handle, so it's easy to fill and move around the kitchen. Before you brew any proper coffee, I'd recommend running one coffee cycle through to get rid of any factory dirt which might be in the machine.
KitchenAid uses a ThermoCoil system to heat the machine up in 45 seconds, rather than slower, louder boilers. When I read this on KitchenAid's website, I didn't believe it. However, according to my timer, the lights stopped flashing after 41 seconds. That's hot stuff. It also didn't get any louder than 62 dBA. At times, I recorded 72 dBA, but this isn't much louder than a normal conversation.
Once you're ready, this espresso machine will do most of the hard work for you. All you need to do is use the plastic coffee scoop to put 0.63 oz of ground coffee in the portafilter. A scoop isn't the most accurate or consistent way of making coffee. I would recommend investing in some coffee scales like these from QVC and measuring 0.63 oz of ground coffee into your portafilter.
If you really care about your coffee, I would also suggest buying KitchenAid's coffee grinder, which is available at Best Buy. Freshly ground coffee is a whole new world of flavors. Once you've moved across to grinding your own coffee, you'll never go back. KitchenAid has specifically designed this grinder to pair with the espresso machine, because, unlike more expensive models, this doesn't have an integrated grinder.
Our team of experts have tested the KitchenAid coffee grinder in our dedicated test kitchen and they loved it. Placing the two appliances, side-by-side on your countertop will make for a chic and complete coffee station.
Tangent aside, once your grounds are in the portafilter, you can use the tamp to compress them. Be firm and consistent with how you tamp and you will get a consistent cup of joe. After tamping, you can lock your portafilter into place. The espresso machine is heavy enough to hold its place when I locked the portafilter in. Normally I need a precautionary hand on top to hold the machine onto the countertop. However, this machine is sturdy enough on it's own, freeing up the top panel as a warming rack for your coffee mugs.
First, I made an espresso. These intense shots of coffee are the most straightforward way to tell whether an espresso machine can conduct the perfect extraction. KitchenAid says that they use a pre-infuse setting to help reduce the acidity of your coffee. Again, this is no gimmick. I was really impressed with my espresso. It was full of bold flavors, but also really smooth. The nutty and chocolatey flavours really shone through in my coffee. I would expect in an espresso machine, but I wasn't prepared for how good the KichenAid would be.
The steam wand produces both hot water and steam. It's really intuitive and simple to switch between settings. At 182 degrees Fahrenheit, the hot water is on the cool side, but I would rather have it that way than hot enough to burn my coffee.
When I frothed milk, the steam wand was easy to use. It doesn't have full 360 degrees of rotation. Instead, you can move it out far enough for your coffee mug, but not superfluously high. It actually makes the espresso machine easier to store.
Although it was slow to start up, I made some silky, glossy milk with the steam wand, so I was pleased with the results. If you aren't a barista, it's worth doing some research into milk frothing so that your milk isn't too aerated or gritty. Essentially, you need to angle the steam wand in your milk until you hear a ticking noise. This is air being drawn into your milk, whilst the steam creates a vortex. You can lower the jug or submerge the steam want to either cool or heat your milk. Once the stainless steel jug is too hot to touch, your milk is ready.
When I poured my milk into the espresso, I was struck by how naturally sweet my coffee tasted. The milk complemented the chocolate notes really well, especially when I used oat milk.
Should you buy the KitchenAid espresso machine?
If you like stylish, hands-off espresso machines, you'll love the KitchenAid. It's reasonably priced and not too big for small kitchens either. The only downside is that you'll have to buy a separate grinder. I used this coffee machine in my kitchen for a month and now that I don't have it, I really miss it. I think I need to get one back on my countertops.
Laura is the eCommerce Editor for Homes & Gardens. Before joining Future, she studied English at Oxford University. Alongside her studies, she qualified as a barista and has since tested all of the best coffee makers on the market.
We test all of our products ourselves, using our team of experts. We make notes on all aspects of the espresso machines that we test, from how they sit on the countertop, to how easy they are to clean. We'll praise special features and point out any flaws of fiddly parts of the process.
Laura, a qualified barista, took the KitchenAid espresso machine to our test kitchen where she made (and consumed) over ten coffees. Lots of coffee shakes later, she reflected on her experience and wrote this review for us. She now has the KitchenAid in her kitchen, so will update this review with any other information that you need to know. To learn more about our process across reviews and buying guides, you can take a look at our explanation of how we test.
For style leaders and design lovers.
Laura is the eCommerce Editor for Homes & Gardens. Before joining Future, she studied English at Oxford University. Alongside her studies, she qualified as a barista and worked with coffee for over three years. Outside of caffeine kicks, Laura writes about design and interiors at Homes & Gardens. She's always looking for stylish ways to integrate appliances into your home, but is also passionate about home fragrance. As a trained Master Perfumer, she has experience working within the luxury perfumes, so she always prioritizes quality and style over quantity and fads.