Eufy RoboVac X8 robot vacuum review
A powerful little sweeper packed with intelligent tech, the Eufy RoboVac X8 is a smart choice for busy homes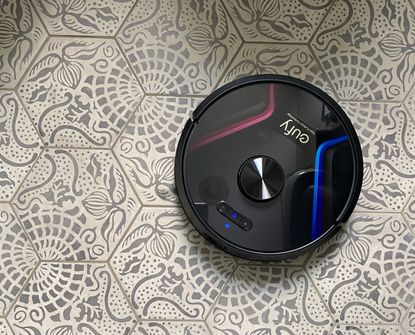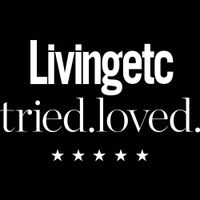 (Image credit: Future / Linda Clayton)
The Eufy RoboVac X8 is a seriously impressive little robot that makes light (and fast) work of cleaning all flooring types. It didn't get stuck on any of our rugs, even the deep pile, and emptying the bin and maintenance was a breeze. For the money (an absolute bargain given the spec), the Eufy RoboVac X8 is hard to beat.
Reasons to buy
+

Great cleaning results

+

Excellent mapping skills

+

Zone and spot cleaning

+

Easy App control

+

Amazing value for money
Reasons to avoid
-

Navigation can be hit and miss

-

Scheduling a bit basic
The Livingetc Newsletter
For style leaders and design lovers.
Thank you for signing up to LivingEtc. You will receive a verification email shortly.
There was a problem. Please refresh the page and try again.
Just as dishwashers removed the tediousness of washing up from our groaning list of household chores, the best robot vacuums are revolutionising floor cleaning. If you are looking to tick vacuuming the floors off your daily to-do list, our Eufy RoboVac X8 review is worth a read.
With a large extension completed during lockdown, our ground floor living area has almost doubled and is now somewhere in the region of 100sq m. Being completely level means it is well suited to a robot vacuum – without having to manually lift the machine to different floor levels. Working full time, with two young girls, three dogs and a house rabbit to look after means time is precious so I was delighted to test out the Eufy RoboVac X8 for just under four weeks.
I was mainly interested to find out how well it would pick up dust and dog hair on our various floor types – we have porcelain tiles, terracotta tiles, laminate planks, solid wood and wool carpet, plus two rugs. But above all, I wanted to know if the Eufy RoboVac X8 was truly automated. Is it really possible to cross vacuuming off the chores to-do list for good? Read on to find out.
Spec:
Power source: 14.4v Li-ion 5200 mAh battery
Dimensions: Dia.34.5cm x H9.8cm
Weight: 3.5kg
Controls: EufyHome App; Alexa; Google Assistant
Dustbin capacity: 600ml
Battery life: Up to 180 mins
Floor coverage: 180sq m (in single charge)
Charging time: 240-300 mins
Speeds: 4
How easy is the Eufy RoboVac X8 to set up?
If you've never set up a robot vacuum before, this is the perfect one for you. Set up couldn't be simpler. When installing any robot vacuum, it's wise to start by tidying away any trailing cables around your home and, handily, the Eufy RoboVac X8 comes with a bag of cable ties for this purpose. Next place the charging base on the floor, against the wall (somewhere near a socket and with 1m clearance either side and 2m clearance in front is perfect) and plug it in. Being a neat freak, I appreciated that any excess power cable can be folded inside the base out of sight. I left the Eufy RoboVac X8 to charge for a couple of hours before downloading the EufyHome App and setting up the WiFi connection by following the intuitive on-screen instructions.
There are basic controls on the top of the Eufy RoboVac X8 itself, but to enjoy full functionality and convenience, the EufyHome App is the way forward. I also connected it to Alexa by linking the App with my Amazon account (again an easy process): "Alexa, ask RoboVac to start cleaning". Next, I set up a daily cleaning schedule at 7.30am weekdays, 9am on weekends. Then finally I changed RoboVac's name to Eric, just for the craic!
What is the Eufy RoboVac X8 like to use?
With any robot vacuum, it usually takes a few days for the robot to complete a decent map of our ground floor, which isn't the easiest space to navigate around (too many doorways and probably far too much furniture). The Eufy RoboVac X8 mapped the whole 100sq m space in its maiden voyage and I was seriously impressed by the accuracy of the resulting map. This is thanks to something called iPath Laser Navigation – you can see the laser swivelling around on the top of the robot, like a demented eye. I've reviewed eight robot vacuums in the past five years and the Eufy RoboVac X8 (the cheapest by far) beat them all in terms of mapping speed and accuracy.
The Eufy RoboVac X8 continues to update the map every time it cleans, and once it has covered the full floorplan, you can use the App to give each room a name. This makes individual room cleaning easier as you can just tap on the room you want and press the start button. If you want the Eufy RoboVac X8 to clean a specific area in a room, for me that was usually under the table when my children had finished breakfast, you can do a Zone clean. Click on the Zone button and draw a square on the map roughly where you think the mess will be, press clean and leave the robot to get on with the job. For a Spot clean of a very specific area that's very messy (post croissant feasting perhaps), again just tap the area on the map and the Eufy RoboVac X8 will ramp up the power and go over it several times.
How good is the Eufy RoboVac X8 at cleaning?
The main indicator of a robot vacuum's cleaning prowess has got to be when emptying the dustbox, which, reassuringly, was pretty full every morning. I could go two days without emptying it, but not a moment longer. In our defence, we do have three very hairy, permanently moulting dogs, a very fluffy Lionhead house rabbit and two very hairy young girls (on their heads, they're not part-Yetti).
I could also see that the floors were clean of course, and that it did an excellent job of getting right up to the skirting boards and into corners, thanks to a long-limbed twirling brush head on one side. The only thing that I noticed would occasionally escape the Eufy RoboVac X8's twin-turbine suction clutches was the stray fir tree twigs the dogs invariable bring home in their tails after our daily woodland walks. They're not very big or too long to physically be sucked inside but presumably they were too heavy. Whatever the reason, the Eufy RoboVac X8 preferred to leave them for me.
To double-check the Eufy RoboVac X8's dust-busting abilities, I did a quick (not particularly scientific) flour test on the laminate flooring in the girls' playroom. It performed brilliantly, tracking back and forth until pretty much every speck of flour had gone and then vacuumed up the trail of flour its wheels made on the adjacent rug, too.
What extra features are included and are they worth it?
One of my favourite features – power control – may sound uninspiring but if you work from home, you'll soon appreciate it too. There are four suction options, Pure, Power, Turbo and Max, and the noise levels vary hugely between them. As the majority of our flooring is hard (only the living room is carpeted), we can get away with the lower Pure setting in the main, which was impressively quiet and didn't disturb me while I was tapping away deep in thought. What's more, there's a button on the App called BoostIQ, which when activated means that the Eufy RoboVac X8 will automatically adjust the power according to the flooring type. So, when it wheels onto the rug in the kitchen, you can hear the power increase in order to capture any ground in dust and dirt. Luckily the rug isn't very big so the noise soon dials down again.
The Voice Prompt is so useful. Some robots provide an error code when things go wrong, leaving you to look up what it means each time. But the Eufy RoboVac X8 tells you exactly what's up, for example "Side Brush Stuck" or "Right wall sensor needs cleaning". Since ours was called Eric, naturally I changed our female voice cues to male (you can also change languages)! It would be nice to have an "Empty the dustbin" cue, too, but I quite liked checking to see how much was in there so never forgot to empty it.
I also rate the Virtual Wall function on the App, which allowed me to make two chairs in our kitchen a 'restricted area', essentially cordoning them off without the need for physical Boundary Strips. This was helpful because the Eufy RoboVac X8, like every robot vacuum I've ever tested, got grounded on the legs of those particular chairs and if I was out of the house and couldn't rescue it, then vacuuming halted until I returned. Annoying but easily resolved by setting up a Virtual Wall.
If you have split-level living, you'll be glad to hear that the Eufy RoboVac X8 has built in cliff edge sensors that automatically stop it from plummeting off the edge of any steps. The Eufy website recommends the use of Boundary Strips (sold separately) as an extra precaution, but I tested the robot at the top of our staircase, and it stopped automatically and turned around when it reached the edge. No suicidal/Lemming tendencies in evidence.
Is it easy to empty and maintain the Eufy RoboVac X8?
It couldn't be simpler to empty and maintain the Eufy RoboVac X8. The dustbox detaches with the press of a button then flips open wide to be emptied. The filter then clips out and you just bang it on the edge of the bin to dislodge fine dust. You can also wash it when things get really bad, and use the spare filter provided until it is dry again. The roller is really easy to remove for unclogging the inevitable hair build-up and the brushes can also be replaced when they wear out.
Is there any reason not to buy the Eufy RoboVac X8?
I had a couple of niggles that stopped me from giving the Eufy RoboVac X8 a full five-star rating. Firstly, it would be nice if there was the function to schedule which rooms were to be cleaned. Since some rooms get more use than others, it's not really necessary to vacuum them all every day but if I want to use the daily scheduling option then it's all or nothing.
The other niggle was with navigation, which could be a bit hit and miss at times. For example, if I sent the Eufy RoboVac X8 to clean the living room, it would sometimes spend 30 minutes roaming the dining room (in the opposite direction) first. Other times it would fail to locate the charging base, claiming an imaginary obstruction. In the main, approximately 80% of the time, the Eufy RoboVac X8 could find its way around perfectly happily but annoyingly it usually got lost when I wasn't home, which meant the job didn't complete or the wrong room was tackled. This could all be a matter of learning but after four weeks of daily use, the Eufy RoboVac X8 still occasionally lost its way.
Livingetc verdict: should I buy the Eufy Robovac X8?
There is no doubt that the Eufy RoboVac X8 is an excellent robot vacuum, does the job well and with precious few technical issues. It is priced at mid-level but far exceeds expectations. In fact, it scored better on cleaning, mapping and all-round effortlessness than some of the robot vacuums I have tested costing three times the price. If you have mainly tiled flooring, for an extra $50/£50 you could get the Eufy RoboVac X8 Hybrid with mopping capabilities. I have already recommended it to a few friends and will be sad when it's time for Eric to leave our crazy, but much cleaner, family home.
About this review – and our reviewer
Linda Clayton is a freelance interiors journalist specialising in kitchens, bathrooms and home tech. She is a serial renovator, currently on her fourth project, and has tested many home appliances, DIY tools, mowers and mattresses in the last 20+ years.
She was sent this product to test in a home setting for a month to find out how well it scores in a busy, pet-filled family home. The ground floor of her home is around 100sq m, split into six rooms, plus hallway, and includes every type of flooring imaginable – wood, terracotta, porcelain, laminate and carpet – making it a great testing space for robot vacuums.
We are not given any compensation by Eufy for our reviews, but may be allowed to keep the product, meaning we can test it over a greater length of time, and update if required.
For style leaders and design lovers.
Linda is a freelance journalist who has specialised in homes and interiors for the past 19 years, beginning on a trade rag for the Daily Mail Group and now writing full-time for the likes of Homes & Gardens, Livingetc, Country Homes & Interiors, Ideal Home and Real Homes. Linda is our resident mattress reviewer. She spends a couple of weeks on every mattress she tests for us, as does her ever-patient husband. In reviewing mattresses for us for more than two years, she has become something of a very opinionated expert. She lives in Devon with her cabinetmaker husband, two daughters and many pets, and is locked in an on-going battle to drag their red brick Victorian home out of 1970s swirly-carpet hell...