Why exactly you need a wet and dry vacuum, and how easy life can be when you have one
Whatever the job, whatever the mess, having a reliable dual-purpose vacuum will free up cleaning time for more enjoyable pursuits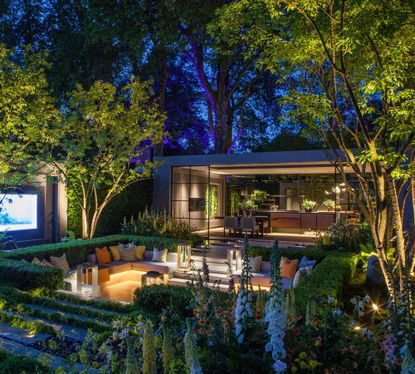 (Image credit: John Cullen Lighting/ Future)
Keeping your home pristine is no easy task and can sometimes feel like a never-ending game of catch-up. Sure, a shiny home requires a tip-top cleaning routine, but it should ideally be one that doesn't take too much time.
Appliances can help speed things up, but adding another one to your cleaning arsenal may not feel high on the priority list right now. We're here to tell you otherwise.
Just think about it, all those messier jobs that you're not sure how to tackle – getting rid of sludgy leaves from guttering, removing pet hair and mud from the back of the car, clearing fallen foliage from the patio, removing ash from around the log burner, or cleaning up a glass of spilled milk (read: wine!). Whatever the messy job (and the list is endless), using your regular vacuum cleaner just isn't going to cut it – especially if the job's outside.
Let's take you through how a wet and dry vacuum cleaner works, what it can handle and why it will change everything.
How does a wet and dry vacuum work?
It might look like a regular vacuum cleaner, but this version is a whole lot tougher. It's like the don of vacuum cleaners. Designed for inside and outside your home, it will deal not only with dry dust and debris but also with liquid spills. The best way to think about the jobs it can tackle is to think about the jobs that your regular indoor vacuum cleaner can't (but you wish it could!).
Some models consist of two separate compartments – one to hold liquids and one for dry debris – whilst many come with dust bags that you slot in when you want to carry out a dry job. Whatever model you choose, switching between dry and wet modes is simple and, with dual-purpose filters in most models, is just at the flick of a button.
To help you see what a game changer this appliance is, we've listed a few tough jobs that a wet and dry vacuum likes to get stuck into, below.
1. Indoor clean-ups
Cleaning wet spills is usually a tricky task, having to soak up the liquid with paper towels before using stain remover. With a wet and dry vacuum cleaner, sucking up wet spills – water, tea, wine, even sauces – is easy. Be sure to clean the stain in the usual way afterwards.
Food spills, too, like when you step into the dog food bowl and send the kibble flying sideways (oh, that's just me, then!) can be cleaned in a jiffy.
2. DIY tidy
Cleaning inside the shed and garage is perfect territory for a wet and dry vacuum cleaner – wood chippings, sawdust, the odd nail and screw, even cobwebs – there's plenty that you wouldn't want your regular vacuum to suck up, but is a doddle for a wet and dry machine.
After a decorating project, too, with sawdust, dried paint, and other DIY messes can swiftly be picked up. It's always best to check with the manufacturer of the model you purchase, on what exactly you can and can't suck up.
3. Pet-related pick-ups
Most of the time our beloved animals can't put a paw wrong, but at times they can cause a right ol' mess. From dropping food around the house and knocking over drinks, to leaving muddy pawprints and shedding hair about the place. And whether it's the car, the patio or indoor floors, a wet and dry vacuum cleaner is ideal at getting your space pet-free clean.
It's not just your own pets that you have to clean up after, you may find evidence of a fox digging the flower beds and leaving soil all on the path. Or, the birds have scattered seeds from the feeder everywhere.
4. Garden glory
Outside is where the wet and dry vacuum cleaner comes into its own. Getting your patio looking sharp takes no time at all – making set-up for an alfresco party easy and stress-free. A wet and dry vacuum will pick up debris, leaves, twigs and rogue soil from patios and paths promptly, so you can get back to hosting.
Most models come with blower-functions as well, so clearing fallen leaves in the autumn is a breeze.
5. Seriously tough tasks
Other grimy jobs, like ridding sludgy old leaves from the guttering, removing algae from the bottom of the pond (and the water before that), cleaning the mess left around the fireplace from soot and kindling, or unblocking clogged sinks can all be tackled with a wet and dry vacuum cleaner; these are the jobs that are heavy duty and require the extra power of an advanced appliance to efficiently clean up.
The bottom line is that whatever job you need to tackle, a wet and dry vacuum cleaner will make it a whole lot easier and quicker for you. Leaving you with more time to do the important things in life for yourself, your family and your friends.
The Livingetc newsletter is your shortcut to the now and the next in home design. Subscribe today to receive a stunning free 200-page book of the best homes from around the world.
Lizzie Hudson is an experienced interiors magazine editor, and has worked in the industry for years. As well as being the editor of House Beautiful and a staff member at Style at Home, she regularly contributes to Livingetc and Homes and Gardens. She is now freelance and an expert reporter on all things style related