Sarah Sherman-Samuel has gone all in on this big outdoor wellness trend - but is it worth the investment?
Committing to this wellness trend is a big ask for a backyard, but it could change how you live your life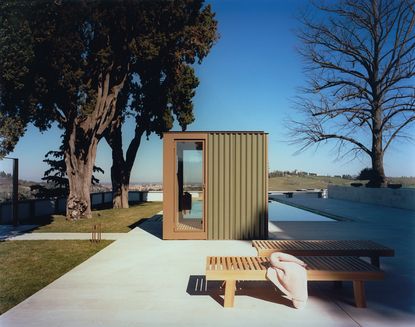 (Image credit: Perfect Wellness Group)
The Livingetc Newsletter
For style leaders and design lovers.
Thank you for signing up to LivingEtc. You will receive a verification email shortly.
There was a problem. Please refresh the page and try again.
Saunas are hot right now, if you'll pardon the pun. Everywhere I look there is another person posing under the luminous orange light against natural wood paneling, boasting their health and wellness benefits. Eager as I am to get on the bandwagon and emulate this uber-fit lifestyle, the thought of slugging to a shared sauna facility is off-putting.
Thankfully a market has been created for at-home saunas that are practical and ever so chic. Interior designer Sarah Sherman Samuel recently shared her beautiful at-home sauna that has made us extremely jealous. Not only does it offer the intended purpose but also adds a luxe feature to your outdoor space, perfect for a modern design-led backyard.
This outdoor wellness trend is all the rage, we spoke to the expert behind the Perfect Wellness Group, Federico Checo, to find out more about the trend.
What are the health benefits associated with saunas?
Saunas and heat therapy in general are well-known powerhouses in the wellness industry. As our science has become more advanced we have access to more evidence to support these claims. in recent months this has meant a surge in interest in saunas and cold plunge tubs.
'The health benefits of sauna are well-documented and have been utilized since ancient times,' says Federico. The sauna has long been a strong cultural feature of life in Eastern Europe, which continues today. Knowing the historical legacy of heat therapy makes us all the more interested in its possible benefits.
'Sauna can relieve tension and anxiety, release toxins from the body through sweating, improve heart health and circulation, and aid in muscle recovery post-workout,' explains Federico. With all those benefits, what's not to love?
If you are drawn in by the benefits the design will quickly have your vote of support confirmed. 'The outdoor sauna, specifically, can also serve as an element of design on a patio, lawn, or terrace,' he says, 'and can also provide a luxurious outdoor experience even during the colder months.' There is something so irresistibly lavish about slipping into the warmth after walking through the icy winter air that we can't get enough of. No need to jet off to the mountains for this alpine experience.
Why do you think people are investing in outdoor saunas?
As the benefits become more prevalent, an increasing number of people are looking into the possibility of investing in at-home saunas for a range of reasons. And with all the available options they have even become a great small backyard idea.
'People are craving the sauna experience at home,' says Federico, 'whether through necessity or because it is becoming more of a status symbol.' This accounts for the fact that my Instagram feed has been littered with images of infrared saunas and bodies covered in beads of sweat.
Whilst many of us have only experienced a sauna inside a gym or leisure club, historically they were intrinsically linked with the outdoors. As we look to re-engage with nature after a tumultuous time under the pandemic this link has been re-emphasized. 'The outdoor sauna is now more accessible and is more of an immersive experience when you can take a sauna with a beautiful view, and afterward, exit into a cold outdoor temperature (if it's winter), jump into the snow (as per the real Finnish tradition), or into the pool,' he explains.
People are also exploring saunas as unique backyard features that serve as a focal point, which is almost certainly what Sarah Sherman Samuel was going for with her design.
What features should we be looking out for?
In the health and wellness sphere, there is a lot of jargon to get caught up in. It can be confusing and overwhelming, especially when you are thinking of investing in one of your own. Sauna expert Federico has broken down the key things you should be looking out for when considering your purchase.
At-home saunas don't need to be complicated. 'Our outdoor saunas are basically "free-standing" houses with a metal structure and 3 layers of insulation,' he says. 'The Cabanon is very simple and easy to install, it is meant to be "plug and play", without the need for a contractor.'
There are a few technical considerations to keep in mind, as well as some fun design choices to make like when you build a backyard office. 'When choosing a sauna, the most important aspect is the type of heater,' he says. 'The Cabanon is a traditional Finnish sauna with characteristic heaters with stones.' Other options include wood, gas, and electric heaters, the type you choose mainly depends on location, budget, and personal preferences.
'The type of wood is another thing to look out for, which is mainly aesthetic, but can also contribute to the overall experience you prefer. Cabanon is a complete system that comes fully accessorized, and with Effe cabins, customers can also add chromotherapy, a Bluetooth music system, and the cabin can also be controlled remotely with the Effe app. The Cabanon can also be customized with a built-in "patio" where you can sit and relax after taking a sauna,' he explains.
All accessories help to contribute to the ultimate at-home spa experience, but of course, are entirely up to personal preference. When making a large investment it is always important to consider all options and do your research. With that said, we have been totally convinced that a sauna should be a feature of every modern backyard.
For style leaders and design lovers.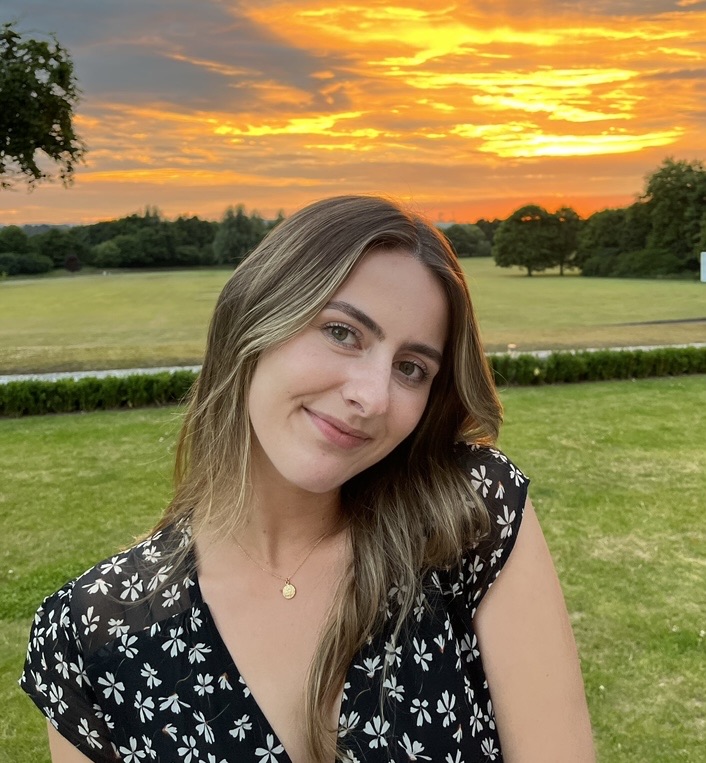 Amy recently completed an MA in Magazine Journalism at City, University of London, with experience writing for Women's lifestyle publications across arts, culture, and beauty. She has a particular love for the minimalist aesthetic mixed with mid-century furniture, especially combining unique vintage finds with more modern pieces. Her previous work in luxury jewellery has given her a keen eye for beautiful things and clever design, that plays into her love of interiors. As a result, Amy will often be heard justifying homeware purchases as 'an investment', wise words to live by.