This interior designer's once drab velvet sofa now looks brand new – the secret? A self-mixed fabric paint
Thanks to a bottle of fabric paint and some custom furniture legs, this interior designer's sofa is now almost totally unrecognizable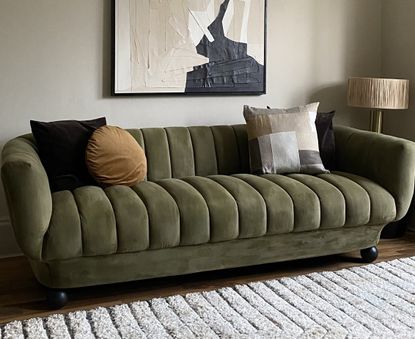 (Image credit: Emma Carberry (@formandbalance))
Are you tired of your sofa? Do you want to switch up the color without splashing out on a brand new one? Or maybe you want to restore the fading fabric of your retro sofa to its former glory? If so, you might want to consider giving it a fresh lick of paint.
Yes, you heard that right. You can paint your sofa just as easily as you would your walls all thanks to the wonder that is furniture paint (and it costs a fraction of the price too).
That's exactly what interior designer Emma Carberry has done with her grey velvet sofa, which is now a rich and sumptuous olive green shade that brings a burst of color to her space. Sharing the transformation on her Instagram account, Emma shows just how simple it is to elevate your living room sofa with nothing but a bottle of paint and some custom furniture legs. Of course, it's the sort of furniture hack we couldn't resist sharing. Here's how she did.
Emma is an interior stylist based in Glasgow, Scotland, and the founder of the design service and homeware brand, Form & Balance. With over 15 years of multi-disciplined styling experience, she's worked with both individual clients and independent brands right through to global companies helping to curate beautiful spaces that have sustainability at their heart. Alongside her online lifestyle store and styling work, she spends her days juggling a never-ending renovation and a growing family.
How to paint a velvet sofa
As an interior designer, Emma knows a thing or two about how to inject character and charm into a space that's dull and drab but her sofa hack is one of the simplest solutions we've ever seen for a living room - and we're itching to try it.
She bought the velvet sofa, which was originally light grey, from a warehouse sale. While it wasn't in the best shape, Emma, who's the founder of interior design service and homeware brand Form & Balance, had a vision from the outset.
'It was badly damaged at the back, ripped underneath, and had a few dark spills on the side but I knew it had potential due to the size and gorgeous shape of the arms,' she explains. 'I love upcycling pieces to compliment my home and I don't feel that you have to buy new to do this.'
At first she considered upholstering the sofa herself, but she soon realized the job would be a costly one and due to the unusual shape of the sofa, she wasn't confident that she could do it herself. 'After some research I came across Fabricoat upholstery paint,' says Emma. 'I was really hoping for a deep olive color but it wasn't available so I decided to mix my own like you would with normal paint.'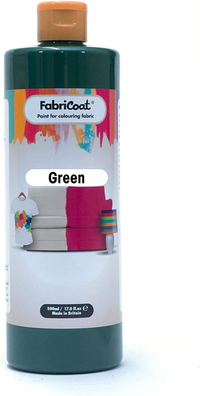 FabriCoat fabric paint in green, Amazon
This upholstery paint from the Furniture Clinic, available at Amazon, is a brilliant option if you want to restore or switch up the color of your furniture. It's super easy to apply and doesn't change the texture of your fabric or transfer onto clothes. Use it on any fabric item from chairs and sofas to curtains and carpets.
For the less upcycling savvy among us, the thought of painting your sofa is about as daunting as it gets, but Emma assures us that her living room DIY project is in fact far easier than you'd think.
You'll want to start by giving your sofa a good vacuum and a clean with a damp cloth. (You'd be surprised at just how much dust they collect...) Although the Fabric Clinic's FabriCoat paint comes in 28 different colors, you want to mix them to achieve your desired shade, just as Emma has done. To get her deep olive hue, she used 0.5 liters of Fabricoat in the shade Olive with about one fifth Dark Brown.
In terms of coverage, she used two liters for her velvet three-seater sofa, as recommended by the Fabric Clinic's instructions. Piled fabrics like velvet, faux-suede, and chenille will need twice as much product because of the greater surface area of the material.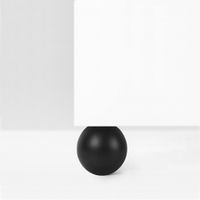 Otto furniture legs, Pretty Pegs
This globe-shaped furniture leg from Pretty Pegs makes for a stylishly modern sofa. With a slight oval silhouette, it's designed to add boldness and sophistication to your furniture, be it a bed, sofa, or table.
Before you begin painting, you'll need to use a spray bottle to dampen the area to help the paint adhere to the fabric. Once damp, you can then brush or sponge the paint onto the sofa. The trick is knowing how to paint furniture properly: for the final brush stroke, Emma recommends going in the direction of the fabric to help keep a tidy finish, especially if it's a piled fabric. While the paint is still wet, you can then go in with an upholstery brush to even out the paint distribution and ensure the fabric keeps its softness.
Once you've covered your sofa, leave it to dry before repeating with another coat. Emma used two coats plus some additional touch-ups, but if your original material is darker in color then it might take more.
'I found the best way was to keep the fabric slightly damp and keep brushing the fabric using an upholstery brush between coats,' Emma advises. 'When the first coat went on I panicked cause it was looking a bit patchy and felt quite stiff however, by the second coat it was looking and feeling exactly the way I wanted it to.'
Emma went the extra mile with her sofa by stapling a layer of dark fabric underneath, but this step is optional (and unnecessary if no repairs are needed). She also added custom feet to lift her sofa off the ground and give it her own personal twist. Their spherical design gives her seating a modern touch and blends seamlessly with her wood flooring.
'I absolutely love how the sofa turned out,' she explains. 'It feels like a modern statement piece and it goes perfectly in our space along with all our other second-hand and up-cycled pieces. Proof that it's amazing what a coat of paint can achieve.'
Lilith Hudson is the Junior Writer on Livingetc, and an expert at decoding trends and reporting on them as they happen. Writing news articles for our digital platform, she's the go-to person for all the latest micro-trends, interior hacks, and color inspiration that you need in your home. She discovered a love for lifestyle journalism during her BA in English and Philosophy at the University of Nottingham where she spent more time writing for her student magazine than she did studying. Lilith now holds an MA in Magazine Journalism from City, University of London (a degree where she could combine both) and has previously worked at the Saturday Times Magazine, ES Magazine, DJ Mag and The Simple Things Magazine.