Houses designed by Livingetc are soon to be for sale
Register interest now to view show homes designed by Livingetc for FABRICA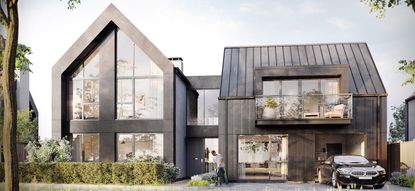 (Image credit: FABRICA)
New year, new start, new house? If you're hankering after a bit more space – perhaps some double-height ceilings, full-length windows and some serene green views – then our new modern interior design project could be right up your street.
Or at least, up a street that just happens to lead to a quiet and architecturally incredible new development in Cranleigh in Surrey.
Livingetc is excited to announce that we have partnered with FABRICA at Amber Parkside, designing the interiors of this exciting development's show homes. It's a brand new collection of two, three, four and five bedroom houses, all with considered layouts that lend themselves perfectly to our contemporary aesthetic.
We've been delighted to see how well the spaces work with our take on modern design, and they could be the ideal backdrop for you to make your mark, too.
To decorate, we've used brands such as Andrew Martin, Julian Chichester, Little Greene and Lights and Lamps, and been so pleased with how they have all sat together in these wonderful homes.
We'll reveal more pictures soon, but for now register interest and find out about scheduling a viewing at amberparkside.com.
Shining a spotlight on the now and the next in home design and decor, Livingetc is the UK's best selling high end and contemporary home design magazine. As a brand, Livingetc showcases the world's very best homes, breaks and makes the trends, and has access to leading international designers for insight and ideas. It was first published in 1998, and is currently edited by Pip Rich.