The early Prime Day sale includes Le Creuset rainbow mugs at 30% off
These Le Creuset rainbow mugs are £20 cheaper ahead of Prime Day. Buy them now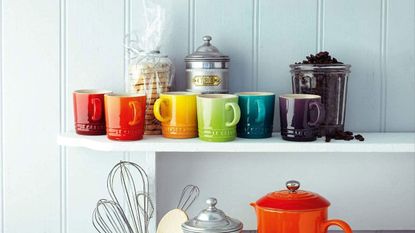 (Image credit: Le Creuset)
If you've been lusting after those Le Creuset rainbow mugs for a while now, and if you are an espresso drinker, then it's your lucky day. We spotted these classic espresso mugs – the Le Creuset rainbow ones – with 30 per cent off at Amazon ahead of Prime Day. Usually £68 for six, this set is now less than £50. They make the perfect present for any occasion, or, alternatively, they look lovely on display in a kitchen. Along with the rest of your coffee essentials, of course, from your pod holder to your glass straws and your coffee syrups...
Whether you are collecting Volcanic Orange Le Creuset cookware or you just need some fancy new espresso mugs, these ones are great. Don't just listen to us – there's a reason the Le Creuset rainbow espresso mugs (opens in new tab) are sought-after and they are always selling out online. It's also rare to find them this cheap, especially ahead of a sale, so we would recommend snapping these mugs up now to avoid disappointment, should they sell out come Amazon Prime Day 2021, that is. They'll also more than impress guests when they're over for breakfast or brunch.
Donate those lacklustre espresso mugs that are currently lurking in your kitchen cupboard to charity, and upgrade them for these Le Creuset ones below. You can't go wrong...
Head to our Amazon Prime Day page for 35 Amazon home decor hidden gems you don't want to miss.
(opens in new tab)

(opens in new tab)
Le Creuset 79114108359030 Set of 6 London 100ML Espresso Mug | £68 £47.80 (save £20.20) at Amazon (opens in new tab)
What are you waiting for? These classic Le Creuset rainbow mugs are perfect for enjoying your morning caffeine fix, for serving guests a post-dinner sweet or for an afternoon espresso. They even come gift wrapped if you have an occasion in mind, while Prime members can take advantage of fast delivery. These espresso mugs can be on your doorstep tomorrow if you order them today.
Le Creuset rainbow mugs – what to know before you buy...
These stoneware mugs are made of strong stoneware to make them freezer-safe, chip-resistant and dishwasher safe. You'll have them for years. They come in a box of six and range in colours from Cherry to Volcanic, Soleil, Palm, Teal and Ultra Violet. The best part? They retain heat very well to keep your espresso warmer for longer – they can withstand up to 260ºC. They're not just pretty, clearly.
These espresso mugs arrive all wrapped and ready to open – or gift to a loved one – and there are matching rainbow egg cups as well as ramekins, tea mugs and more available. Why not complete the set? Or start a new set. Tempting...

(opens in new tab)
Le Creuset 79114108359030 Set of 6 London 100ML Espresso Mug | £68 £47.80 (save £20.20) at Amazon (opens in new tab)
Hurry to grab this deal and don't miss out on this impressive saving. This indulgent yet affordable purchase won't be around for long...