This new IKEA collection is a budget-friendly take on one of my favorite luxe interior trends right now
IKEA has teamed up with designer Sabine Marcelis for a collection that draws inspiration from her iconic $2,000 doughnut chair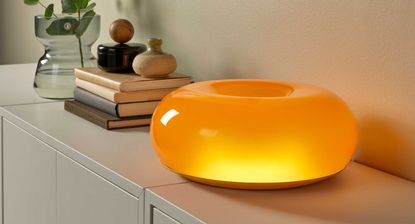 (Image credit: IKEA)
There's a cool new shape making waves in the interiors world right now – the doughnut. It's something that's been on my design radar for a little while, after interiors brand Hem released a brilliant doughnut-shaped pouf last year that really captures a particular mood that's trending in interiors right now.
When news of IKEA's latest designer collaboration dropped into my inbox, it instantly reminded me of this particular piece of furniture, and for good reason. IKEA has teamed up with the same designer, Rotterdam-based artist Sabine Marcelis, on this collection, with her now signature doughnut motif recurring for a stylish lamp and sleek glass serving ware.
IKEA is well-known for its designer collaborations, having created collections with pioneering designers and artists including the likes of Ilse Crawford and Virgil Abloh, bringing their ideas and design ethos to the mass market, making their designs accessible to a greater number of people.
That's what this limited edition VARMBLIXT does too. While Hem's Boa Pouf is likely to set you back around $2,000, this collaboration allows you to embrace this interior design trend with starting price points that won't make your bank manager wince.
Hugh is Livingetc.com's deputy editor, and an experienced interiors journalist. Here, he gives his verdict on the latest designer collaboration from Swedish super-brand IKEA.
Why are doughnut shapes trending?
I'm viewing the doughnut as an evolution in the shapes we're using in our homes. Recently, interior design trends have been leaning into organic, fluid shapes, but with any trend, there comes a reaction, and we're starting to see designers look at more structured lines in new and exciting ways.
The doughnut sits somewhere between the two. It incorporates the softness of curved lines, while still having a sense of clean-lined minimalism. 'I have this fascination and love with the doughnut shape,' Sabine said, when launching her pouf collaboration with Hem. 'It's just such a perfectly complete and finite shape. Simple yet not boring. And the curve and void create a beautiful depth in almost all materials.'
It's also a form that's contributing to some of the biggest online trends in design. It's a great shape to feed into the Y2K trend - echoing the fluid yet firm shapes that make up the furniture that define this era, especially in the Boa Pouf's sugary pastel color palette. It calls to mind viral sensations like the chunky serve ware and so-called 'bubble plates' that Gen Z design influencers are bringing into the spotlight, too.
What does Sabine's IKEA collaboration include?
If you're looking to shop the doughnut trend in Sabine's IKEA collaboration, you'll find a table lamp and a large and small glass serveware as part of this collection.
Interpreting this shape in glass brings a new quality to the form, as Sabine explains. 'When the light passes through the orange glass, it makes the soft doughnut-like shape shine with a warm glow,' Sabine explains. 'It's a magical sight that catches the eye – regardless of whether it's on a table or hanging on a wall.'
While these doughnuts may be the headlines, the collab is actually a 19-piece collection that includes drinking glasses, vases, coffee tables and LED lighting.
While the collection is a limited edition, the four pieces of lighting will remain in IKEA's core range, including the doughnut-shaped lamp, the pendant and wall lamp, and the mirrored wall lamp.
3 of the best doughnut-shaped buys
Boucle decorative pillow, Etsy
This handmade doughnut pillow will bring a modern touch to a couch in neutral boucle shades.
This H&M Home classic was an early adopter of the doughnut trend, and can still be bought online.
Hugh is the Deputy Editor of Livingetc.com. From working on a number of home, design and property publications and websites, including Grand Designs, ICON and specialist kitchen and bathroom magazines, Hugh has developed a passion for modern architecture, impactful interiors and green homes. Whether moonlighting as an interior decorator for private clients or renovating the Victorian terrace in Essex where he lives (DIYing as much of the work as possible), you'll find that Hugh has an overarching fondness for luxurious minimalism, abstract shapes and all things beige. He's just finished a kitchen and garden renovation, and has eyes set on a bathroom makeover for 2023.