How to redecorate after divorce - author Rosie Green shares her tips for getting it right
The best bit about divorce? Redecorating. Rosie Green explains how to navigate this tricky time, with tips for making your home a happy place to be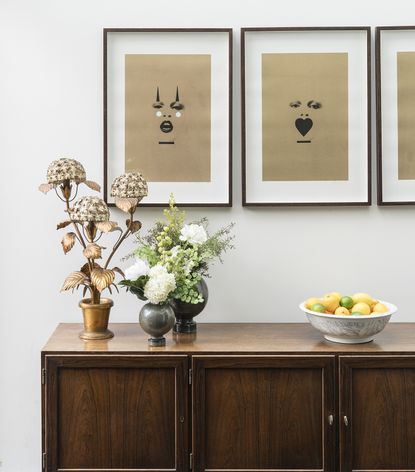 (Image credit: Future/James Merrell)
The painful effects of heartbreak are well documented. My own devastated me. I lost two stone, my mind and, it pains me to admit, my dignity. To get through it I wrote about it, drank a vineyards worth of rosé and developed a running habit.
And after the requisite amount of time ugly crying on the bathroom floor, I looked for the silver linings.
What were they?
Sleeping starfish. Control over the remote. A world of romantic possibility.
And nobody but myself to please when it came to styling my home.
No one to pull a face at any of my living room ideas, like the pretty floral wallpaper I'd always wanted. No one to mutter about the pointlessness of outside lighting. Or the practicalities of light coloured carpets. Oh and no sporting autobiographies making my shelves look ugly.
Lynne Lambourne, an interior designer passionate about affordable style (and veteran of a break up too) shares her expert advice at the bottom of this piece, and agrees. 'This is a new chapter of your life, a time to focus on what makes you happy and that includes making your home your sanctuary. Surrounding yourself with things you love will bring positive energy to your new life and a sense of control. Nobody wants to have a daily reminder of a past life so this is the perfect time to restyle your home and your life.'
Indeed.
So I took a deep breath and made myself take down the photos with my ex in.
And then set about making my space spark joy.
Here's how I did it.
Introduce cosseting textures
Yoga and somatics teacher Nahid de Belgeonne told me it's much harder to be stressed when you feel physically comfortable. For years I had been so 'busy' I hadn't bothered to put hot water bottles in beds, pull slippers on my feet or sit on a decent, comfortable sofa. Now I do all of the above. Oh and I have dug out all the luxe things I was saving for a rainy day. (Newsflash: this is a bloody deluge). The most precious of which is an Oka cashmere blanket. It's hard to feel bad or sad when I'm wrapped in this.
Swap your scent
This sense has such a powerful effect on mood. So much so that the perfume I was wearing during my break up makes me feel nauseous now. So I have invested in fresh home smells that are creating new happy memories. I love the White Company Electronic Diffuser with Spa Retreat Fragrance Oil and I've signed up to Burn The Candle membership (where you get £50 candles for £20). I'm addicted to their S.A.D. candle (which uses essential oils to evoke feelings that are anything but).
Re-think flowers
There is NOTHING that lifts my spirits like flowers. But rather than wait for someone to buy me them I'm picking blooms from the garden and putting them in bud vases. Just a few in each brightens up any room. It's maximum joy for minimum spend and fuss.
Embrace print
My ex was less than keen, but I love, love patterns; the prettier and more floral the better. Throw in a few butterflies and perhaps some birds and I'm even happier. My friend Lisa Youngs at marysinteriors.co.uk found me Augustine wallpaper by Thibaut which I have in my study and absolutely love. For the spare bedroom bedroom I've fallen for the new Willow Crossley for Barnaby Gates collaboration. And I bought a headboard for my bedroom from bakerandburkeupholstery.com in a fabric my ex would never have gone for. Heaven.
Add light
A friend of mine, who lives on her own, told me about the trick of putting lamps on timers so you don't ever come back to a dark unwelcoming space. Before I didn't ever take time to plug in lamps, put the correct bulb in and actually turn them on - instead living life in the unflattering glare of overhead spotlights. Now I do and it's so joyous. Oh and I invested in some decent fairy lights from The White Company. They weren't cheap but but a year later and they are still going strong, giving me all year round pleasure.
Lynne Lambourne's expert advice for how to redecorate after divorce
Move things around.
Rearranging your furniture can give the room a new outlook and feel. That way you won't be reminded of how you used to live, instead you have the opportunity to create new habits and use the space in a way that makes you happy.
Paint yourself happy
Paint the walls. Colours can evoke strong emotions - go for calming shades like one of the best white paints or greys to create your own happy place.
Become a houseplant addict
Houseplants bring a feeling of vitality and improve our state of mind increasing, happiness, wellbeing and lifting spirits. Indoor air quality is also much healthier due to the plants ability to pull in stale air and breath our oxygen.
Get the upcycling bug.
Money may be tight but if you need new furniture you can transform second-hand pieces from trash to treasure with a can of chalk paint in no time. Upcycling is also a great hobby to take your mind of things, painting can be so therapeutic and the results will transform your home easily. Its a win, win
Create a wall of happiness
Photos, typography, motivational quotes and pictures that you love act as a daily reminder of this exciting new chapter of your life. For a curated look in your gallery wall, try to stick to a colour palette and keep the frames to the same colour, you can always source secondhand frames and paint them using your new upcycling skills.
Order Rosie Green's book, How to Heal a Broken Heart, here.
The Livingetc newsletter is your shortcut to the now and the next in home design. Subscribe today to receive a stunning free 200-page book of the best homes from around the world.
Rosie Green has written for pretty much every lifestyle title in the UK, as well as several international titles. Beloved for her frank and honest take on family life, she regularly covers beauty, interiors, home life and happiness, too. She is a journalist for ELLE, Vogue, The Telegraph and a columnist for the Mail on Sunday. Her book, How to Heal a Broken Heart, is a best seller.