This 'dated' flooring I once considered ugly is having a renaissance both indoors and out – now, I love it
I never rated this retro flooring style before, but now it's being re-imagined in new and exciting ways, I've come around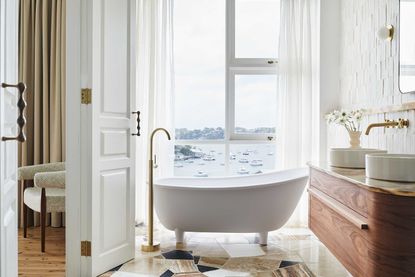 (Image credit: Alicia Taylor. Design and styling: Kerrie-Ann Jones)
The Livingetc Newsletter
For style leaders and design lovers.
Thank you for signing up to LivingEtc. You will receive a verification email shortly.
There was a problem. Please refresh the page and try again.
It's easy to forget that trends in interior design are cyclical until something you considered the ultimate in dated design has a comeback. It's amazing how you can have such an adverse reaction to a certain idea one moment - whether it's a material, a style or even just a color - and the next, you'll see something that makes you completely reconsider your standpoint.
That's how I feel about flagstone paving. Sometimes known as "crazy pavers", it's a type of flooring that in its more traditional guise, has felt outdated for many years. It's often used in backyards and around pools, but sometimes even makes its way into the house.
In theory, it should be something that fits in well with the mood of the moment and many of the most popular interior design trends. It's a way to introduce bold, organic shapes to your floor for one, as well as embracing a natural material with lots of character. However, it's a style, particularly how it's used in the US, that actually doesn't feel that natural. It has an inauthenticity - like it's paving a queue-line for a Disney Land attraction.
However, uses of flagstone paving elsewhere in the world are springing forth refreshing ideas for using this flooring concept in a way that feels both modern, and in some instances even luxurious.
Luke is a design writer and award-winning blogger, who focuses on luxury interiors. Here, he looks at how the trend for 'crazy paver' style flooring is making a comeback.
'Exterior crazy pavers are popular here in Australia,' style director Kerrie-Ann Jones explains. 'I have them myself for my outdoor balcony and around my pool in Travertine.'
'But I think designers are exploring other ways to use this pattern for interiors and I'm really loving what I've seen so far,' Kerrie-Ann adds. 'I love seeing how designers are pushing boundaries with this style of floor, mixing unusual combinations of marbles together to create an elevated flooring surface.'
So how can you make flagstone flooring feel like the right choice for 2023?
Is flagstone flooring out of style?
Standard flagstone paving can still look good, if done in the right way. Often, flagstone flooring is combined with a contrasting white patio grout, which can be a little too stark for the natural feel that's informing flooring trends right now. A softer approach to flagstone paving, like this front yard path by Spiegel Aihara Workshop, can play up its more organic qualities.
Flagstones or crazy pavers themself have a lot to offer when it comes to building character for your space. 'Crazy paving adds an unexpected and exciting feature to a home,' Kerrie-Ann says. 'I like that this style of flooring is not only beautiful and unique to look at but also durable and hard-wearing too. I never get bored looking at mine, I always find interesting details - it's like a work of art on your floor.'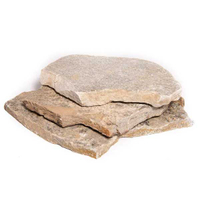 Vlassic patio flagstones are easy to find from most home improvement stores like Home Depot.
How are designers reinventing flagstone flooring?
In some instances, the darker greys and browns of traditional flagstones have been usurped by a palette of softer neutrals that help flagstone flooring feel like more of a supporting cast member for your interior scheme, rather than demanding so much attention.
This apartment, designed by Ater Architects, sees the rougher sedimentary rock usually employed for flagstones replaced by beige marble fragments. 'We decided to give up on standard tiles for the floor and the bath panel in favour of breccia - fragments of broken marble with polymer grout-filled joints,' the architects explain. It's a different take on marble bathroom flooring, but one that's undeniably effective.
In the design of this Sydney home by Australian designers YSG Studio, a different approach was used to make the flagstone flooring feel modern. A blue-ish stone was used both inside and out as part of the home's bold color scheme. In this instance, the flooring feels cool, contemporary and almost purposefully kitsch, bringing a joyfulness to the home that a plainer floor type would have lacked.
Are there any alternatives I could try?
Flagstone paving, as a finish, is a little rough and ready, but there are alternatives that capture the essence of the trend while elevating it to a more luxurious plain.
One such stone flooring idea is a palladiana floor, which has a similar layout to flagstones and is, in essence, a supersize form of terrazzo using marble. Interior stylist Kerrie-Ann Jones used the idea in the bathroom of her Sydney home to make a bold statement.
'The palladiana floor in the bathroom was inspired by my love of a neutral colour palette,' Kerrie-Ann explains. 'I am a big fan of natural marble stone and I want to create my own interpretation of the crazy paving pattern but for an interior application.'
The result is bold and unique, while still embracing the beauty of the natural materials and a neutral palette.
On a smaller scale, you could look to a flooring style like the one used in this small bathroom designed by design studio Heju, who embraced a strong color palette for this compact space. 'Pink and terracotta are our signature colors, we use them in all our projects,' explains Hélène Pinaud, co-founder of Heju. 'We really like this association which highlights the brass and the travertine opus incertum on the floor in this space.'
Opus incertum floors use irregular-shaped stones to create unusual and interesting patterns. In this case, the floor has been created using small shards of travertine, set into a bold, orange grouting. The effect again is similar to a terrazzo, but not as played out as this once trendy material that has become outdated in recent times.
For style leaders and design lovers.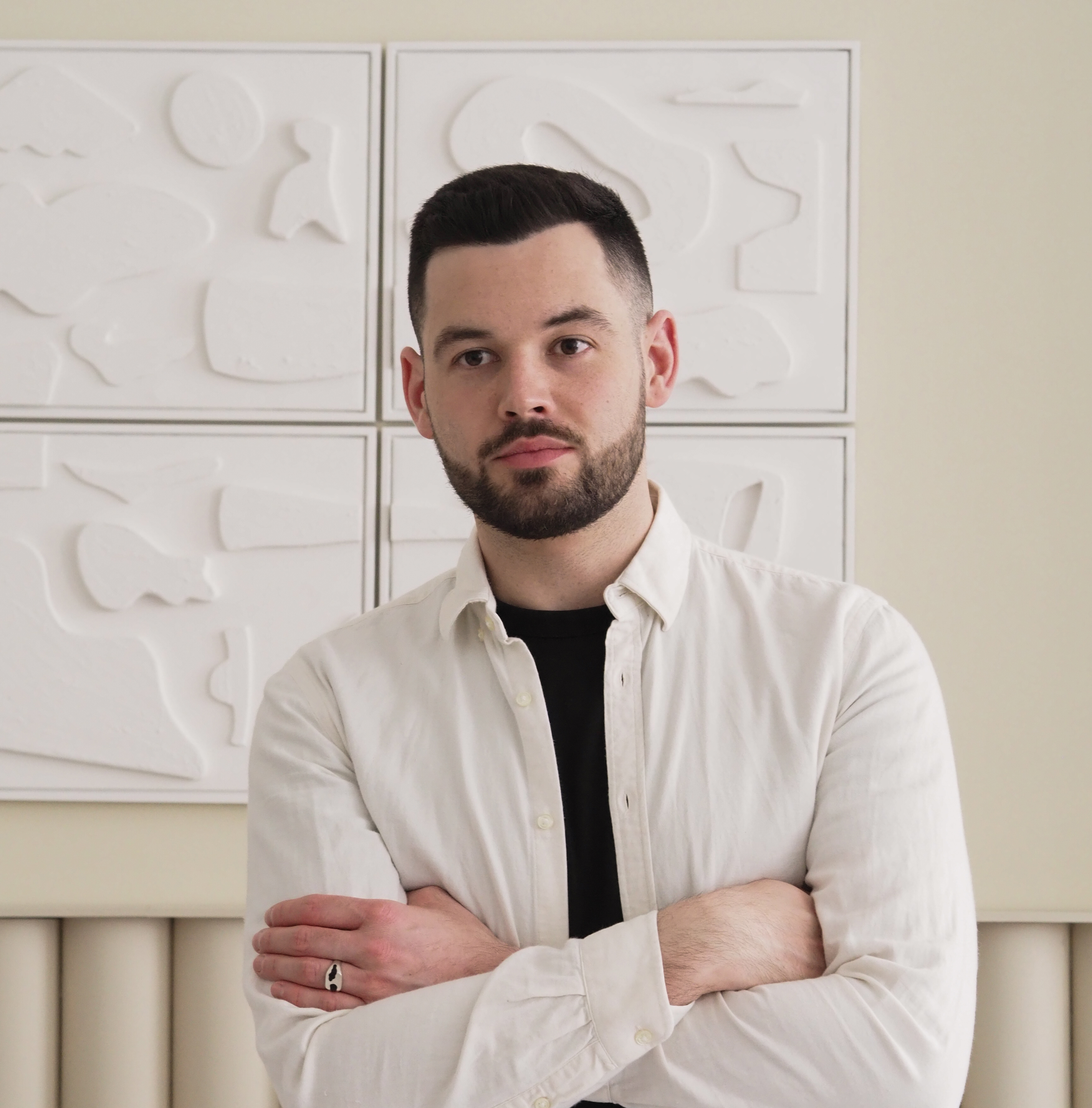 Luke Arthur Wells is a freelance design writer, award-winning interiors blogger and stylist, known for neutral, textural spaces with a luxury twist. He's worked with some of the UK's top design brands, counting the likes of Tom Dixon Studio as regular collaborators and his work has been featured in print and online in publications ranging from Domino Magazine to The Sunday Times. He's a hands-on type of interiors expert too, contributing practical renovation advice and DIY tutorials to a number of magazines, as well as to his own readers and followers via his blog and social media. He might currently be renovating a small Victorian house in England, but he dreams of light, spacious, neutral homes on the West Coast.