5 backyard trends designers are leaving behind this summer – and 5 they love instead
It's time to get rid of everything that's either giving off the wrong vibes or not contributing to the beautiful biodiverse space you crave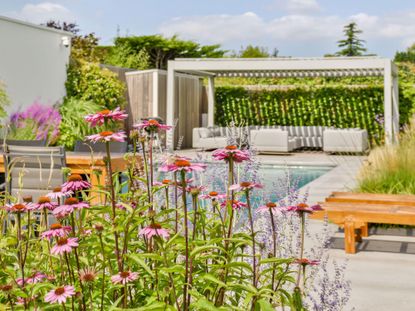 (Image credit: Addictive Stock Creatives/Alamy Stock Photo)
The Livingetc Newsletter
For style leaders and design lovers.
Thank you for signing up to LivingEtc. You will receive a verification email shortly.
There was a problem. Please refresh the page and try again.
It's time to take a fresh look at your yard and reconsider what you have chosen to surround yourself with, especially if you're in an urban setting and don't have much room to work with. Perhaps you already have items that now seem like a bad idea and you feel are backyard trends to leave behind this summer.
This probably means you're looking for inspiration on how to change something that you feel no longer works. The good news is, whether your backyard is too busy, no longer to your taste, not sustainable enough or you're simply looking to max up the serenity level, we've got you.
See if any of our suggestions for backyard trends to leave behind this summer resonate - and find out how to fix them with something so much better.
1. Monotone hardscaping
Trends in hardscaping are shifting and evolving like never before with a rush of new materials coming on to the market. One of the big changes we've noticed recently is the fading popularity of using a single type of paver for an entire patio or walkway.
'Now, people are mixing materials like stone, brick, and concrete to add texture and visual interest to their outdoor spaces,' says landscaping expert Brian Clayton, co-founder of GreenPal. 'If you have a large patio area, using just one type of paver can make it look dull and uninspired. Instead, you can create visual interest by using different paver materials to define spaces.'
Perhaps use stone pavers for the main seating area, then transition to brick pavers for a pathway leading to a garden bed or a fire pit. This helps break up the space, giving each area its own distinct feel. 'Plus you can incorporate gravel landscaping or grass strips between pavers to add texture and a more natural feel to the space,' says Bryan.
2. Water-guzzling plants
While we love the look of fashionable tropical blooms like canna lilies, strelitzia and hibiscus these lush specimens need plenty of regular watering to survive and thrive. But with the drought conditions experienced through much of the country, exotic blooms like these are now falling out of favor as we hop on the trend for rethinking water usage in our yards.
Instead there is a move towards choosing native habitat-supporting, pollinator-loving plants. 'We're noticing an increase in the popularity of native plants and wildflowers,' says Bryan Clayton. 'Plants like coneflowers, Black-Eyed Susans, and blue sage are becoming the go-to choices for many gardeners.' Not only attractive, they are also beneficial for local wildlife, and more resistant to pests and diseases.
If you still want the look of big and bold flowers, another great choice with low water needs is sunny Coreopsis, one of the best plants for dry gardens. 'This perennial is in the Asteraceae family, which includes the sunflower,' says horticulturalist Gail Pabst, who works for the National Garden Bureau. 'Coreopsis is a pollinator magnet, and the 'Early Sunrise' variety has bright yellow semi-double flowers that are about 2 inches across.'
3. Fake turf
If you're looking at options to get rid of an underperforming lawn that's struggling because of drought, try looking at species of lawn grass that will thrive in your environment. If that fails the reality is it's better to go for no lawn than faux lawn, and turn the area into planted beds with a gravel mulch.
Over the last few years faux turf has become much more realistic looking and has gained many new fans along the way. But don't be tempted. Why? Artificial grass can contribute to global warming by absorbing significantly more radiation than living grass and, to a lesser extent, by displacing living plants that could remove carbon dioxide through photosynthesis.
You may think investing in synthetic turf is a low-cost, low-maintenance garden option too but the reality is it won't last forever. Experts say good quality faux turf lasts for around 10 years, then you're back to square one. In addition, think about what happens to all that aging synthetic grass when you and everyone else is done with it. In all probability it's dumped in landfills or stockpiled.
4. Everything matching
A co-ordinated look with matchy-matchy garden furniture, identical pots, one central color theme and lots of new stuff looks way to 'try hard' in 2023. Meanwhile an eclectic global-inspired garden style is everything at the moment, and it's a great fit with naturalistic planting too.
We've all fallen for boho decor ideas in the home in recent years and now it's a key look in the garden too. Essentially it means loosening up your style. The joy is there are no rules as it's a very personalized approach. Choose from a palette of earthy, neutral colors in shades of sage green, soft yellow and dusky pink. Opt for bold patterns too, which is another key element of the boho look.
Pile rattan or wicker furniture with cushions and throws to add layered textures. Mix in floor cushions and patterned outdoor rugs, while festoon lights, garden art and decorative parasols are some of the other key elements to consider including if you want to create a personalized look.
Take whatever elements work for you. I added a fringed parasol to my own backyard which flutters joyfully when the breeze catches it. Meanwhile a worn and weathered stone urn from my local architectural salvage place easily looks 100 years old (in a good way). Both are conversation points when people visit. I'm currently working on sourcing a hammock to take that laidback look the extra mile.
5. Overly themed gardens
Garden design is changing too, as the trend for a more relaxed look comes to the fore. There has been a fundamental shift in outdoor style lately, with more organic textures and forms taking over from the hard modernist lines that have dominated the garden design scene for so long.
Now it's all about mixing up your look and letting it evolve naturally rather than shoehorning a design into your yard irrespective of suitability, climate or location. 'Highly themed designs, like Japanese gardens or tropical paradises, are becoming less popular,' says Bryan Clayton. 'Instead, people want a natural and adaptable garden style that can evolve with their tastes over time.
'The main shift in backyard trends is towards a more sustainable and personalized outdoor space. People are moving away from high-maintenance gardens and embracing spaces that reflect their unique style and are easier to care for.'
Another one of the key backyard trends to leave behind this summer in favour of creating an outdoor space that works better for you in every way.
For style leaders and design lovers.
Lifestyle journalist Sarah Wilson has been writing about gardens since 2015. She's written for Gardeningetc.com, Livingetc, Homes & Gardens, Easy Gardens and Modern Gardens magazines. Her first job on glossy magazines was at Elle, during which time a visit to the legendary La Colombe d'Or in St-Paul-de-Vence led to an interest in all things gardening. Later as lifestyle editor at Country Homes & Interiors magazine the real pull was the run of captivating country gardens that were featured. Having studied introductory garden and landscape design as well as a course in floristry she is currently putting the skills learned to good use in her own garden where the dream is establishing a cutting garden.