Take a peek at Alexander McQueen's stylish new rug collection
The iconic fashion house celebrates the organic beauty of Metamorphosis through its fifth luxury rug collection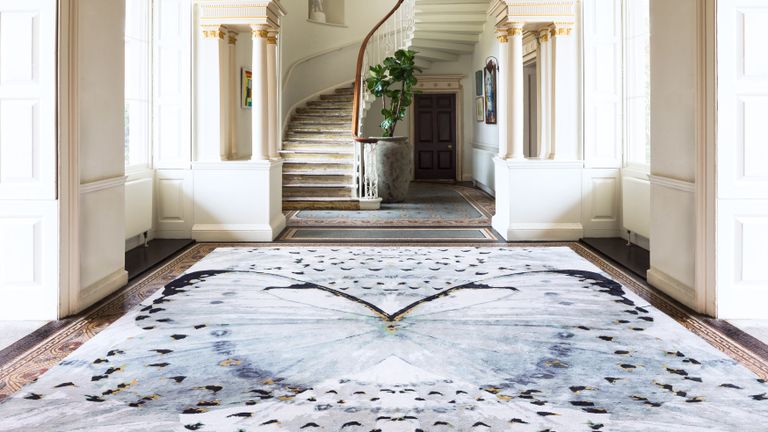 (Image credit: The Rug Company X Alexander McQueen, Glasswings)
By Megan Slack
Exclusive British fashion label Alexander McQueen has recently announced their fifth collaboration with The Rug Company – in a series that celebrates the majesty of Metamorphosis. 
Sarah Burton, Creative Director at Alexander McQueen, and the fashion house team worked alongside the British rug manufacturers to design bold pieces that pay homage to the process of rebirth and renewal – and we can't wait to elevate our home decor with these ultra-stylish pieces. 
Each rug is a distinct adaption of a specific look from the label's collections, inspired by the aesthetic of butterflies, beetles, and nature's ability to reinvent itself in ever more mystical ways.
See: Living room ideas: decorating tricks to inspire
The globally recognized fashion powerhouse is already famed for its daring designs that are juxtaposed with a respect for traditional craftsmanship – all of which are exhibited throughout the series. The exquisite pieces include Glasswings, featuring a striking part of butterfly wings, Crown Blossom with two celestial cranes, and Beetle. The latter presents an up-close abstraction of an elytron, a motif central to the handwriting of the house of McQueen.
Other pieces include the Painted Lady that captures a flying butterfly and The Tree of Life that wholly epitomizes the theme of rebirth. 
The fifth collection comes after the labels first joined forces in 2010 but most closely follows the successful Folklore series from 2013. In her discussion of the series, Sarah Burton announced she was 'delighted to be part' of the collaboration, as The Rug Company shares Alexander McQueen's 'shared values of a love of nature and respect for 'tradition, handcraft, and innovation.'
See: Striking hallway floor ideas – 24 modern hallway flooring looks
The Alexander McQueen X The Rug Company Metamorphosis collection is now available to buy in The Rug Company showrooms and online. If you're not sure pieces will fit in your interiors, fear not; all rugs can be custom ordered in size, shape, or color to suit specific requirements. Now the only question is which beautiful piece we invest in first…