Real tree or fake? Tinsel or not? Angel topper or star? This is how Brits decorate for Christmas
Curious what the most popular ways to decorate at Christmas are? These results may surprise you...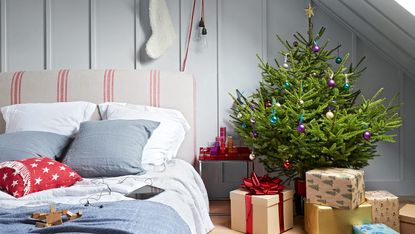 (Image credit: Paul Massey)
We've always wondered how many of us lean towards investing in an artificial tree, and how many of us prefer the real deal. A new survey revealed all – including how many days the average Brit keeps their tree up for (spoiler: it's more than 1 month), whether white lights or coloured lights are more popular, and what the UK's favourite tree topper style is...
1. How long do people keep their trees up for?
The average person keeps their tree up for 37 days, putting their tree up on the 1st December, and taking it down again on the 6th January.
The survey, conducted by thetoyshop.com, also found that 22% of Brits put their tree up in November already (our guess is that this year more people have taken to decorating early than before), while only 9% of Brits wait until the week before Christmas.
2. Real tree or artificial? Which is more popular?
We are actually gobsmacked, as 69% of Brits prefer an artificial tree, with only 19% of people opting for a real Christmas tree these days.
The survey dug a little deeper to find out what drove these choices, and those that favour artificial trees do so because they can keep and reuse it for multiple years, there's less mess (we hear you!), it's less hassle, it's more environmentally friendly and it works out cheaper.
Those that favour real Christmas trees are won over by the pine tree's smell, the festive feeling of a real tree, because they want to support a small local business, enjoy the experience of picking out a tree or because they think they look better.
3. Christmas lights: white or multi coloured?
We were also surprised to find out that the majority of Brits prefer multi-coloured lights, with just 41% opting for plain white lights, and even 7% of people choosing to forego lights altogether.
4. Who's on top? Angel VS Star
The classic Christmas star won the tree topper debate, although the angel tree topper came close behind.
5. What's the average spend on a tree?
Nationwide, the average person spends around £31.35 on a real Christmas tree, versus £41.04 on an artificial one (we know from experience that trees are a little pricier here in London!).
6. Baubles vs Tinsel
The majority of Brits re-use their old decorations, favouring vintage charm, homemade decorations and tinsel, while only 11% of Brits decorate their trees with brand new decorations.
We like to think that Christmas baubles will become keepsakes for years to come.
7. Do you let the kids help with the tree?
And finally, the great debacle: do we let the kids help out? If we do, the tree will most likely end up looking unbalanced and asymmetrical, as well as a bit sparse near the top (not to mention favouring those kitsch and novelty decorations over the timeless, vintage pieces)... But it can also be such a fun and festive thing to do together with the family, and a great family tradition.
The survey asked 2,000 people, and a whopping 65% of people like to get their kids involved. And, rather brilliantly, 14% of parents then sneakily re-decorate the tree after the kids have gone to bed.
Survey, infographics and statistics all courtesy of thetoyshop.com
The Livingetc newsletter is your shortcut to the now and the next in home design. Subscribe today to receive a stunning free 200-page book of the best homes from around the world.
Lotte is the Digital Editor for Livingetc, and has been with the website since its launch. She has a background in online journalism and writing for SEO, with previous editor roles at Good Living, Good Housekeeping, Country & Townhouse, and BBC Good Food among others, as well as her own successful interiors blog. When she's not busy writing or tracking analytics, she's doing up houses, two of which have features in interior design magazines. She's just finished doing up her house in Wimbledon, and is eyeing up Bath for her next project.